Print This Post
Originally, I made this soup for Eliana when she was around 7 months old and froze some of it for later. Now at 10 months old, Eliana prefers to feed herself rather than allow me to spoon-feed her. And you know I've barely let her hold the spoon to practice using one! (I'm absolutely getting better at reforming my crazy Helicopter Mommy tendencies. But, there is only so much progress I can make at this point.) So, since she prefers finger foods, I've been working on ways to make soups and purees into something she can handle. Today I was inspired to try using quinoa for texture. I mixed it with the warmed soup and Eliana loved it! Here's the soup recipe. It was still easier for her to eat the mixture off the spoon, but she got to play with it on her tray and did get some of it into her mouth.
Potato Leek Soup with Fennel
–2 organic Russet potatoes, skin on, chopped
–4 large leeks, white parts only, chopped
-1 small bulb of fennel, white parts only, chopped
-1 quart low-sodium vegetable broth
-2 tablespoons olive oil
-Salt and pepper to taste
Heat olive oil in a large pot on medium heat. Sauté leeks, fennel and a pinch of salt for around 5 minutes. Add broth and potatoes and bring heat up to a boil for 5 more minutes. Simmer mixture for 15 minutes until potatoes are tender. Blend and season with salt and pepper.
Let cool slightly before serving to baby.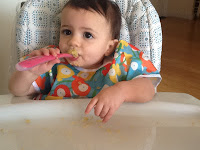 I do let her practice with the spoon. For about 1.5 seconds at a time before I snatch it back.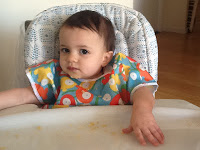 Don't mess with me, Woman! That was MY spoon.
Happy Cooking!
Tags: 6-9 months, 9-12 months, fennel, gluten free, leafy greens, leeks, Meatless Monday, potatoes, quinoa, swiss chard
« Previous Baby Food Recipes 4/16/12 Garlic Bread Next »