Print This Post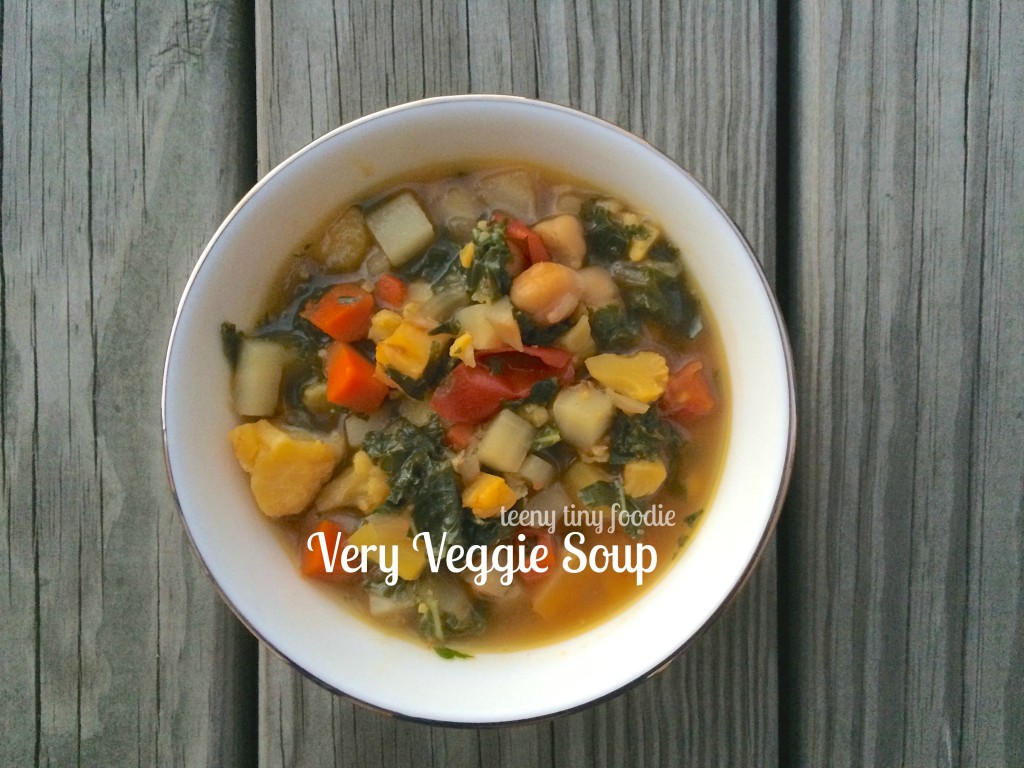 Soup. Just thinking about the word makes me feel warm and cozy. Now that winter is in full swing, soup is an easy meal I like to cook to nourish and warm my family from the inside out. What I love about this Very Veggie Soup is the flexibility of the ingredients. You can use any vegetables you prefer or already have on hand.
Keep the following tips in mind as you prepare your soup:
1. Always start with the garlic and onions. They are flavor builders and should be in the pot the whole time your soup cooks.
2. Try your best to chop all vegetables to the same size. This way they will cook more evenly.
3. Add the hardiest vegetables next. Vegetables such as carrots, potatoes, celery, parsnips or raw squash should go in after the onions and garlic.
4. Add leafy greens and tomatoes last. They don't need as much time in the heat.
5. Your little sous chef can help you by washing and peeling vegetables, as well as adding them to the pot and stirring it all together. Older sous chefs can help chop vegetables, too.
6. Offer some mix-in items like croutons, crackers or popcorn. I find that my own teeny tiny foodie will dive into any soup if she's trying to grab the mix-ins! A little parental manipulation in the name of healthy eating is okay by me. 😉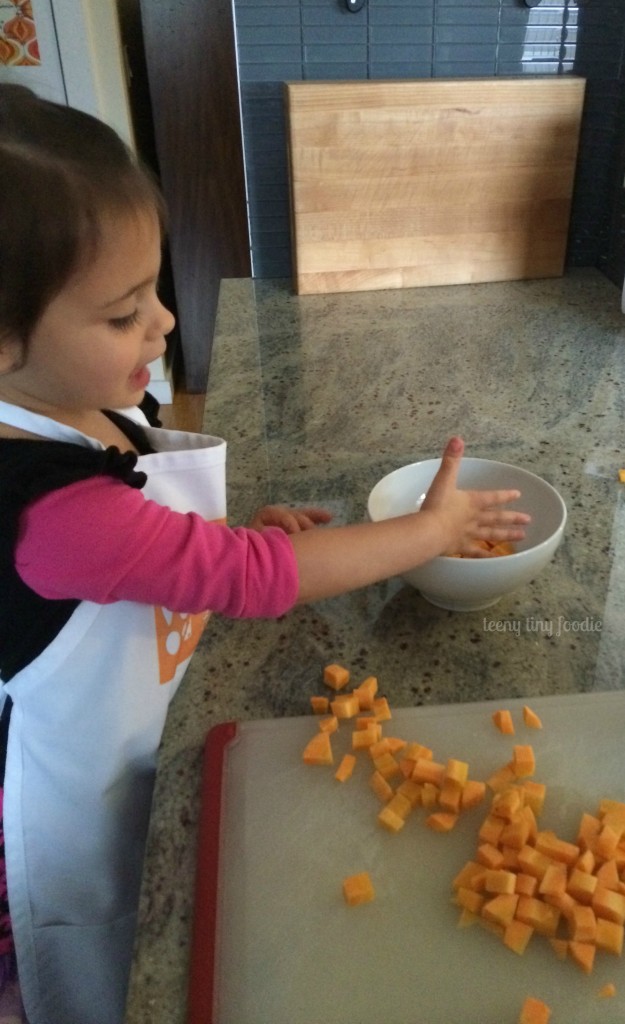 Very Veggie Soup
Serves 4-6
Ingredients:
-1 medium yellow or white onion, diced
-1-2 cloves garlic, smashed and peeled
-6 cherry tomatoes or 1 large tomato, diced
-3-4 carrots, peeled and diced (I found yellow, orange and white carrots at the market. You can use any color you like.)
-½ head of cauliflower, diced
-1½ cups raw kale, finely chopped
-4 cups vegetable stock, store bought or homemade
-A few teaspoons of olive oil
-Salt and pepper to taste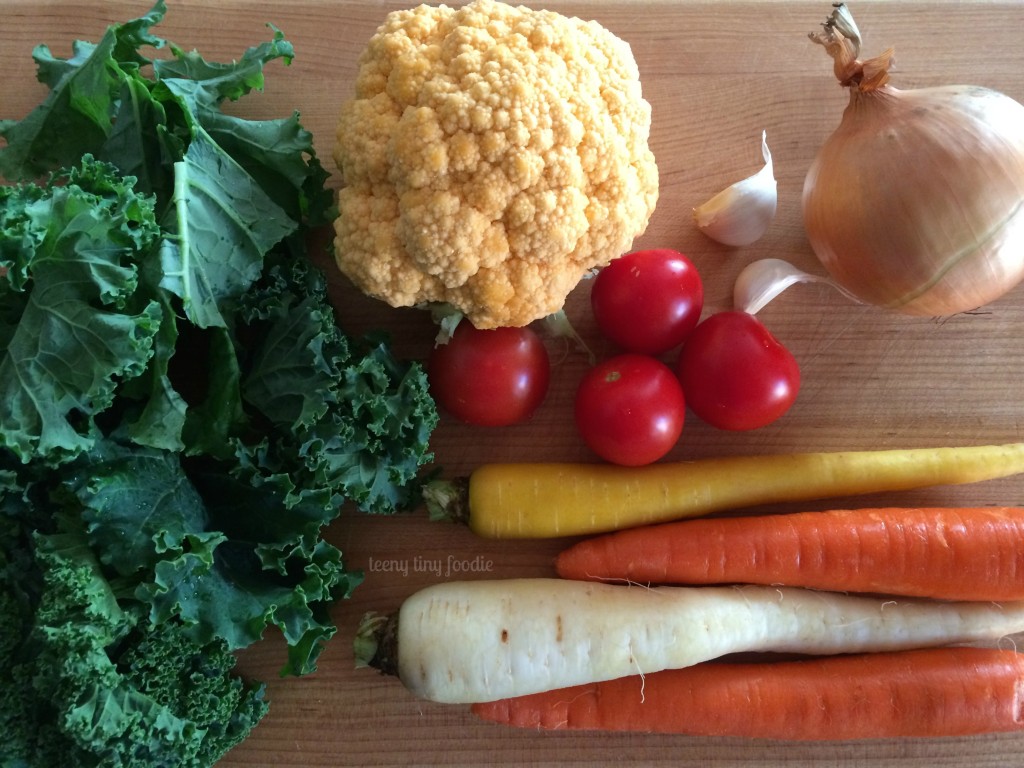 Preparation:
In a large, lidded pot heat the olive oil over medium heat. Add the garlic and onions and a pinch of salt. Stir and let cook for around 4 minutes, stirring occasionally.
Next, add the carrots, another pinch of salt and cook for 4 more minutes, stirring occasionally.
Then add the cauliflower, and another pinch of salt. Cook for 3 minutes, stirring occasionally.
Then add the kale, a pinch of salt and stir. Let the vegetables cook for 3-4, minutes stirring occasionally.
Pour in the vegetable broth and stir everything together. Cover the pot and turn up the heat so the liquid comes to a boil. Boil for 3 minutes.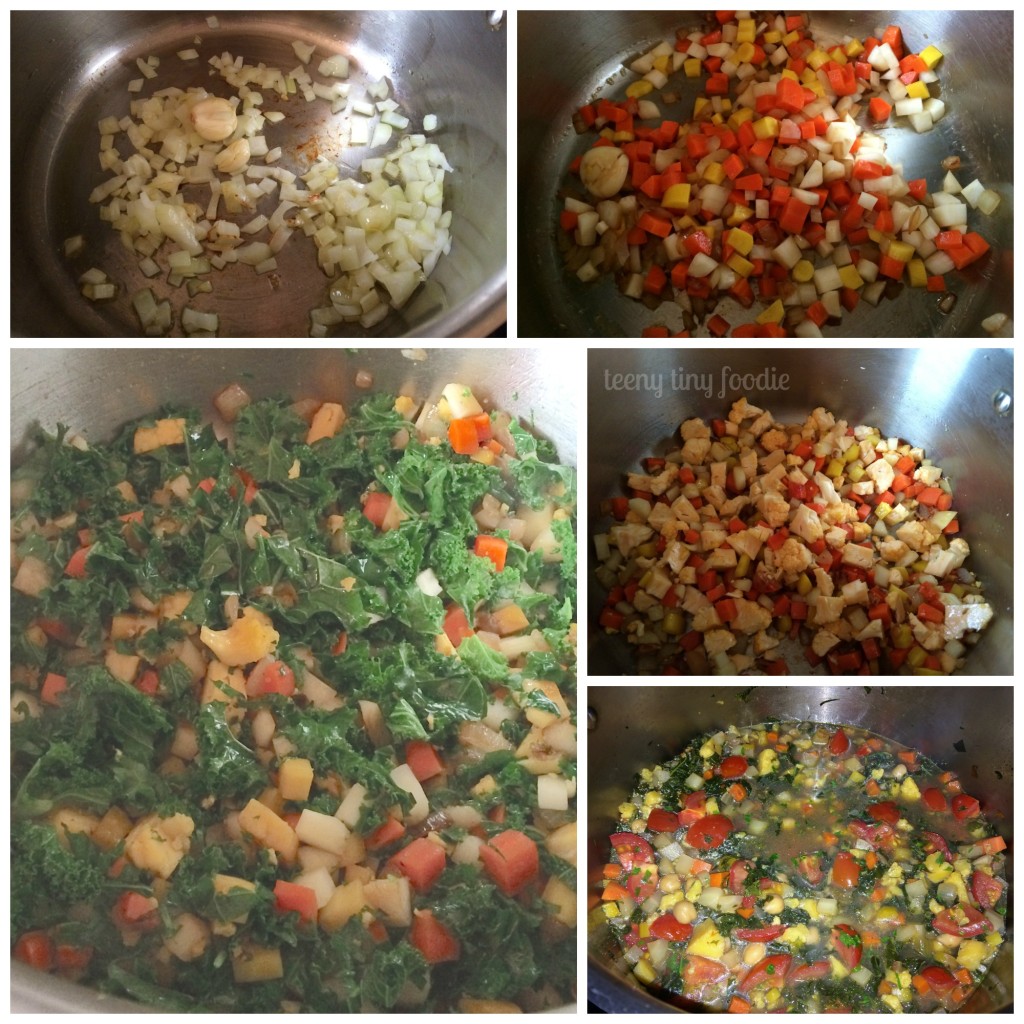 Then reduce the heat to low and allow the soup to simmer, covered, for 20 minutes. Uncover the soup and stir in the tomatoes. Cook the soup for 2 minutes, turn off the heat and add black pepper as desired.
Stir the soup together and taste. Adjust seasoning as desired and allow the soup to cool for a few minutes before enjoying.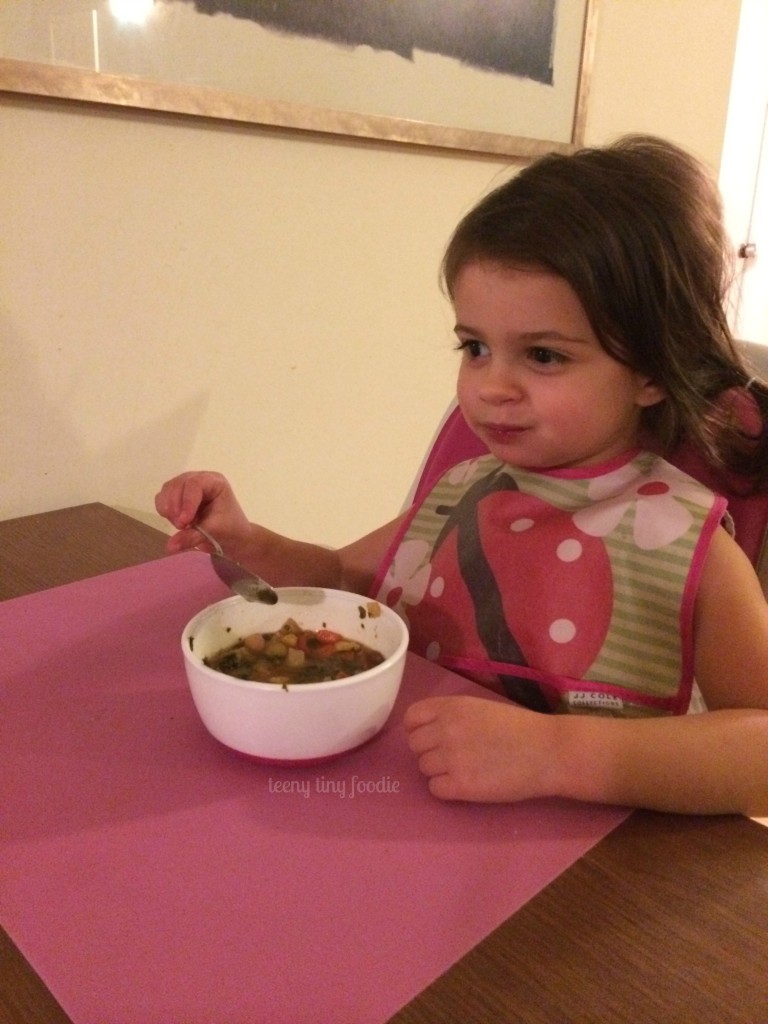 Happy Cooking!
Tags: carrots, garlic, kale, Kids Cook, leafy greens, Meatless Monday, onions, soup, Thanksgiving, tomatoes, vegan, vegetarian
« Previous teeny tiny foodie will be mentioned on tv! See You in 2015! Next »