Print This Post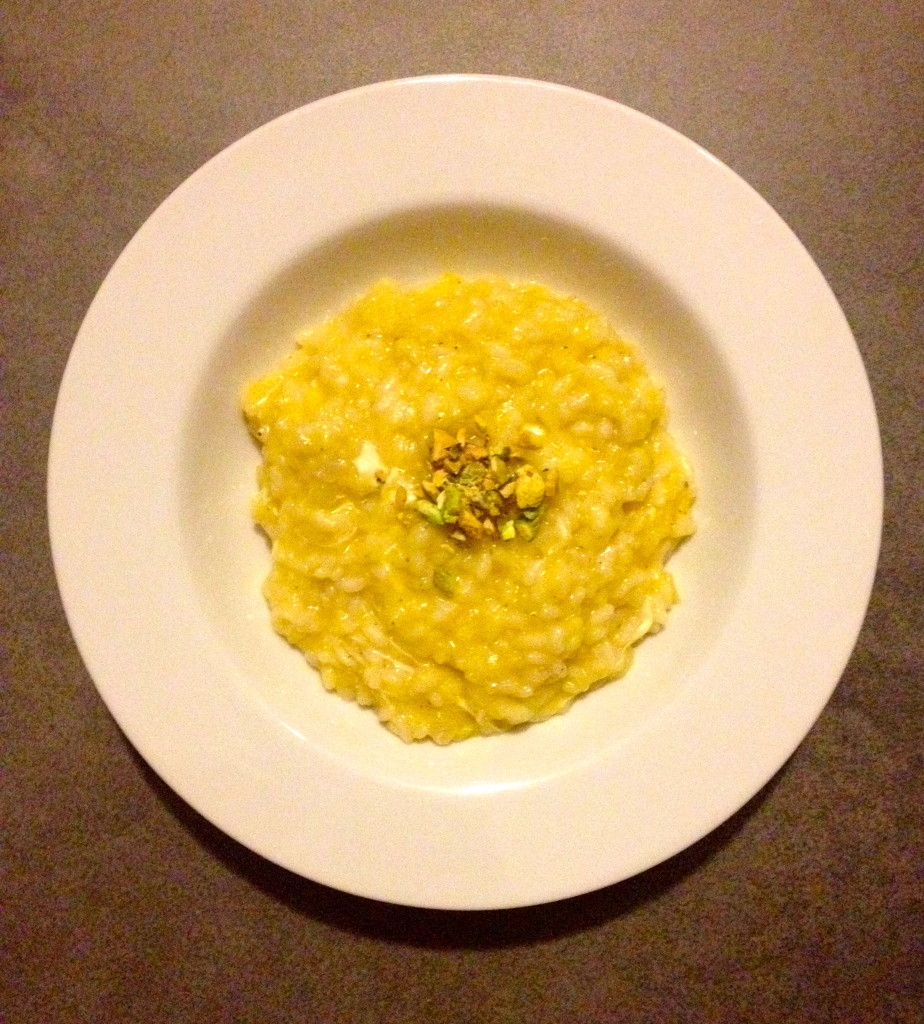 Pumpkin Risotto
Ingredients:
-2 ounces Simple Pumpkin Purée, warmed (Click here for a recipe for Simple Pumpkin Purée)
-6 ounces roasted pumpkin, chopped into ½-inch chunks (Click here for How-To Roast a Pumpkin)
-1½ cups arborio rice, uncooked
-5-6 cups vegetable broth, warmed (Click here for a recipe for vegetable stock or use low-sodium store bought stock).
-⅔ cup dry white wine, at room temperature (Don't use a "cooking wine" in a recipe. Always use a wine you'd like to drink on its own).
-1 yellow onion, diced
-3½ tablespoons olive oil
-3½ tablespoons unsalted butter
-4 ounces fresh mozzarella cheese, cubed
-1-2 ounces locatelli or romano cheese, shredded
-Fresh rosemary to taste, finely chopped
-Salt and pepper, to taste
-Optional toppings: crushed pistachios or roasted pumpkin seeds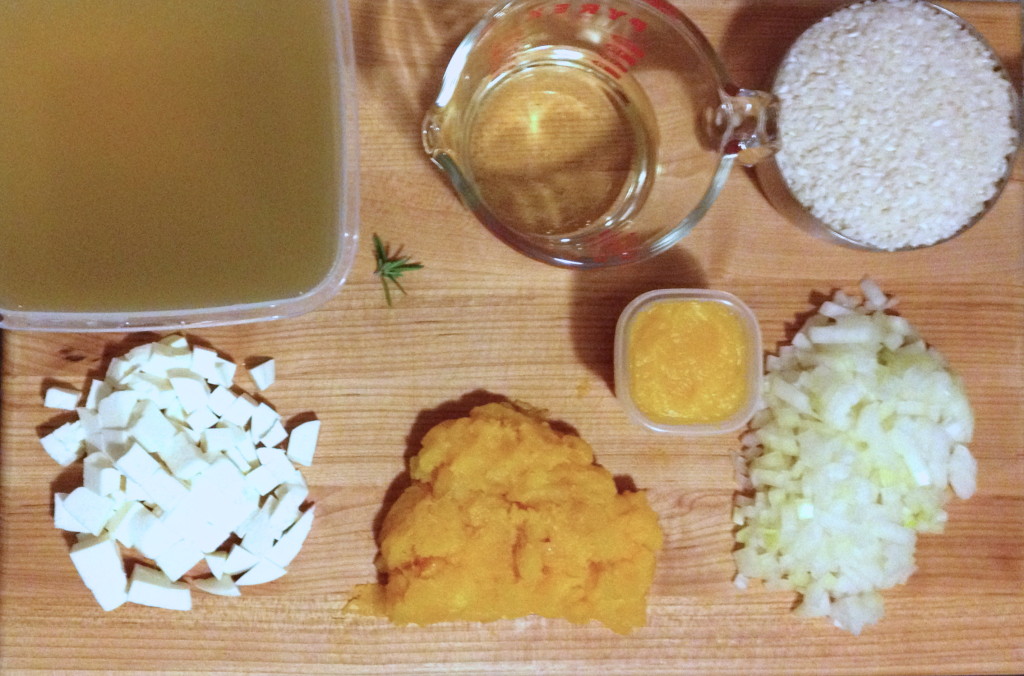 Preparation:
Warm the liquids and purée:
If the wine is cold, measure it out and leave it on the counter so it warms. Meanwhile, pour the vegetable broth into a small saucepan and bring up to a simmer.
Begin the risotto:
In a large pot, heat the oil and butter over medium heat until the butter begins to melt. Add the onions and sauté for around 5 minutes, stirring occasionally.
Add the rice to the pot and stir so it gets coated with the oil, butter and onion mixture. Let it cook for 3-4 minutes, stirring occasionally.
Add the liquids:
Add the wine to the pot and stir until it becomes absorbed. Add the vegetable broth, around ½ cup at a time, stirring constantly so the rice absorbs the liquid and becomes creamy. This process can take around ½ hour. But if you rush and add too much liquid at a time, it won't absorb and you will have crunchy rice. And no one wants crunchy rice in their risotto. I use this as a time to try to work on my ambidexterity and work the muscles in the right arm, too. 😉
Add the finishing touches:
Once the rice has softened, add the purée, salt and pepper. Stir to mix. Remove the pot from the heat and stir in the pumpkin chunks, locatelli/romano, rosemary and mozzarella. Stir, taste and adjust seasonings and add toppings as desired.
Before I made the risotto, Eliana and I had fun scooping out the pumpkin seeds and guts and preparing it to be roasted. Camille the Cat even tried to get in on the fun. Click here to see a tutorial of Eliana showing other teeny tiny sous chefs how to prepare a pumpkin to be roasted. Here are some photos from our "Pumpkin Fun."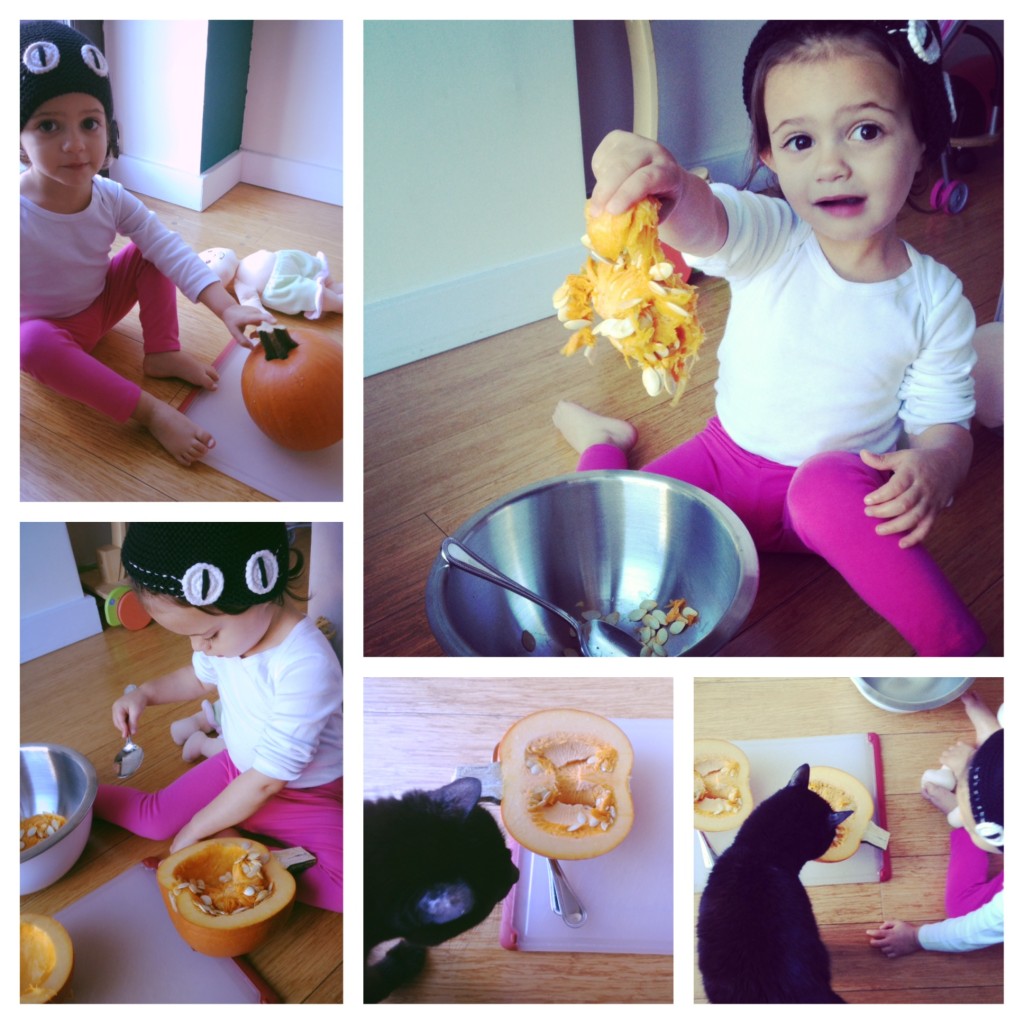 Here is a photo of Eliana enjoying the risotto. There were definitely some "Totally 2-Year Old Moments" when she asked for the risotto, I heated it up for her, she claimed not to like it when I placed the bowl in front of her (and before she even tasted it) and then she gobbled it up later that day for dinner alongside some broccoli. Oh, You're Two!
Right, I had forgotten. 😉
Risotto is a food Little Foodies 9 months old and up can enjoy with the rest of the family. Here are some other recipes with pumpkin for your First-Time Foodie, ages 6-9 months old, to enjoy, too:
Happy Cooking!
Tags: baby and family, Fall, gluten free, onions, pumpkin, Purees For Two, risotto, rosemary, Thanksgiving
« Previous Simple Roasted Pumpkin Purée My Interview on Red Tricycle's Website Next »