Print This Post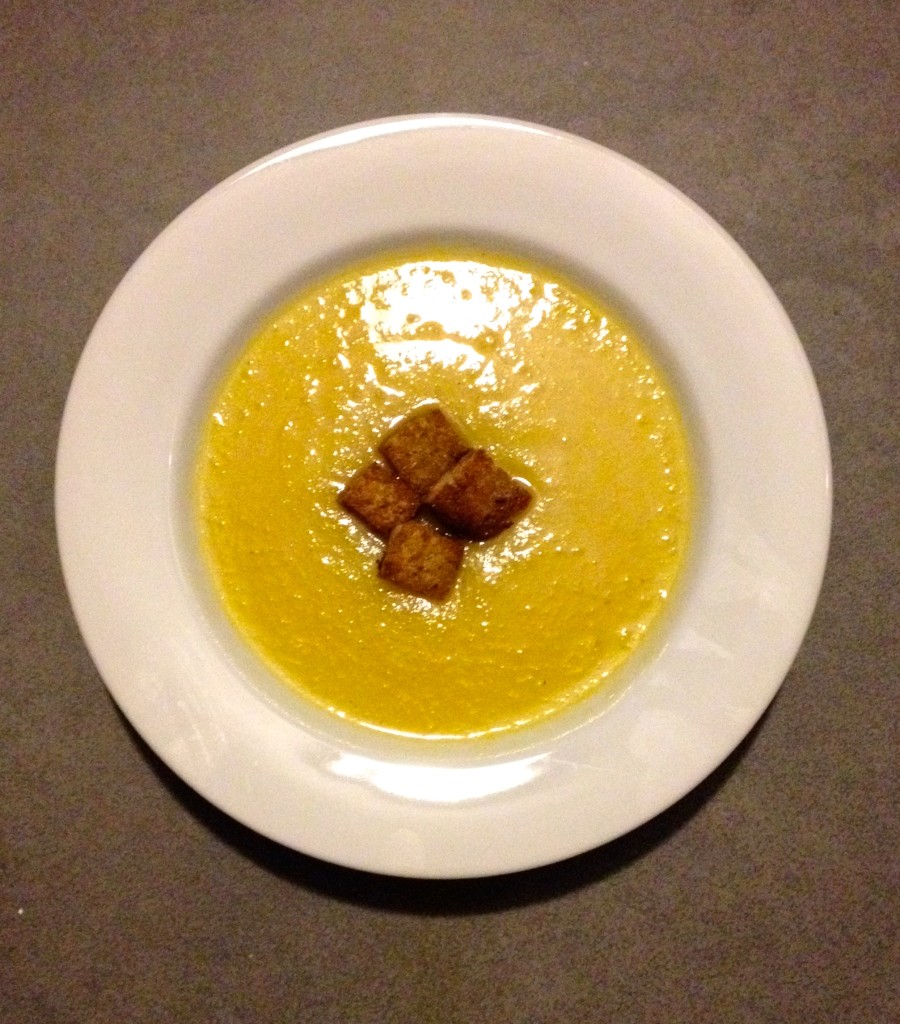 This vegan soup is a tasty and satisfying meal all on it's own. I like to serve it topped with croutons, roasted pumpkin seeds or lightly salted popcorn.* Sometimes I even mix in some chunks of seared tofu, too. This seasonal soup can be a delicious addition to your Thanksgiving table, too. (It will be one of my contributions to my family's dinner table). Before the recipe, there are a couple tips and ideas I want to share with you.
1. Don't be afraid of salt. Unless I'm following a new recipe, baking or refining one I haven't yet perfected, I typically add salt to my recipes pinch by pinch. If you want to be super specific, "a pinch" of salt (or any other dry ingredient) is usually about ⅛ teaspoon. Salt brings out the flavor in your ingredients so it's a good idea to season your food with a little bit of salt as you go so the flavors can really develop throughout the cooking process. So, despite its bad reputation, don't be afraid of adding a little salt to your cooking- even  a teeny tiny pinch for baby food.
2. There are a few ways to purée a soup. You can use an immersion blender and purée it right in the same pot in which you've cooked the soup. Or, you can transfer the soup to a traditional blender or a food processor being very careful not to overfill your machine. If I want to use my blender or food processor, I typically divide the soup into thirds and purée it in smaller batches. I then transfer the puréed soup to a large bowl until it is all done. Then I mix it all together before doing a final taste in order to adjust the seasonings and spices to my liking.
3. When serving something your Little Foodie may not jump at the chance to eat (like a nutritious and yummy vegetable soup), serve it with accompaniments or toppings he will eat. A little parental manipulation in the name of nutrition never hurt anyone, right? Eliana was wary of trying this soup the first time. You know what got her to try it? Her desire to try the croutons I made to go along with it. (She's a big fan of all things bread. She got that from her Mama, for sure). I told her the croutons were part of the soup so if she wanted the croutons, they came with the soup. She poked around the bowl of soup for a few minutes and gave me some line about, "No like pumpkin." Uh-huh. Mind you, there's been a ton of pumpkin in and around the teeny tiny foodie kitchen lately and she has happily  eaten, and enjoyed, pumpkin in a variety of forms over the last month. So, I basically ignore those types of comments. But back to my point, after Eliana gobbled up the soup-soaked croutons, she then finished most of the rest of the soup, too. I guess she liked it after all.
(A link to the recipe for my "Homemade" Croutons is below the recipe for the soup).
Pumpkin Potato Ginger Soup
Yields 9-10 cups
Ingredients:
-¼ ounce piece of ginger root, peeled and chopped
-5 cups Roasted Pumpkin Purée
-2 large Yukon potatoes, chopped with skin on (slightly over ¾ pounds by weight)
-1 garlic clove, smashed and peeled
-1 large yellow onion, chopped
-1¾ teaspoon salt
-½ teaspoon pepper
-Olive oil and red pepper flakes to taste
-5 cups vegetable stock (Click here for a recipe or look for a brand in the store that doesn't have much added salt and sugar)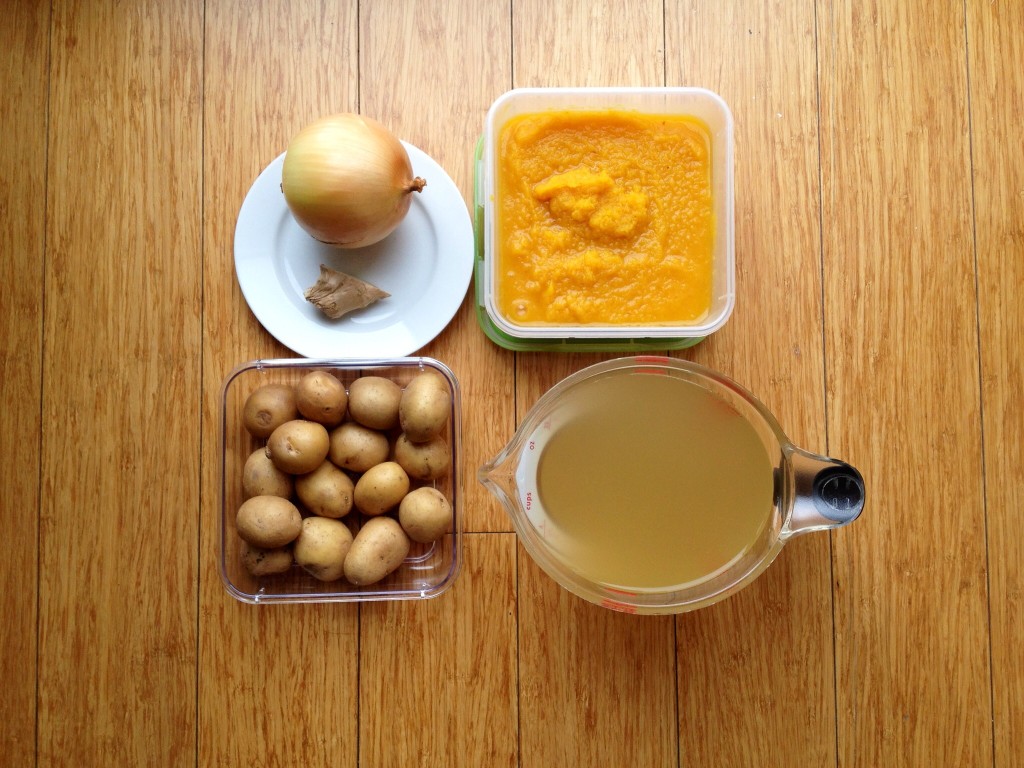 Preparation:
In a large pasta or soup pot, heat the olive oil over medium heat and add the onion, garlic, a pinch of salt and red pepper flakes. Stir and sauté for 5 minutes, stirring occasionally.
Stir in a pinch more salt and the potatoes and sauté for another 3 minutes.
Add the stock, cover the pot and turn up the heat to boil. Once the stock is boiling, add in the ginger and continue boiling the soup for around 6 minutes or until the potatoes are tender. Stir in the puree and reduce the heat to simmer, covered, for 10 minutes.
Remove the garlic and purée the soup. Taste, adjust seasonings and enjoy.
Optional Toppings and Add-Ins:
When Eliana was presented with the soup and croutons, she had to fully examine it before committing to tasting it.
But then, she kept eating and eating and eating.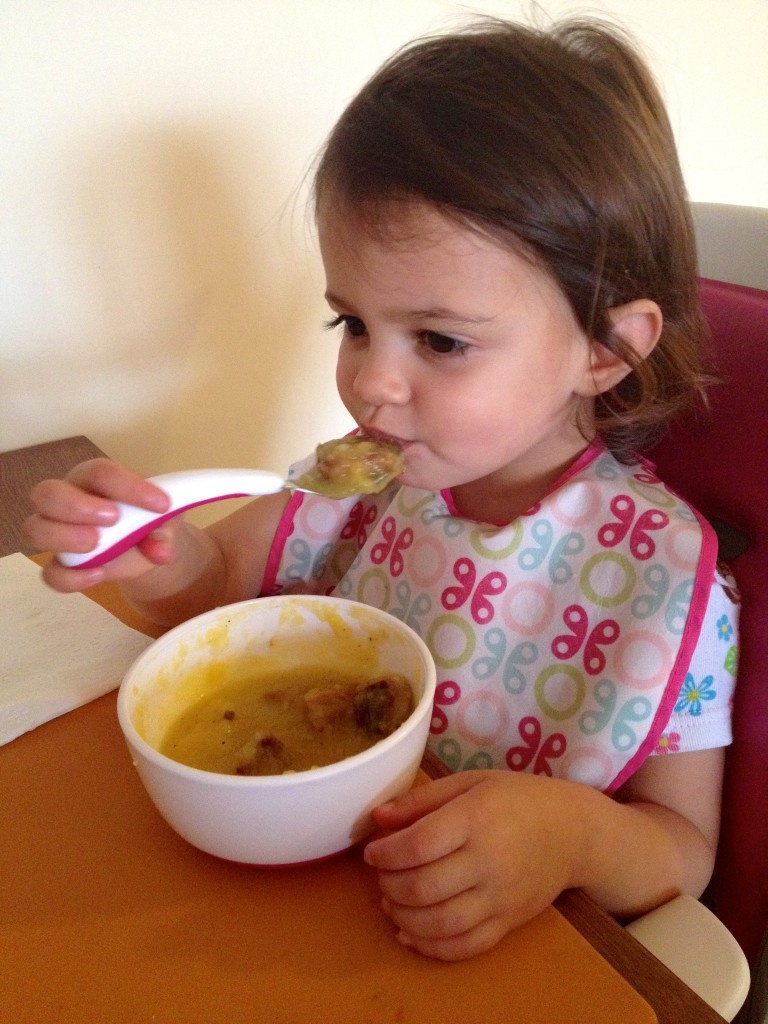 *The American Academy of Pediatrics recommends that children under the age of 4 not eat popcorn so I've not yet served it to Eliana. But, you and your pediatrician should decide together what is best for your Little Foodie.
Happy Cooking!
Tags: baby and family, ginger, gluten free, Kids Cook, Meatless Monday, onion, potatoes, pumpkin, Purees For Two, Thanksgiving, vegan
« Previous Simply Spiced Pumpkin Seeds {Kids Cook} Vegetarian & Vegan Recipes for Thanksgiving Next »