Print This Post
Here are some current recipes:
White Bean Hummus with Spinach
-1 can white beans, drained and rinsed

-1 handful organic baby spinach

-Chopped garlic, olive oil, salt, pepper, cumin and cayenne pepper to taste

-Juice of one lemon
Put beans, spinach, garlic, olive oil and half of lemon juice in blender and blend until smooth. If needed, add more olive oil or lemon juice to make it creamier. Add salt, pepper, cumin and cayenne. Blend again. Adjust seasonings and olive oil/ lemon juice as needed. Serve alone or on wheat toast.
I tried dipping a baby carrot in the hummus and handing it to Eliana because I assumed she would just lick it off. Nope. It just got all over her hands, face and hair instead.
Pureed Peaches
-1 cup organic peaches, thawed if frozen
Puree until only a few small chunks are left.
The chunks of peaches would have been great if Eliana had been able to pick them up. But, they were way too slippery. She loved it so much she actually allowed me to feed it to her on the spoon. I think she realized that was the only way it would get into her mouth!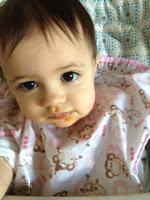 These peaches are so good. If only I knew how to lick them off my chin.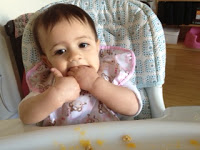 But I do know how to stick my whole hand in my mouth for more peachy goodness!
Sweet and Spicy Apple-Carrot Puree
-2 organic apples, peeled and chopped

-3-4 baby carrots, chopped

-Cinnamon and chili powder to taste
Steam apples and carrots, reserving some of the liquid. Puree and add liquid as needed. Add cinnamon and chili powder to taste. Let cool slightly before serving to baby.
Variations: Mix with oatmeal or cottage cheese, or serve on toast.
I know this sounds like a wacky combination, but she loved it! Even the kick of the chili powder!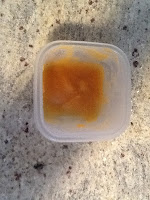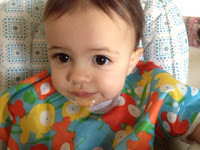 Mmm- sweet and spicy.
Happy Cooking!
Tags: 9-12 months, carrots, chili powder, cinnamon, cumin, garlic, leafy greens, lemons, Meatless Monday, peaches, purée, spinach, white beans
« Previous ttfs TTFs Potato Leek Soup with Quinoa Next »