Print This Post
teeny tiny foodie's Top Ten Favorites (so far)
Now that Eliana has been tasting and eating a variety of solids for a little while now, a few favorites have emerged. Her "favorite" is hard to determine because she will taste something and then do her "Happy Flappy" move of arms flapping, heavy panting and butt-bouncing for a bunch of foods. Sometimes a food warrants that reaction one day, and not another. But, here is the list of foods that she has definitely been excited to eat. 

In no particular order, here are teeny tiny foodie's Top Ten Favorites:

Guacamole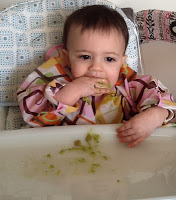 Holy Guacamole!


Black beans and brown rice with cumin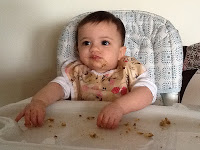 The beans and rice are mixed with tilapia on her tray.


String cheese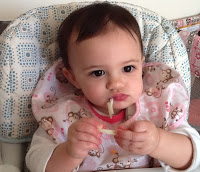 Food hanging out of her mouth. Classy.


Oranges


Smashed sweet potatoes with spinach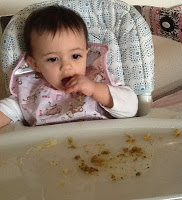 Lentils with cumin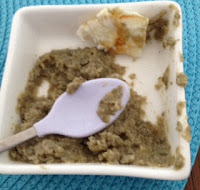 I served this to Eliana with some fried egg whites.


Eggs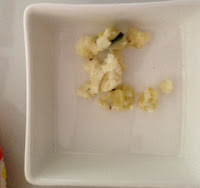 My ttf loves eggs in many ways. This is part of a frittata with parmesan cheese, zucchini and onions.


Swiss chard soup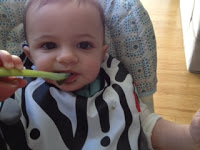 I hold the spoon!


Apples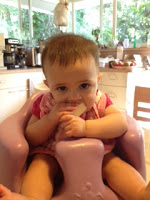 A few months ago, I could hand her an apple wedge and she'd go to town sucking on it. Now, I wouldn't dare because she would break off pieces of the apple and I'd worry about her choking. Only cooked apples for now.


Pan fried trout
And, a list of This Mommy's Life-Saving-Quick-Fix Foods
-String cheese
–A quick and easy "meal" that I peel into strips and break into smaller pieces for Eliana to eat. I learned the hard way that she loves it so much (she is a cheese-aholic like her Mommy) she shoves it all into her mouth at once. I need to pace her by putting only a few pieces on her tray at once. I give her Polly-O brand with 2% milk because that's what I snack on. Full-fat is possibly preferred by her doctor but I think it is fine to keep her on these for now.
-Baby carrots
–An easy item to grab from the fridge and I don't need to worry about it being a choking hazard. Not yet, at least. She doesn't use her two teeth to actually bite. She gums her food. She does scrape off little bits of carrot to eat. I like Cal-Organic brand. Another way I serve them to her is to steam them and then add a touch of salt and cut them into little disks which I mash a bit so that she can pick them up but they will easily breakdown in her mouth. 
-Oranges
–Another quick food that she loves. I used to be able to give her a wedge and she'd just suck on it. Now she actually rips pieces off- including parts of the rind. (She seems to actually like it! So strange.) So, my husband figured out that cutting little pieces is a good solution. She gums them a bit and then they slide easily down her throat. No rind or skin pieces to be a potential choking hazard.
–Banana sticks. Love them!
-Plain Instant Oatmeal
–Matt and I both eat oatmeal most mornings so I put a little bit of mine aside and mix it with one of the sweet purees for Eliana to eat. It is easy for her to pick up and she likes it a lot.We like the brand Arrowhead Mills.
And now, some photos of items Eliana LOVES to eat but that are not food.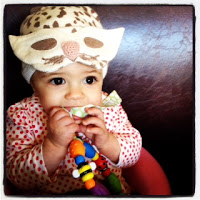 The teething toy would be fine. But, no. Eliana eats the string that attaches it to her clothes.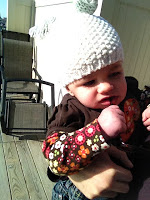 Her sunglasses.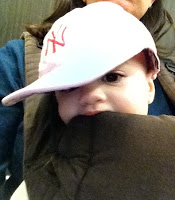 The carrier. A definite favorite.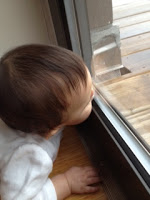 Um, yeah. That's the door to the deck.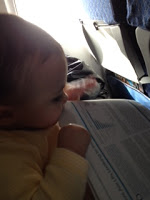 Aah, paper. Yum!
« Previous Baby Food Recipes 3/31/12 Baby Food Recipes 4/16/12 Next »