Print This Post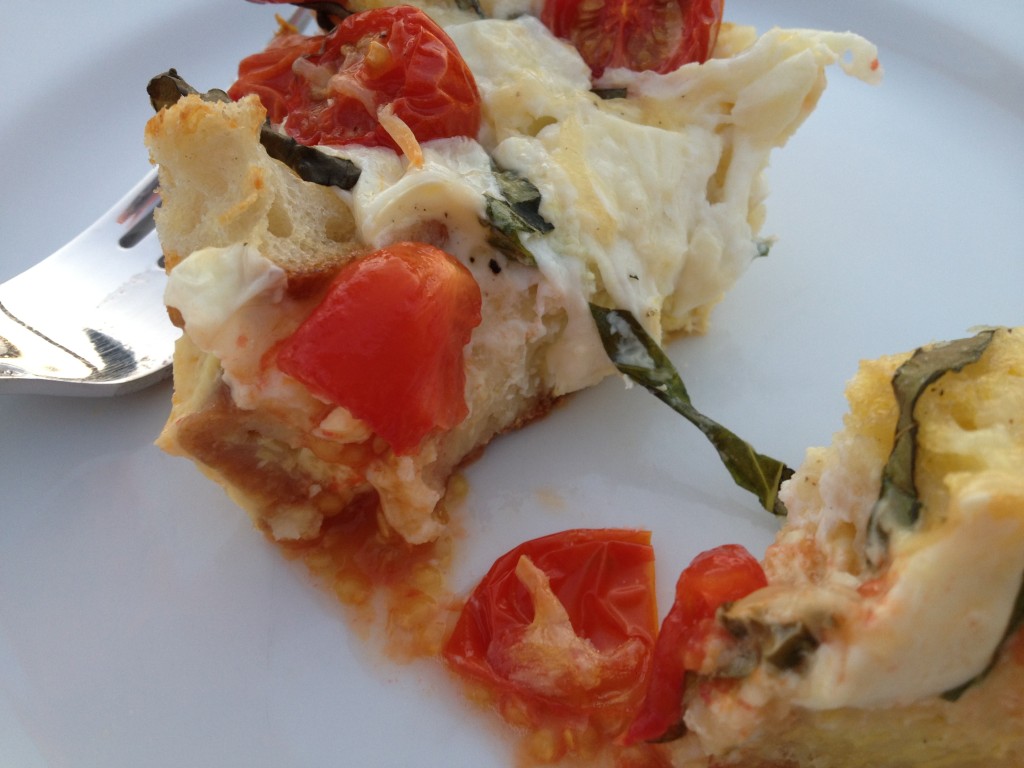 Typically, when planning a meal my goal is to include what I consider to be the perfect trifecta of a balanced meal: protein, produce and starch. A strata is a savory cross between bread pudding and a frittata that combines all three, and is cooked using just one pot (baking dish). It has protein from the eggs and cheese, starch from the bread, and vitamins, minerals and anti-oxidant goodness from the vegetables. A strata is a great dish to bring to a potluck or to serve at a get together, and you can freeze the leftovers to have a delicious and hearty meal in minutes. The downside of making a strata is that it takes a while to both prepare and "rest" so it requires planning ahead. Typically, after you put together all of the ingredients, you cover it, place a 1-2 pound weight on top of it and let it rest for 1-10 hours before cooking it for around 45 minutes. That's time consuming, right? But recently, everything I thought I knew about preparing a strata was turned upside down. Here's the lowdown…
Generally, on weekend mornings, my husband takes Eliana to the playground or on a walk before breakfast. She gets up at what I call "the a** crack of dawn" (5:00 or 5:30. Yes, a.m.) So by normal human hours (7 a.m.) they are out and about and I'm putting together something to eat. I typically multi-task, so on a recent morning while I was preparing breakfast, I was attending "free cooking school", also known as watching the Cooking Channel, and Bobby Flay was preparing a strata. I perked up because stratas are near and dear to my heart. Well, actually my belly but you know what I mean. Anyway, Bobby Flay prepared it in the same way as I had learned which is to prepare the egg, cheese and vegetable mixture and pour it over the chunks of bread. But, he didn't make multiple layers of egg mixture and bread (like I had learned) and he certainly did not let it sit around in the fridge for 1-10 hours (like I had learned, too). He just put one layer of bread chunks in the bottom of the baking dish and poured the whole egg mixture on top. Then baked it right away without letting it sit with a pound of weight smushing it all together for at least an hour.
What???? I can make the same tasty trifecta without all of the waiting around???
So, I had to try his method the next time I was hungry for a strata. And you know what? I like it even better than my old method. Why? First, it saves on preparation time. Obviously, right? Not only in the typical "resting time" of at least an hour, but also, in the time it takes to literally put the dish together. It takes some time to layer bread chunks, then egg and vegetable mixture and then cheese. And then layer bread chunks, egg and vegetable mixture and then cheese and repeat it all once more. Plus, to be totally honest, it wasn't always easy to divide the egg and vegetable mixture into thirds. Not for me at least. Second, I like this revised method because the bread doesn't get as mushy as it might by weighting down the strata and smushing it together for a long time before cooking it. And the third, and most important, reason I like this revised method even better is that I can be even more spontaneous at mealtime, which lets me be even more creative and makes cooking even more fun. Since this revised method takes less time to prepare and rest, I can open the fridge, dig around for inspiration and cook a strata. Fun! And in my opinion, a happy cook creates tastier food.
So, the other night I did just that. I looked around the kitchen and saw that I had tomatoes, fresh mozzarella and basil. Usually, I see those three ingredients and I think either "pizza" or "caprese salad." But, I didn't want pizza and I wanted more protein than what the mozzarella cheese alone could offer. And then the inspiration hit: Why not make a strata inspired by a caprese salad? Hmmm….
And into the kitchen I went. So, below I present my recipe for Caprese Salad Strata. It was so easy, tasty, healthy and fast because I didn't have to take any time to cook the vegetables. My husband liked it so much he said, "I hope Eliana doesn't like it tomorrow so I can have her leftovers." Too bad for Daddy because she liked it a lot! But, she did leave him a few bites anyway. So the next time, I will make it using an even bigger baking dish. I hope you and your family enjoy it as much as we did. 
Caprese Salad Strata
Yields 6-8 servings
Ingredients:
-5 egg whites
-3 whole eggs
-½ baguette or ciabatta, cut into ½-inch cubes
-1 ounce parmesan cheese, shredded
-4 ounces fresh mozzarella cheese, cubed
-1 small handful fresh basil, finely chopped
-1 pint grape tomatoes, halved
-½ tablespoon milk
-¼ teaspoon black pepper
-¼ teaspoon garlic powder
-½ teaspoon salt
-Butter for greasing the baking dish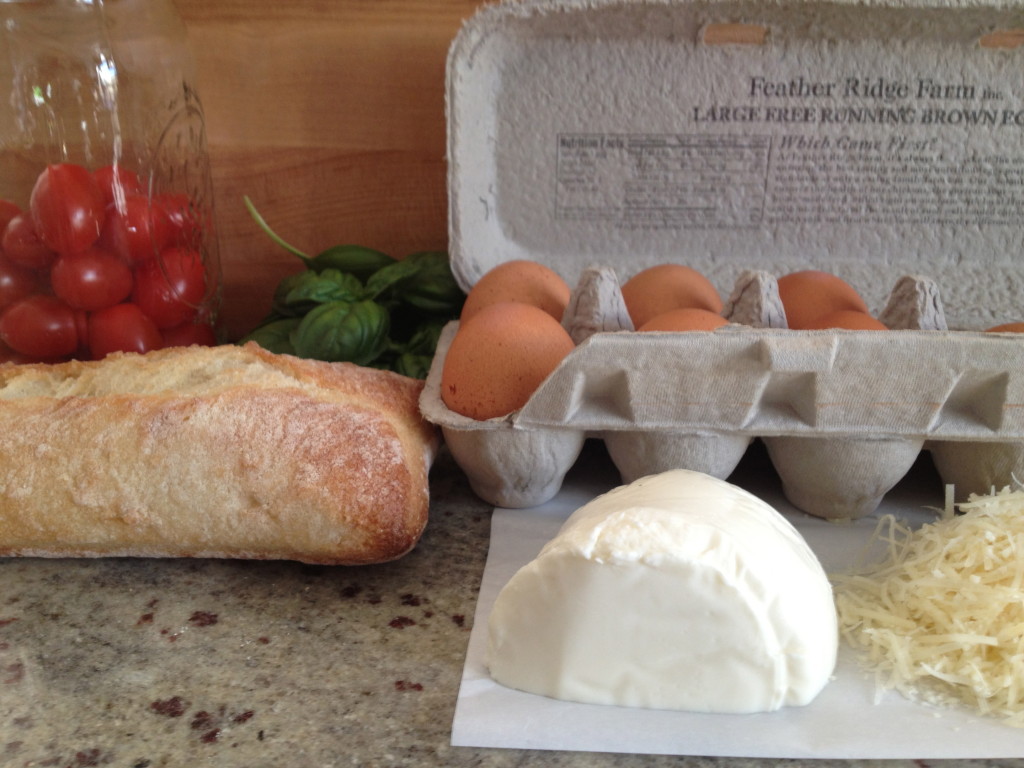 Preparation:
Heat the oven to 325°
Crack the eggs into a large bowl and whisk.
Add the milk, basil, tomatoes, both cheeses, salt, pepper and garlic powder to the bowl.
Whisk again and set aside.
Butter an 8×8 or 9×9 baking dish, line the bottom of the dish with the chunks of bread and pour the egg mixture over the bread.
Bake uncovered for 40-45 minutes.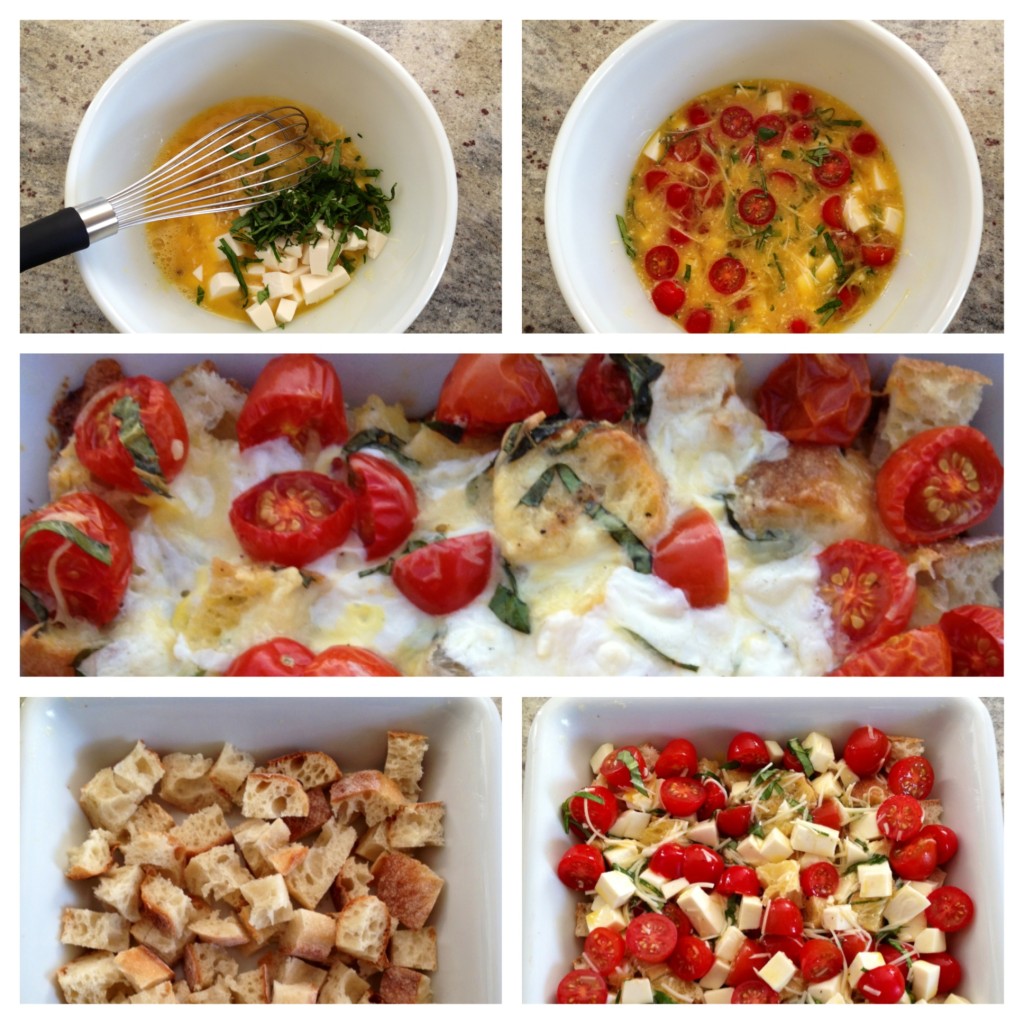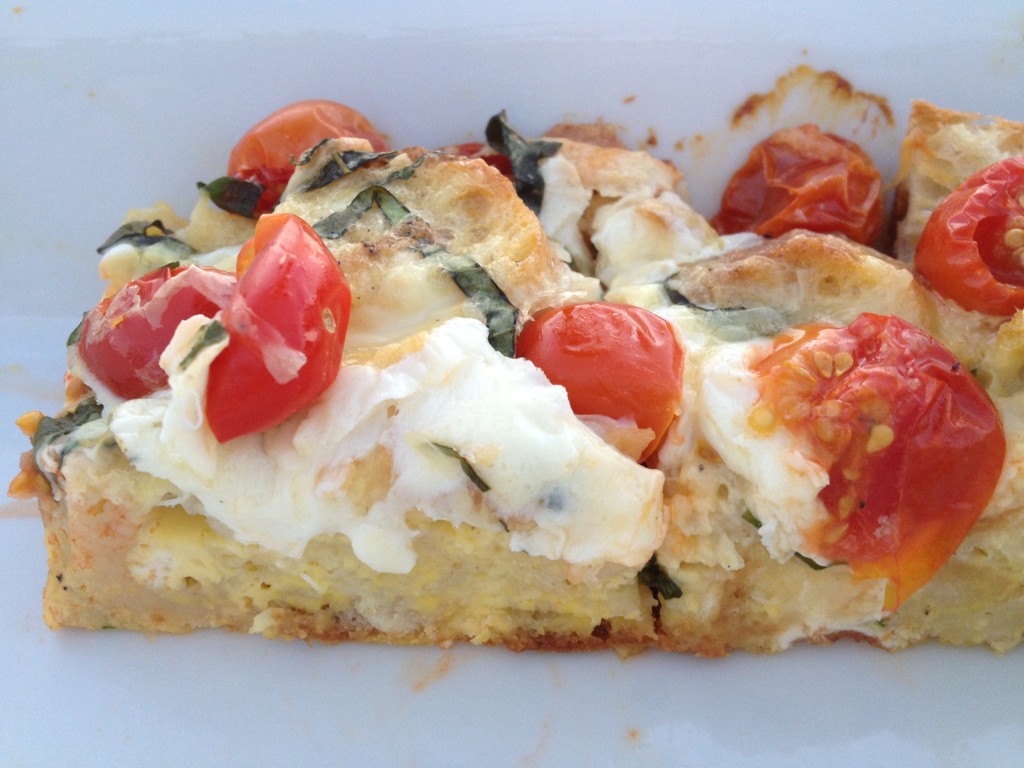 And here's the Little Lady enjoying the strata. On her 2nd birthday (!!!), hence the special homemade birthday hat. ♥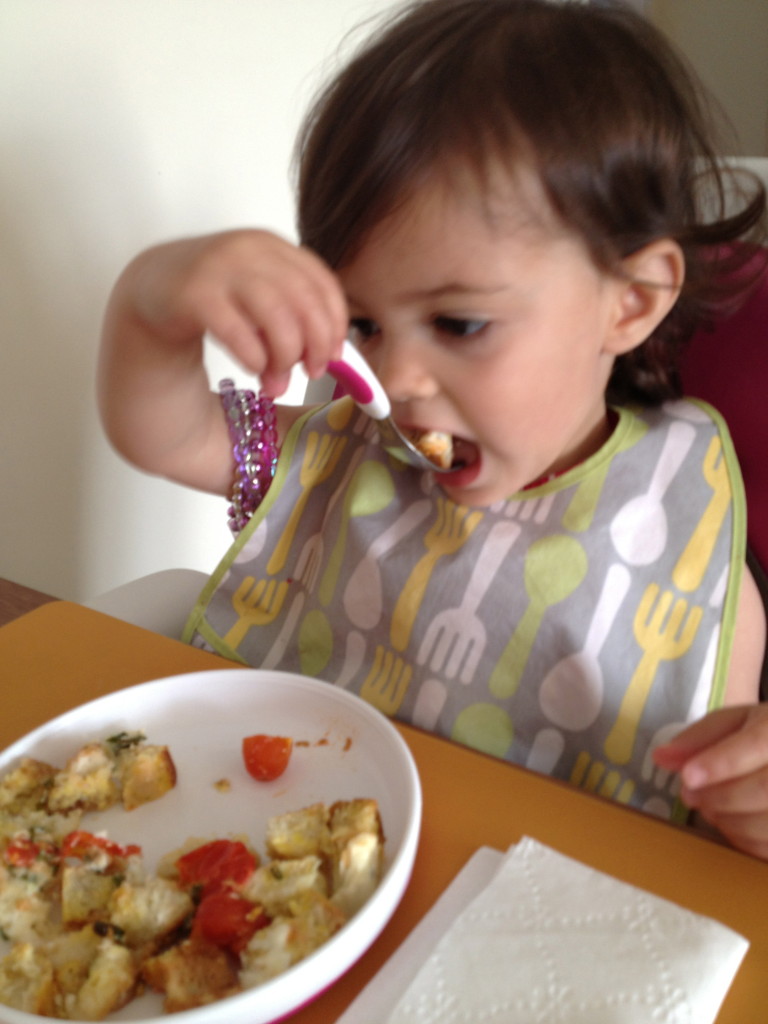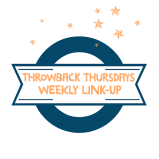 Happy Cooking!
Tags: basil, eggs, mozzarella cheese, parmesan cheese, summer, tomatoes
« Previous Mediterranean Inspired Orzo Salad: Monday Meal Strawberry "Mojito" Mini Pops Next »