Print This Post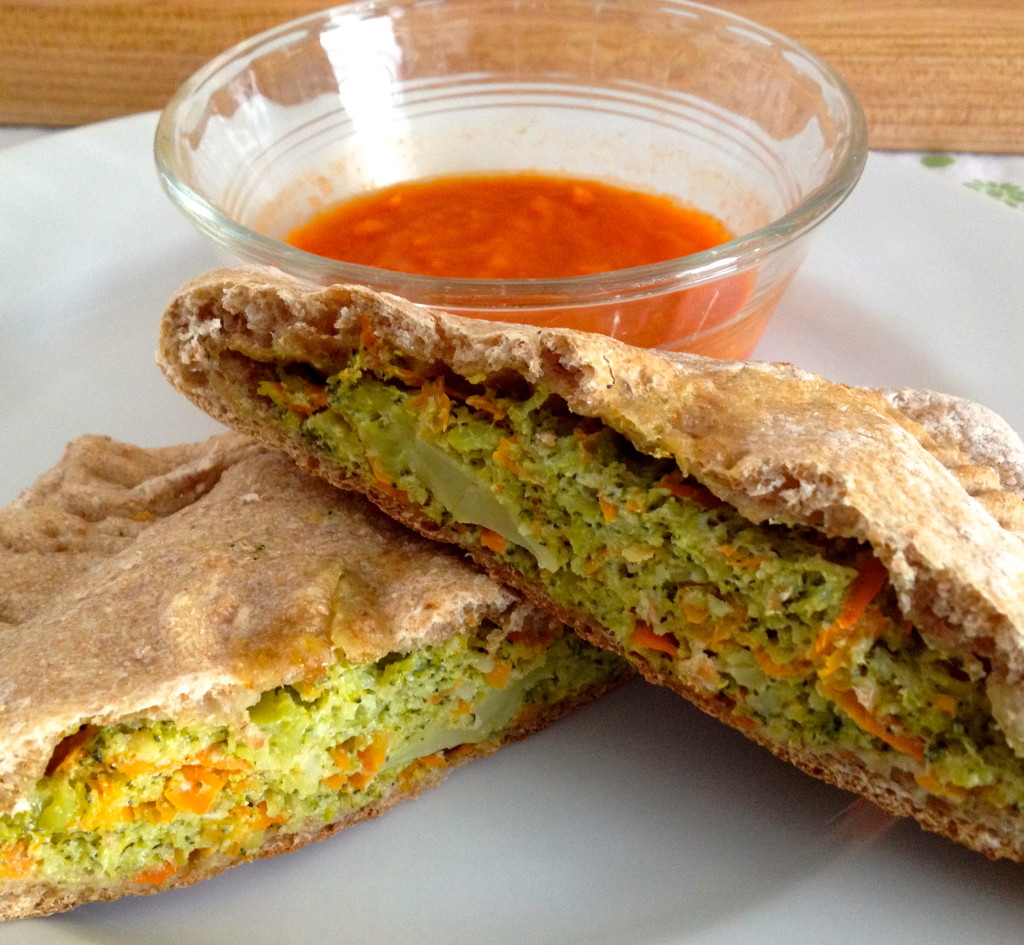 The first time I tried to make calzones at home, it was an epic failure. A tasty failure, but a failure nonetheless.* Since then, I haven't been able to get calzones out of my head, as I can't let a failed recipe lie. Many months later, I decided to tackle them once again. And this time, I'm proud to say, they were a delicious success.
Before I share the recipe, I want to share some of the reasons I love calzones:
1. Like pasta, eggs, rice or other grains such as farro and quiona, you can custom make calzones with whatever ingredients you choose. I chose a combination of cheeses along with some frozen broccoli I wanted to use from my freezer. But, you can use whatever vegetable or meat combination(s) you and your family prefer. Just try to keep the same proportions of cheese to vegetable/meat in the filling (roughly 1½ cups of cheese to 12 ounces of vegetables/meat).
2. Once you get the hang of it, manipulating the dough isn't that hard. No, mine didn't come out as perfectly shaped half moons, but they still tasted delicious. And it leaves room for improvement in the future.
3. There is a lot of flexibility with the preparation of calzones. You can work on the recipe over a few days or in two parts on the same day. If you know you'll be pressed for time, you can make the filling and the sauce up to 3 days ahead of time. If you're using refrigerated pizza dough, just make sure you allow enough time for the pizza dough to lose its chill and become malleable.
4. Calzones freeze well and make a great at work/school or "on the go" lunch. Just take them out of the freezer in the morning and throw them in your briefcase, backpack or diaper bag. They are thawed by lunchtime. To freeze the calzones, wrap them individually in plastic wrap and then place them in a zipper-top bag made for the freezer.
5. They are an "easy sell" to the little foodies in your home because they are really a sandwich that has been "fancied up."
6. Though we immediately think of pairing them with a tomato sauce for dipping, you can dip them in any sauce that you think will taste great with your filling(s). So you can get into the kitchen and get creative.
7. I always choose the whole grain option when available but you can certainly use regular pizza dough if you prefer.
I hope you come up with some of your own reasons to love calzones. If you do, please share them in the comments section below or send me an email at jory@teenytinyfoodie.com and I'll add them to this post.
Enjoy!
*I learned the hard way that the raw pizza dough could not be refrigerator cold or it would just snap back to its original thick shape and not stretch into the thinner circles needed to make calzones. Scroll down to the end of the post to see a photograph of my calzones gone wrong.
Custom Calzones
Ingredients:
-10-ounce bag of frozen organic broccoli florets, thawed with the water squeezed out
-1 large carrot, peeled and grated
-⅓ cup part-skim ricotta cheese
-¼ cup grated locatelli romano cheese
-¼ cup grated parmesan cheese
-¾ cup shredded mozzarella cheese
-¼ teaspoon pepper
-½ teaspoon salt
-2-3 cloves of roasted garlic
-1⅓-ish pound (638-ish grams) fresh whole wheat pizza dough, cut into 6 pieces
Preparation:
Heat the oven to 425°. Line two rimmed baking sheets with parchment paper and set them aside.
Make the filling:
Place broccoli, cheeses, salt, pepper and garlic cloves into a food processor and pulse until ingredients are mixed through. Transfer the mixture to a bowl and stir in the grated carrots. Set the filling aside.
If you're making homemade sauce, begin that now. Otherwise, use your favorite jarred sauce. Click here and here for recipes for making homemade tomato sauce.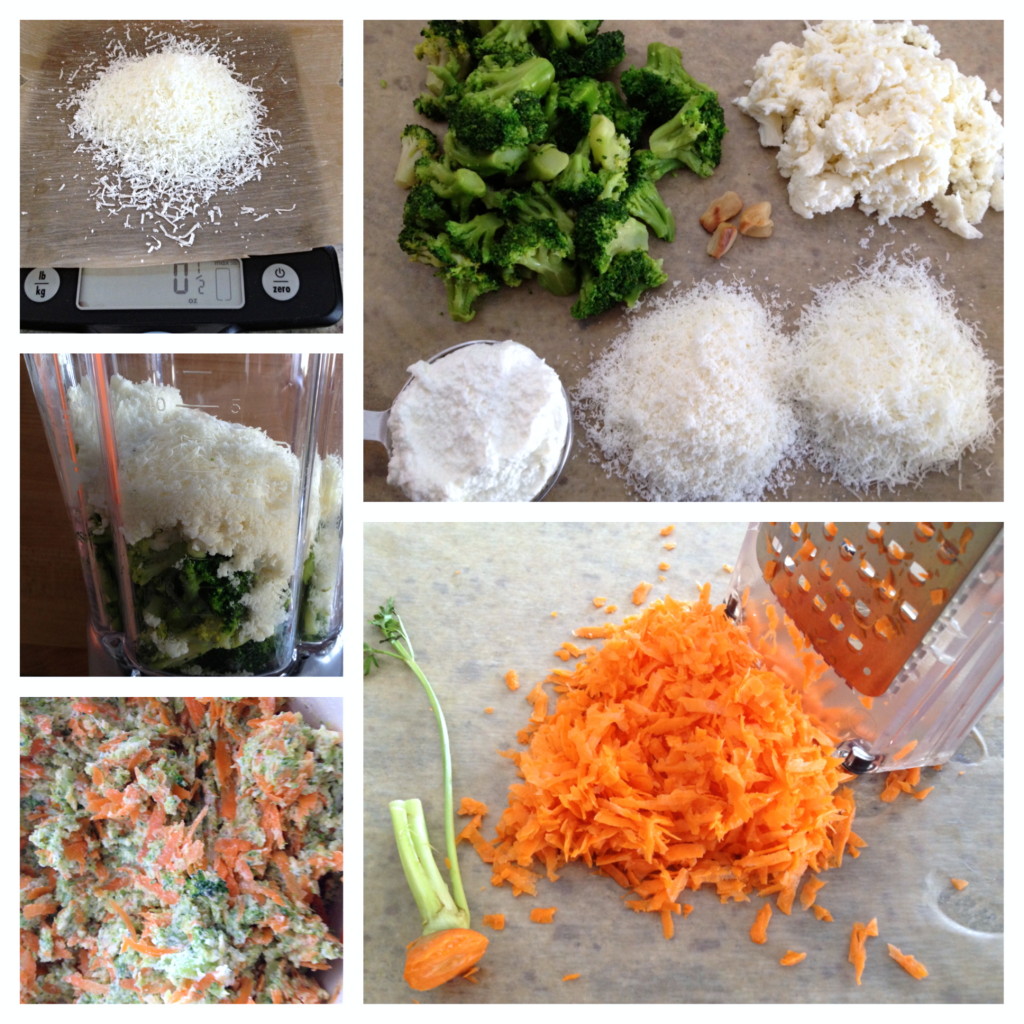 Prepare the dough:
Cut the dough into half. I find that a pizza cutter makes all the difference for this process. Then cut each half into 3 parts so you have 6 equal parts. On a surface that is lightly floured, roll, stretch or flatten out 6 individual circles. Mine don't come out to be perfect circles-some are more triangular or rectangular. As long as they are flattened out to around 5-inches in diameter/length, you'll have enough space to fill them and fold one side over before you bake it.
Place each "circle" onto a baking sheet so you have 3 on each sheet.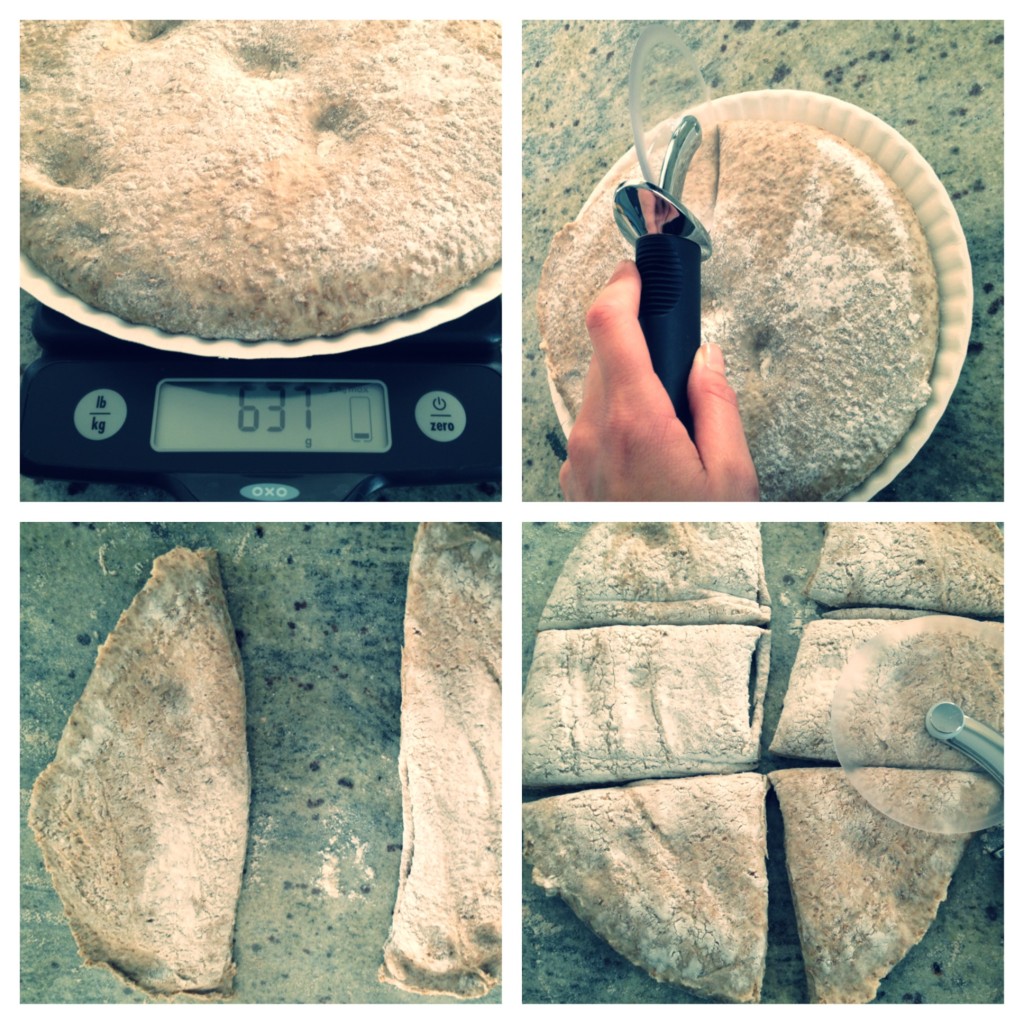 Fill the dough and assemble the calzones:
Transfer the filling to a dinner plate and flatten it out. Cut the filling into 6 equal parts using the same method you did for cutting up the dough.
Scoop ⅙ of the filling into one side of each flattened-out piece of dough. Then fold over the rest of the dough and pinch it closed or use a fork to crimp it shut. Do this for all 6 calzones.
Cut a ½-inch slit into the top of each calzone so they can vent as they bake.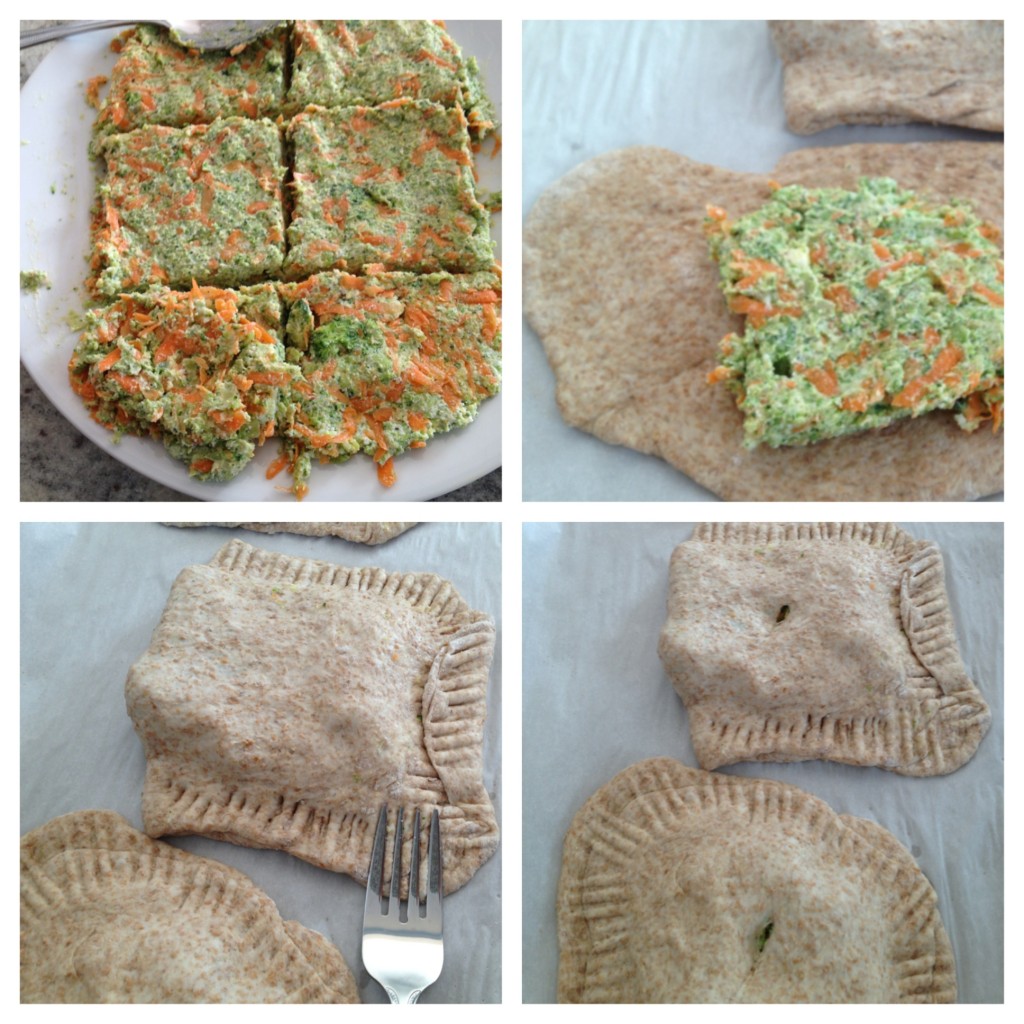 Bake the calzones for 16 minutes or until golden. Slice into halves and enjoy with your favorite sauce!
Eliana was a fan!
Live, learn, and cook better right?
Happy Cooking!
Tags: broccoli, carrots, garlic, pizza
« Previous Corn & Shrimp Chowder: Monday Meal Simple Mango Purée Next »