Print This Post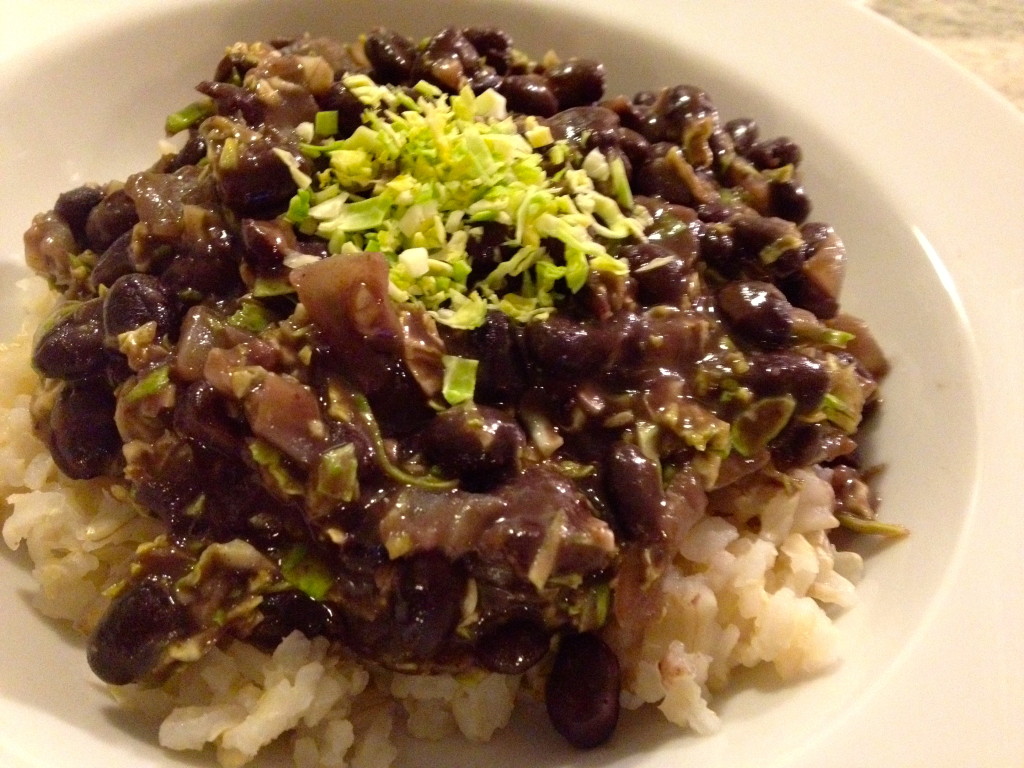 Rice, beans and greens is one of my favorite go-to meals. It is easy to make, the ingredients are pretty cheap and it is the perfect combination of starch, protein and a vegetable. I typically use leafy greens like kale, spinach or collard greens but this week I found Brussels sprouts at the farmers market and decided to use them instead.
Rice, Beans and Greens
-2 15-ounce cans organic black beans (I like the brand Eden Organics)
-1 large onion, diced
-1-2 garlic cloves, smashed
-2 cups Brussels sprouts, cleaned with outer leaves pulled off
-2 cups cooked rice (I like to use brown rice)
-2-3 tablespoons olive oil
-Salt, pepper, chili powder and ground cinnamon to taste
Start the rice:
Cook the rice according to the directions on the packaging and set aside.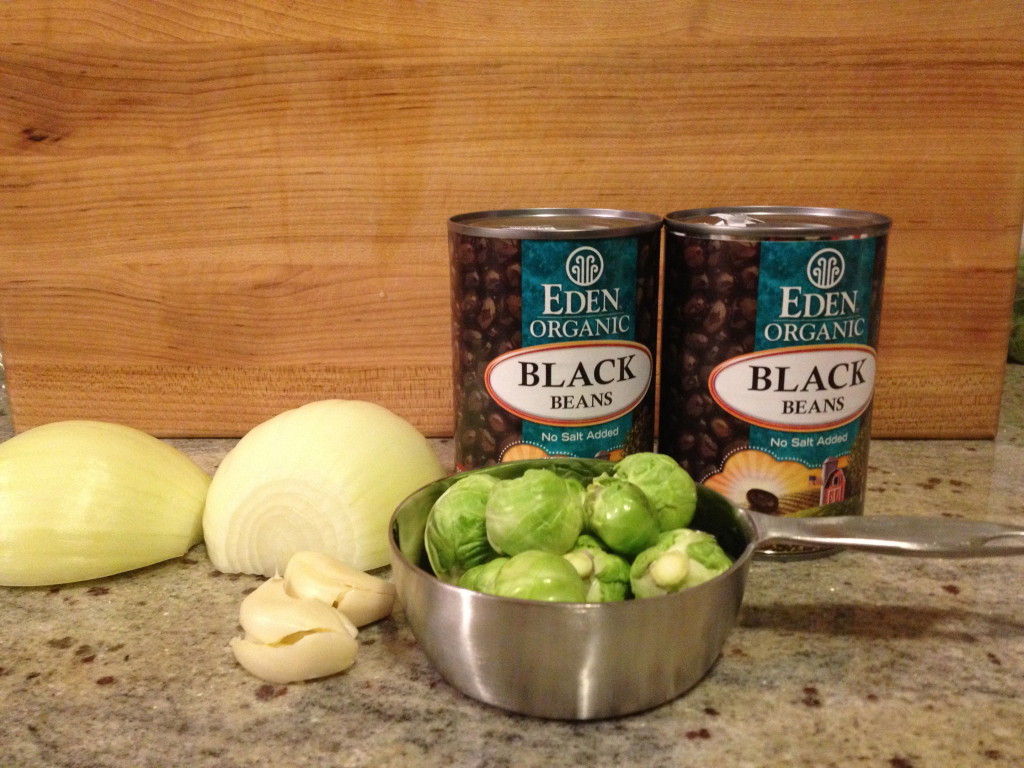 Start the beans:
Heat olive oil in a medium saucepan over medium heat. Add garlic cloves and cook for around 30 seconds. Add the onion, 2 pinches of salt and stir. Let cook, stirring occasionally, until the onions are yellow, around 6-7 minutes. Add the beans including the liquid, 2 pinches of salt and 2 pinches of pepper. Stir and let simmer for around 4 minutes. Then stir again, turn the heat to low and let gently simmer for 10 minutes.
Slice the sprouts:
Meanwhile, prepare the Brussels sprouts. Begin by slicing off the bottoms, then slice them into thin slivers and pull them apart so they are little shreds (see photos below). If you have a mandolin, that would do the trick more easily but I don't have that fancy tool. Set the sprouts aside.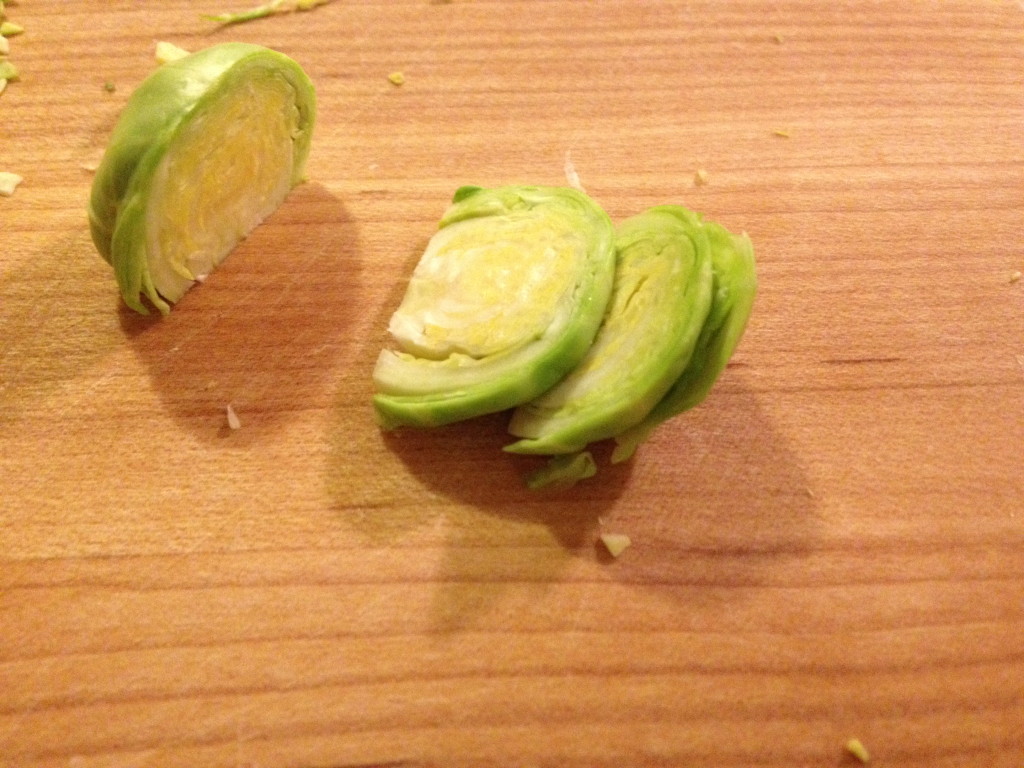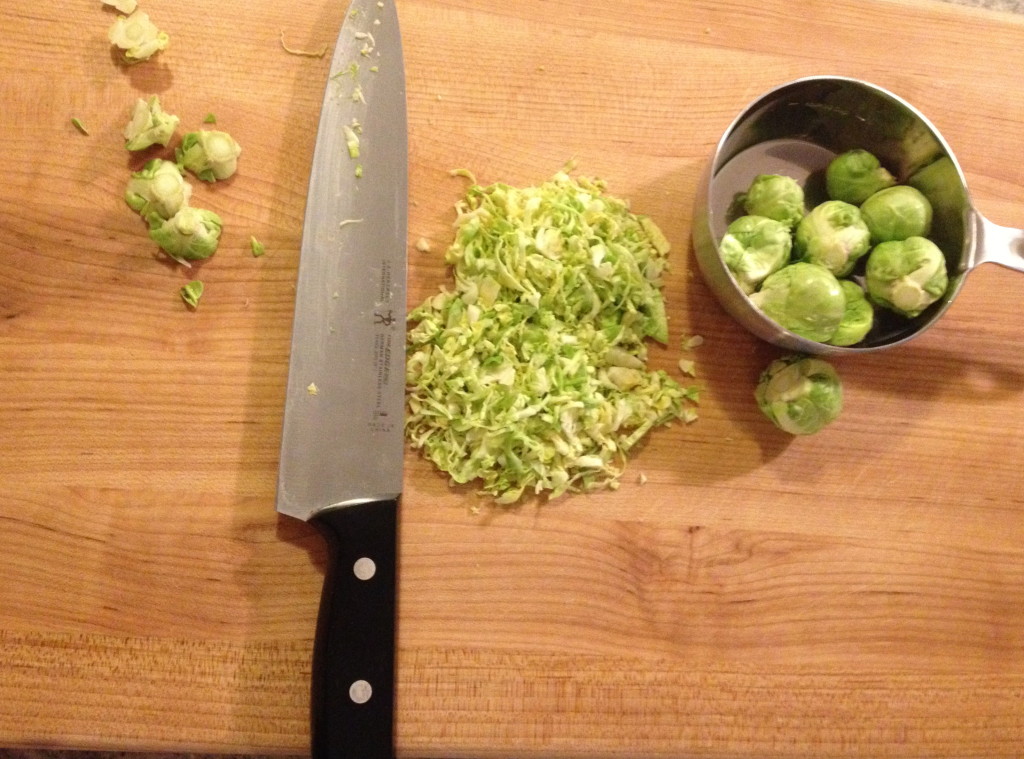 Put it all together:
Taste the beans and adjust the seasonings as desired. Turn off the heat and mix in the chopped Brussels sprouts. Spoon rice and then beans onto plates, top with a little bit more of the chopped sprouts and enjoy!
Variations:
-Serve with thinly sliced sautéed leafy greens such as spinach, kale or collard greens
-Make a rice, beans and greens scramble by adding some rice and beans to a hot nonstick pan and adding 1-2 scrambled raw eggs over the top. Add salt, pepper and garlic powder to taste and scramble the whole mixture for around 1 minute or until the eggs have set.
Unfortunately, I did not get any photos of Eliana LOVING this dish. Matt fed Eliana the rice, beans and greens for dinner and she was going crazy with "Mmmms!" over the beans in particular. It wasn't until around 10 minutes later that I realized I didn't take even one photo of my teeny tiny foodie scarfing down this dish. Aaaarrrgghhh!  I guess you'll just have to take my word for it.
Happy Cooking!
Tags: black beans, gluten free, Meatless Monday, onions, sprouts
« Previous (Toddler) Wonders Never Cease teeny tiny cookies: Monday Meal Next »