Print This Post
Are you looking for a fun little treat to make for an event, bake sale or party? teeny tiny cookies are a perfect choice! They are bite-sized versions of the original chocolate chip cookie recipe I shared last month-with a couple of minor variations. 

For the last few weeks, I've been playing around with my original chocolate chip cookie recipe in order to perfect the miniature version. Matt and Eliana have been very willing and happy tasters of the various test batches. I packaged the perfected teeny tiny bits of yummy as part of the favor bag at my friend Michaele's baby shower. Michaele is one of my oldest and dearest friends who was instrumental in helping me prepare Eliana's first birthday party, so spending a couple of hours baking in her honor was well worth it.

Taste testing a recipe a few weeks ago:
teeny tiny Whole Wheat Chocolate Chip Cookies
-½ cup all purpose flour
-1¾ cups whole wheat flour
½ teaspoon baking soda
-1 teaspoon salt
-2 sticks unsalted butter, softened
-1 cup packed light brown sugar
-½ cup packed dark brown sugar
-1 teaspoon vanilla extract
-2 large eggs
-1½ cup mini chocolate chips
Heat the oven to 375°.
1. In a small bowl, combine the flours, baking soda and salt. Mix well with a fork or whisk.
2. In a large bowl, beat the butter, sugars and vanilla. Beat until creamy. Add the eggs one at a time beating well after each egg. Gradually, beat in the flour mixture and stir in the chocolate chips.
3. Drop the cookies by leveled ½ teaspoons onto a cookie sheet lined with a Silpat or parchment paper and bake for 6 minutes or until the edges begin to brown.
4. When the cookies come out of the oven, transfer them to a cooling rack.
Yields approximately 300 teeny tiny cookies
Tips and Suggestions:
-If you plan to make the full recipe above (300 teeny tiny cookies), try to borrow baking supplies such as cookie sheets, Silpats and cooling racks from others, since there will be many batches of cookies.
-This recipe is time consuming. Save a bit of time by preparing a batch of raw cookies on one cookie sheet while another batch of cookies is baking on another sheet. Rotate the cookie sheets so you can put a sheet with raw cookies into the oven as soon as a sheet with baked cookies comes out.
-If you don't have multiple Silpats, use a different sheet of parchment paper for each cookie sheet.
-A quick way to get the cookies off the baking sheet is to slide the Silpat or parchment paper right off of the sheet and onto the cooling rack. Be careful because the Silpat will be hot.
And the usual question: Did Eliana like them? What do you think?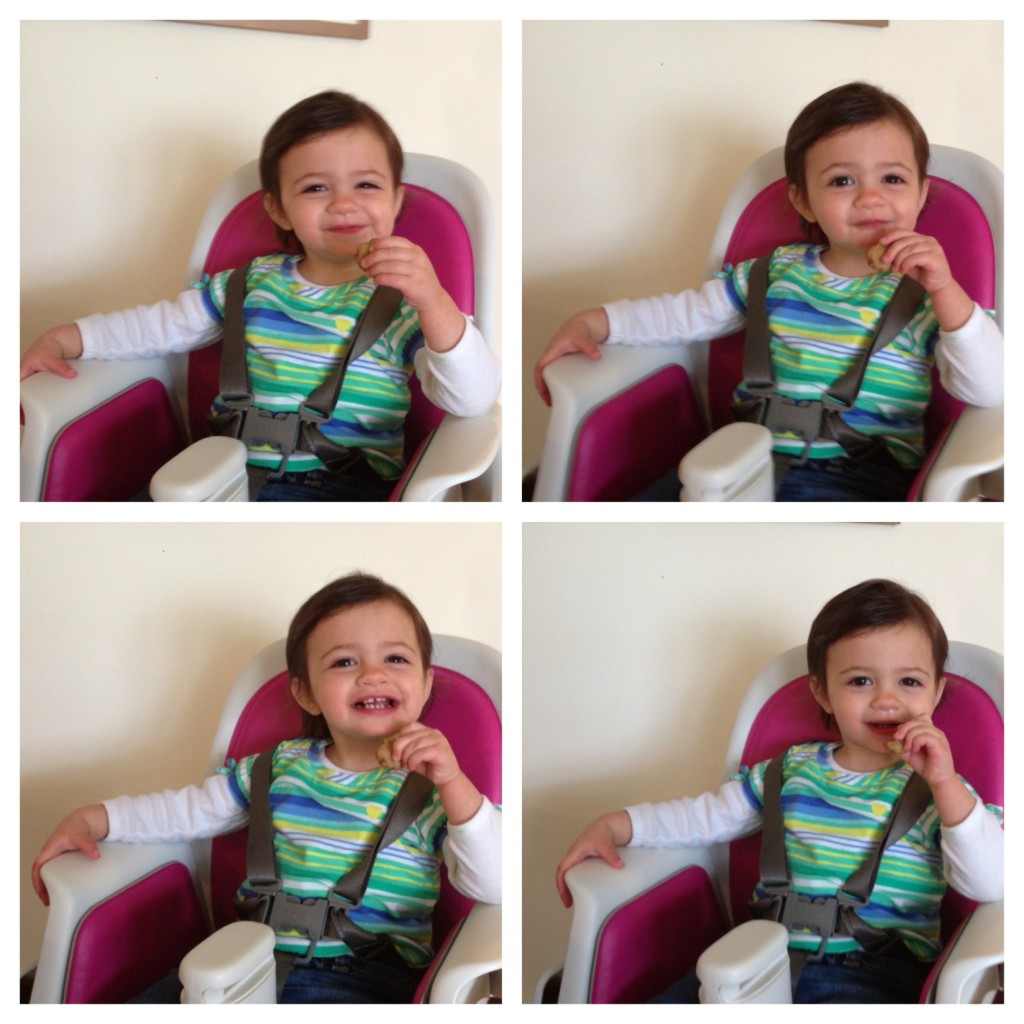 Happy Cooking!
Tags: chocolate chip, cookies
« Previous Rice, Beans & Greens: Monday Meal Our "Egg-Cellent" Opportunity from OXO Tools Next »