Print This Post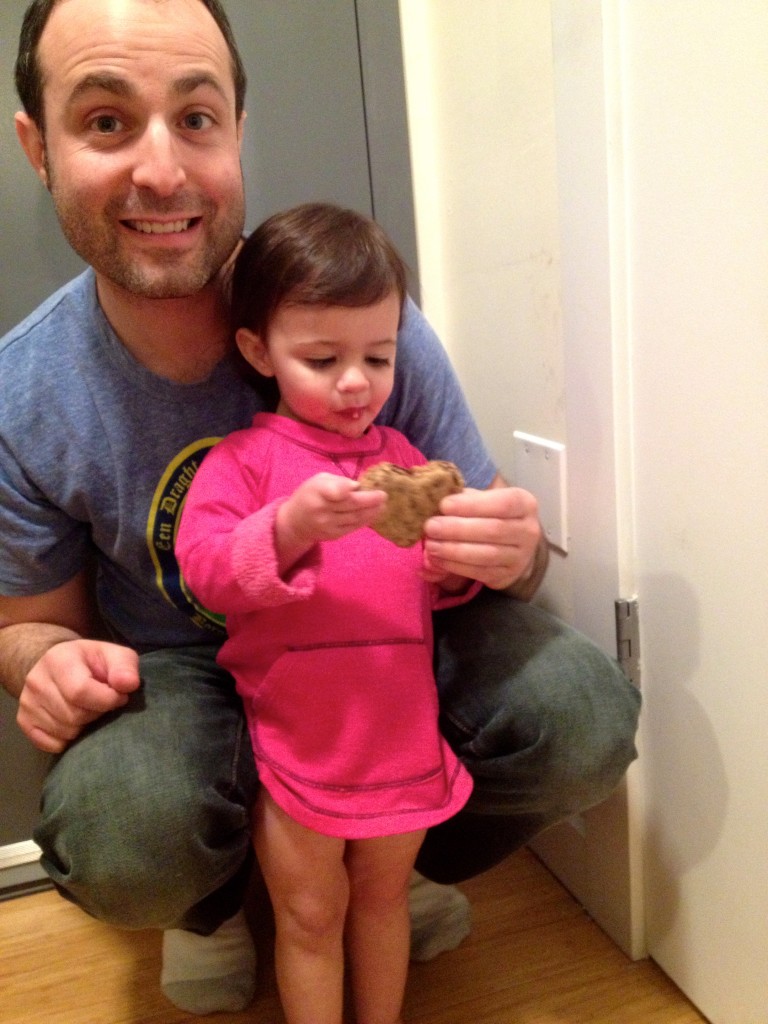 So, this is a bit of a deviation from the traditional Monday Meal, but with Valentine's Day approaching, I thought I'd share some ideas for tasty sweets for your Sweetie(s). In this house, we definitely like to enjoy sweets now and then—at the occasional, appropriate, time and place.
Making a sweet treat for my husband, Matt, has always been one of my Valentine's Day gifts since I consider it to be an appropriate time. I believe that when I make something myself and I can control the ingredients, I can make a version that is a bit healthier than standard recipes. I don't kid myself into thinking that the following recipes are healthy, but are a little "less unhealthy" and that makes me feel better about what I feed my family.
First, here's my recipe for Whole Wheat Chocolate Chip Cookies. Heart-shaped in the spirit of Valentine's Day.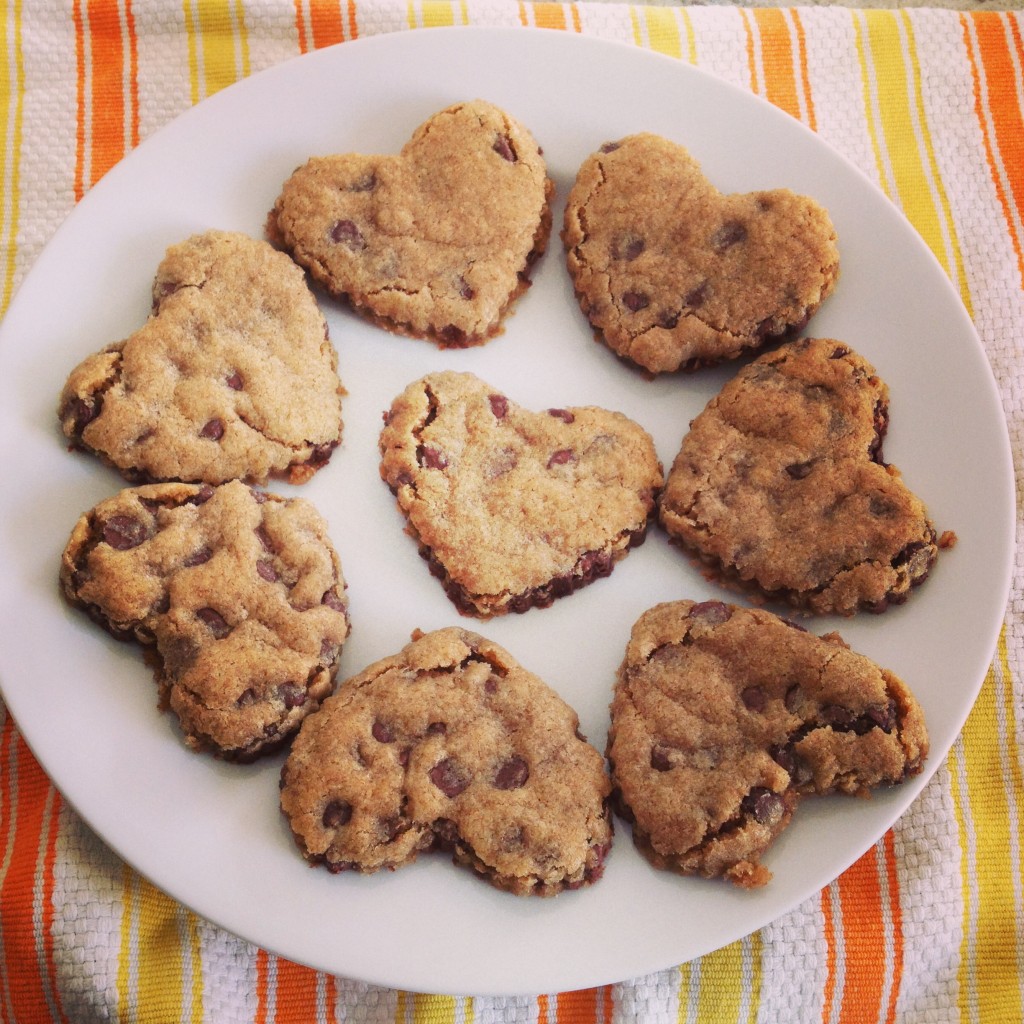 Heart-Shaped Whole Wheat Chocolate Chip Cookies
Adapted from Nestlé Toll House
-½ cup all purpose flour
-1¾ cups whole wheat flour
-½ teaspoon baking soda
-1 teaspoon salt
-2 sticks unsalted butter, softened (Do not microwave the butter to melt it. I've made that rookie mistake before. Not good).
-¾ cup granulated sugar
-¾ cup packed brown sugar
-1 teaspoon vanilla extract
-2 large eggs
-1¾ cup milk chocolate chips
And don't forget a heart-shaped cookie cutter.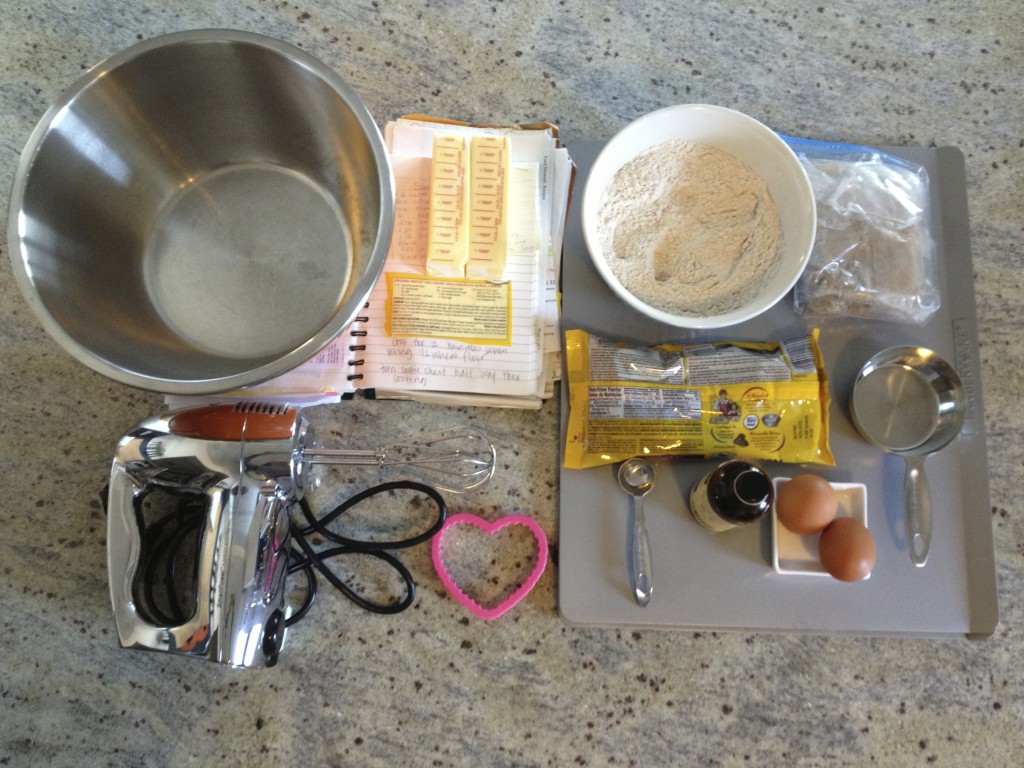 Heat the oven to 375°.
1. In a small bowl, combine the flours, baking soda and salt. Mix well with a fork or whisk.
2. In a large bowl, beat the butter, sugars and vanilla. Beat until creamy. Add the eggs one at a time beating well after each egg. Gradually, beat in the flour mixture and stir in the chocolate chips.
3. Place the dough onto a rimmed cookie sheet, lined with a Silpat or parchment paper, and spread it out across the sheet. Leave around ½ inch of space from the edge since the cookie will expand as it cooks. I've found that the easiest way to spread out the dough is to use my hands. Bake for 7 minutes, turn the cookie sheet around and cook for 6 more minutes.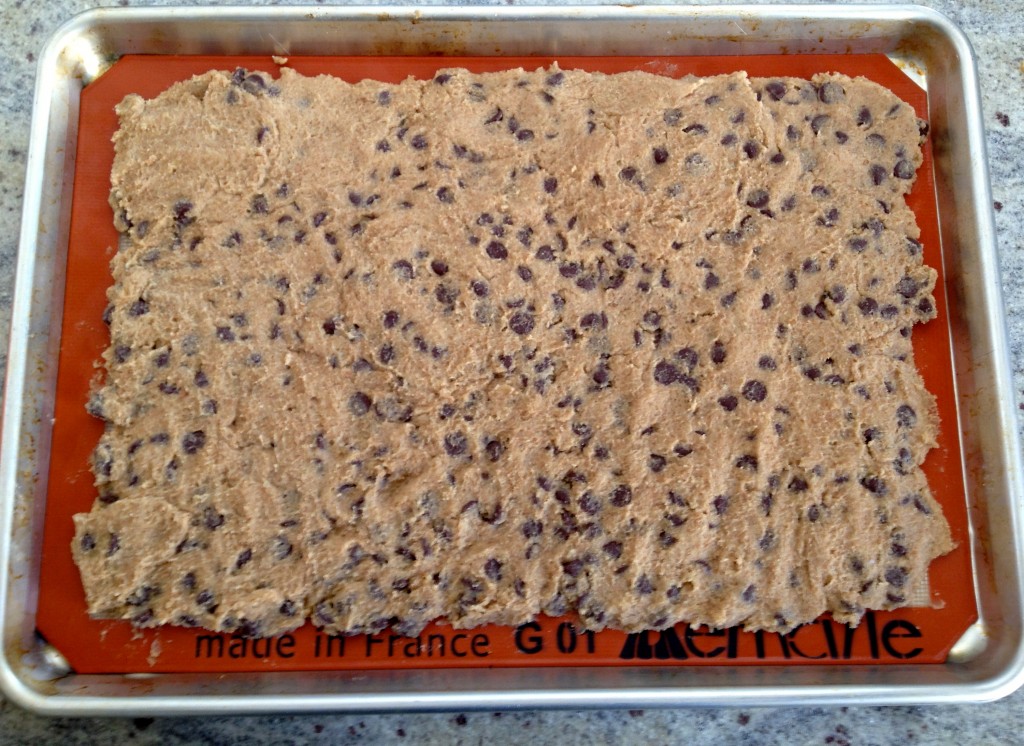 4. When the cookie sheet comes out of the oven, let it sit for 1 minute. Then, cut the cookies into shapes using a heart-shaped cookie cutter. Let them sit for an additional 2 minutes**, then remove them to wire racks to cool. It is easier to remove the bits of cookie that are not shaped into hearts first and then remove the heart-shaped cookies.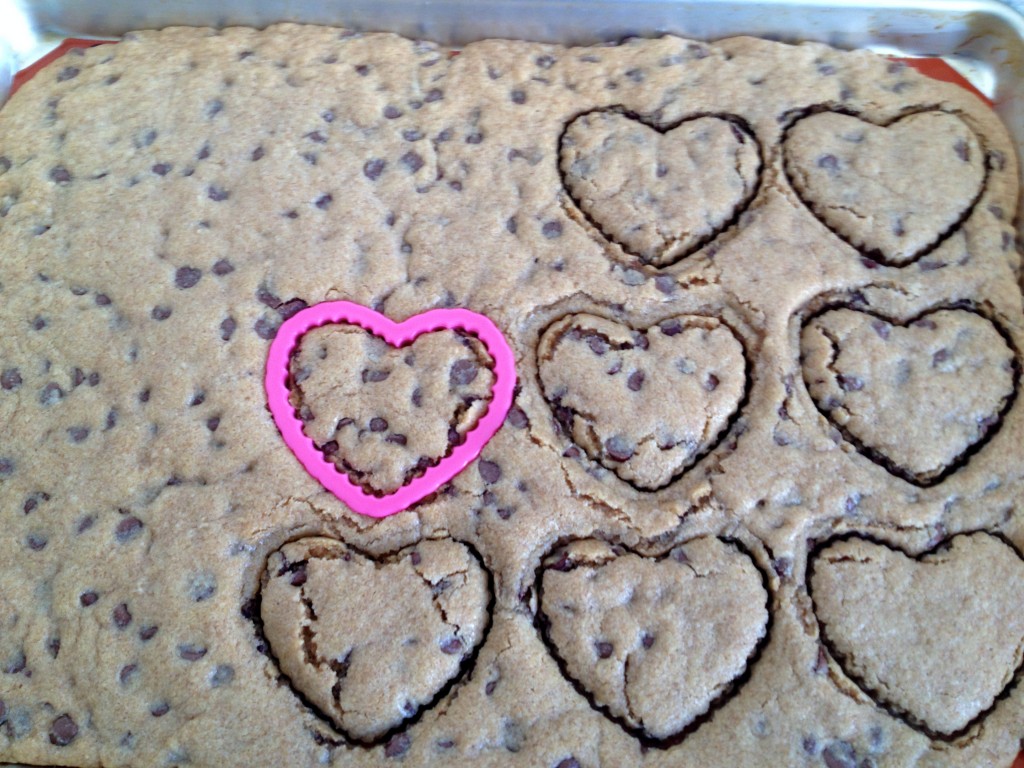 The leftover bits of cookie are not so pretty to look at, but they are just as tasty!
**Or, let them sit for closer to 3 minutes to attend to the melting-down-toddler who can't understand that cookies right out of the oven are too hot to taste.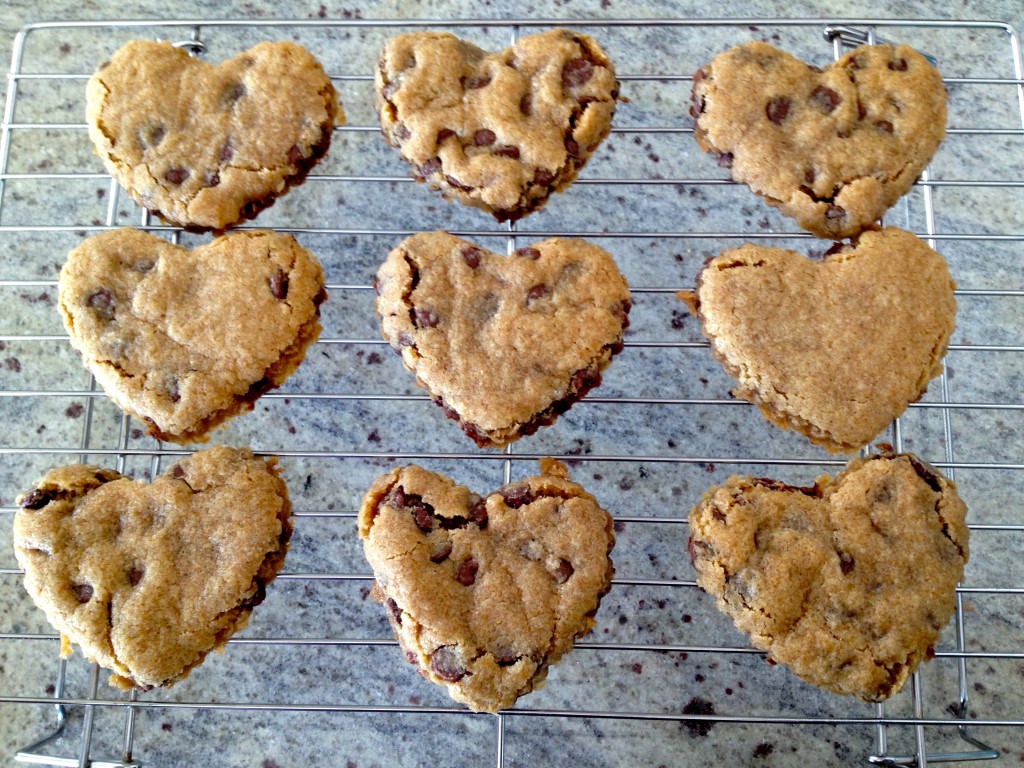 Variations:
-Make "regular" cookies by following steps 1 and 2. Then scoop out rounded tablespoons of cookie dough and place them onto the cookie sheet. Cook for 6 minutes, turn the cookie sheet around and cook for an 6 additional minutes. Let them sit for 1 minute before removing them to wire racks to cool.
-Substitute the milk chocolate chips with white chocolate chips (my personal favorite) or make a batch with half milk chocolate chips and half white chocolate chips.
-Make ice cream sandwiches by spreading ⅓-½ cup of your favorite softened ice cream on a cooled cookie. Top with another cookie. Wrap each sandwich in wax paper to hold them together and freeze for at least 1 hour before enjoying.
-Make two cookie cakes by following steps 1 and 2. Then spread half the cookie dough into a greased 8×8-inch baking dish. Cook for 15 minutes. Let stand for 1 minute, remove the cake to a wire rack to cool and repeat with second half of the dough. I made the large heart below by using a large cookie cutter and a cookie cake.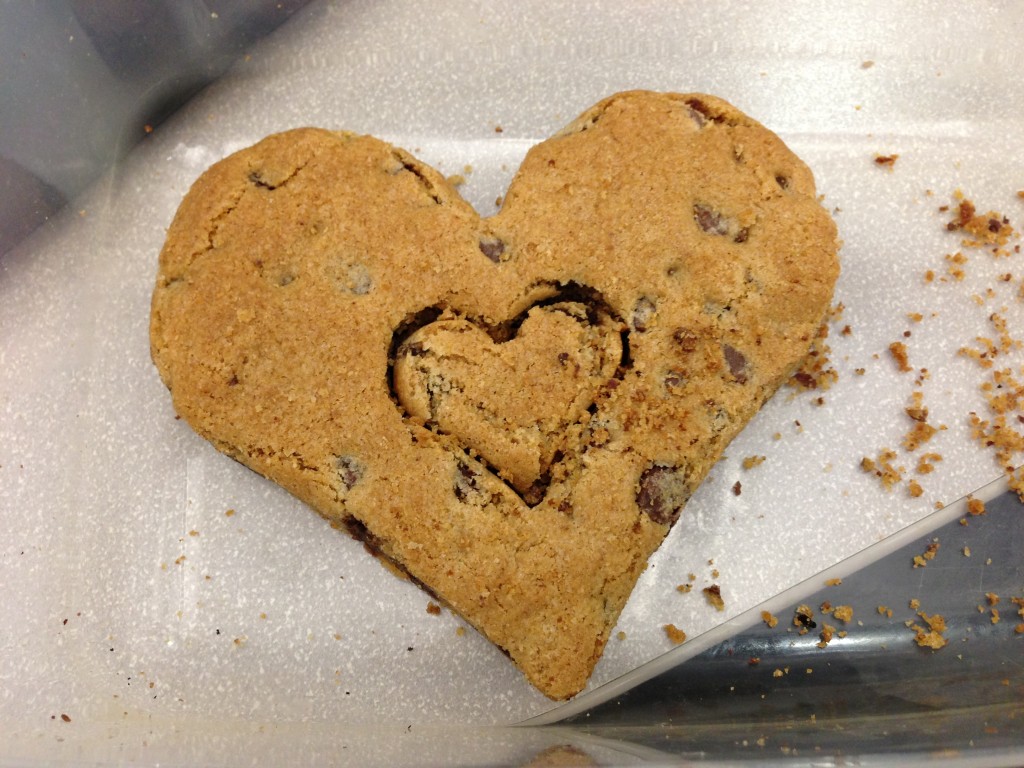 Did you know that cookie cutters double as bracelets?
Eliana was freaking out about wanting to eat them the moment they came out of the oven. They did smell pretty delicious. Here are the photos of when I let her try a piece. Notice how she shoved it into her mouth before I was able to snap the photo.
And, this cooking adventure added yet another word to Eliana's ever-growing vocabulary!
Click here to hear her newest word. And click here to watch her reaction.
And here's my recipe for Cereal Marshmallow Treats. This is my "less unhealthy" version of Rice Krispie Treats. And, in the spirit of St. Valentine, they are dyed pink and heart-shaped.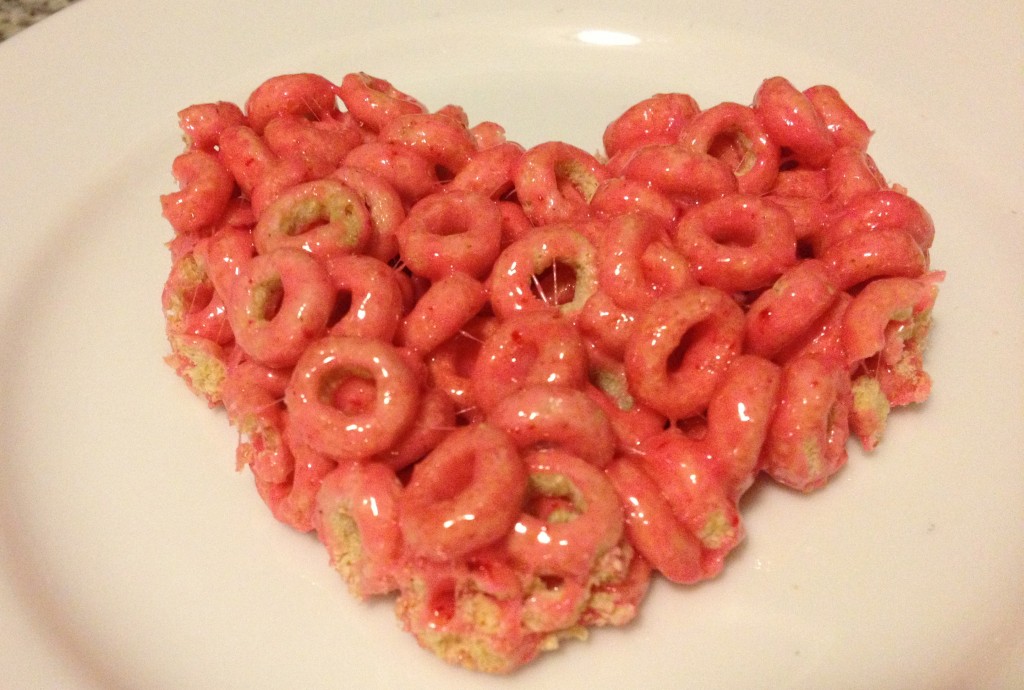 Pink Heart-Shaped Cereal Marshmallow Treats
A variation of Rice Krispie Treats
-5½ cups small, whole grain cereal (I used Cascadian Farms brand Purely O's)
-3 tablespoons margarine
-1 bag miniature marshmallows
-20 drops red food coloring
-Cooking spray
Again, don't forget a heart-shaped cookie cutter. One tip: Use a metal cookie cutter. My plastic one had a hard time cutting through the sticky marshmallows.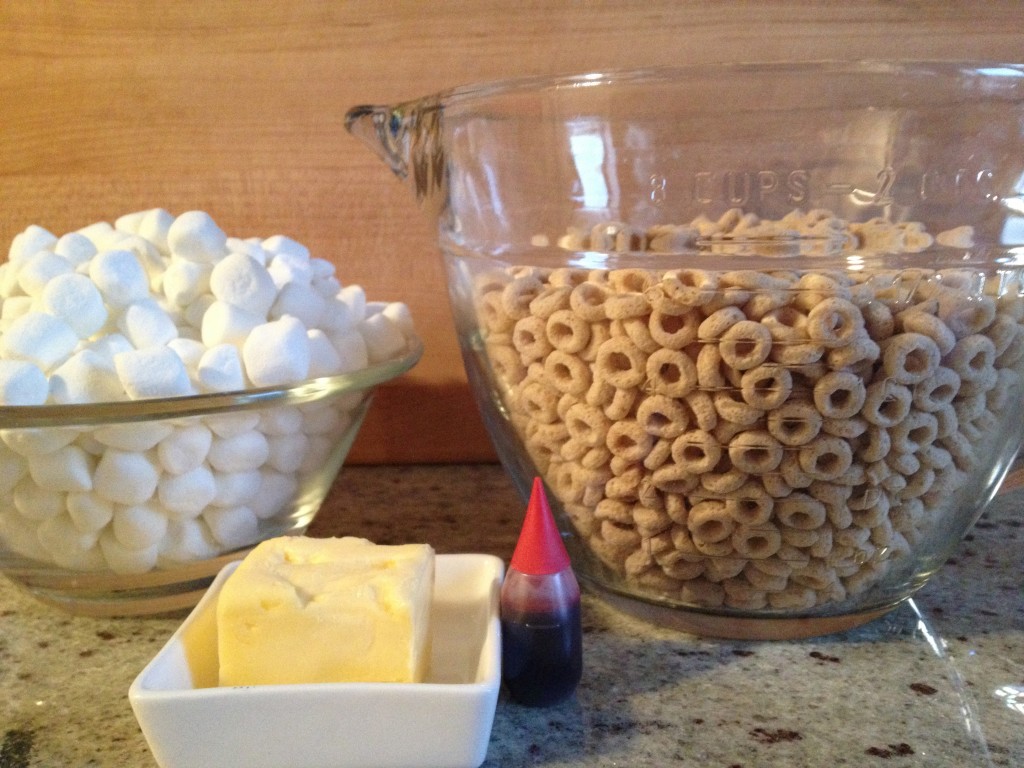 1. Melt the margarine in a large microwave-safe bowl for around 45 seconds. Add the food coloring. Stir the margarine. Add the marshmallows and stir again.
2. Microwave for 1 minute and 30 seconds or until marshmallows are melted. Stir the marshmallow mixture. The color of the marshmallows will be less strong once mixed with the cereal, it's okay if the color is fairly dark.
3. Stir in the cereal. Pour mixture onto rimmed cookie sheet sprayed with cooking spray. Pat down so mixture is flat and fills the sheet. I've found that flattening the mixture is easier if I pat it down using plastic wrap sprayed with cooking spray or my own hands sprayed with cooking spray.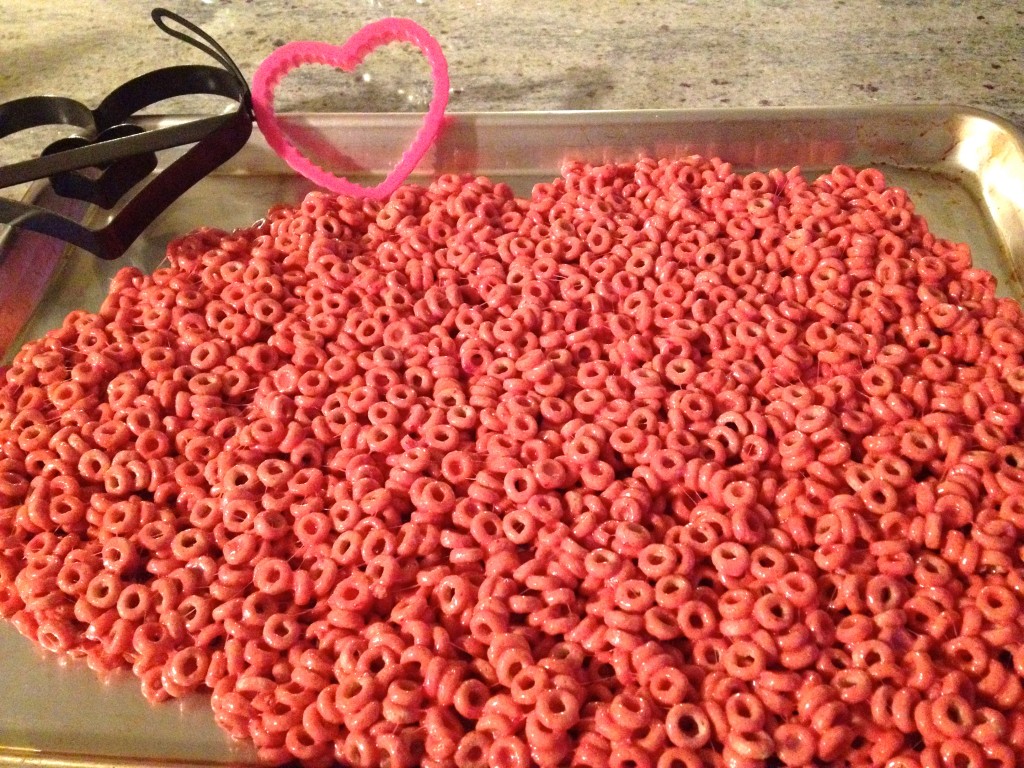 Let rest for at least 15 minutes before cutting and serving.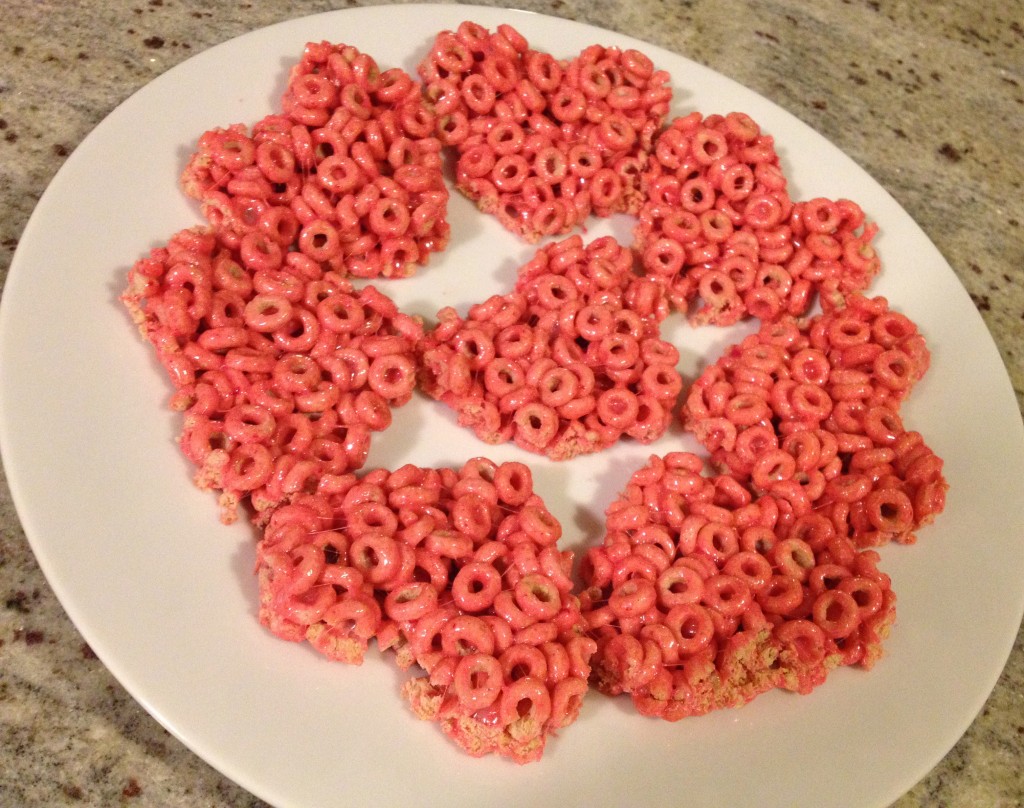 Variation:
-Make the treats into more traditional squares by spreading the mixture into a greased 9×13-inch baking dish.
Eliana was pretty confused when I handed her the big mixing spoon to taste. The pink color and sticky marshmallow mixture was really strange to her. But once she tasted the cereal treats, she kept asking for more.
Happy Cooking!
Tags: chocolate chip, cookies, Valentine's Day
« Previous You Say Chayote…I Say Xuxu Quick and Hearty "Rice Pudding" Version 2.0 Next »