Print This Post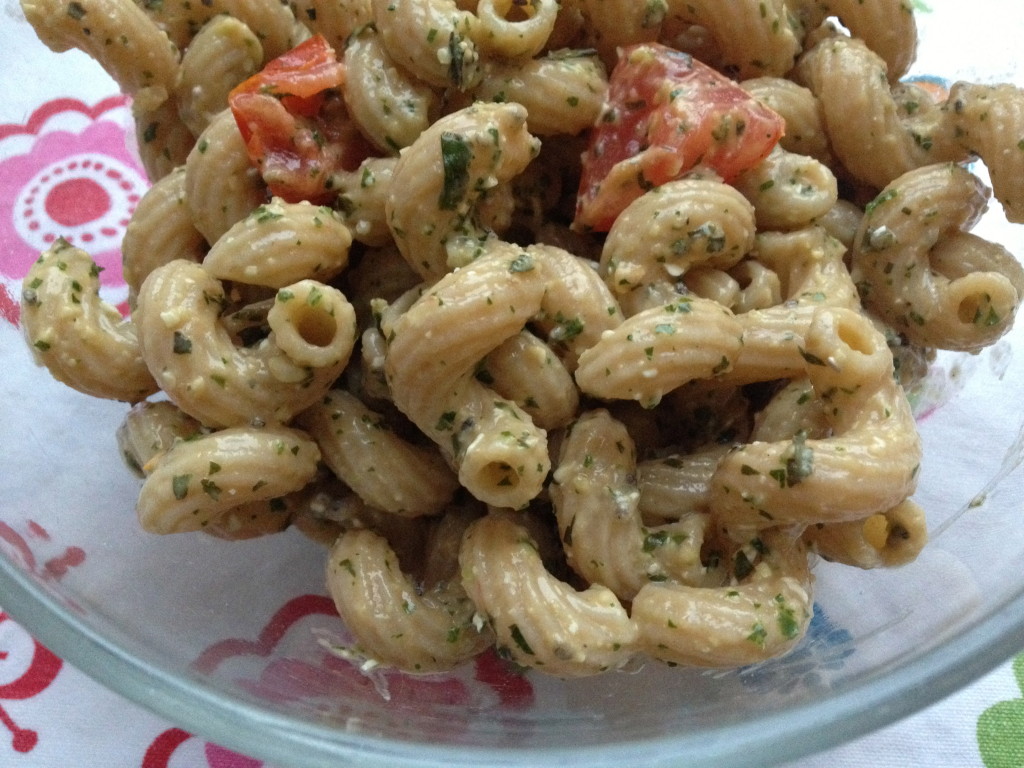 I'm just going to come right out and say it: I love kale. That probably doesn't shock you if you've seen some of my more recent posts such as Berry Kale Smoothies or Pineapple Banana Kale Muffins. Not only is kale really versatile and easy to cook with, but it's also a "nutritional powerhouse" which packs a ton of vitamins, anti-oxidants and nutrients and has been linked to lowering cholesterol and the risk of different cancers. And, it actually tastes good, too!
Kale has been all over our local farmers market so I've been cooking with it a lot lately. Kale Chips, anyone? Today's Monday Meal is a quick and easy twist on a previous recipe for pesto sauce that adds kale alongside the basil for a tasty, and extra nutritious, sauce for pasta or various proteins such as tofu, chicken and fish. I love that this recipe can be served hot or at room temperature, which makes it a great on-the-go dish for a family field trip, summer camp lunch box or as an addition to a potluck get together. And you can make a big batch of pesto and save the paste in an airtight container for up to 4-5 days. Personally, I love the time-saving aspect of making a larger quantity of something at once so I can enjoy it for many more days.
Want more ideas on how to enjoy the leftover kale-pesto paste? It's also delicious as:
-A sandwich spread
-A dip for veggies
-Mixed into scrambled eggs, a frittata or strata
-Whisked with some lemon juice and olive oil for a salad dressing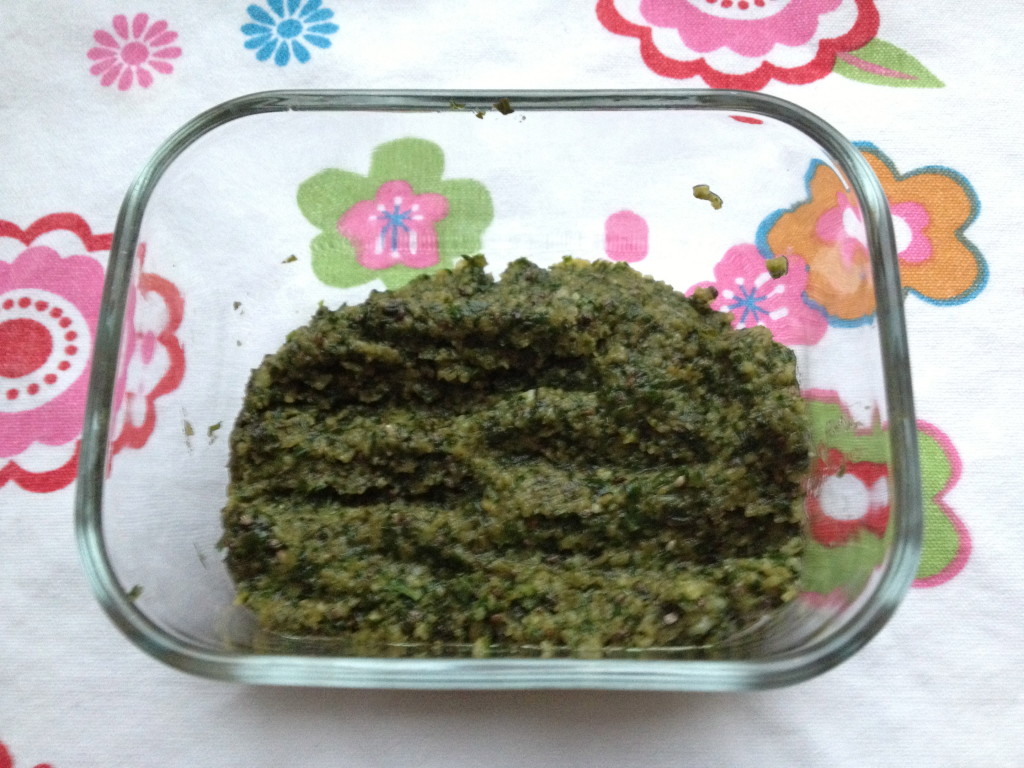 An important note about the recipe: Except for the chia seeds and scape, there are no specific amounts listed on this recipe because it all depends on your taste. For all ingredients, I start by adding smaller amounts to the food processor and work my way up because it is easier to add more of anything to the food processor than to take away.
Enjoy!
Kale Scapes Pesto Pasta
Ingredients:
-Fresh basil
-Fresh kale (2 parts basil to 1 part kale)
-Pine nuts, toasted
-1 garlic scape (or 2 cloves garlic)
-Shredded or grated locatelli romano cheese
-Olive oil, salt and pepper
-A mug of reserved cooking liquid from the pasta
-1 pound pasta, cooked
-2 teaspoons chia seeds
-Handful cherry tomatoes, quartered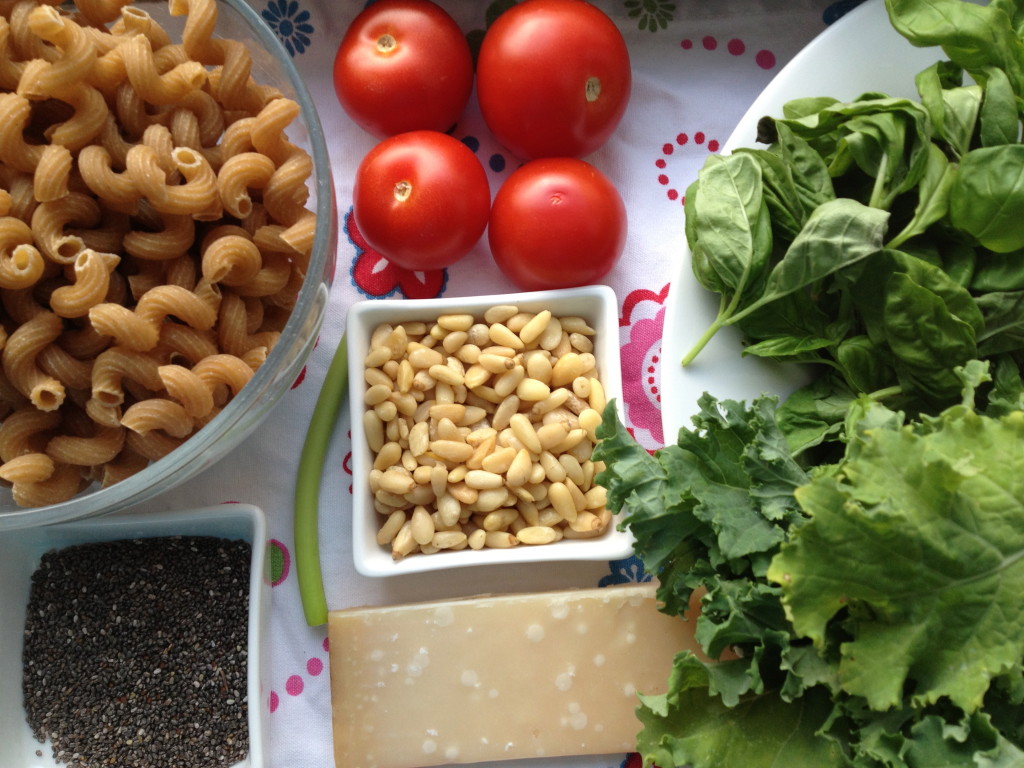 Preparation:
Start the pasta and cook according to the directions on the package. Reserve a mugful of cooking liquid.
Toast the pine nuts over low heat for a few minutes, stirring occasionally, until they are browned and fragrant.
Place all ingredients except pasta, cooking liquid and tomatoes into the food processor and purée.
Taste and adjust levels as needed.
Drain the pasta and add it back into the pot. Add the pesto, which is kind of a paste consistency, and begin adding the reserved cooking liquid from the pasta.
Mix it all up and add more water as needed to help thin out the pesto and avoid adding a lot more oil.
Add the chopped tomatoes and a bit more grated cheese. Mix, taste, adjust seasonings and enjoy!
Variation:
-Add 1-2 tablespoons part-skim ricotta cheese to make a cheesy pesto sauce and to bump up the level of protein
Eliana is a big fan of all things pasta and it is no surprise that my father in law caught this photo of her literally shoveling the kale pesto pasta into her mouth.  I added a bit of part-skim ricotta to her pasta to add a bit more protein to her dinner.
Happy Cooking!
Tags: basil, cheese, chia seeds, garlic, green foods, kale, leafy greens, Meatless Monday, nuts, summer, tomatoes
« Previous Simple Watermelon Purée Blueberry Dill Purée Next »