Print This Post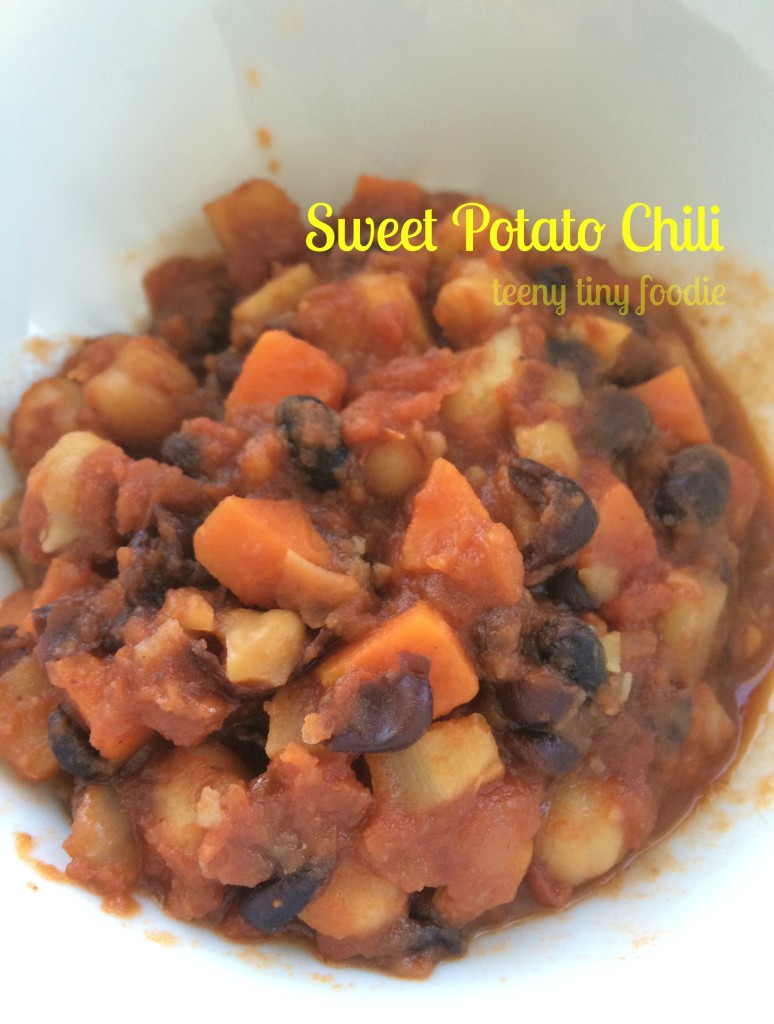 Are you looking for that perfect Super Bowl meal that will let you get your prep out of the way early so you can hang out with your guests? Or, are you hoping to wow your hosts with an easy and delicious potluck contribution? Here's my suggestion for you: Sweet Potato Chili! While it will be delicious the day you make it, chili usually tastes better the second or third day after cooking it and that makes it a great make-ahead meal.
For this recipe you can use orange or white-fleshed sweet potatoes. One difference I've noticed between these two types of sweet potatoes is that the orange-fleshed ones break down and melt into the chili, producing a creamy texture. The white-fleshed ones stay in cubes and don't break down into the chili.
The chili will be yummy after cooking for 20 minutes, but if you have the time, you can let it cook for up to an hour so the flavors have more time to meld. Either way you'll have a scrumptious game-day meal to feed the cheering section.
Sweet Potato Chili
Yields 6 servings
Ingredients:
-1 large yellow onion, chopped
-2-3 carrots, peeled and chopped
-1 large parsnip, peeled and chopped
-1 small sweet potato, washed and sliced into ½-inch sticks
-1 28-ounce container of chopped or pureed tomatoes
-1 15-ounce cans black beans, rinsed and drained
-1 15-ounce can garbanzo beans (aka chickpeas), rinsed and drained
-2-3 cloves garlic, peeled and crushed
-2 tablespoons vegetable oil, divided into half
-Salt, pepper, cayenne pepper, chili powder and red pepper flakes, to taste
-Your favorite chili toppers. We like shredded cheddar cheese and Jalapeño Cornbread or blue corn chips.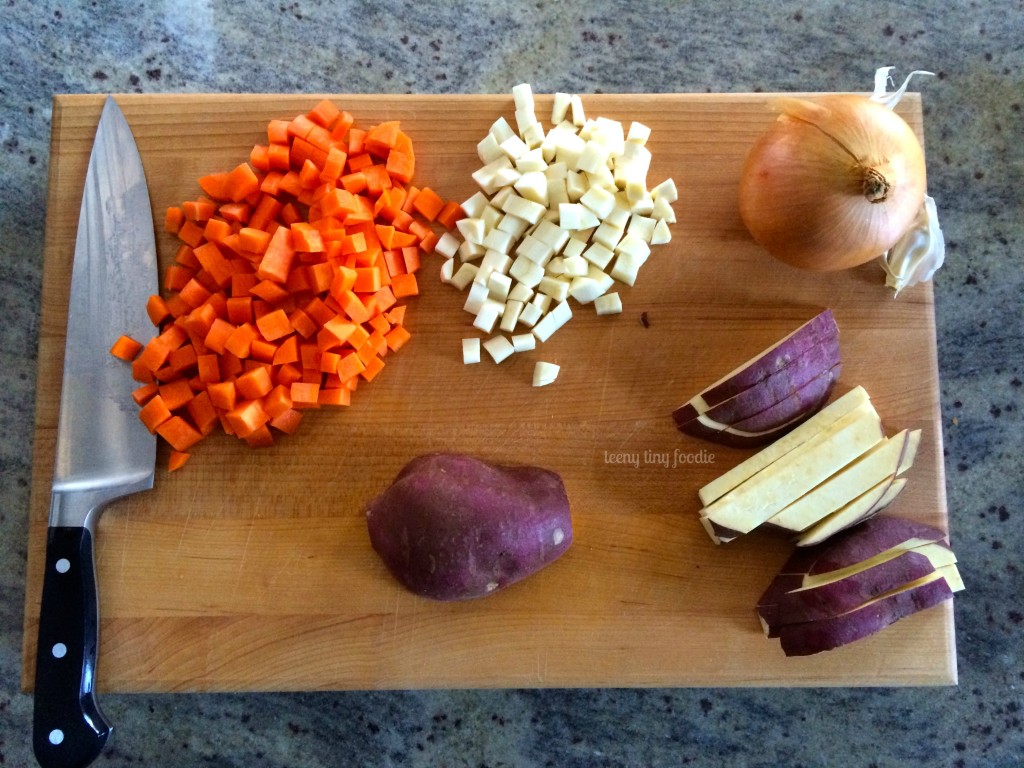 Preparation:
Roast the sweet potato:
Heat the oven to 350° and line a baking sheet with parchment paper. Place the sliced sweet potato into a large bowl and toss with a little bit of the olive oil and a pinch of salt. Spread the sweet potato sticks out into an even layer on the baking sheet and cook for 20 minutes or until soft. Remove from the oven and set aside to cool to the touch. Once cooled, chop the sweet potato into chunks and reserve ¾ cup to add to the chili. Refrigerate the rest for another use.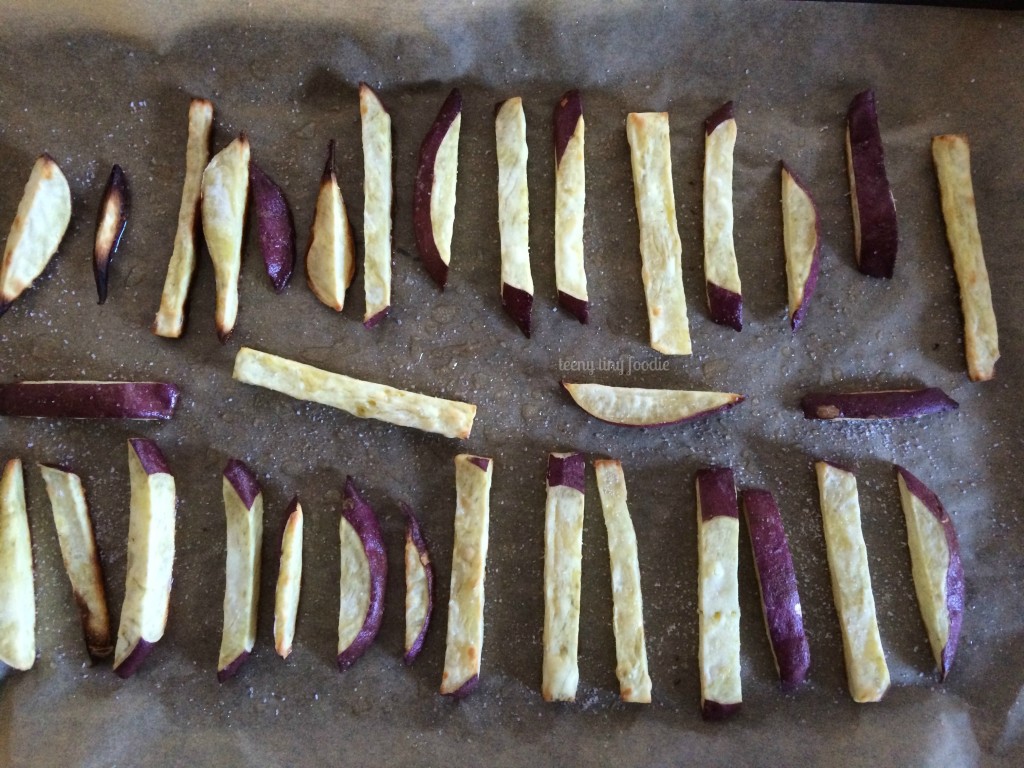 Meanwhile, sauté the vegetables:
In a large, lidded saucepan, heat half the olive oil over medium heat. Add the garlic and cook for 30 seconds. Add the onions, some salt and stir. Cook for 5 minutes, stirring occasionally.
Add a little more vegetable oil if needed and the carrots and parsnip, a pinch of salt and stir. Cook for 3 more minutes, stirring occasionally.
Add the beans and tomatoes:
Pour the beans and some more salt into the pot and mix together well. Cook for 1-2 minutes.
Add in the tomatoes, mix thoroughly and bring the chili to a low boil. Boil for 10 minutes.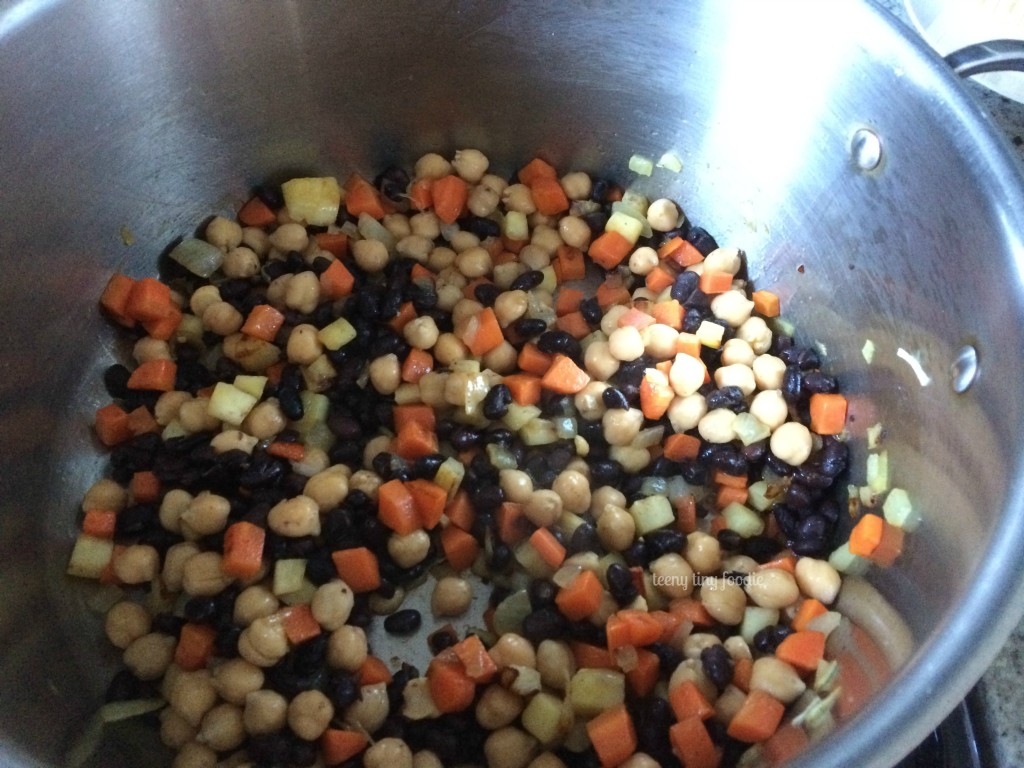 Add the sweet potato and let the chili simmer:
Add in the sweet potato chunks and desired spices, stir, cover and simmer the chili over low heat for at least 20 minutes and up to 1 hour.
Turn off the heat, stir, taste and adjust seasoning as needed.
Top with your favorite accompaniments and enjoy! The chili will be delicious the day you cook it and even better a day or two later. Regardless of how the game turns out, you'll be the champion in the kitchen.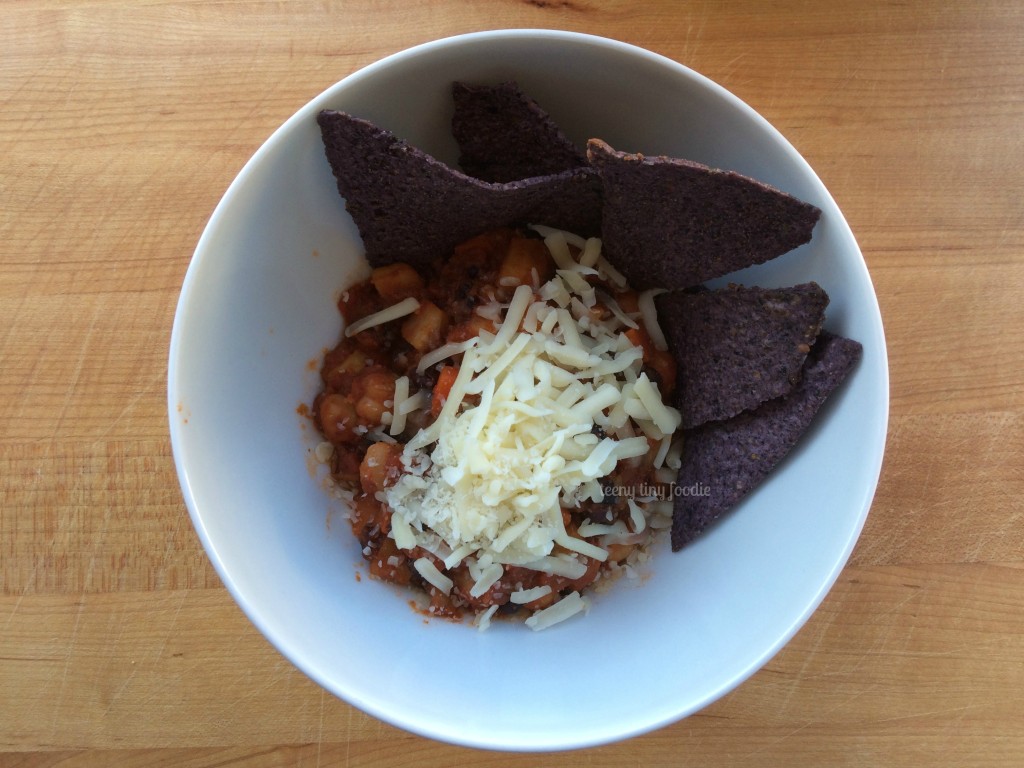 What I don't have for this recipe are photos of Eliana enjoying it. Beans are one of the foods she flip flops over, changing her mind whether she likes them or not, without any real rhyme or reason behind it. Some days she gobbles them (and chili) up and asks for more. Other days, she won't even taste something that contains beans. Ah, toddlers!
Happy Cooking!
Tags: black beans, carrots, chickpeas, chili, garlic, Meatless Monday, onions, parsnips, sweet potatoes, Thanksgiving, tomatoes, vegan, vegetarian
« Previous Homemade Hot Chocolate: {Kids Cook} Monday Meal Say Hello to My Little Friend Next »