Print This Post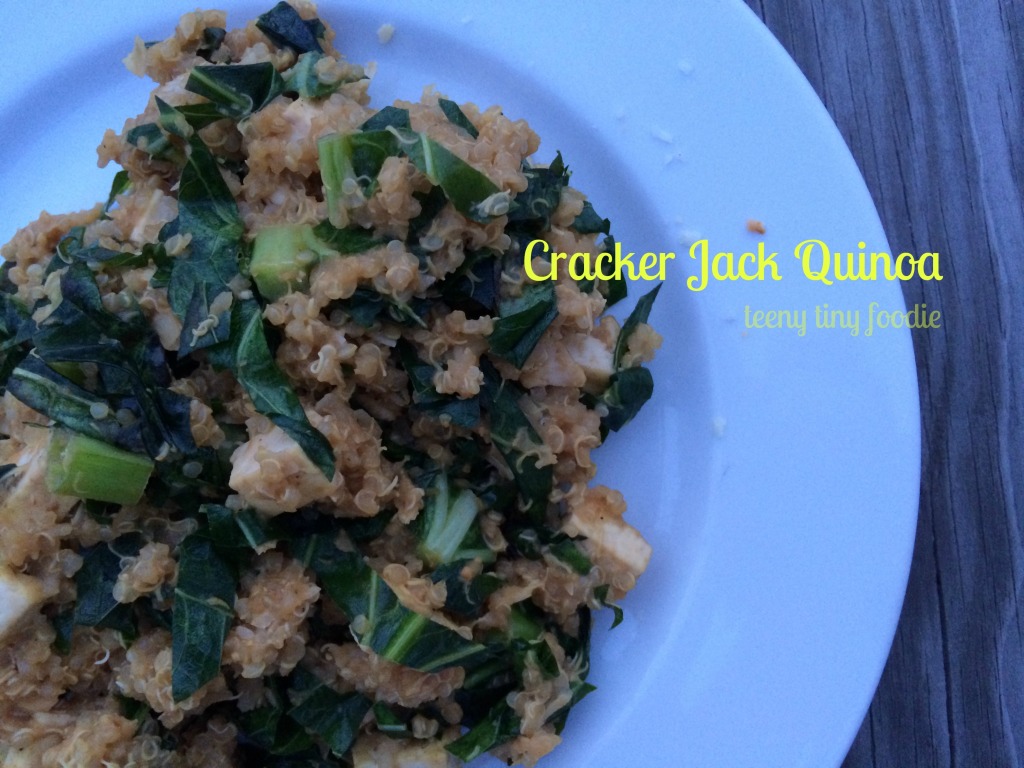 This week's Monday Meal, Cracker Jack Quinoa, is one of my new favorite dishes and I'm excited to share it with you. There are a lot of different steps for this dish so it can take around an hour to cook it all at once. But, you can make parts of it ahead of time to save time on the evening you'd like to enjoy it. See below for ideas.
A couple of notes about this recipe:
1. Up to 3 days in advance you can make the sauce and cook the quinoa. Keep the sauce in the refrigerator in an airtight container until you're ready to use it. Shake or stir the sauce well before pouring it onto the quinoa.
2. Read this post to learn how to properly cook and cool the quinoa. Store quinoa in an airtight container or zipper-top bag in the refrigerator.
3. I serve Eliana a "deconstructed" version of this dish. She prefers to mix it together herself or sometimes eat the components separately so I don't mix it all together or pour the sauce on hers. This way, she can choose to dip her food into the sauce as she likes. See the photo of her dish after the recipe to see what I mean.
Cracker Jack Quinoa
Yields 6 servings
Ingredients:
For the sauce:
-2 teaspoons molasses
-2 tablespoons unsweetened all-natural peanut butter, crunchy or smooth
-2-3 tablespoons unsweetened coconut chips or flakes
-1 tablespoon tamari (you can use low-sodium soy sauce but it is not gluten-free)
-¼ cup room temperature filtered water
-Juice of ½ lemon
-A few drops of Sriracha or other hot chili sauce, optional
For the quinoa:
-¾ cup uncooked quinoa, rinsed and drained
-1½ cups water
For the tofu and collard greens:
-2 pounds extra firm tofu, pressed if desired
-1 bunch collard greens, washed and dried
-1-2 clove(s) of garlic, peeled and smashed
-2 teaspoons olive oil
-1½ teaspoons salt, poured into a small bowl
-½ teaspoon garlic powder
-½ teaspoon pepper
Preparation:
Press the tofu:
Slice the blocks of tofu into smaller, thinner rectangles. I like to press the tofu but it isn't essential. Pressing tofu removes some of the water and makes it even more firm. If you press it, you should press it for at least 20 minutes and up to 1 hour.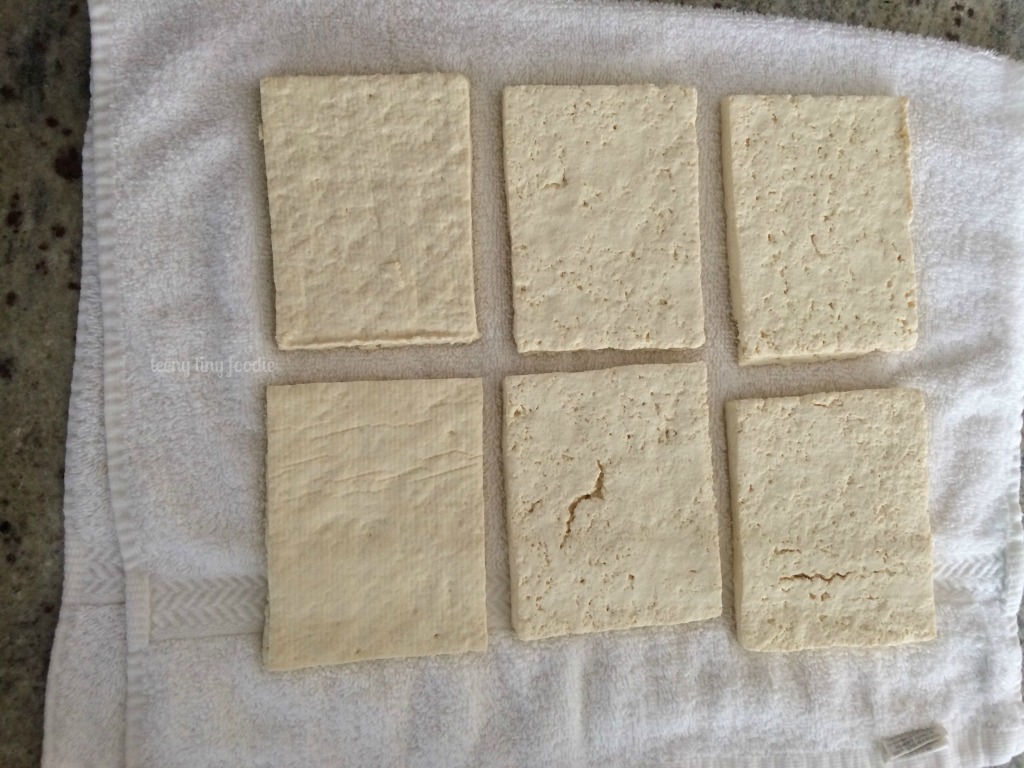 While the tofu presses, make the sauce:
Heat a small, dry frying pan over low heat. Spread the coconut flakes around on the pan and toast them for around 5 minutes, stirring frequently. Remove coconut flakes to a plate and allow them to cool. Add coconut flakes and the rest of the sauce ingredients to a blender or mini food processor and pulse until smooth. Taste, adjust spices and flavors as desired and set aside.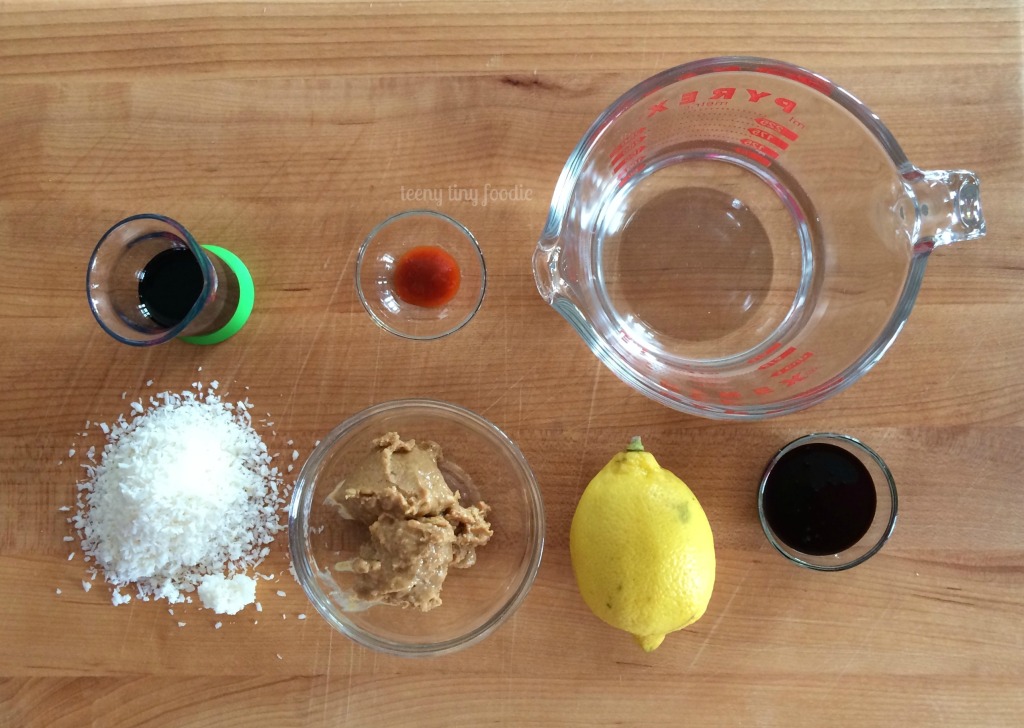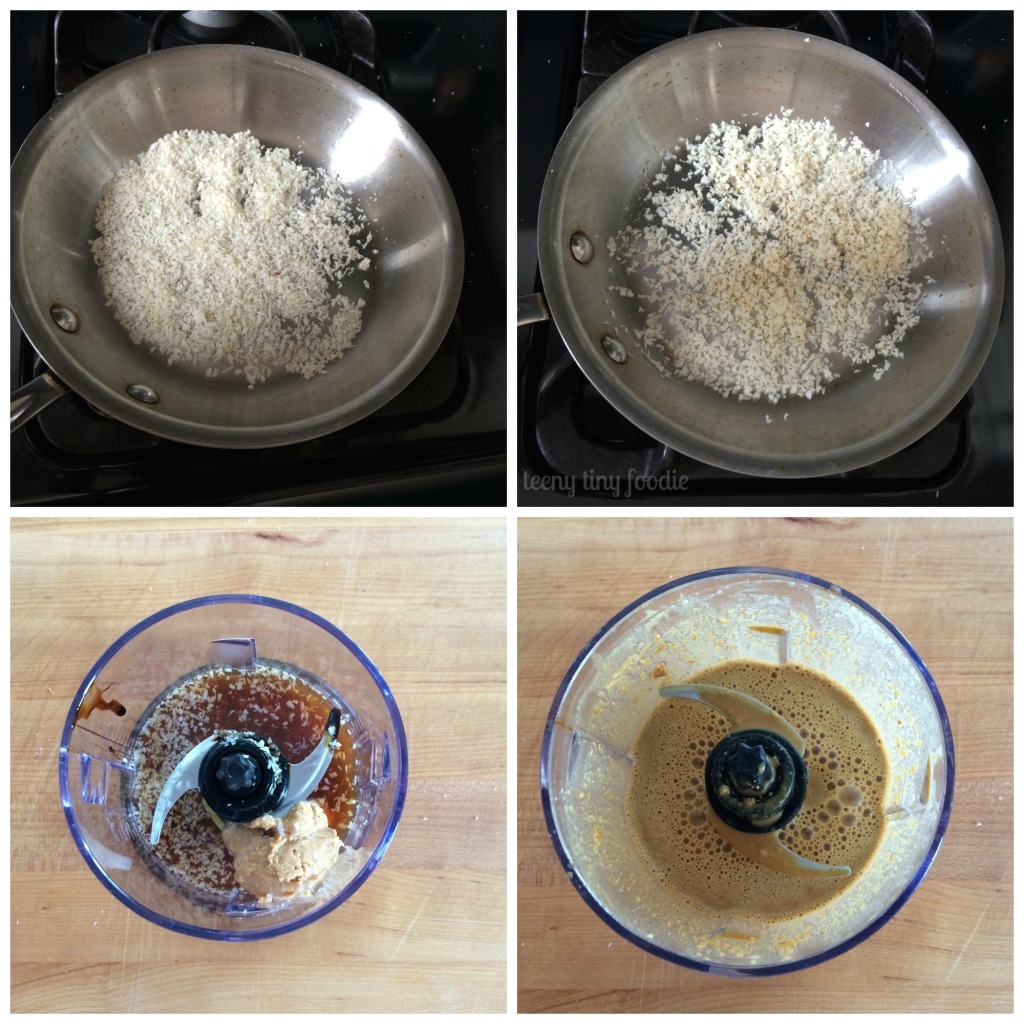 Cook the quinoa:
If you're new to cooking quinoa, read this first. Place quinoa and water into a lidded saucepan and bring water to a boil. Reduce the heat to simmer, cover and cook for 15 minutes. Fluff gently to release some steam and spread the quinoa out onto a large plate or baking sheet. Set aside while you work on the rest of the dish.
While the quinoa cooks, sauté the collard greens:
Stack the leaves of collard greens on top of each other and roll them tightly. Slice into ribbons about a pinky finger width thick. Heat a large nonstick saucepan over medium heat and add the olive oil and garlic clove(s). After around 20 seconds, add the collard greens and a pinch of salt and stir. Sauté collard greens for around 7 minutes, stirring occasionally. Remove to a cutting board. Once cooled, chop collard greens further.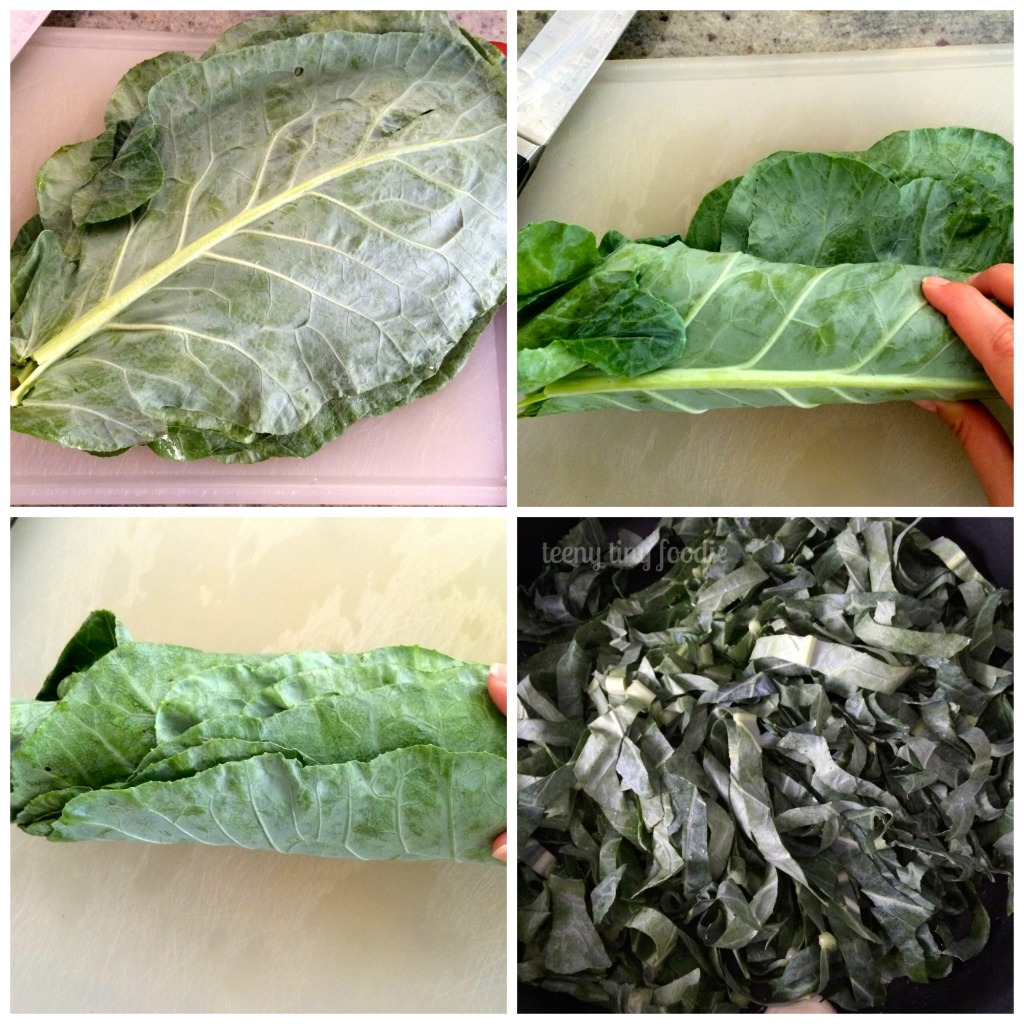 Sear the tofu:
Wipe out the nonstick pan in which you cooked the collard greens. Heat the pan over medium high heat. Mix the remaining salt with the other spices. Before adding them to the pan, line up the tofu rectangles and sprinkle the spice mixture over them. Place the tofu pieces, spiced side down, onto the hot pan and cook for 3-4 minute until they begin to brown. Spice the other side of the tofu and flip over. Cook for an additional 3-4 minutes. Remove to a plate and cut into cubes.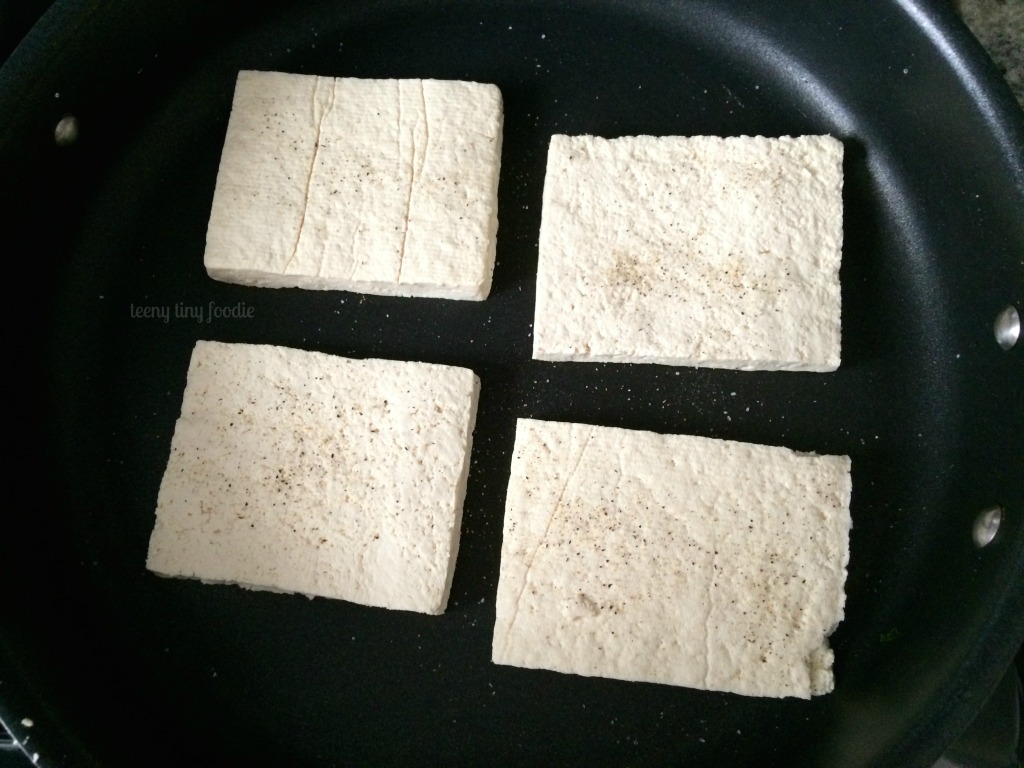 Put it all together:
Reserve a little bit of each component if you'll be making a plate that is deconstructed. Turn the heat on the saucepan to medium. Add the quinoa, tofu and collard greens to the pan and stir them around to mix them. Stir the sauce and add it to the pan. Mix everything together and let it heat in the pan for a few minutes until all parts are warmed through.
Transfer to individual plates and enjoy.
Here's the toddler deconstructed plate. She had been munching on raw collard greens while I prepared this meal so I put the rest of those on her plate rather than the cooked greens. I put the quinoa (and grains in general) in a bowl to try to minimize the mess.
The Totally Toddler Taste Test went like this:
Take a tiny taste. "Drink" the quinoa. Make a collard greens "tongue". Declare: That's good stuff, Mommy!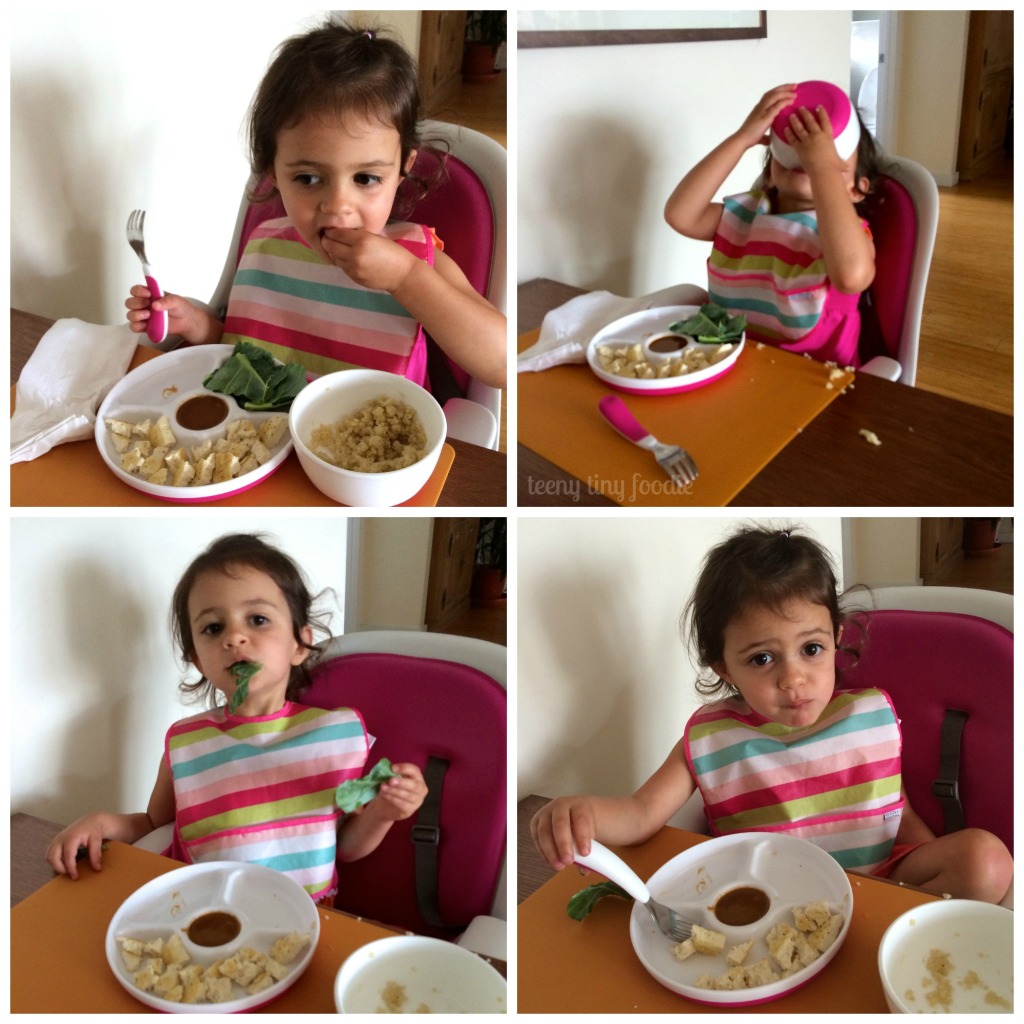 Happy Cooking!
Tags: coconut, collard greens, gluten free, leafy greens, Meatless Monday, molasses, peanut butter, quinoa, tamari, vegan, vegetarian
« Previous Avoiding the "picky eater" trap and #Unprocessed dishes to make with kids #WeCookWednesday: Our New {Kids Cook} Kitchen Tradition Next »