Print This Post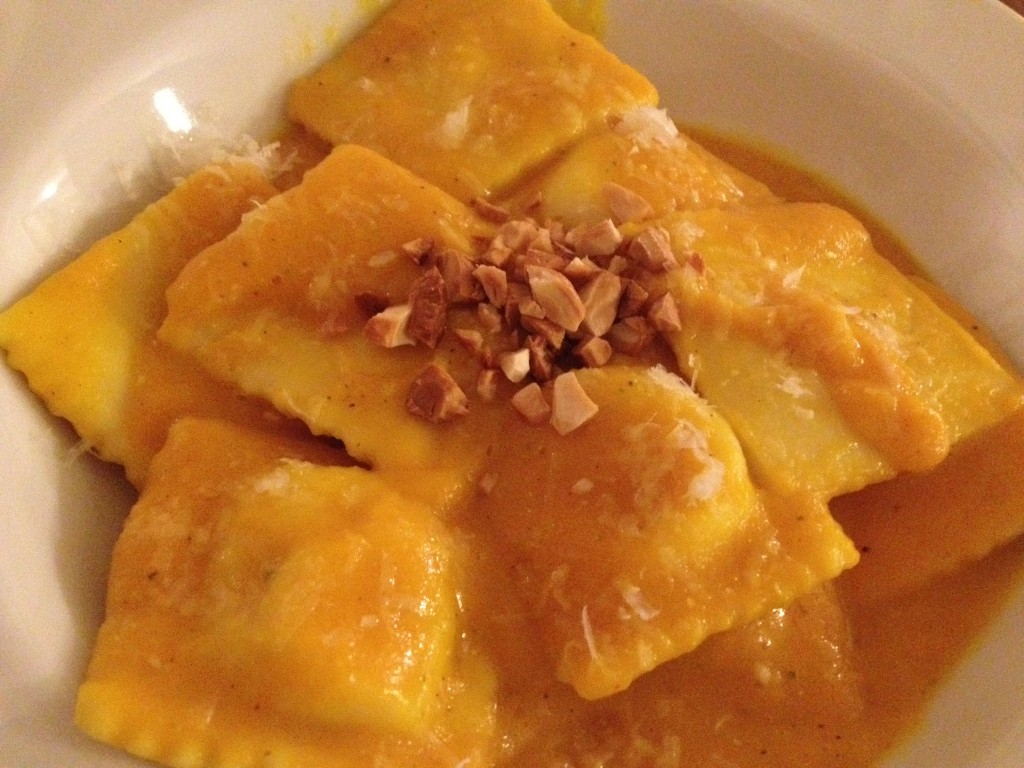 Roasted Squash Sauce with Cheese Ravioli
-1 large onion, cut into half-moons
-3 small squash, cut in half (I used 2 acorn squash and 1 red kuri squash)
-3 cloves garlic, skin on with ends cut off
-1 cup vegetable broth
-Zest and juice of 1 lemon
-3 sage leaves, chopped and placed in a medium-sized bowl
-1½ tablespoons unsalted butter
-½ cup raw cashews
-1 teaspoon salt, plus a little more to sprinkle on the vegetables and cashews
-½ teaspoon pepper, plus a little more to sprinkle on the vegetables
-¼ grated parmesan cheese, plus more for sprinkling on top of finished dish
-1 package store-bought cheese ravioli
Toast the cashews and roast the vegetables:
Heat the oven to 350°. Spread the cashews onto a small, rimmed, baking sheet and toast them for 7 minutes. Remove them from the oven, toss with a few sprinkles of salt and set aside to cool. Once cooled, finely chop the cashews.
Turn the oven up to 400°. On a large, rimmed baking sheet, lay the squash cut side up. Rub a little bit of olive oil over each and sprinkle with salt and pepper. Place the onions into a separate baking dish and mix with olive oil, salt and pepper. Wrap the garlic cloves in tin foil and place them in a corner of the baking dish. Roast the onions and garlic for 35 minutes and the squash for 45 minutes—or until soft when pierced with a fork. Remove from the oven and set vegetables aside to cool.
Start the pasta, warm the broth and make sage butter:
While the vegetables roast, start the water for the ravioli. In a small saucepan, heat the broth over medium heat. Allow it to boil for a few minutes then turn the heat off. Meanwhile, in a small saucepan, heat the butter over medium heat. It will sizzle as it melts. Once it stops making noise, pour the butter over the sage and squeeze in the juice of ½ lemon. Set aside.
Once the water boils, cook ravioli according to the directions on the package. Drain and return ravioli to the pasta pot.
Prepare the sauce:
Once the squash has cooled to the touch, scoop out the flesh and place it in a blender. Add the onions, warmed broth, sage butter, salt, pepper, parmesan, lemon zest and left over juice and peeled garlic cloves. Puree and taste. Adjust seasoning as needed and pour over cooked ravioli.
Serve sprinkled with a bit more parmesan and chopped cashews on top.
Happy Cooking!
Tags: baby and family, nuts, onions, Purees For Two
« Previous Feelin' the teeny tiny foodie Love Homemade Granola Next »