Print This Post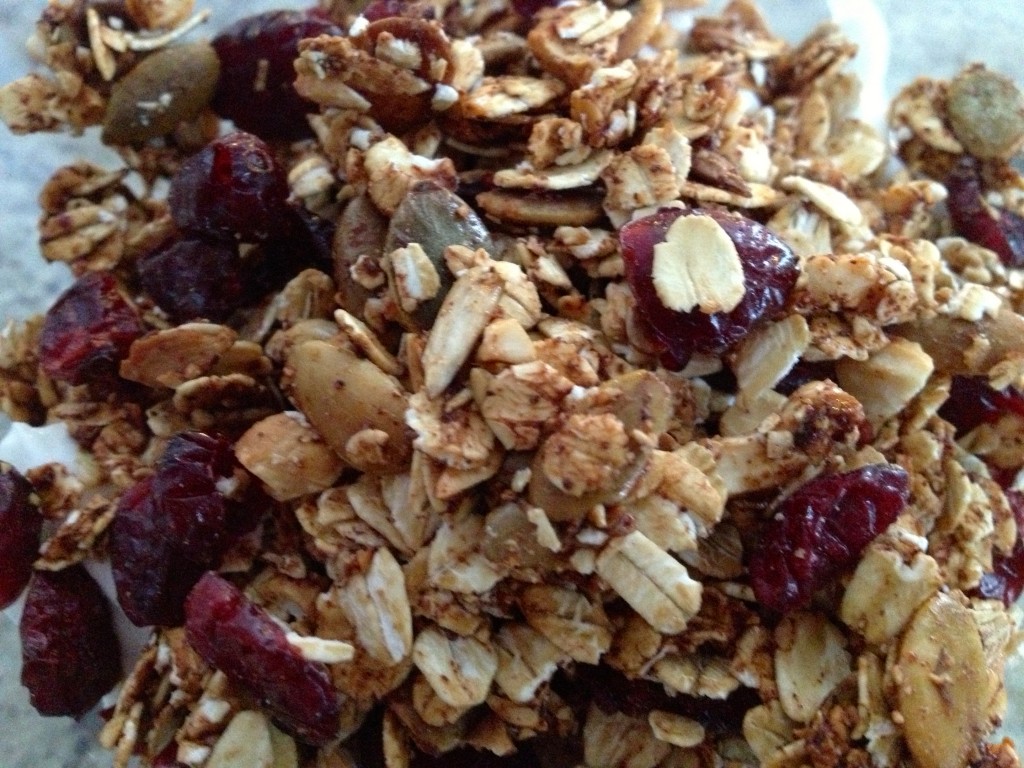 The idea of making granola intimidated me for a long time. Until I finally made it. It is so easy that I keep a fresh batch around at all times. Besides the obvious health benefits of making my own granola such as controlling the amount of sugar, I love that I can customize it to include whichever types of nuts and fruit I want to use.
We love to spoon it over Greek yogurt, but I'm sure it is equally tasty over regular yogurt, with milk or over ice cream. One piece of advice: chop the nuts and fruit fairly small if the little foodie in your house will be eating it, too.
Homemade Granola
-⅓ cup raw pumpkin seeds
-¼ cup raw sunflower seeds
-2 cups old fashioned rolled oats
-½ cup raw nuts (I like to use cashews or almonds)
-⅔-1 cup dried fruit, unsweetened (I like to use chopped cherries or cranberries)
-1½ teaspoons cinnamon
-¼ teaspoon sea salt, plus a couple pinches for the nuts
-½ cup real maple syrup
-¼ cup organic apple juice, unsweetened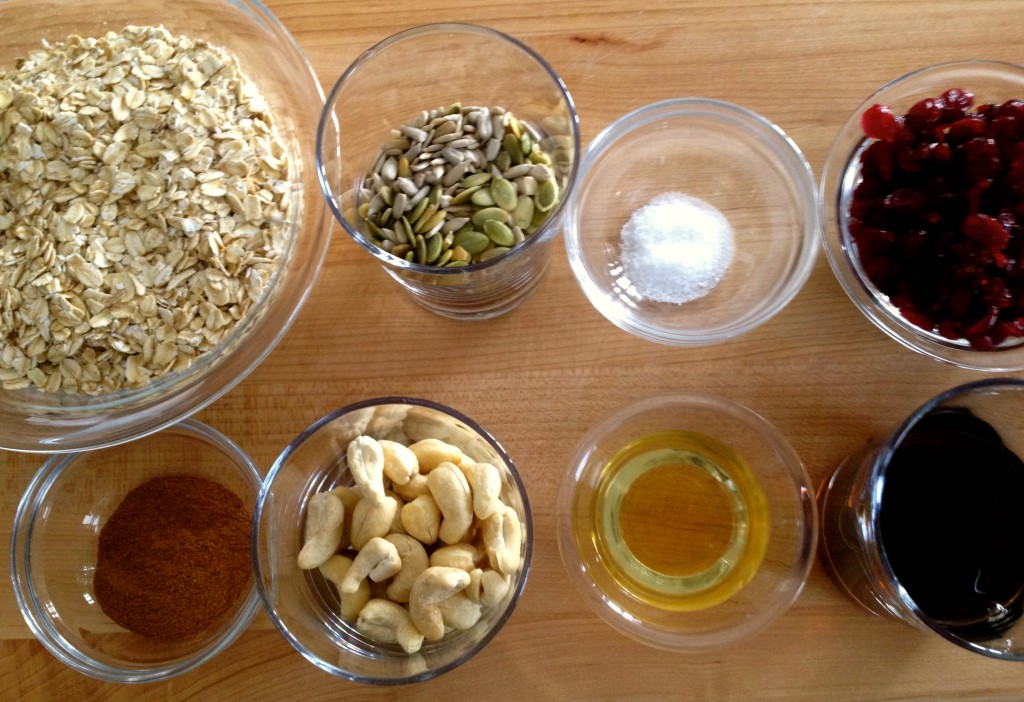 Roast the seeds and nuts:
Heat the oven to 350°. On a large baking sheet lined with a Silpat or parchment paper, spread the sunflower seeds and the pumpkin seeds in an even layer. In a smaller baking sheet, spread the nuts in an even layer. Place both sheets in the oven. Remove the nuts after around 7 minutes and sprinkle with a couple pinches of sea salt and mix them around in the sheet. Set aside to cool. Chop them well after they have cooled.
Remove the seeds after an additional 3 minutes so they cook for 10 minutes total and set them aside to cool.
Lower the oven to 325°.
Heat the liquids:
In a small saucepan, heat the syrup, apple juice and cinnamon over medium heat. Let simmer for around 3-4 minutes, stirring occasionally with a small whisk or fork.
Prepare the oat mixture:
Meanwhile, in a large bowl, combine the oats, sea salt, chopped nuts and seeds and mix through. Pour the heated liquids over the mixture and stir so it is all combined.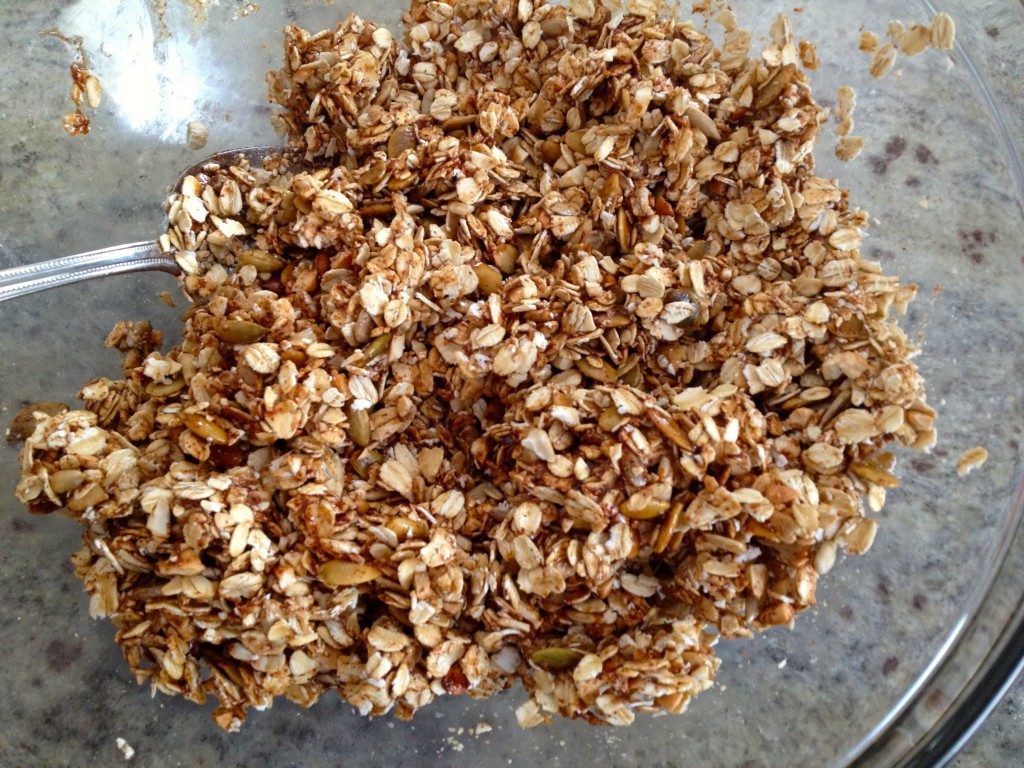 Cook the oat mixture:
Pour the mixture onto a baking sheet lined with a Silpat or lined with parchment paper that has been sprayed with cooking spray. Spread the mixture out into an even layer and bake for 20 minutes.
Add the fruit:
Remove the baking sheet from the oven and stir in the fruit. Bake for an additional 15 minutes.
Cool and enjoy.
Variations and Tips:
–Tip: If you're going to double the recipe, EITHER spread the granola mixture over two cookie sheets and cook according to the times listed above OR, on one cookie sheet, cook the oat mixture for 25 minutes then add the fruit and cook for 20 minutes.
-Add 3 tablespoons of wheat germ to the oat mixture before cooking for an extra boost of protein, fiber and crunch.
-To cut down on sugar, substitute the maple syrup for honey or use both with ¼ cup honey and ¼ cup maple syrup.
What combinations of nuts+seeds+fruits do you like in your granola? Please share them in the Comments Section below.
Happy Cooking!
« Previous Roasted Squash Sauce with Cheese Ravioli: Monday Meal You Say Chayote…I Say Xuxu Next »