Print This Post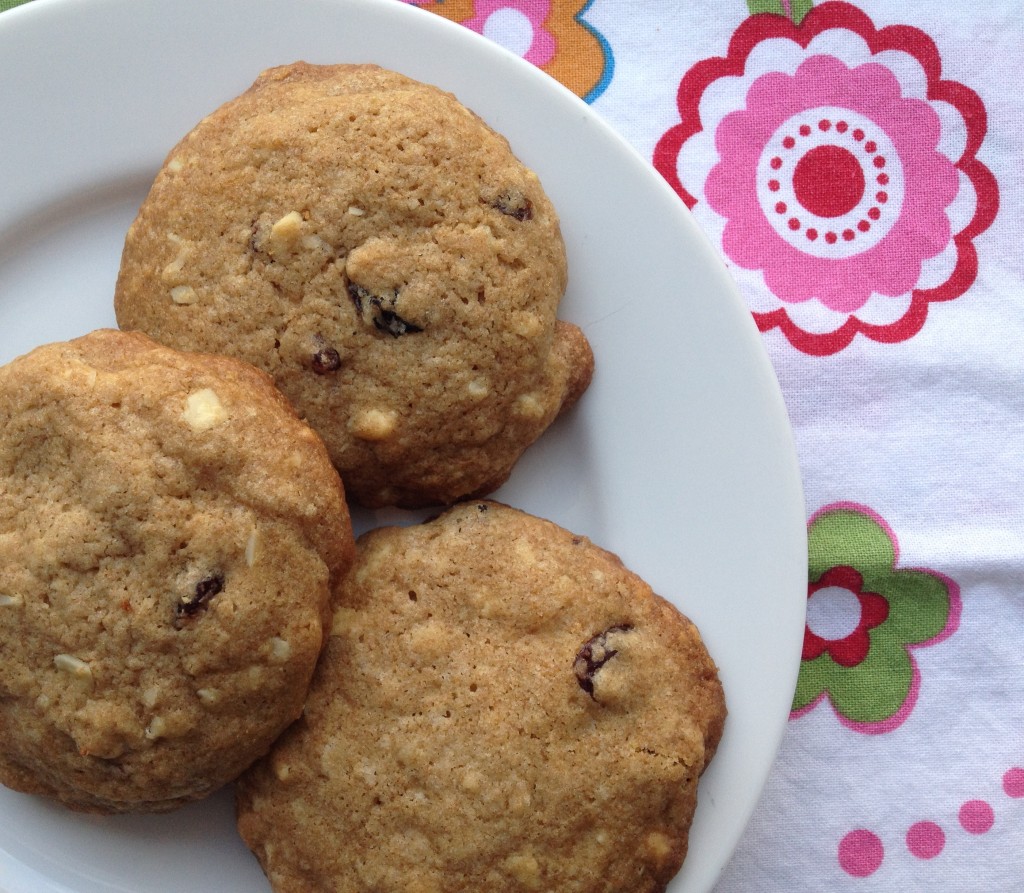 I'm about to tell you something that may shock you and convince you with utter certainty that I am a total weirdo. Are you sitting down? Okay. So, here goes:
I don't like chocolate.
I know… GASP!!
Don't get me wrong, I'll eat the occasional ¼ of a Kit Kat bar or a small piece of some other low quality crappy chocolate bar that is 99% non-chocolate like a York Peppermint Patty or a Twix. But, those high quality expensive chocolate brands people like to give each other for holidays and special events? Blech. No, thank you! And dark chocolate? Don't get me started. I shutter at the thought of eating it even though I know it is supposed to be good for me so you'd think I'd try to get myself over it and like the stuff. But no. Yuck. In fact, double yuck.
Now white chocolate on the other hand? Yum! It's basically sugary vanilla so I'm a fan. I still won't typically go crazy and eat a whole bar of it or most of a bag of chips in the name of testing out flavor combinations for cookies or anything like that. But, give me a hot white chocolate on a cold day and yummmmm. I'm a happy girl.
So, my point in sharing this random bit of TMI is that this particular cookie recipe was conceived out of purely selfish indulgence. I wanted to make cookies that I wanted to eat rather than a batch that is specifically for other people to enjoy. Believe me, Matt and Eliana haven't complained for one second about having to test the various recipes-in-progress along the way to developing this particular cookie recipe. They were pretty excited about each batch and I'm pretty sure Eliana was not the only one to shout,  "COOOKIESSSSS!" upon seeing them. So, I hope you and your family love it as much as we do.
Cherry Chocolate Almond Cookies
Yields around 40 cookies
Ingredients:
-½ cup all purpose flour
-1¾ cups whole wheat flour (I like to use King Arthur brand)
-½ teaspoon baking soda
-1 teaspoon salt
-¼ teaspoon ground nutmeg
-2 sticks unsalted butter, softened
-¾ cup light brown sugar
-¾ cup packed dark brown sugar
-1 teaspoon vanilla extract
-1¼ teaspoon almond extract
-2 large eggs
-½ cup sliced almonds
-½ cup dried unsweetened cherries, chopped
-½ cup white chocolate chips, chopped (If you can find mini white chocolate chips, those are perfect. I was too lazy to go searching so I just chopped mine into smaller bits with a large knife).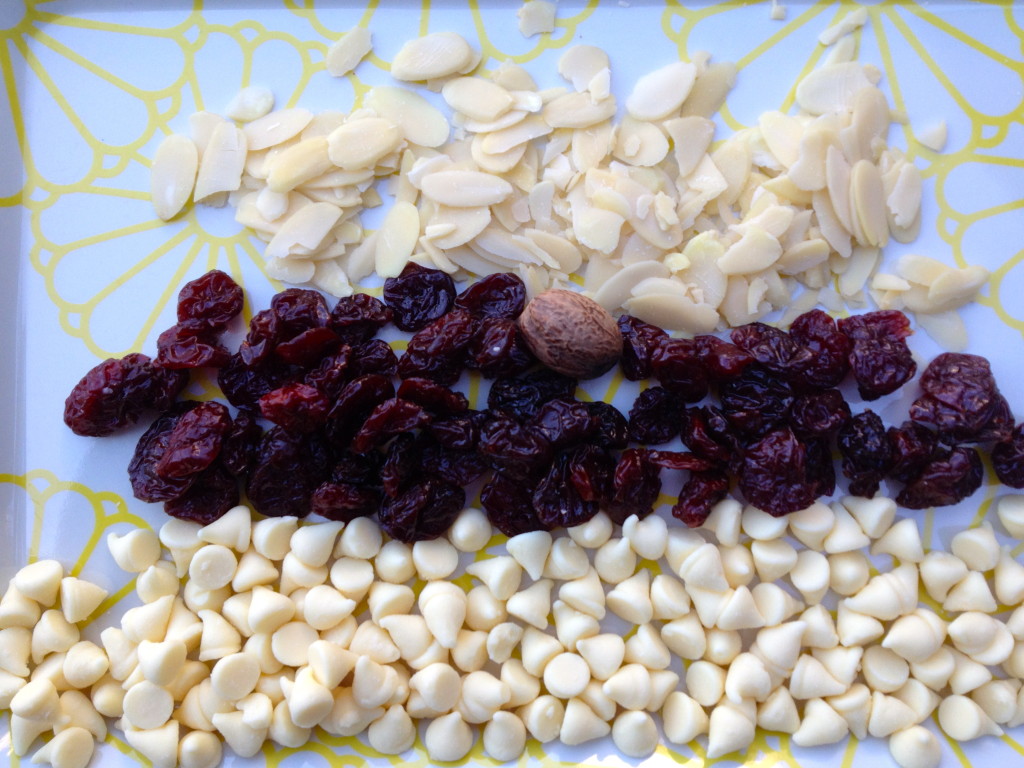 Featured Tools: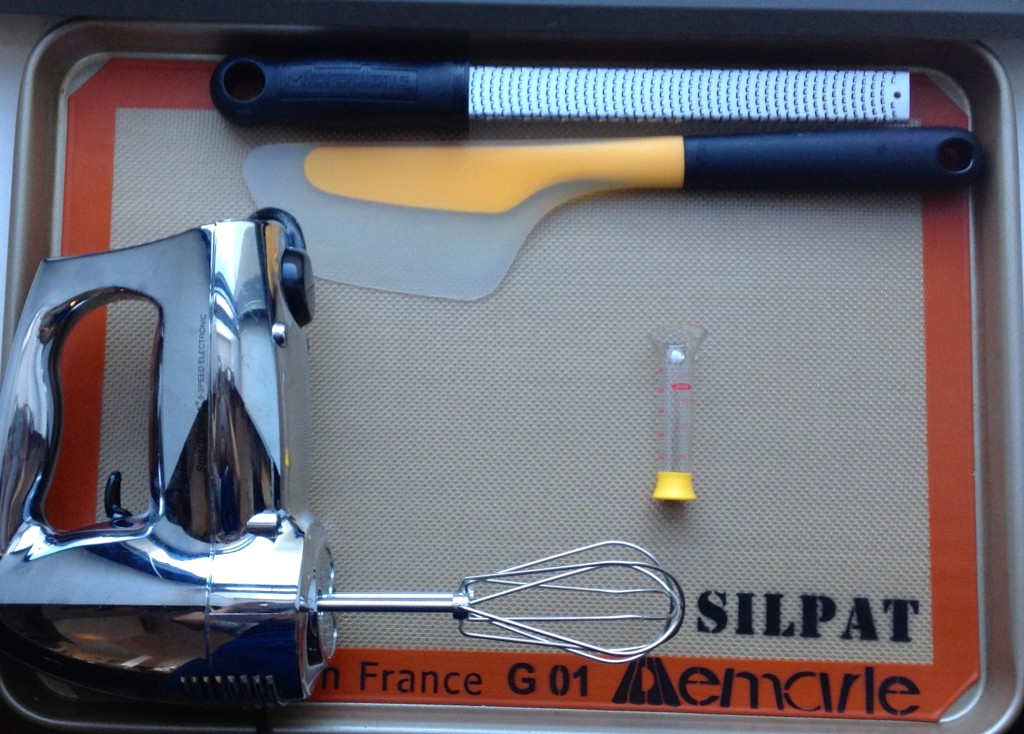 Preparation:
Heat the oven to 375°. Prepare a cookie sheet by lining it with a Silpat or parchment paper.
1. In a small bowl, combine the flours, nutmeg, baking soda and salt. Mix together with a fork.
2. In a large bowl, beat the butter, sugars, almond extract and vanilla. Beat until creamy. Add the eggs one at a time beating well after each. Gradually, beat in the flour mixture and stir in the chocolate chips, cherries and almonds.
3. Scoop out flattened tablespoons of cookie dough and place them onto a cookie sheet. Bake them for 12 minutes or until the edges begin to brown. Let them sit for 1 minute before removing them to wire racks to cool.
4. Enjoy!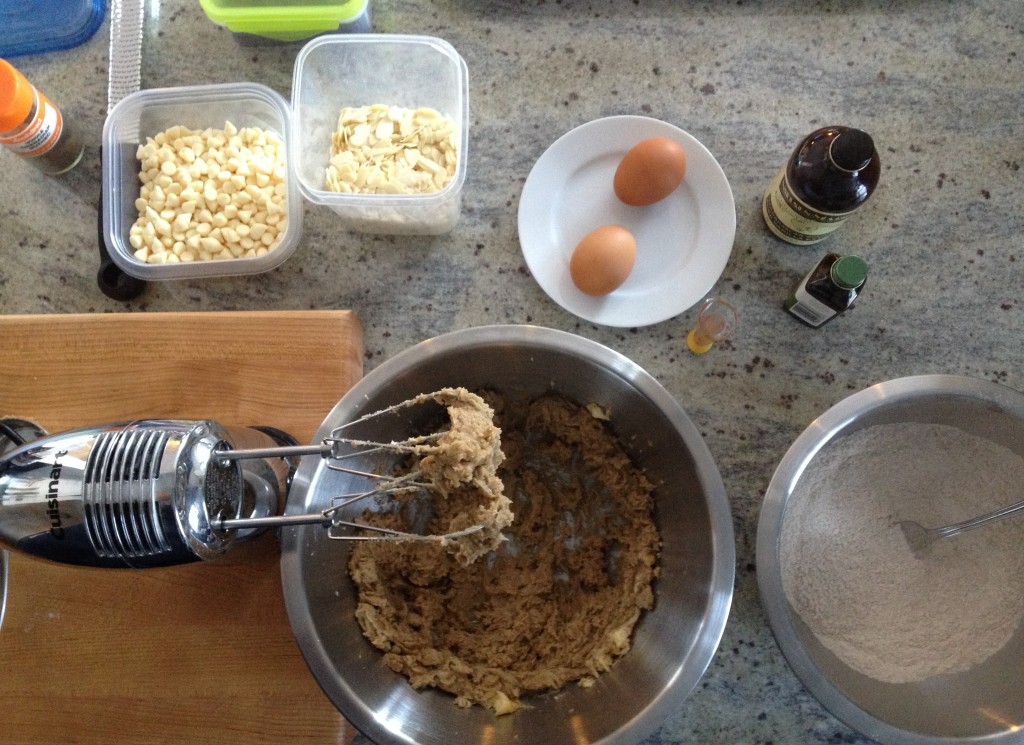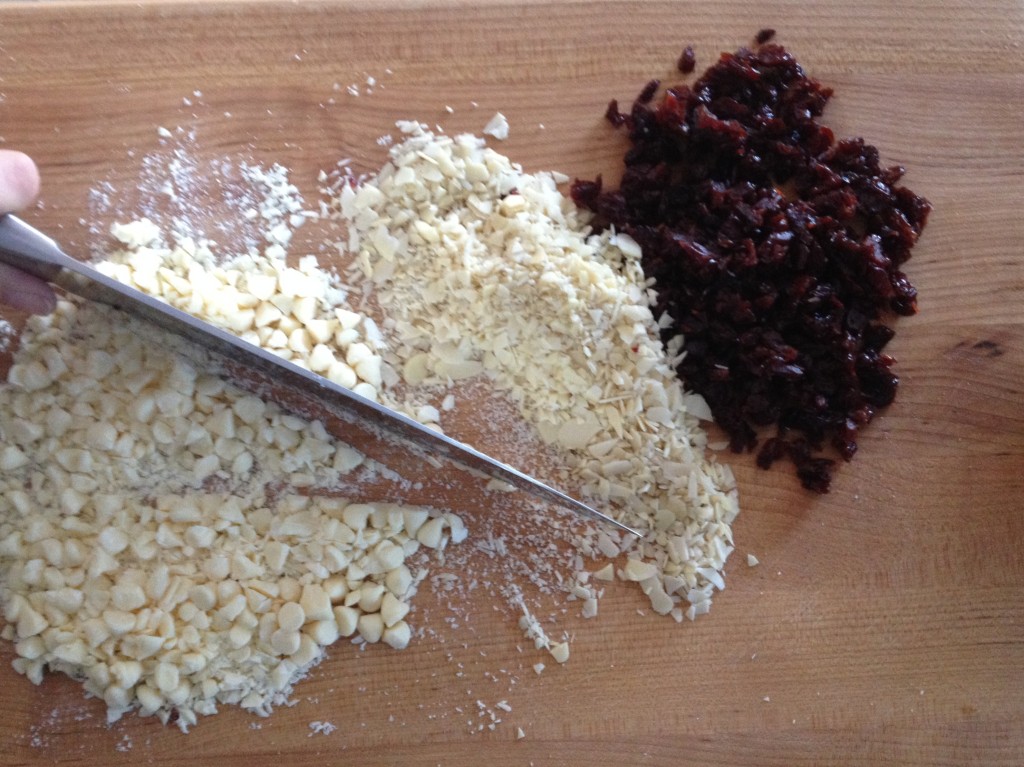 Here are some photos of my happy little cookie monster: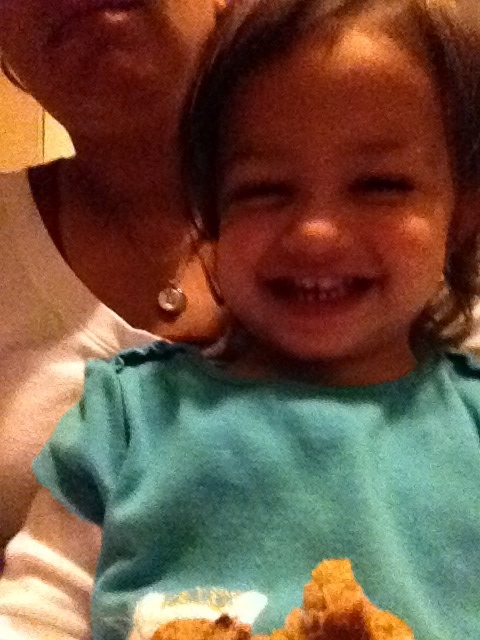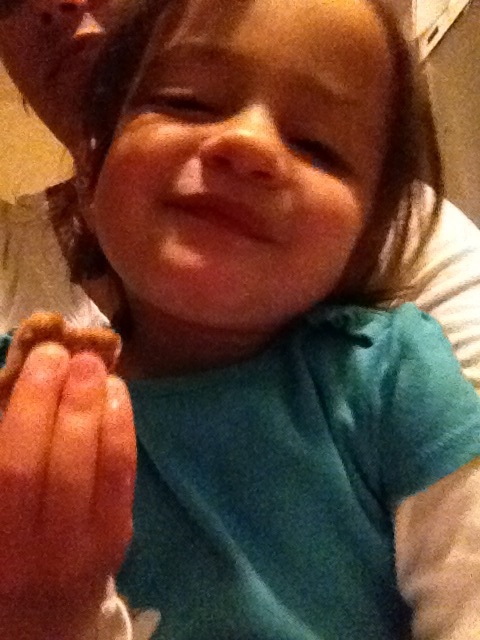 Happy Cooking!
Tags: almonds, cherries, chocolate chip, cookies, nuts, Valentine's Day
« Previous Carrot and Parsnip Purée Pumpkin Macaroni & Cheese: {Kids Cook} Monday Meal Next »