Print This Post
Here are the recipes for some of the new foods Eliana has been eating lately. I'm still mashing food (as opposed to pureeing it) by putting it in the food processor, so there are still small chunks for her to pick up.
Roasted Beet Sticks
– Medium beets with skin on
Cover beets individually with tin foil. Place in roasting pan and roast at 400 for around 30 minutes depending on their size. Let beets cool before touching them. Unwrap them and peel. The peel will come off easily in your hands. Then cut into 1/2 inch thick sticks. Can serve either warm or cold to baby.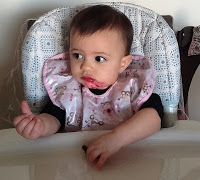 Vampire Baby
Smashed Sweet Potatoes with Spinach
– 1 sweet potato, scrubbed with skin on
– 1 small onion, chopped
– 1/8 teaspoon chopped garlic
– 1 handful organic baby spinach, washed and patted dry
– ¼ cup part-skim ricotta (room temperature)
– 1/8 cup shredded parmesan (room temperature)
– ¼ tablespoon unsalted butter (room temperature)
Salt, pepper, cayenne pepper, red pepper flakes, cinnamon and olive oil to taste
Bake sweet potato at 375 for an hour or until tender. Let rest until it can be held. Heat olive oil on medium heat and sauté onions with a dash of salt for around 3-4 minutes until they begin to turn yellow. Add garlic, stir and cook another minute. Add spinach, and some of the salt, pepper, and the red pepper flakes. Stir and cook around a minute until spinach is bright green. Set aside. Put ricotta, parmesan, butter and rest of salt, pepper, cayenne pepper and cinnamon into a blender. Add onion mixture and puree on high until smooth. Cut open sweet potato and scoop out flesh and put into a small bowl. Add pureed mixture and mix with a large rubber spoon.
Let cool slightly before serving to baby.
Broccolette-Ricotta-Cumin Puree 
– 1 cup chopped broccolette
– Around ¼ cup ricotta
– Cumin, salt, pepper, and chopped garlic to taste
– Reserved cooking liquid
Steam garlic and broccolette. Add a bit of cooking liquid, the ricotta, salt, pepper and cumin and puree. Taste and adjust seasonings, liquid and ricotta as desired.
Let cool slightly before serving to baby.
Since Eliana hasn't really been letting me feed her, it is hard to give her something pureed. I've gotten around it by spreading purees on toast or mashing them with brown rice.
Baked Tofu with Asian Marinade
– 1 container extra firm tofu, drained and pressed
The following ingredients to taste
– Low sodium soy sauce or Tamari
– Toasted sesame oil
– Safflower oil
– Chinese 5 spice
– Dijon mustard
– Orange juice
-Shaoxing Hua Diao cooking wine or Rice wine (the alcohol will cook off in the oven but it can be omitted or replaced with white grape juice)
Pressing tofu removes the excess liquid and gives it a firmer texture. This is not essential to do with the extra-firm tofu, I just prefer it this way. Begin by slicing the block of tofu down the middle so you have two large, flat rectangles. Line a large plate with a clean kitchen towel or a stack of paper towels. Lay the tofu pieces side by side and cover with another towel or more paper towels. Cover the towel(s) with another large plate. Then place a stack of heavy books or other flat objects on top of the plate. Set aside for 15 minutes to 3 hours depending on how much time you have and how dense you prefer the tofu.
Heat the oven to 400 degrees
In a medium bowl, add the rest of the ingredients whisking and tasting often to adjust flavors to your liking. After the tofu is pressed, cut into ½ inch strips. Place in a large zip top bag with the marinade and shake the bag so the marinade covers the tofu. Marinate the tofu in the refrigerator for at least 30 minutes or up to an hour. Line a baking sheet with aluminum foil and spray with cooking spray. Shake off marinade and place tofu strips on the baking sheet. Keep the marinade to spoon over the tofu after it is cooked. Bake tofu for 20 minutes, turning once. Heat the marinade in a small saucepan on medium heat for around 5 minutes. Let cool slightly before serving to baby.
Happy Cooking!
Tags: 6-9 months, 9-12 months, beets, broccoli, cayenne pepper, cinnamon, cumin, garlic, ginger, leafy greens, onions, parmesan, purée, ricotta, spinach, sweet potatoes, tofu
« Previous The Good, The Bad and The Messy- Part 2 (The Good and The Messy) ttfs TTFs Next »