Print This Post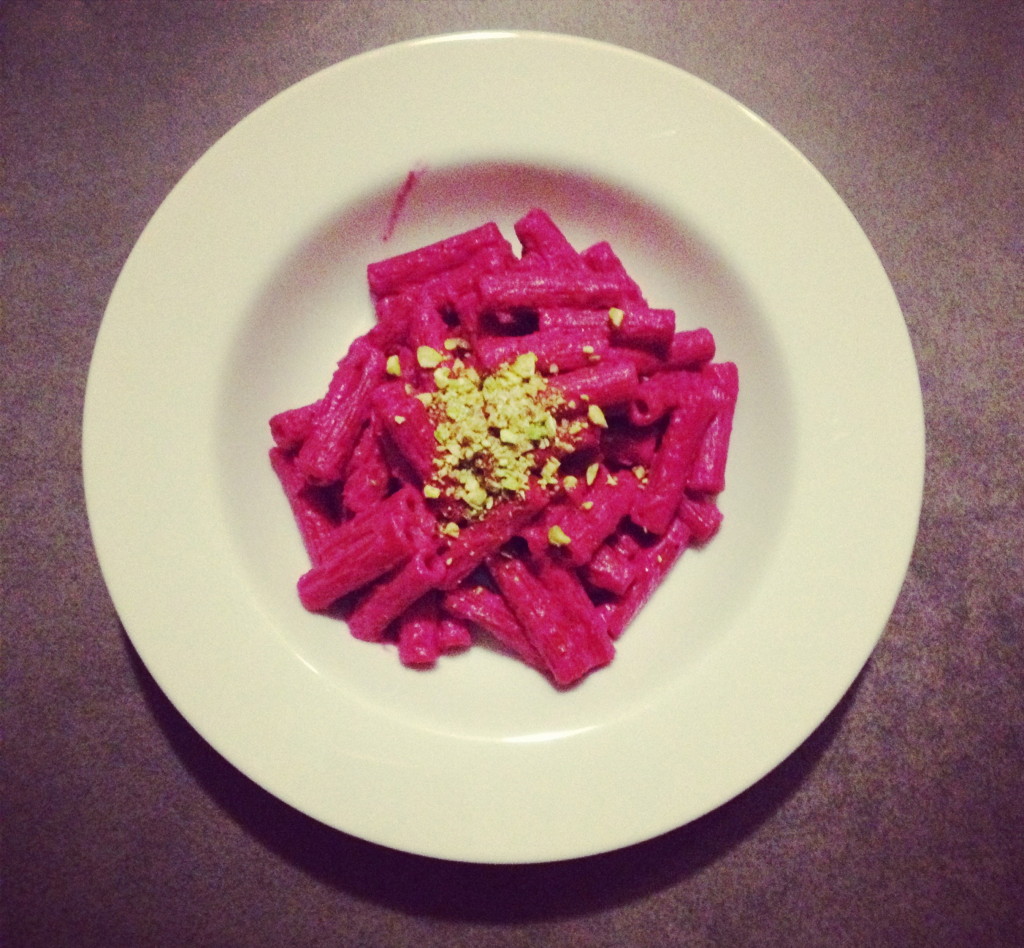 Here's another early recipe in case you're still looking for something kind of special to make for New Year's Eve or day. This recipe is super easy, but roasting the beets can take around an hour and a half, so you want to think ahead with your timing…
There are some perfect flavor pairings out there and, to me, beets with goat cheese is one of them. I first ate this combination with pasta at a nearby restaurant last year. I've been on a beet kick this season, and I wanted to try making them into something other than beet pancakes or a salad. So, I played around with some combinations in my head and came up with this recipe for Pasta with Roasted Beets and Goat Cheese. It is super easy and makes the pasta a purple-pink color, so it feels special and celebratory, and fun for the teeny tiny foodie in the family. Oh, let's be honest here–the bright color is fun for the grown up foodies, too!
UPDATE: Lately, I've been playing around with this recipe and I've been using low-fat ricotta cheese instead of goat cheese. Ricotta cheese is very high in protein and low in fat so it is a healthier option than goat cheese. Plus, the flavor of goat cheese can sometimes be a bit strong for Foodies of varying ages.
Purple Pasta (Pasta with Roasted Beets and Cheese)
Serves 4-6
Ingredients:
-2 large beets, cleaned and trimmed of any long stems and leaves
-1 large yellow onion, chopped
-1 small handful parsley, finely chopped
-2-3 garlic cloves, peeled and smashed
-¾ cup low-fat ricotta cheese (or 4 ounces goat cheese)
-¼-½ cup grated parmesan
-1 box short whole-wheat pasta such as rigatoni, rotini, penne, farfalle or elbow
-1 cup reserved cooking water from the pasta
-Olive oil, red pepper flakes, salt and pepper to taste
-¼ cup crushed walnuts or pistachios as an optional topping
Preparation:
Roast** the beets:
Heat the oven to 425°. Wrap each beet in tin foil and place in a small baking dish. Roast until fork tender, around 1 hour and 20 minutes. Let them cool until you can peel them. Peel and chop the beets into 1-inch chunks and set them aside. This step can be done up to 3 days in advance.
Prepare the pasta:
Begin to boil salted water with some olive oil for the pasta. Cook the pasta according to the directions on the package. Scoop out a mugful of the water and set it aside. Drain the pasta and return it to the pot, tossed with a bit of olive oil.
Prepare the sauce:
Over medium heat, heat the oil, garlic cloves and red pepper flakes in a large sauté pan or skillet. After about 30 seconds, add the onions and a few pinches of salt. Sauté, stirring occasionally, for 7 minutes or until the onions begin to turn yellow. Add the beets, 2 pinches of black pepper and another pinch of salt. Stir and sauté for 8 more minutes, stirring occasionally. Add the chopped parsley, stir and sauté for another 2 minutes. Remove the pan from the heat. Remove all but 1 garlic clove and pour the beet-onion mixture into a blender or food processor. Add the ricotta cheese, ¼ cup parmesan and ¼ cup of cooking liquid from the pasta. Purée until smooth. Taste and adjust seasonings and add more pasta water as needed until the mixture is smooth and creamy.
Pour the sauce over the pasta and mix. Sprinkle with more parmesan and serve.
And Eliana? Oh, she liked it. She went crazy for it! Part way through eating it, she got impatient and just shoved as much as she could grab right into her mouth. How's that for a good review of my dish?
Happy Cooking!
**I LOVE roasting vegetables. I mentioned keeping them on hand for quick meals in the post "I'll Have What She's Having" but I didn't really get into why exactly I love roasted vegetables and think they are a version of perfection. Not only are they ridiculously easy, tasty and healthy but also, once they go into the oven I can forget about them until the timer goes off telling me either to stir them or to take them out of the oven. The oven does the work for me so I can do anything else.
Ahhh, perfect.
Tags: baby and family, beets, Meatless Monday, onions, parmesan cheese, parsley, Purees For Two, ricotta
« Previous Smitten Kitchen's Cauliflower Gratin: Monday Meal Whole Wheat Banana Bread Next »