Print This Post
One of our family traditions is to go apple picking every year. For years, Matt and I would go on a weekend in the fall and load up on apples. We've continued that tradition with Eliana. 
Here are photos from her inaugural trip to the farm last year.
This year she was able to be a lot more involved in the picking!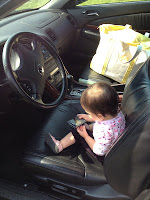 Another family tradition: A photo of Eliana "driving."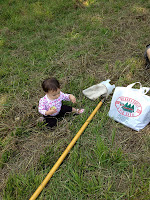 Taking a snack break.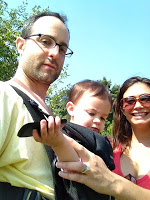 Family Fun!

Coming home with a bushel-full of apples inspired me to make a big batch of spicy applesauce to add to Eliana's morning oatmeal. Here's the original recipe I posted months ago and below is the "bulk" recipe. I put most of the applesauce into a container in the refrigerator to use over the next four days. I also filled three 2-ounce containers and put them in the freezer to use over the next three months.
·

    

6 apples, peeled and chopped (I used a mixture of Gala, McIntosh and Baldwin apples)
·

    

Cinnamon and chili powder to taste
Put the chopped apples in saucepan large enough that they fit in an even layer. Add about half the water. Stir, cover the pan and heat the apples and water on medium-low heat. Let the apples simmer for around 10-15 minutes, stirring occasionally, until the apples are tender and smush easily with the back of a spoon. Add the cinnamon and chili powder and stir. Lower the heat, cover and let simmer another 5-10 minutes until the apples break down even more.
Tags: cinnamon, Meatless Monday
« Previous How To Roast Beets How did our garden grow? Next »