Print This Post
I love this recipe for a couple of reasons. First, I love it because it is a tasty and healthy way to get a mix of vegetables into a dish all at one time. Second, you can customize it however you like by using the vegetables and cheeses you prefer. Just swap out the cheeses and/or vegetables for what you have or like better.
Baked Penne with Roasted Vegetables
Adapted from Giada De Laurentiis
-1 small to medium yellow onion, chopped
-1 carrot, peeled and chopped
-1 parsnip, peeled and chopped
-1 cauliflower, cut into smallish florets
-1 yellow, orange or red pepper, quartered (I had little baby peppers instead)
-5 mushrooms, chopped (I used what I had on hand: a mix of button and cremini)
-1½ cups frozen baby peas, thawed (I like organic peas like Cascadian Farms brand)
-1¼ tablespoon herbs de Provence
-1¼ cup fontina cheese, grated
-¾ cup mozzarella cheese, grated
-1 cup parmesan cheese, grated
-1- 1½ tablespoon unsalted butter, cut into chunks
-3 cups marinara sauce, homemade or store bought (Click here for a link to my recipe using fresh tomatoes. I included a recipe using canned tomatoes after the photos)
-Olive oil, salt, pepper and red pepper flakes, to taste
Heat the oven to 450° and boil water for the pasta.
Step 1: Prepare the vegetables
Put the chopped vegetables into a large bowl with olive oil, salt, pepper and herbs de Provence. Mix well and pour onto a parchment paper lined baking sheet. Spread into an even layer and roast for around 15 minutes or until tender. Set aside. You can do this step up to 3 days in advance.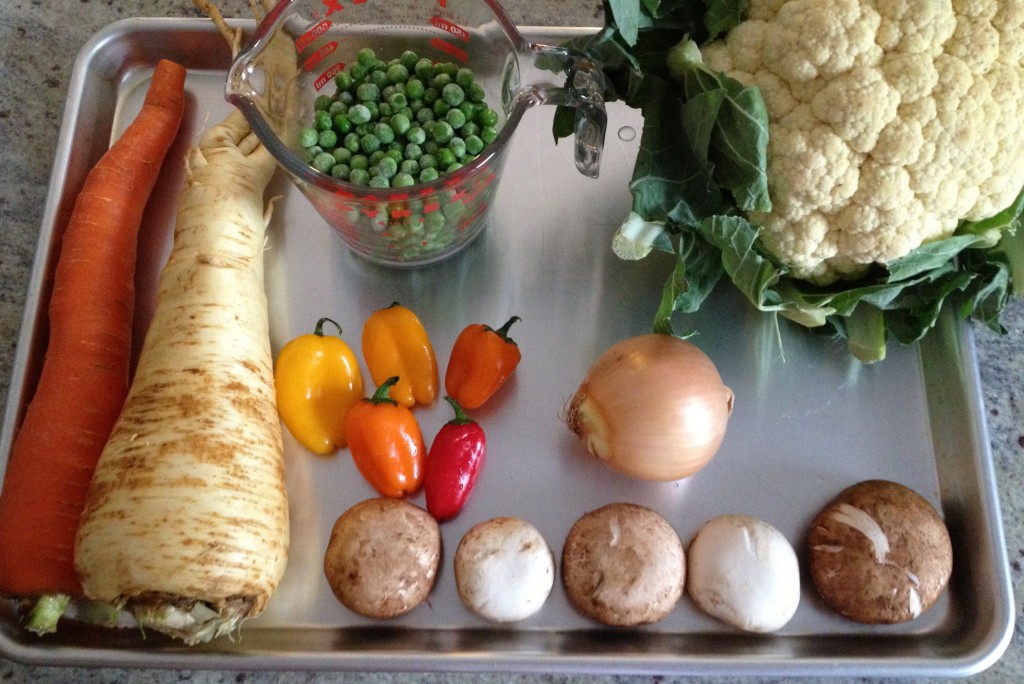 Step 2: Cook the pasta
The pasta will cook more once it is in the oven, so boil it for 2 minutes less than the directions on the package. Grate the cheese while the pasta boils. Drain and set the pasta aside. You can do this step up to 3 days in advance. Just put the pasta into an airtight container with a little bit of olive oil to prevent sticking.
Step 3: Put it all together and bake it
Pour the cooked pasta back into the pasta pot. Add the roasted vegetables, all of the fontina and mozzarella cheeses and ⅔ cup parmesan cheese, salt, pepper and red pepper flakes. Mix well and pour into a greased 9×13 inch-baking dish. Top with the rest of the parmesan cheese and the chopped butter. Bake uncovered for 25 minutes.
Variations:

– Add 1 cup of rinsed, drained chickpeas or cannellini beans
– Use a vegetable marinara sauce to increase the amount of vegetables even more
Unfortunately, this recipe was not a huge hit with Eliana. Matt and I loved it but she didn't really eat it despite the fact that Eliana is usually a pasta fanatic. There were tears and protests over even trying it. But, once I stopped watching her and I walked back into the kitchen to get some water, she did finally eat a little bit.  And when I say a little bit, I mean a few peas and a carrot.
But, at least she tasted it, right?
Here's my recipe for Homemade Tomato Sauce using canned tomatoes in case you live in the COLD Northeast like me where tomatoes are no longer in season.
Basic Tomato Sauce with Canned San Marzano tomatoes
-1 medium yellow onion, chopped
-Crushed  garlic to taste
-1 28-ounce can of San Marzano  tomatoes
– ¼ cup chopped carrots
– 1 Bay leaf
– Olive oil, sugar, red pepper flakes, salt and pepper to taste
Pour olive oil into a large sauté pan on medium heat. Add smashed garlic and red pepper flakes and heat for 20 seconds. Add the  onion and some salt, mix and let cook for 4-5 minutes till onion is yellow. Add the carrots, stir and cook for around 4 more minutes. Add  tomatoes and stir through. Bring to a simmer on medium-high heat. Add the Bay leaf, the salt, sugar and pepper to taste. Mix through and let simmer for 5 minutes, then lower the heat to a low simmer and let cook for 10-20 more minutes.  Break up the tomatoes with the back of your spoon unless you will be pureeing the sauce after cooking it. Turn off heat, taste and add seasoning as needed.
Variations:

-Pureed sauce: Let sauce cool slightly, then puree in blender, food processor or using a hand mixer.
-Add chopped fresh herbs (basil or parsley) at the end, after sauce has simmered for 10 minutes and let simmer 2-3 minutes more.
-Make a primavera sauce by adding 1 more chopped carrot, 1 chopped zucchini, and 1 chopped yellow squash.
Happy Cooking!
Tags: carrots, cauliflower, mushrooms, onions, parsnips, peas, peppers, tomatoes
« Previous Whole Wheat Banana Bread Read All About It! Next »