Print This Post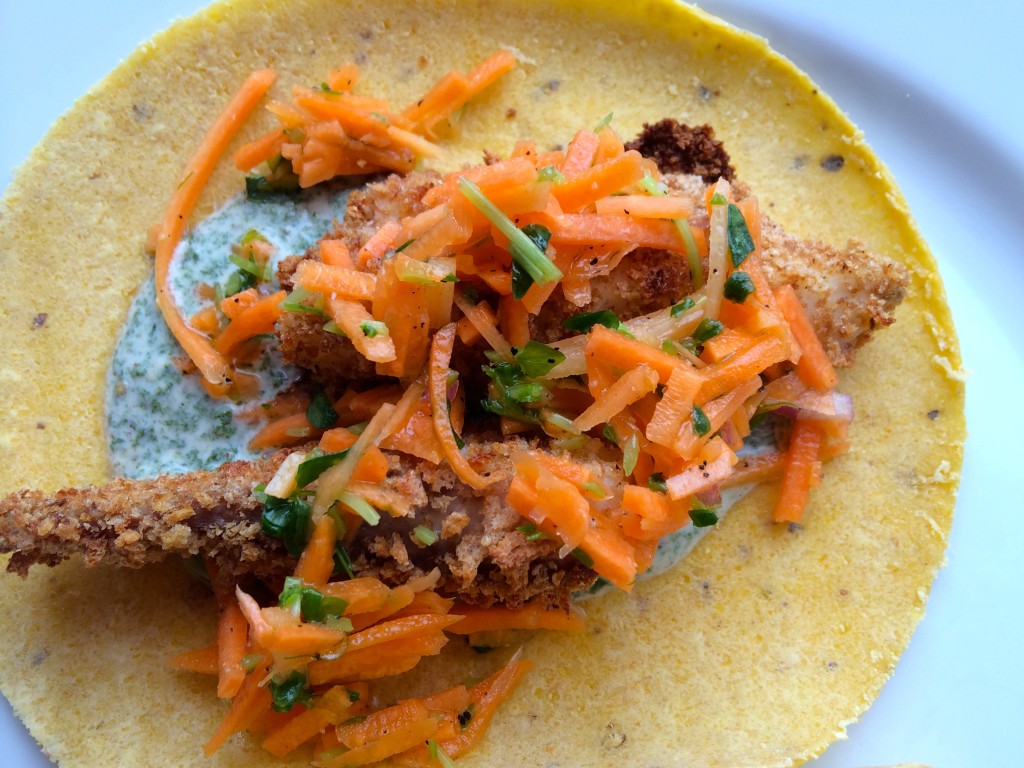 In my life B.E. (Before Eliana) I was a teacher and literacy consultant. When she was born I decided to take a leave of absence from the New York City public school system and stay home with her. Packing up and then storing all of the materials from my classroom was a huge ordeal! You see, I LOVE all my teacher-ly stuff and in particular my books! As I packed up my life as a teacher, I kept aside some picture books that I loved and knew I would want to share with Eliana. I Will Never, Not Ever, Eat a Tomato was a classroom favorite of mine long before Eliana came along and I was excited to share it with her. It tells the story of a little girl named Lola who is described as a "fussy eater" and the tricks her older brother Charlie plays on her to get her to eat.
Long story short, Eliana also loves the book and soon after I introduced it to her, she began asking about fish sticks, one of the foods Charlie tricks Lola into eating and the only food in the book with which Eliana wasn't really familiar. Even though I'd describe my daughter as a "good eater" there are things she doesn't eat. (As well as things she loves and then refuses to eat at times because she is a toddler and it is her job in life to be somewhat difficult or, you know, to act like a 2-year old.) For example, Eliana typically does not like potatoes (french fries excluded), dried fruit or breading on foods. It doesn't matter what is inside the breading—the fact that there is breading on a food means she won't eat it. She will try to pick off the breading but eventually gives up and just doesn't eat that item.
So, when she started making repeated requests for breaded fish sticks that she kept seeing in the book, I thought things could get interesting.
As doubtful as I was, I knew I had to try making them because on my mission to create a teeny tiny foodie, I've learned to never give up on a food that I want Eliana to try. So, off to the kitchen I went in order to make fish sticks. Along the way, they became tacos and some accompaniments were created as well. Below are the resulting recipes: Fish Stick Tacos, Creamy Spinach Dressing and Carrot Confetti Salad. The recipes below create about 4 servings.
Oh, and in case you're wondering if Eliana ate the breaded fish sticks or not? She did not. She picked and sniffed and pulled at the breading but she eventually gave up. I kind of figured that might happen, so I purposely baked a few of the fish sticks without the breading just in case. She happily ate her non-breaded fish sticks in her tacos.
Make-Ahead Suggestions:
• You can make parts of this recipe ahead of time. The Carrot Confetti Salad can be made 2-3 days in advance and stored in an airtight container in the refrigerator.
• The Simple Spinach Purée (part of the Creamy Spinach Dressing) can be made up to 4 months ahead of time and frozen or made up to 4 days ahead of time and stored in the refrigerator. If frozen, thaw the purée in the refrigerator for 2 days before using it. Just be sure to mix it well before adding it to the rest of the recipe.
• If you plan to make all three components on the same day, make the dressing first, then the carrot salad and then bake the fish and assemble your tacos.
Creamy Spinach Dressing
Ingredients:
-2 ounces Simple Spinach Purée, chilled
-4 ounces plain Greek yogurt
-½ teaspoon salt
-¼ teaspoon chili powder
-¼ teaspoon garlic powder
-⅛ teaspoon pepper
-Juice and zest of 1 lemon
Preparation:
Mix all ingredients together in a bowl. Taste and adjust seasonings as desired. Cover and chill in the refrigerator for at least 30 minutes or up to 2 days.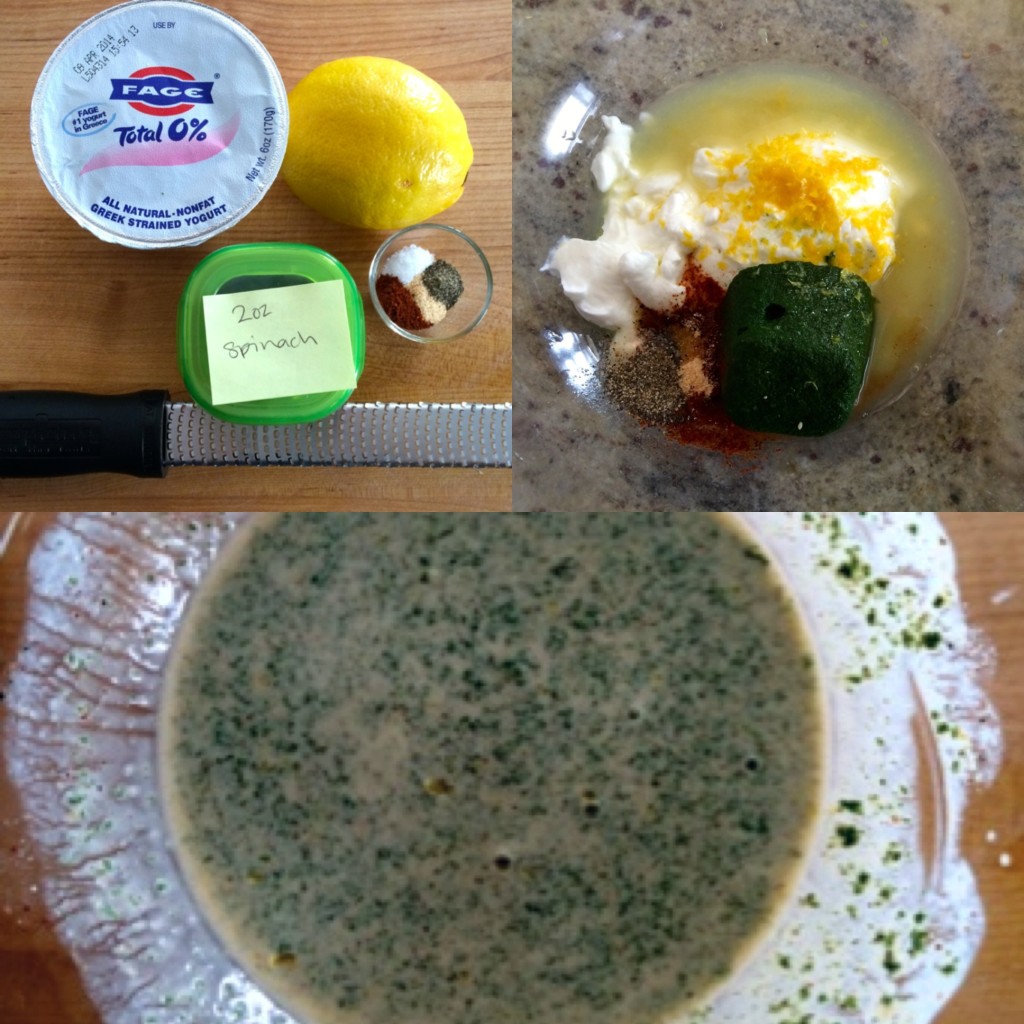 Carrot Confetti Salad
Ingredients:
-2 carrots, peeled into strings using this peeler or shaved into wide ribbons using a regular peeler and cut into ½-inch pieces
-Juice of 2 limes
-½ shallot, finely chopped
-2 teaspoons olive oil
-¼ teaspoon salt
-⅛ teaspoon pepper
-⅛ teaspoon garlic powder
-½-1 ounce parsley, watercress or pea sprouts, finely chopped
Preparation:
In a medium-sized bowl, whisk the spices and lime juice together. Whisk in the olive oil. Add the carrots and shallots, mix together and taste. Adjust seasonings as desired. Mix in the parsley, watercress or pea sprouts a few minutes before serving.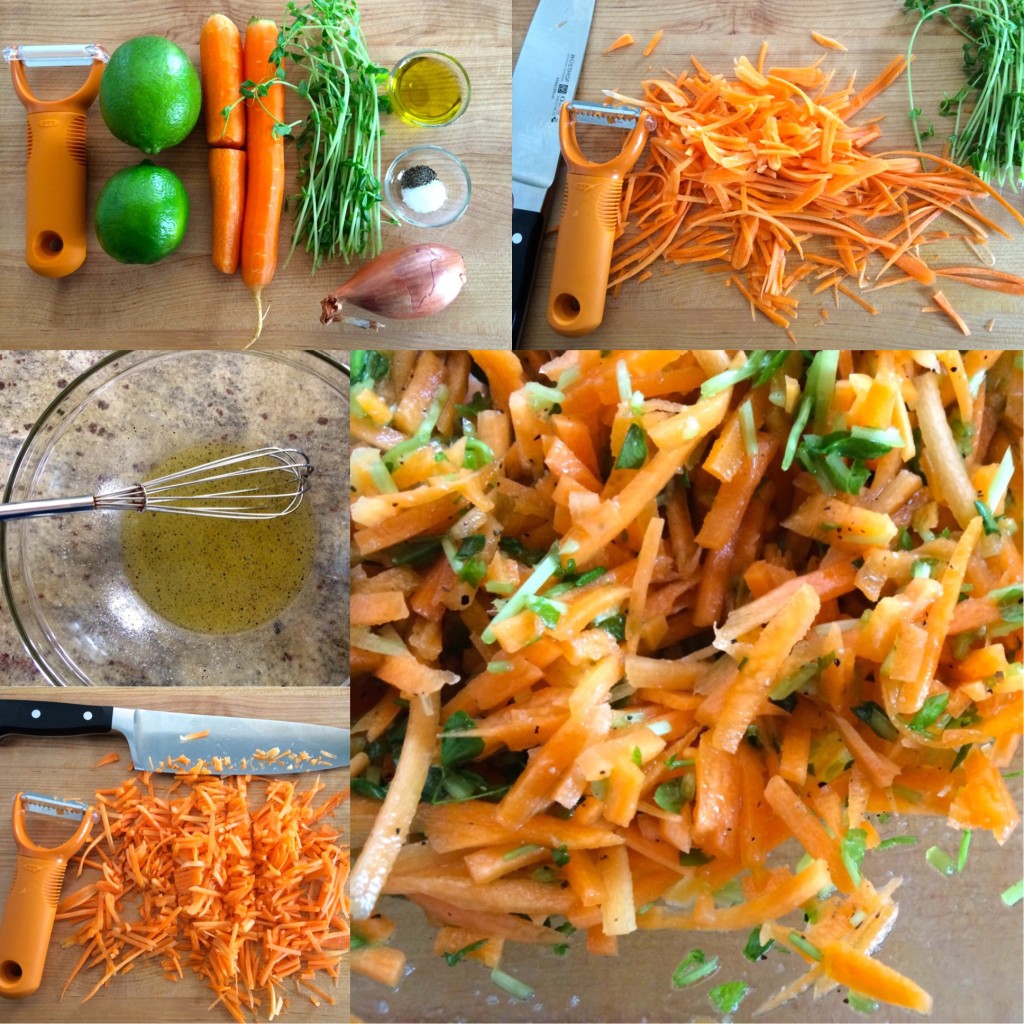 Fish Stick Tacos
Yields 4 servings
Ingredients:
-1 cup whole wheat or panko breadcrumbs
-1 pound white fish, such as cod, catfish, monkfish or tilapia
-1 egg, whisked with 1 pinch each salt, pepper and garlic powder
-2 teaspoons vegetable oil or refined coconut oil
-16 corn tortillas, warmed according to directions on the package
-Carrot Confetti Salad (recipe above)
-Creamy Spinach Dressing (recipe above)
Preparation:
Heat the oven to 475° and line a rimmed baking sheet with parchment paper.
Create the fish sticks
Slice the fish into sticks by slicing vertically down the fillet. Place the sticks on a plate and set aside.
Set up your dredging station
From left to right, arrange the seasoned eggs in a shallow bowl, next the breadcrumbs with oil in a shallow bowl or plate and finally your baking sheet. Take a fish stick and dredge all sides in the egg and spice mixture and then the breadcrumbs/oil, shaking off the excess in between each bowl. Lay the fish sticks onto the parchment paper, leaving a little space in between each one. Bake for 6 minutes. Flip the fish sticks and rotate the baking sheet and bake for 6 more minutes. Transfer to a cooling rack.
Prepare the tacos
For each taco, place 2 warmed tortillas on top of each other, spread around 2 teaspoons of Creamy Spinach Dressing on the tortillas, place 2 ounces of fish sticks on top and then top with the Carrot Confetti Salad, to taste.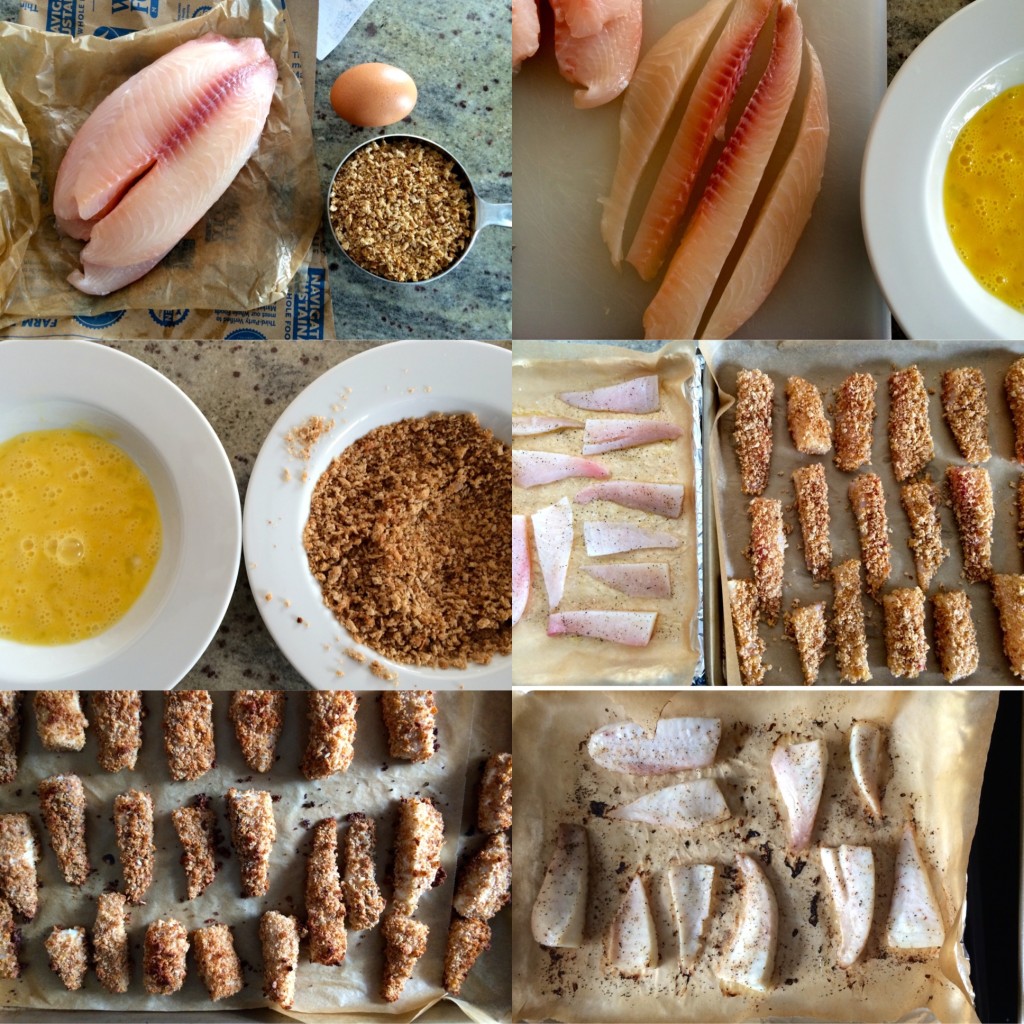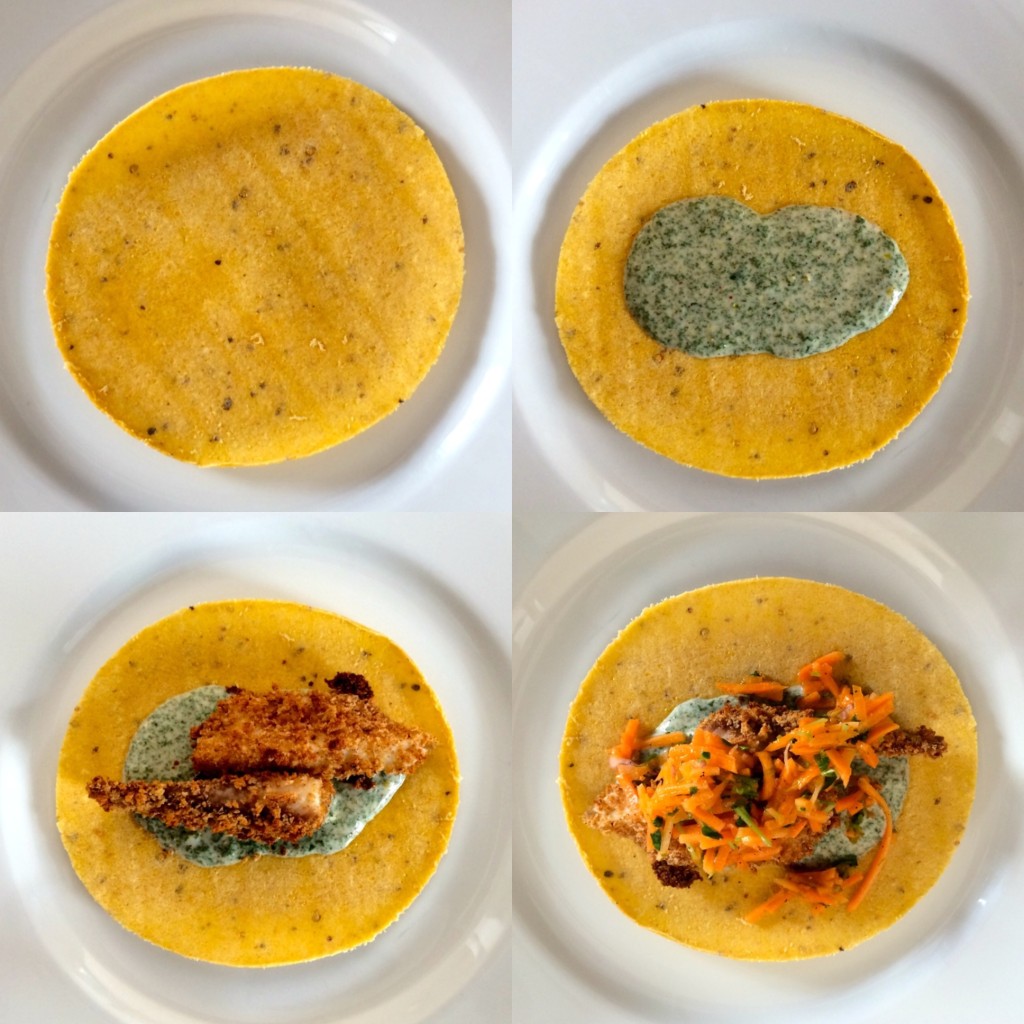 Happy Cooking!
Tags: carrots, chili powder, corn tortillas, fish, garlic powder, leafy greens, lemons, Purees For Two, spinach, tacos, yogurt
« Previous Sweet & Spicy Citrus Salad: {Meatless} Monday Meal Fed Up Movie Next »