Print This Post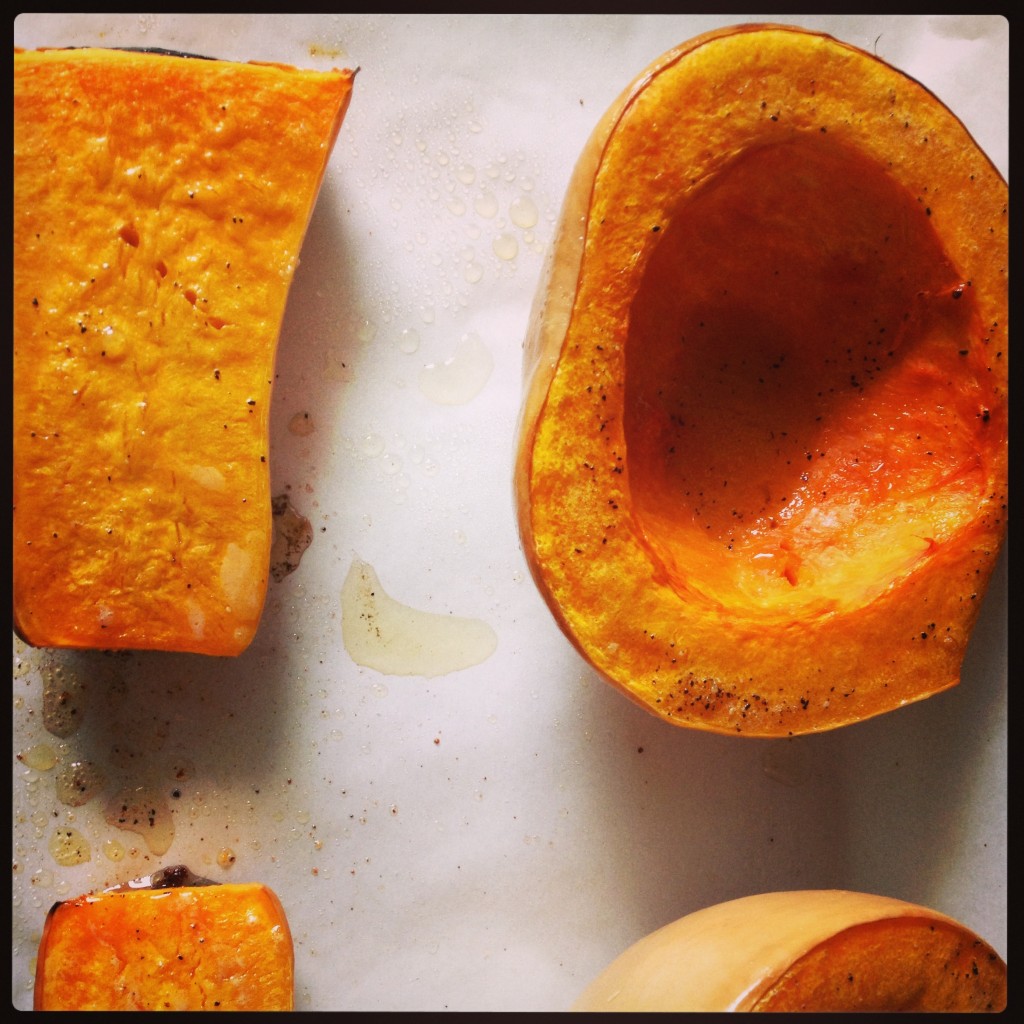 Last Monday, I published a recipe for Roasted Butternut Squash Pizza. Since that recipe didn't use much squash, I had a lot of leftover roasted butternut squash, and I decided to put it all to use in a few different ways.  So here are recipes for three more dishes I made to use it up:
-Roasted Butternut Squash Pasta Sauce
-Roasted Butternut Squash Pizza- a recipe revisit
-Roasted Butternut Squash Sandwich
If you don't like squash (ahem, Dad) you can substitute it with another roasted fall/winter vegetable such as turnips, carrots, beets or parsnips.
Whichever recipe you choose, Happy Cooking and enjoy!
Roasted Butternut Squash Pasta Sauce
-½ roasted squash bulb, peeled and roughly chopped
-1 cup part-skim ricotta cheese
-1 small onion, diced
-1½ cups organic arugula, washed and patted dry
-1 clove garlic, peeled and smashed
-¾ teaspoon rosemary, finely chopped
-1 teaspoon salt, plus a couple pinches to sauté the onion and arugula
-¼ teaspoon pepper, plus another pinch to sauté the arugula
-1 lb small, whole-wheat pasta, cooked and drained (I used a gobbetti shape by Bionature)
-½ cup reserved cooking liquid from the pasta
-Olive oil, shaved parmesan or romano cheese and red pepper flakes, to taste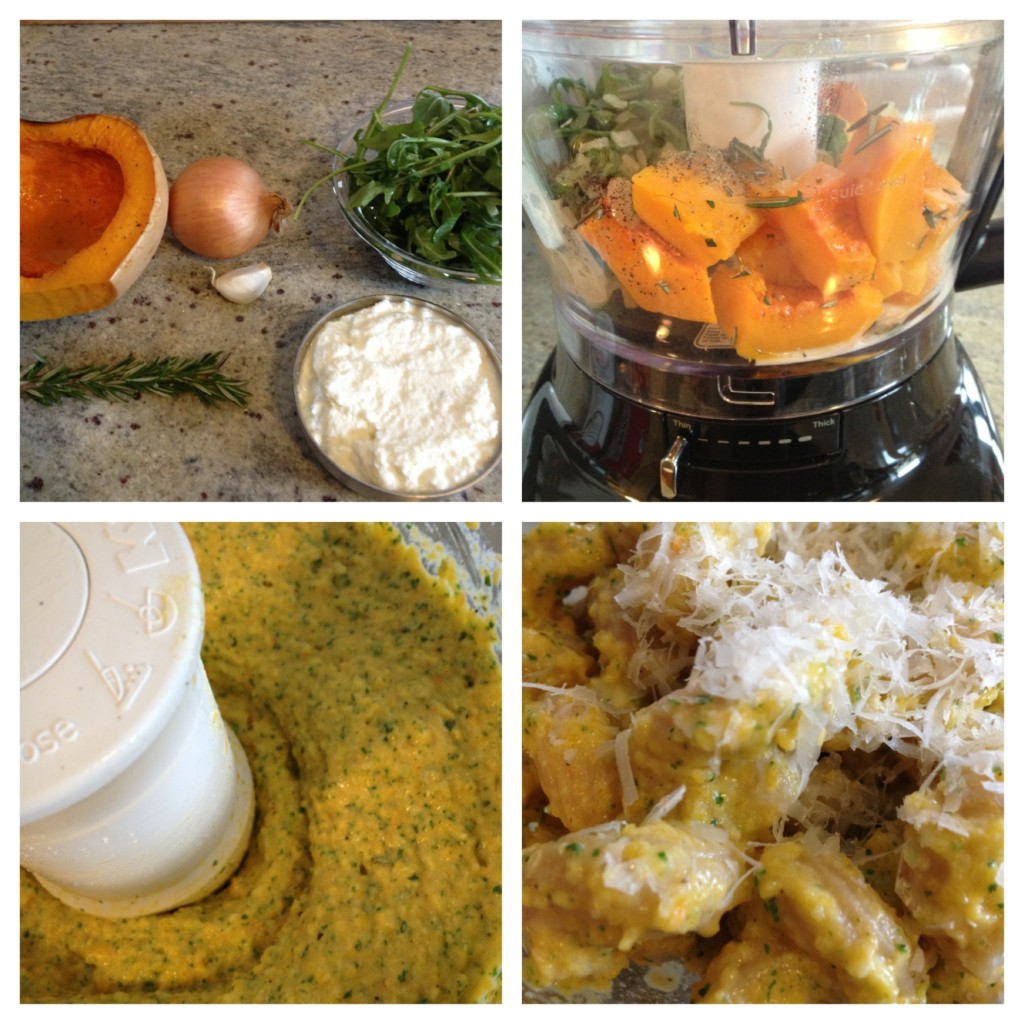 1. Over medium heat, sauté the onions, garlic and red pepper flakes with a pinch of salt for 6 minutes or until the onions are golden. Stir occasionally.
2. Add the arugula, another pinch of salt and a pinch of pepper. Stir and cook for 1 minute. Remove the pan from the heat and set aside.
3. To a large food processor, add the ricotta, squash, onion-arugula mixture, salt and pepper. Process on high for 1 minute or until it is smooth.
4. With the food processor running on high, add the reserved water from the cooked pasta, ¼ cup at a time, until your desired consistency is reached. Taste, and adjust seasonings.
Pour the sauce over the cooked pasta, mix and top with grated parmesan or romano cheese and enjoy.
Eliana loved this pasta sauce! And I loved the fact that in one delicious meal, she got her protein, starch and vegetables all rolled into one!
************************************************************************************************************************************
Now on to the next recipe: a revisit of the pizza recipe I shared last week.
I absolutely loved the pizza sauce that I shared last week. But, I was curious to see how it would change if I added the squash to the food processor with the other ingredients rather than leaving it as just a topping. Below is my "recipe revisit" of the original recipe I shared.
Roasted Butternut Squash Pizza Sauce (Recipe Revisit)
This recipe is essentially the same as the recipe for the pasta sauce. You use the same list of ingredients plus an additional pinch of rosemary and some more cheese.  (And pizza dough, of course).
1. Heat oven to 450°.
2. Follow steps 1-3 for the recipe for pasta sauce.
3. Roll or shape the pizza dough to fit a baking sheet or pizza stone and bake the pizza dough alone for 1 minute.
4. Remove from the oven and spread the sauce over the pizza. Top with shaved parmesan or romano cheese. Bake for 12 minutes.
5. Once it is cooked, let the pizza rest for 1 minute before slicing. Add a few pinches of chopped rosemary, more shaved parmesan or romano cheese, slice and serve.
This "revisit" of the original recipe was really good! The subtle change of having the butternut squash flavor mixed all throughout the sauce, rather than as just a topping, nicely complimented the onions, rosemary and arugula.
************************************************************************************************************************************
And finally, the last recipe I made with the butternut squash: a sandwich.
One afternoon, after I put Eliana down for her nap, I was starving and began looking through the refrigerator. I had a bit of the squash and arugula left over as well as some yummy cheese that the cheese monger from a local grocery store recommended to me. So, I decided to combine these ingredients to make a sandwich. I'm sure this would have been just as good, if not even better, if I had been motivated to get my panini press down from it's storage space above the stove. But, I wasn't in the mood for climbing up there and extracting it. So, I used the broiler instead to create a similarly crispy effect for this sandwich.
Roasted Butternut Squash Sandwich
-¼ cup roasted butternut squash, sliced thin
-1 handful organic arugula, washed and patted dry
-1-2 ounces thinly sliced cheese (I used Prince De Claverolle sheep's milk. Alternatively, parmesan, romano, halloumi or softened goat cheese would be delicious, too).
-A small baguette or roll, sliced with some of the dough scooped out (I used a whole-wheat baguette)
-Honey, to taste
Turn the broiler on to high heat.
Assemble the sandwich on a baking sheet lined with parchment paper:
1. Spread honey onto the bread. I spread a thin layer onto both the top and bottom pieces of the sandwich.
2. Place sliced squash onto the lower half of your sandwich. Add the arugula, then the cheese.
3. Broil the sandwich, open-faced, for around 2-3 minutes or until the cheese begins to bubble and melt.
4. Remove the baking sheet from the oven, place the top piece of bread down onto the bottom and press down firmly.
5. Broil for an additional minute.
6. Slice and enjoy!
Happy Cooking!
Tags: arugula, butternut squash, garlic, leafy greens, onions, parmesan cheese, pasta, pizza, rosemary, sandwich
« Previous Matzoh Ball and Vegetable Soup #eggcited Tropical Granola Next »