Print This Post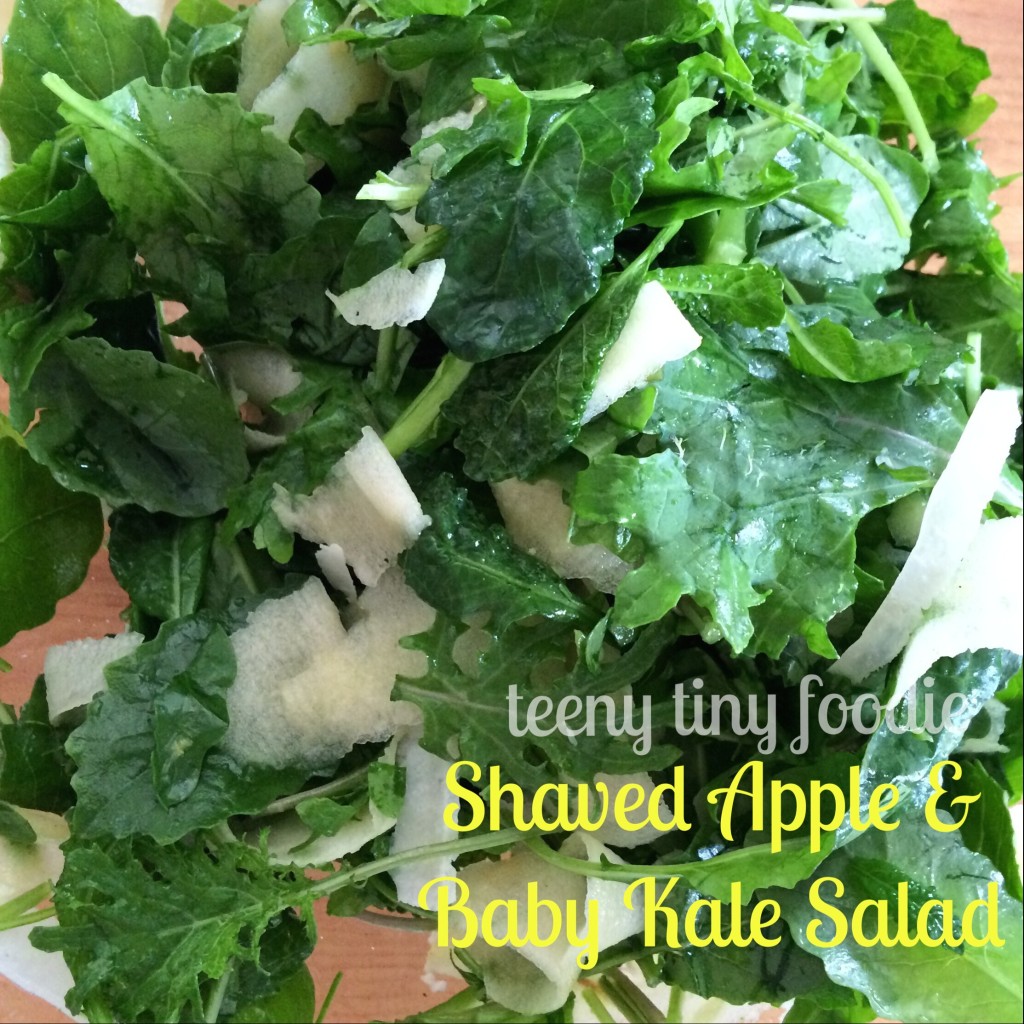 Last week, Eliana and I were given a private tour of the Gotham Greens rooftop greenhouse located atop Whole Foods Market in Brooklyn. It was amazing!!! Stay tuned because I'm going to tell you all about that unique experience in a forthcoming post. But for now, I'm going to share a yummy new recipe Eliana and I made using their Baby Kale Medley– just one of the delicious products we took home with us to play with in the kitchen. This week's Monday Meal, Shaved Apple & Baby Kale Salad, uses locatelli cheese (or "Kelly Cheese" as Eliana calls it) but you can swap it out for parmesan cheese if you prefer.
Baby kale is very tender and doesn't need the same degree of preparation as mature kale does to make it easy to digest, but we decided to give it a little pre-consumption love anyway. The same tough, middle ribs that appear in mature kale are present in baby kale, too, but in the less mature version they appear as very long, skinny stems attached to the leaves. They are tender and tasty to eat as is, but we prefer to pull them off and chop them into smaller pieces. This way, we don't end up with a mouthful of stems sticking out. You don't need to massage baby kale in the same way you do mature kale but with my teeny tiny sous chef involved in the prep, the baby kale got a bit of a massage anyway. If you can't find baby kale at your local market, you can use mature kale, but you definitely want to massage it first and then chop it into bite-sized pieces.
Other than a ton of "Quality Control" in the form of sampling the ingredients, here are the ways in which my teeny tiny sous chef helped to make this salad:
1. Pulling off tiny ribs from the baby kale medley
2. Transferring the baby kale to the bowl and swishing it round to wash it
3. Transferring the baby kale to the to the salad spinner and using the spinner to dry it (this is officially her job in the kitchen)
4. Shaking the jar of salad dressing I made the previous day
With this week's Monday Meal, I'm also sharing a recipe for Lemony Garlic Dressing. The dressing can be made up to a week in advance. Store it in an airtight container and shake or mix well before using it. This is my "staple" recipe for dressing and I use it for everything from dressing salads to marinating vegetables, tofu, fish and chicken.
Shaved Apple & Baby Kale Salad
Yields 2-4 servings
For the Lemony Garlic Dressing: (Yields around ¼ cup of dressing)
Ingredients:
-1 clove of garlic, crushed or minced
-Zest and juice of 2 lemons
-Salt, pepper and olive oil, to taste
Preparation:
In a small glass bowl combine garlic, zest, 2 pinches of salt, and 1 pinch of pepper. Combine and mash with a spoon or mortar and pestle.
Add the juice and whisk. While whisking, pour in a light stream of olive oil.
Taste and adjust ingredients as desired. Set aside 1-1½ tablespoon(s) for the salad and store the rest in an airtight container for up to a week.
For the salad:
Ingredients:
-1 medium Fuji apple (or any sweet, crisp apple like Gala, Honeycrisp or Mutsu), peeled
-1 box (4.5 ounces) Gotham Greens Baby Kale Medley, washed and dried
-Small chunk of locatelli cheese (You'll use around 2-3 ounces of it in the salad)
-1-1½ tablespoon(s) Lemony Garlic Dressing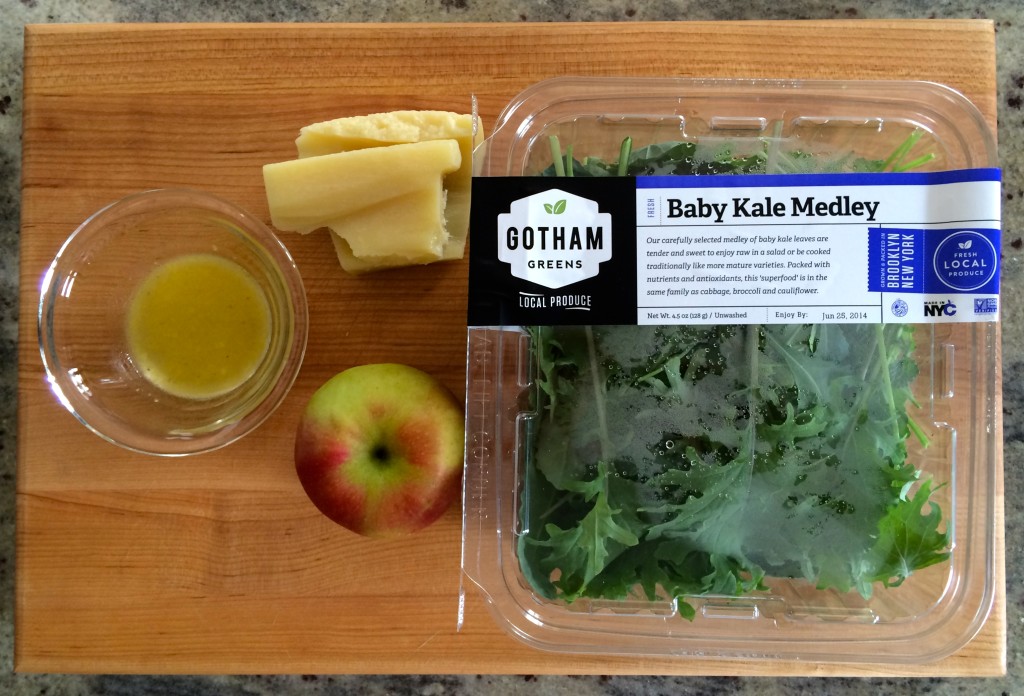 Preparation:
Wash and dry the kale and remove the small ribs. Chop the ribs into bite-sized pieces and set them aside along with the leaves of baby kale.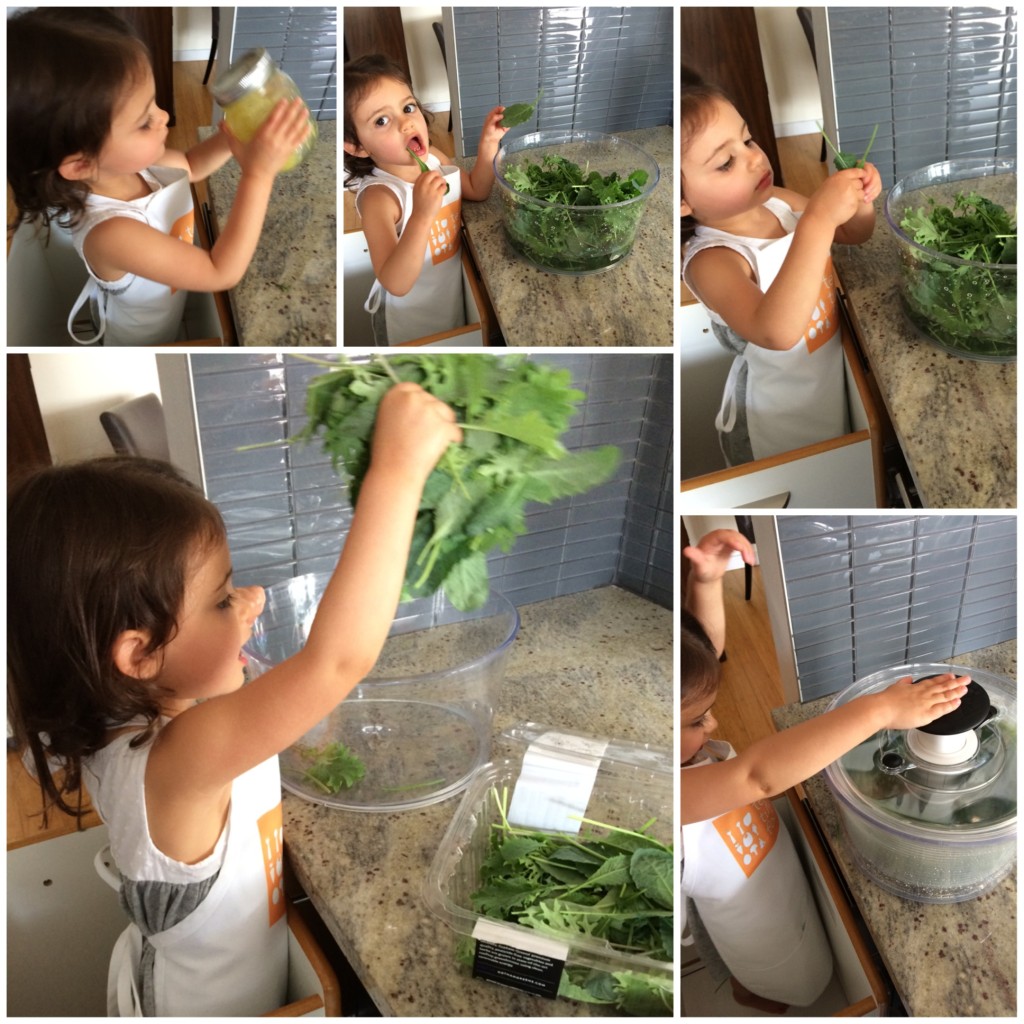 Using a vegetable peeler, shave the apple into 1-2 inch pieces and add them to a large bowl.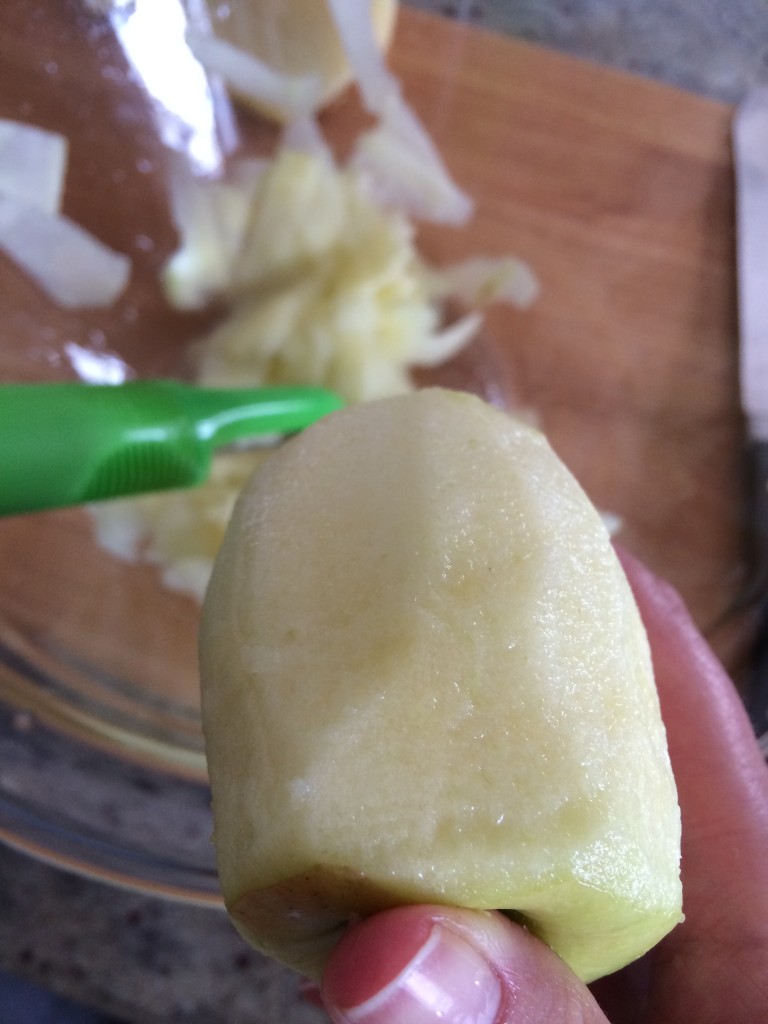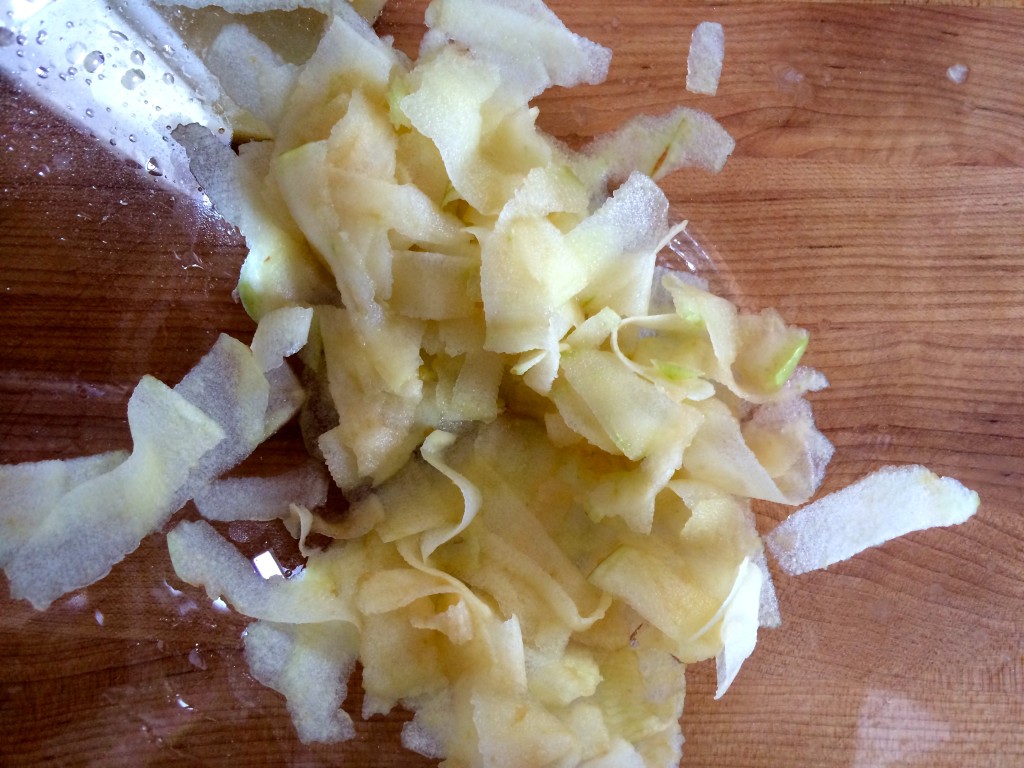 Add the leaves and ribs of baby kale to the bowl and shave the locatelli cheese into the bowl using the vegetable peeler.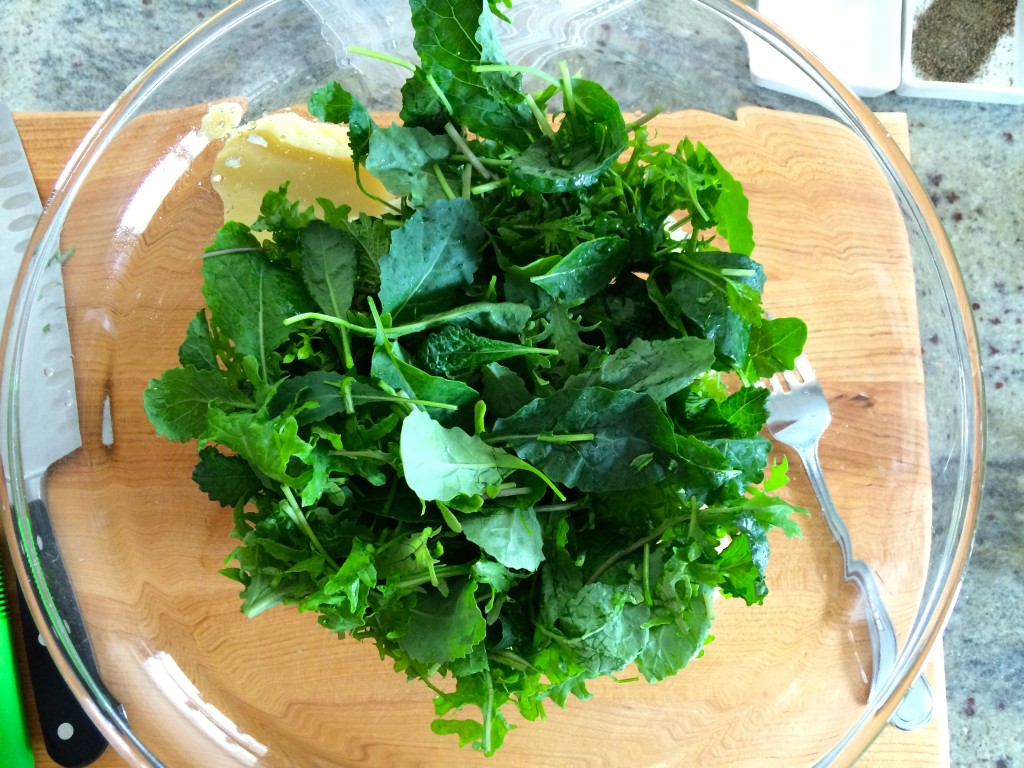 Add dressing, mix gently with your hands and enjoy!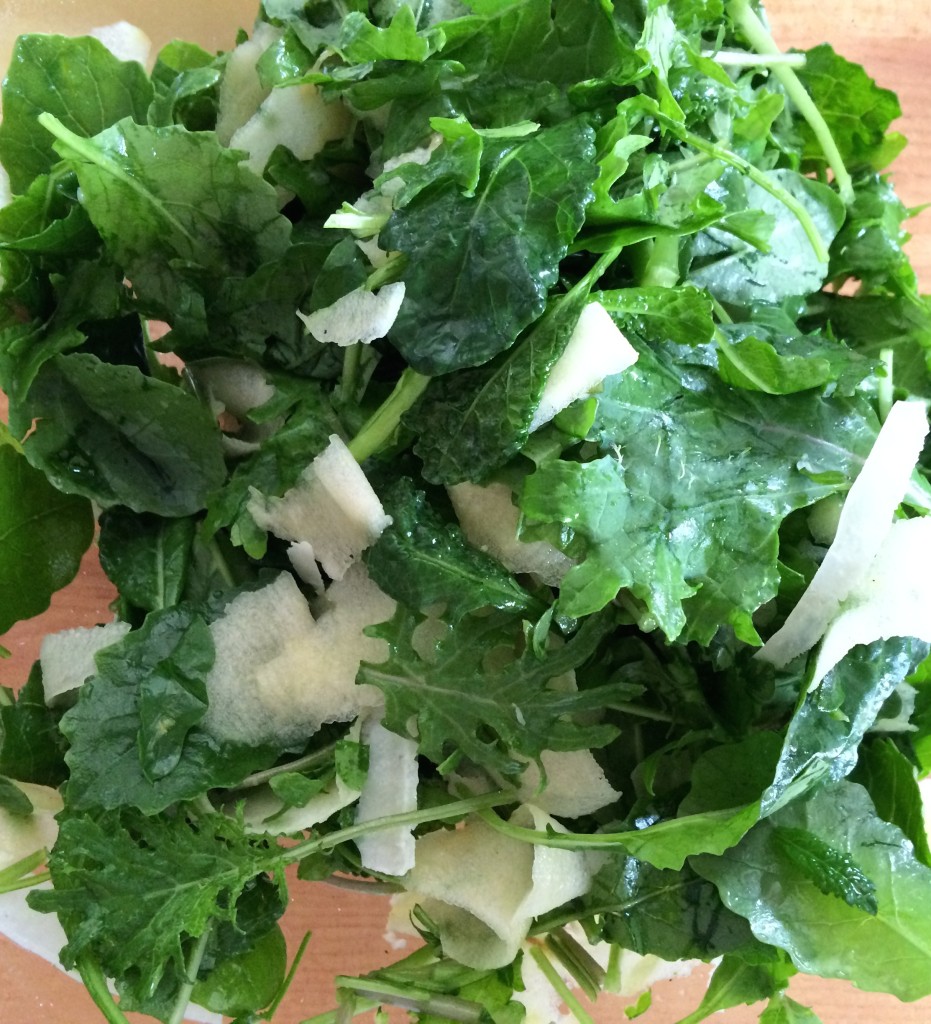 Eliana loved this salad! Especially because she had a part in making it, she was really excited to taste it- even if she wasn't so graceful while eating it. A messy baby or toddler face is a sign of a good meal, right?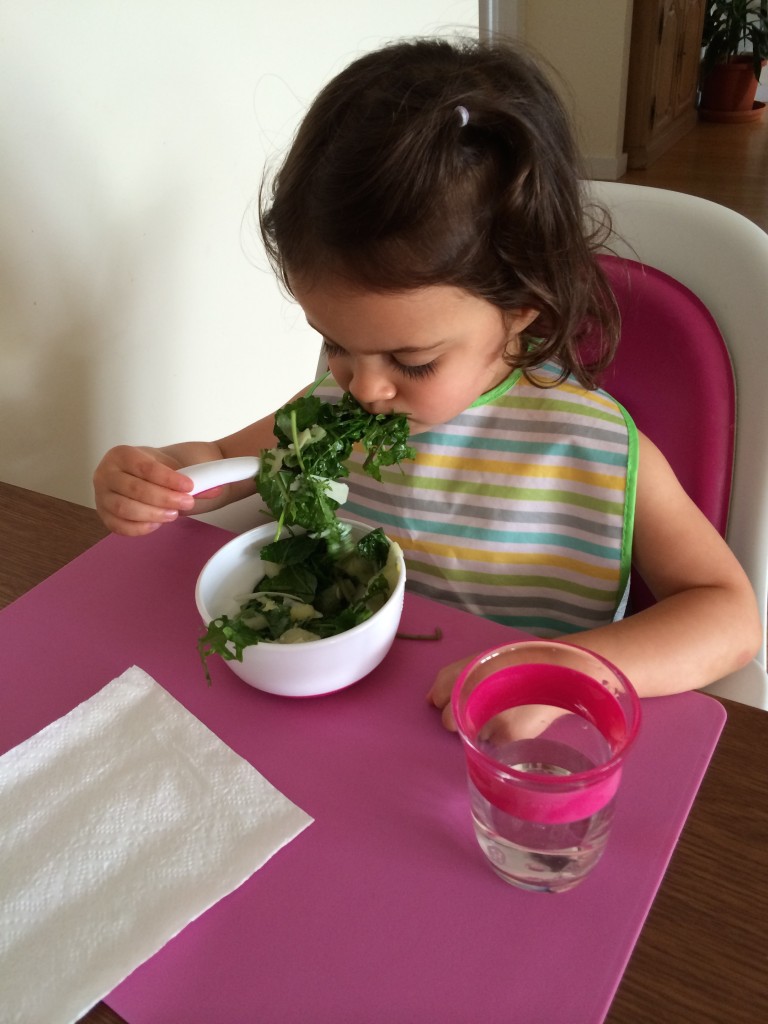 Happy Cooking!
Tags: apples, creatingateenytinyfoodie, garlic, Gotham Greens, green foods, kale, Kids Cook, leafy greens, lemons, locatelli cheese, Meatless Monday, olive oil
« Previous How To Massage Kale Pink Vanilla Cupcakes with All-Natural Magenta Frosting: {Meatless} Monday Meal Next »