Print This Post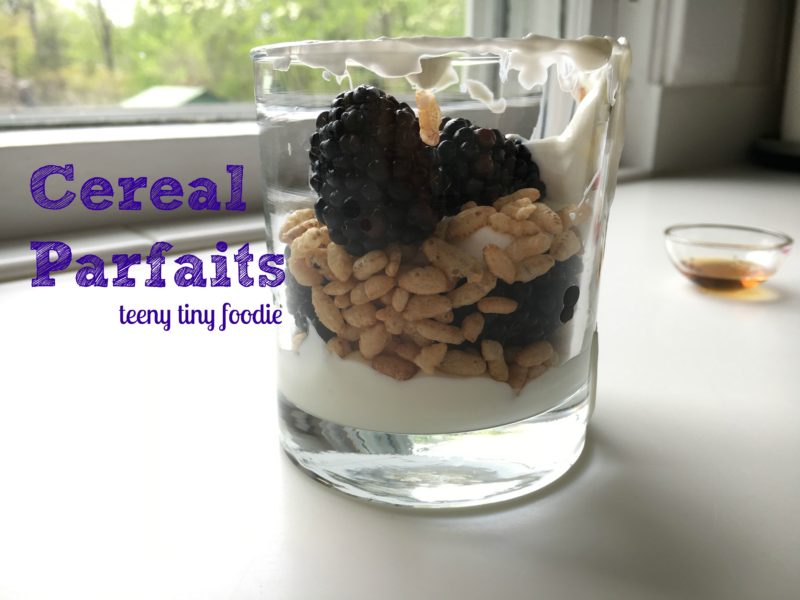 Oh, hey!!! Hi there! Remember teeny tiny foodie? The one with family friendly, mostly healthy recipes and tons of tips for cooking with kids? I know it's been a super loooooong time since I've shared anything new. Basically, that's because I actually fell off the face of the earth for a while after the sudden illness and death of my Dad. But we can talk about that another time. Today's post is about sharing a new Kids Cook recipe: Cereal Parfaits. Woohoo! You may remember that years ago I shared a recipe for Purée Parfaits using granola and homemade purées. Today's recipe for Cereal Parfaits is a little different and is another recipe that your teeny tiny chef can make all on her or his own, with just a little prep from a grown up.
Eliana has made this recipe a bunch of times with varying degrees of support from me depending on her age, how soon she needs to eat and my patience for a messy kitchen that day. The most recent time, before Eliana got started, I poured the syrup into the small bowl and scooped yogurt from the container into the white bowl.
Before the recipe, I want to share some information about the ingredients we typically use for our parfaits. I pay a lot of attention to food labels and specifically the amount of sugar in the packaged foods we buy. Flavored yogurt is one of the foods that makes me feel the most frustrated at the grocery store because of how much sugar is unnecessarily put into the more popular and readily available brands*. So, in our home we typically use plain yogurt, usually Greek or Icelandic style, that we sweeten with pure maple syrup or honey. Regarding the cereals we use, I gravitate towards cereals that list whole grains as the first ingredient and that have minimal amounts of sugar. The most recent time we made Cereal Parfaits, Eliana made hers with unsweetened brown rice cereal. You can also use granola for this recipe, instead of cereal.
Want to know more about the yogurt and cereals we buy? Feel free to send me an email at jory@teenytinyfoodie.com or use the "Contact Us" button up there on the top of the post and I'd be happy to chat! You can also keep up with us on Instagram, Facebook and Pinterest.
Cereal Parfaits: Kids Cook Monday
Yields 1 serving
Ingredients:
-¾ cup plain yogurt
-½ teaspoon pure maple syrup or honey
-½ cup low-sugar cereal
-½ cup of berries or chopped fruit such as strawberries, blueberries, bananas or peaches
-Optional mix-ins such as chia seeds, flax seeds, chopped nuts or unsweetened coconut flakes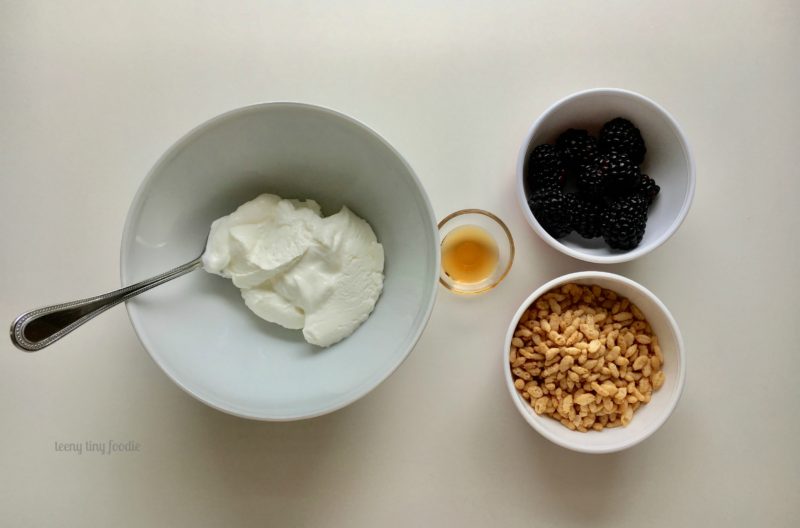 Preparation:
Step 1: Put the yogurt and honey or syrup into the small bowl and mix together.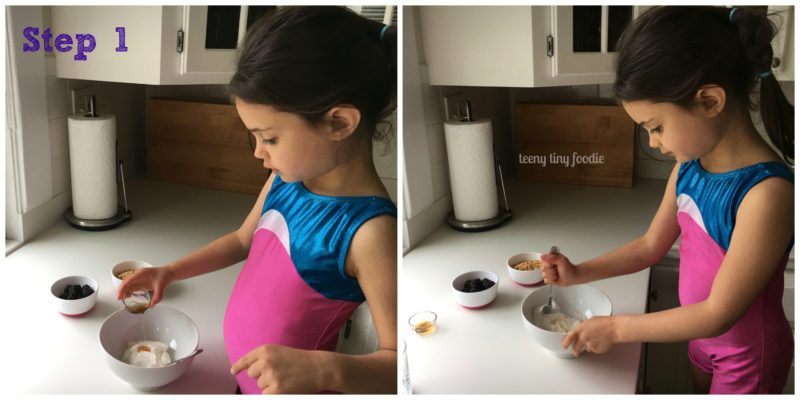 Step 2: Put half of the sweetened yogurt into the clear cup and spread it around so there is a layer of white on the bottom of the cup.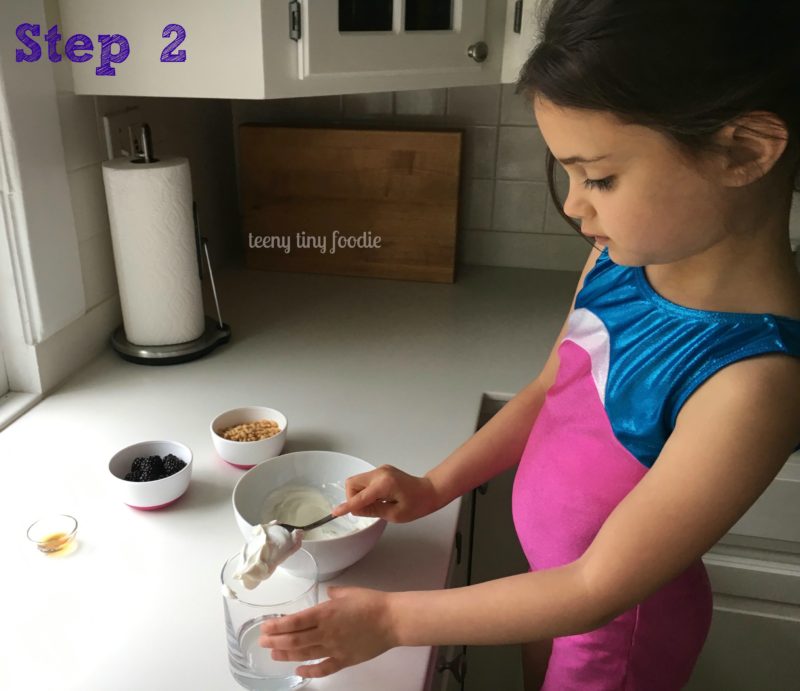 Step 3: Sprinkle half of the cereal on top of the yogurt in an even layer.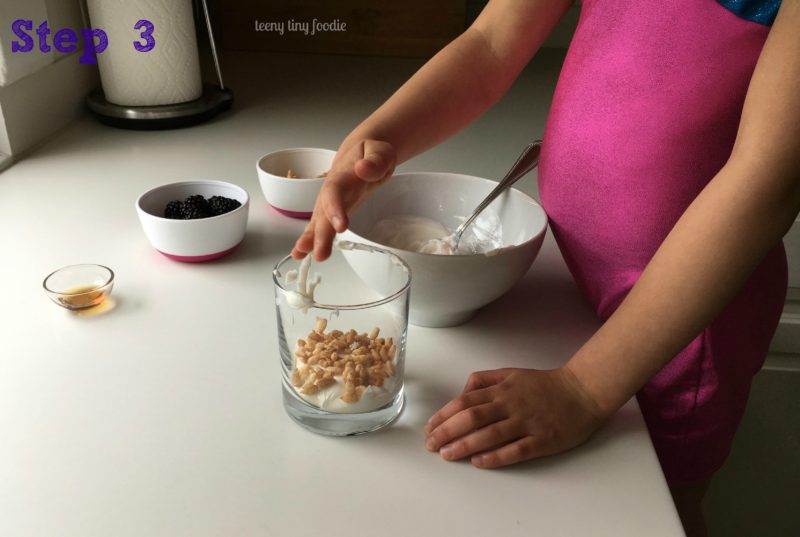 Step 4: Drop half of the fruit and optional mix-ins over the cereal in an even layer.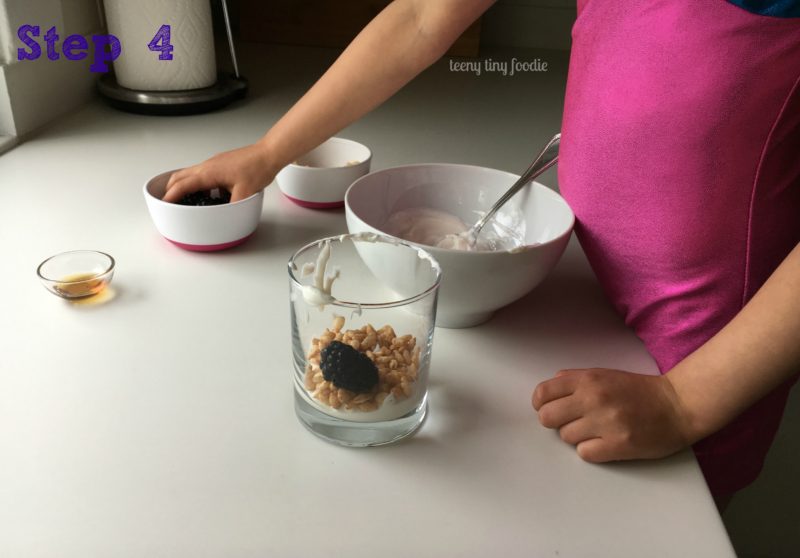 Step 5: Scoop the rest of the yogurt over the fruit and mix-ins.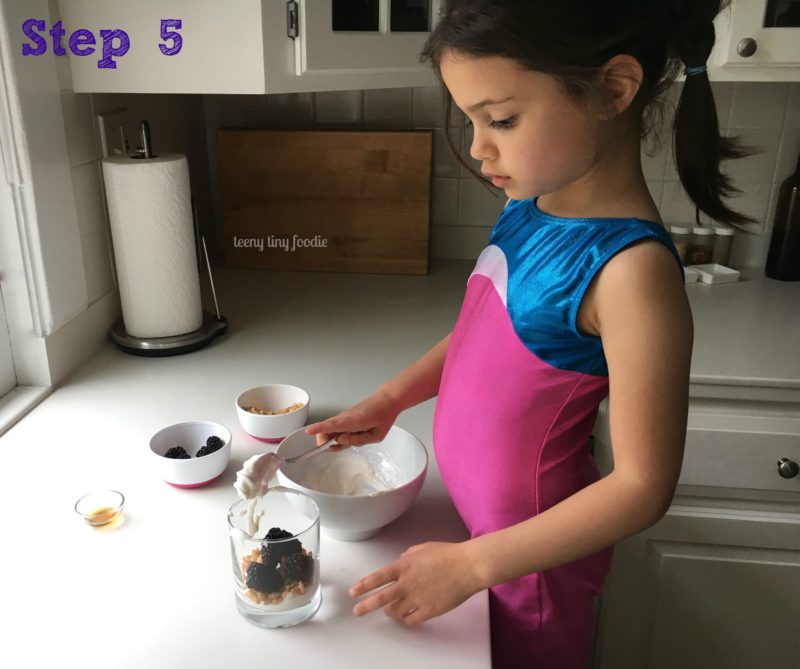 Step 6: Sprinkle the rest of the cereal on top of the yogurt.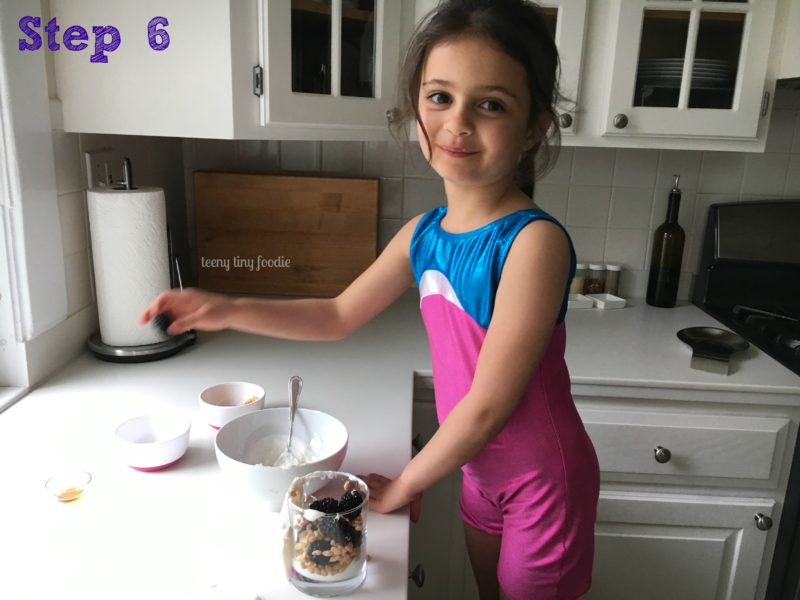 Step 7: Top with the rest of the fruit and optional mix-ins and enjoy!
It's totally messy, but that's how you know it's totally kid-made! 😉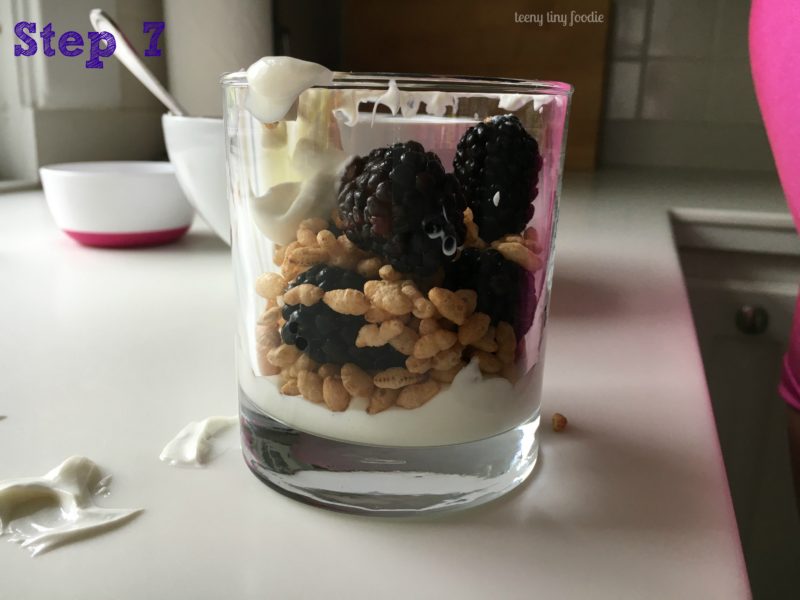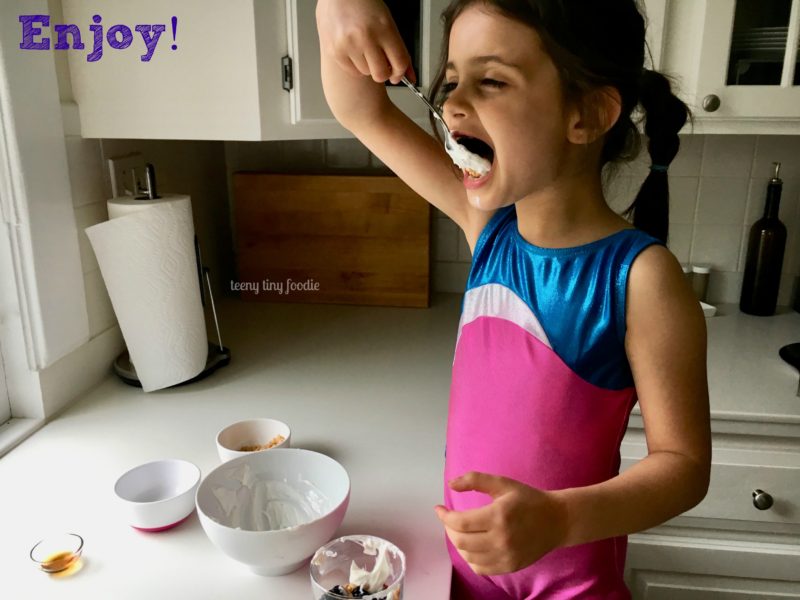 *I have recently discovered two brands of flavored yogurt that I occasionally buy. They have no or very little added sugar so they don't provide an unintentional sugar high when eating it. Those brands are Wallaby Purely Unsweetened Yogurt and Siggis.
Happy Cooking!
Tags: breakfast, Kids Cook, Meatless Monday, vegetarian, yogurt
« Previous Let's Make Corn and Tomato Salad: Toddler Recipe Summer Tacadilla: {Meatless} Monday Meal Next »