Print This Post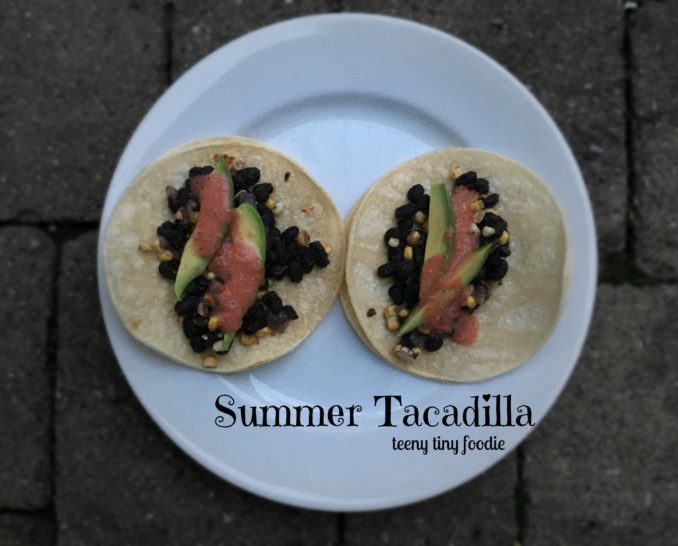 I'm about to do something I've never done before. I'm going to share a "seasonal" recipe ahead of the upcoming season. What??? I know. You're shocked because I'm never that organized. Before you get excited that I'm so prepared, I must confess that I can do this only because today's recipe is one I've been playing around with for a while. Um, at least one full year. It's called "The Tacadilla." The "Taca-wha," you say? The Tacadilla is part taco and part quesadilla; hence the name Tacadilla. It's basically a soft taco with a cheese quesadilla as the shell. I've come up with some different variations on this basic theme that I'll share in the upcoming months, but today I'm sharing the Summer Tacadilla. Even though it hasn't regularly felt like it just yet in NY, summer is right around the corner so this version highlights some summer produce like corn and tomatoes.
You know that if I've been working on a recipe for a while, I'm bound to have some tips to share with you.
1. Rinse canned beans before you use them. I typically use canned beans because I can never remember to soak dried beans overnight. But canned beans have a lot of excess salt. So I pour them into a strainer and rinse them with water right before using them.
2. You can make the black bean and corn filling ahead of time. This will be good in the refrigerator for up to three days or up to three months in the freezer.
3. Prep your ingredients before you begin cooking. Neither of the recipes in this post are very time consuming but you'll definitely get your meal onto the table faster if you prep your ingredients before you begin cooking. I recommend you wash and chop the vegetables, (except the avocado), measure out the cheeses, and rinse the black beans before you begin the recipe. Leave the avocado for later so it doesn't brown.
4. The hardest part of this recipe is making sure you have ripe avocados. For that, you'll need to plan ahead. 😉
5. This recipe yields 8 tacadillas. I typically serve two Tacadillas per adult and one Tacadilla per child.
6. You can serve a Tacadilla in a deconstructed form. I've found that my little lady typically prefers her Tacadilla to be served deconstructed. This way she can put it together as she chooses. Scroll to the end of the recipe to see Eliana's creation.
Summer Tacadilla
Yields 8 tacadillas
Ingredients:
-2-3 teaspoons olive oil
-1-2 cloves garlic, smashed and peeled
-2 15-ounce cans black beans, rinsed and drained
-½ yellow or white onion, diced
-¾ cup kernels of fresh corn
-16 corn tortillas
-1 cup shredded sharp cheddar cheese
-1 cup shredded mozzarella cheese
-2 avocados, peeled and sliced
-Salt, pepper and cinnamon, to taste
-Optional taco toppings (i.e., romaine lettuce, sliced tomatoes, plain greek yogurt, salsa or whatever else you like to use)
Preparation:
Heat your oven to 315°F and line two baking sheets with parchment paper or aluminum foil. Set the baking sheets aside.
Make the black bean and corn filling:
Heat a medium saucepan over medium heat. Add in the olive oil and garlic. Cook for around 30 seconds and add in the onions and a pinch of salt. Stir and sauté for 8-10 minutes, stirring occasionally, until the onions begin to yellow and then brown. As the onions begin to brown and caramelize, add in 1-2 tablespoons room temperature water and stir to scrape up the brown bits on the bottom of the pan. Pour in the beans, another pinch of salt, some cinnamon and black pepper and stir through. Let the mixture come to a simmer, cover and cook for around 10 minutes, stirring occasionally. Remove the garlic cloves, turn off the heat and stir in the corn. Cover and set aside as you continue the recipe.
Toast the corn tortillas:
Warm each tortilla over a gas burner on low heat for a few minutes per side, turning frequently. Once warmed, spread them out on a cooling rack and proceed with the recipe.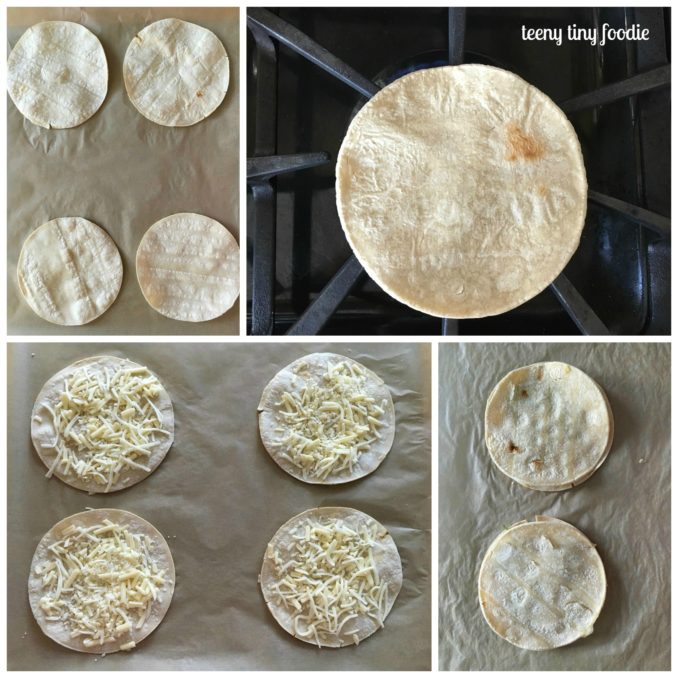 Prepare the mini quesadillas and slice the avocados:
Place four toasted tortillas on each baking sheet and top each tortilla with 1 tablespoon of cheddar cheese and 1 tablespoon of mozzarella cheese. Place the baking sheets in the oven and cook for 4 minutes until the cheese is melted. Meanwhile, slice your avocados, sprinkle them with a little bit of salt and set them aside. Remove the baking sheets and 'close' the quesadillas by placing one cheesy tortilla on top of another with the cheese side down. Cook the quesadillas for 1-2 additional minutes and remove from the oven. Repeat until you've made all of the mini quesadillas.
Build the tacadillas:
Put a small scoop of the bean and corn filling onto each mini quesadilla, top with a couple of slices of avocado, salsa and any other accompaniments you typically like on a taco.
Now for the best part, fold each mini quesadilla like a taco and enjoy your Summer Tacadillas!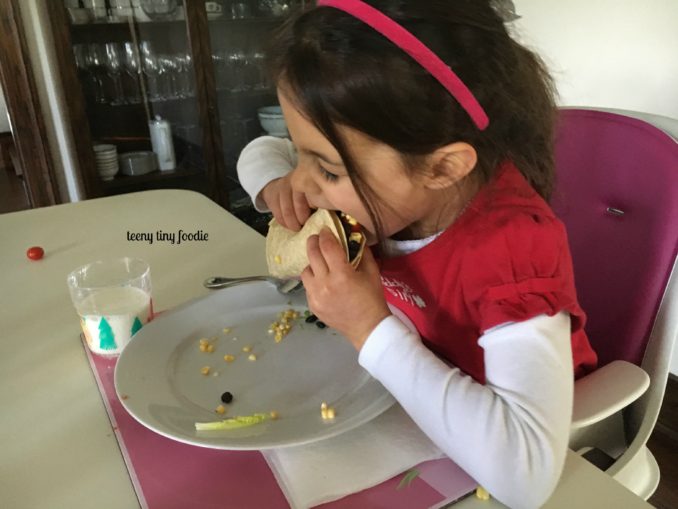 Eliana's deconstructed Summer Tacadilla: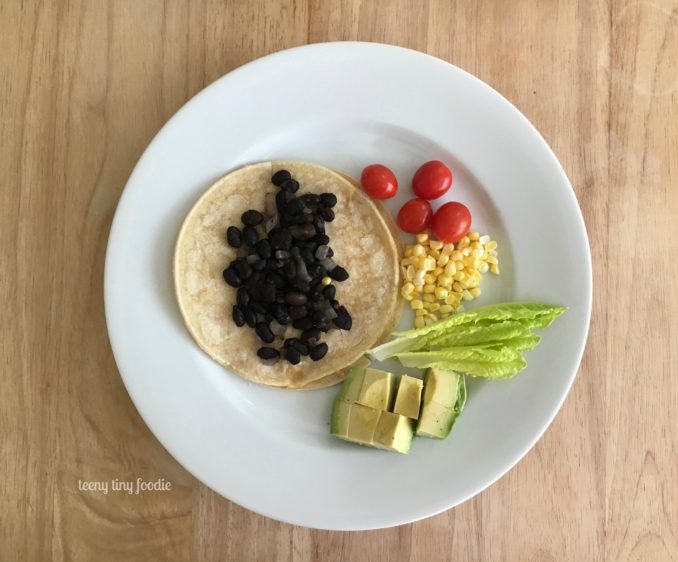 Here's Eliana looking so super excited about the deconstructed tacadilla she requested. I mean, can't you just feel the love and gratitude I got for serving her exactly what she wanted???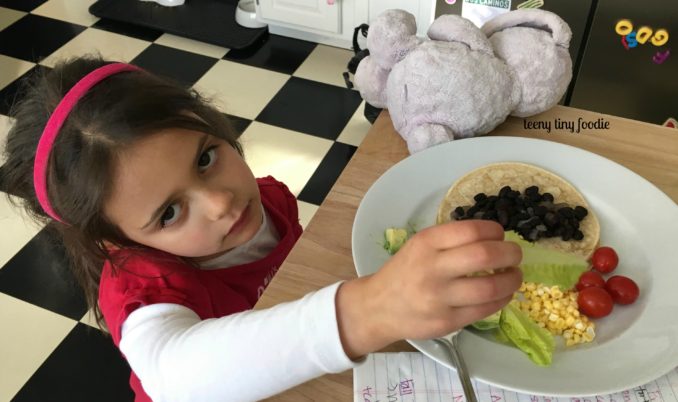 She then put it together in a "typical" tacadilla format.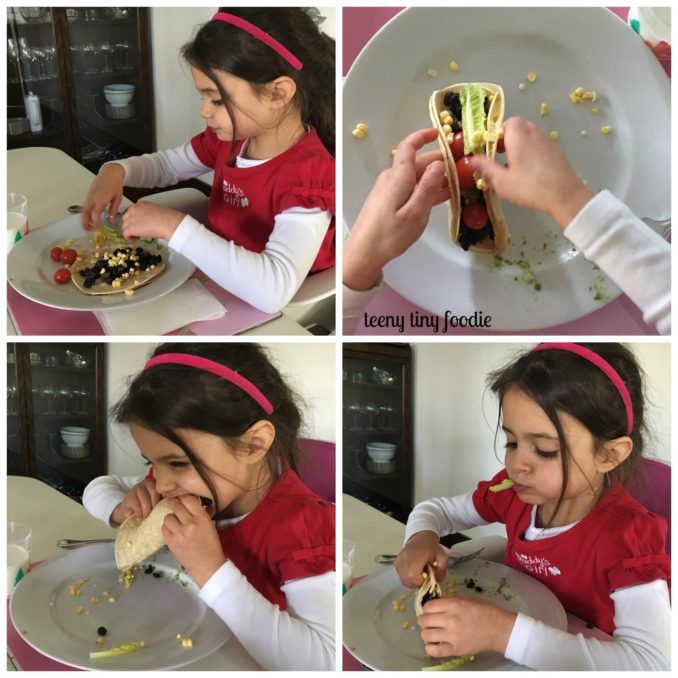 Only to have all of the filling fall out anyway. Whoops! Who knew that eating a Summer Tacadilla could be so much fun?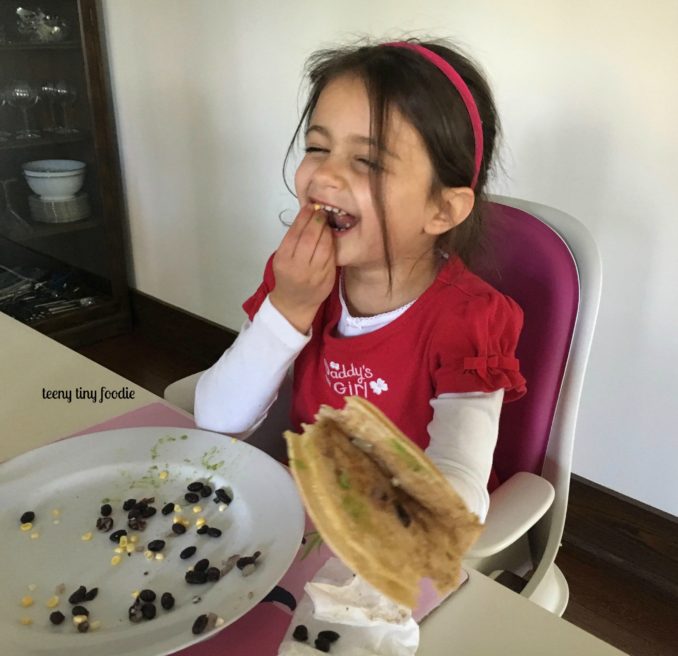 Happy Cooking!
Tags: avocado, black beans, cheddar cheese, corn, corn tortillas, Meatless Monday, mozzarella cheese
« Previous Cereal Parfaits: {Kids Cook} Monday Meal How To Sauté Broccoli: {Kids Cook} Monday Meal Next »