Print This Post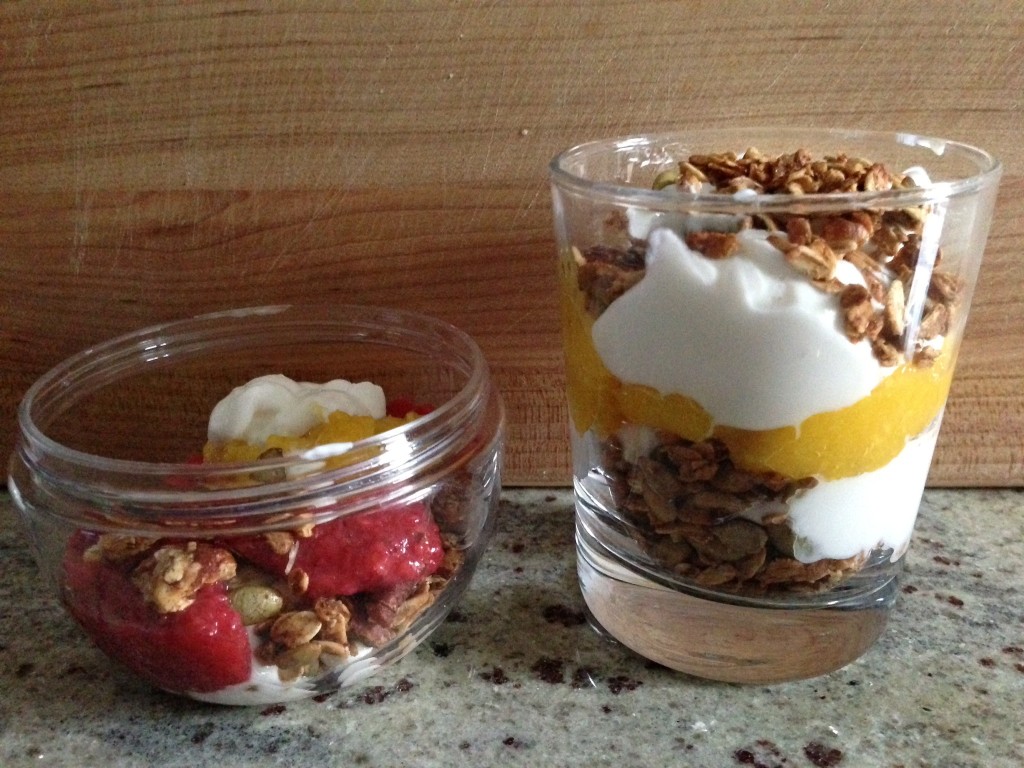 I LOVE Purée Parfaits because they are such a perfect dish to make for breakfast, lunch, snack or dessert. They are suitable for Foodies 6 months and up, so they are an easy go-to option for families with Foodies of all ages.
Here are some other reasons why Purée Parfaits, which consist of granola, yogurt and purée(s), are so great:
–They can be customized to the preferences of your family. For the granola, just swap out the nuts, seeds and fruits for whatever you prefer. For the purées, substitute the fruits in the recipes below for whatever you prefer or have on hand.
–They include key components of a healthy and nutritionally balanced plate by combining fruits, grains, protein and dairy in one bowl.
–They are an easy make-ahead meal that can save on prep time. I like to double the granola recipe and store it in an air-tight container so my family and I have it on hand to add to parfaits, milk, yogurt or to enjoy alone. Simple Purées are simple to prepare and can be made up to four days in advance or frozen for up to 4 months. (Just don't forget to thaw them in the refrigerator before enjoying them). If you have these two components and some yogurt on hand, then breakfast is ready in less than 10 minutes.
–Their preparation allows Little Foodies to participate in the cooking experience because they can help to mix together the various combinations of ingredients, as seen in the photos below the recipe.
–You can engage Little Foodies even further by creating a Parfait Bar where they can create their own parfait. See photos below the recipe.
Enjoy!
Purée Parfaits
Ingredients:
-Homemade granola (recipe below)
-Simple Purée(s) (sample recipes below)
-Yogurt
Preparation:
Layer yogurt, purées and granola in a bowl in any order and enjoy!
Homemade Granola
Ingredients:
-⅓ cup raw pumpkin seeds
-¼ cup raw sunflower seeds
-2 cups old fashioned rolled oats
-½ cup raw almonds
-⅔-1 cup dried cherries, unsweetened
-1½ teaspoons cinnamon
-¼ teaspoon sea salt, plus a couple pinches for the nuts
-½ cup real maple syrup
-¼ cup organic apple juice, unsweetened
Preparation:
1. Roast the seeds and nuts:
Heat the oven to 350°.
On a large baking sheet lined with a Silpat or parchment paper, spread the sunflower seeds and the pumpkin seeds in an even layer, leaving about ⅓ of the sheet empty. (You'll use the empty space for the nuts).
Bake the seeds for 3 minutes and remove the baking sheet. Spread the nuts onto the last third of the baking sheet and bake for 7 more minutes. Set aside to cool. Chop the nuts well after they have cooled.
Lower the oven to 325°.
2. Heat the liquids:
In a small saucepan, heat the syrup, apple juice and cinnamon over medium heat. Let simmer for around 3-4 minutes, stirring occasionally with a small whisk or fork.
3. Prepare the oat mixture:
Meanwhile, in a large bowl, combine the oats, sea salt, chopped nuts and seeds, and mix through. Pour the heated liquids over the mixture and stir so it is all combined.
4. Cook the oat mixture:
Pour the mixture onto a baking sheet lined with a Silpat or lined with parchment paper that has been sprayed with cooking spray (it can be the same one used to cook the seeds and nuts). Spread the mixture out into an even layer and bake for 20 minutes.
5. Add the fruit:
Remove the baking sheet from the oven and stir in the fruit. Bake for an additional 15 minutes.
Cool and enjoy.
Some purées you might want to try in your parfaits:
Ingredients:
-2 cups organic strawberries, thawed if using frozen berries
Preparation:
Purée strawberries and enjoy.
Click here  to see variations for this purée.
Ingredients:
-1 very ripe mango, peeled and chopped
-A few tablespoons of hot water
Preparation:
Put mango into a food processor and purée.
Thin to desired consistency by adding hot water by the teaspoonful.
Pulse again and taste for consistency and flavor.
Click here to see variations for this purée.
For more purée recipes, click here.
For another granola recipe, try this Tropical Granola.
Little Foodies can help with mixing ingredients together and they can also make their own breakfast. (Sort of).
Here are some photos of my teeny tiny Sous Chef helping me mix the granola and using our Parfait Bar to customize her breakfast.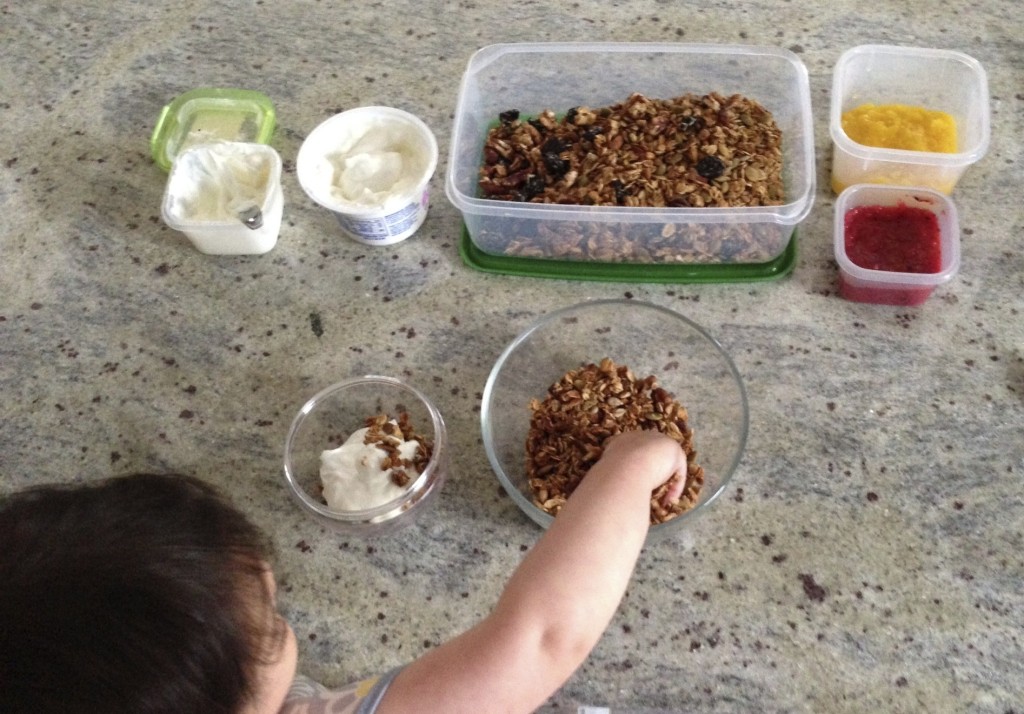 Happy Cooking!
Tags: almonds, baby and family, creatingateenytinyfoodie, Kids Cook, mango, Meatless Monday, nuts, Purees For Two, seeds, strawberries, summer
« Previous We WON!!!! Stone Fruit Purée Next »