Print This Post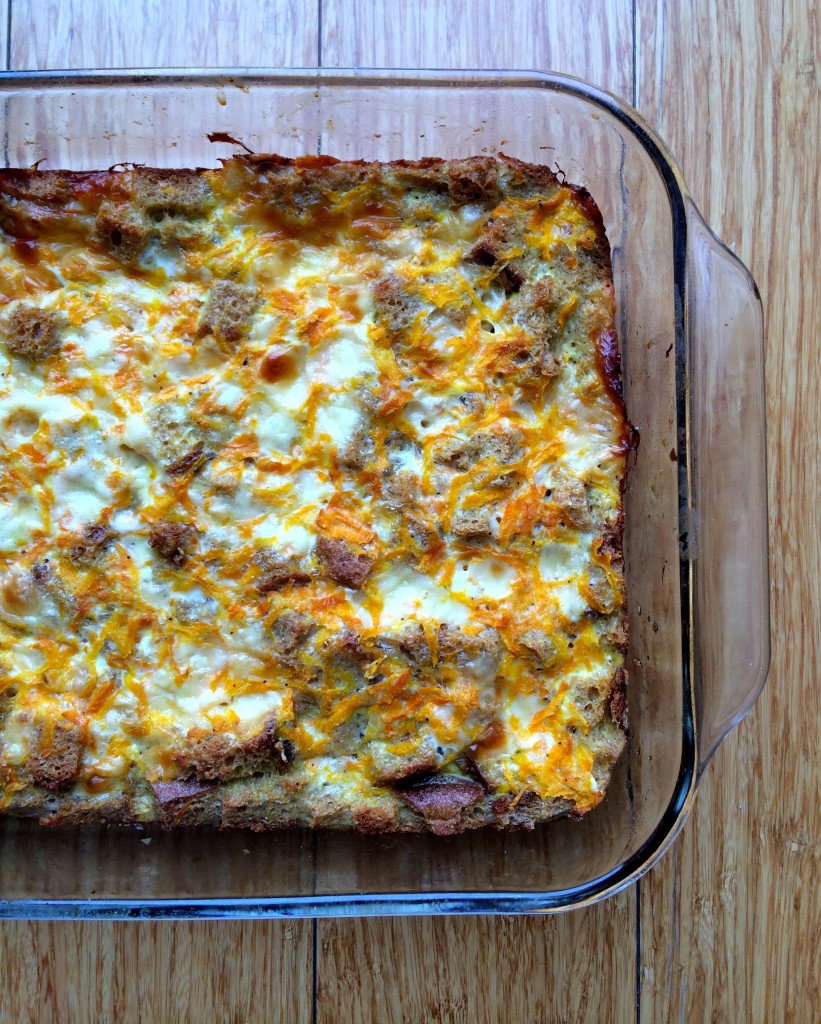 There are few dishes I love more than a vegetable strata. A strata is basically a frittata but with a layer of bread at the bottom, which makes it a complete dish of protein, carbohydrates and produce all in one. It's a great BLD meal you can serve for breakfast, lunch or dinner. When I feed my family, my goal is to serve a meal that has a combination of protein, starch and produce, so a strata is an easy way to pack it all in. To make a strata, you can use whatever fresh vegetables you have on hand or prefer, but you will get the most nutritional bang for your buck if you are able to use vegetables that are local and in season.
Why do I absolutely LOVE stratas and make them my go-to meal to serve at brunches and potlucks and to bring over for families and friends who can use a delicious meal? First, I love that you can customize the cheese, bread and veggies to use whatever you prefer or already have at home. Second, a strata is a really easy meal to prepare for a crowd and you can make it ahead of time and serve it warm or at room temperature. Third, it freezes really well and lasts up to 4 months in the freezer. Lastly, it is a perfect choice for a family of any size and composition, whether it's a pregnant mama-to-be in a family about to grow, a nursing mama with a new baby, a star-struck, busy family just bringing baby home from the hospital or a family like mine with multiple hungry members who want a satisfying and healthy meal.
There are a couple time-saving tips that I'd like to share that can make preparation of this strata especially efficient. Instead of creating different layers of bread, egg/vegetable mixture and cheese and then repeating the steps, you can create one layer of bread and one layer of the eggs, vegetable and cheese mixed together. With a carrot strata in particular, you can cut down on prep time even further by simply grating the carrots and adding them raw into the strata rather than chopping and sautéing them first.
You can freeze the leftover strata by wrapping individual cooled pieces in plastic wrap and storing them in an airtight zipper-topped bag for up to 4 months.
Simple Carrot Strata
Serves 6-8 adults
Ingredients:
-8-10 slices of day-old bread, ¾ baguette, or whatever bits of leftover bread you have, cut into ¼ inch chunks (You want enough to fill the bottom of a 9×12-inch baking dish)
-6 egg whites and 6 whole eggs, whisked
-¼ cup milk
-2-3 raw carrots, peeled and grated
-1½ cups of shredded cheese (I like to use mozzarella, cheddar or swiss)
-1½ teaspoons salt
-½ teaspoon black pepper
-½ teaspoon garlic powder
-Chili powder and/or cumin, to taste
Preparation:
Heat the oven to 325° and grease a 9×12-inch baking dish.
Slice the bread chunks and spread them in an even layer on the bottom of the baking dish.
In a large bowl, whisk together the eggs, milk, salt, pepper and spices.
Grate the carrots and stir the vegetables and cheese into the egg mixture and mix well. Pour mixture into the baking dish and bake for 45-55 minutes or until set.
Let rest at least 5 minutes before slicing into squares and enjoying.
Sadly, I got no photos of Eliana enjoying this strata. She is a big fan, but the photographer (aka: me) got distracted and forgot to document. Sigh.
Happy Cooking!
Tags: bread, breakfast, carrots, cheese, dinner, eggs, lunch, milk, Thanksgiving
« Previous Sugar-Free Banana "Ice Cream": {Kids Cook} Monday Meal 8 Food Safety Facts All Home Cooks Should Know Next »