Print This Post
Last week my mother-in-law, Lauren, asked me what to do with quinoa. That question inspired me to make this recipe for dinner for Matt and me the other night. I had wanted to make a salad with some fresh veggies we had. I figured that if I added a little "bulk" and some "protein", I could call it a one-pot-meal. Enter quiona. It is both bulk and protein. A-ha!

Before serving it to Eliana for lunch the next day, I cut the vegetables and halloumi cheese into smaller pieces. That took a lot of time. In the future, I think I'll grate the zucchini and carrots and cut the halloumi into smaller pieces from the beginning. I didn't cook any of the vegetables, but I think this would be equally tasty if I had sautéed the vegetables and made a pilaf instead of a salad. 
Vegetable and Quinoa Salad
– 1 cup cooked quinoa

– 1 zucchini, diced

– 2 carrots, diced

– 2 scallions (white and green parts), chopped

– 1-2 ears fresh corn

– 1-2 tomatoes, diced

– ½ can of chickpeas, drained and rinsed

– Juice of 2 lemons

– Small handful of fresh herbs, finely chopped (I use basil and rosemary)

– 1 package halloumi cheese*, sliced, grilled and diced (Directions for how to grill it are below the recipe)

– Olive oil, salt, pepper, red pepper flakes and garlic powder to taste
Cook quinoa according to directions on packaging. Let cool. Mix vegetables, halloumi cheese and quinoa into a large bowl. Add lemon juice, seasoning and olive oil. Mix, taste and adjust seasoning as needed.
*Halloumi cheese is one of my favorite cheeses. It is salty, firm and tangy and, in my opinion, best when sliced and grilled on a grill pan at medium-high heat for around 3 minutes per side. It is a bit pricey so it is not in the regular rotation. I think ricotta salata would be a good substitute cheese.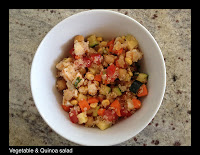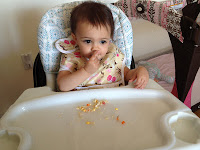 Hmm…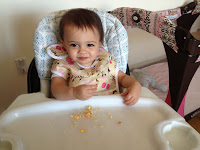 Hey, that's good!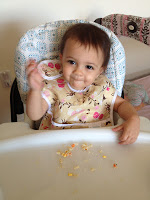 Thanks, Mommy!
Tags: carrots, corn, gluten free, lemons, quinoa, scallions, tomatoes
« Previous How will our garden grow? Who needs a teething toy? Next »