Print This Post
I'm not always the best vegetarian. I could blissfully live on cheese and carbs alone. (Um, and some wine too, for sure.) So, over the last few years, I've been working on getting myself to like vegetables I haven't liked in the past. One vegetable at the top of that list has been squash. Any color, any season, any preparation. It just didn't do it for me. Blech! To make it even more annoying, many restaurants serve squash as their token vegetarian entrée. But, beyond the fact that squash is everywhere, I know it is good for me. I believe in eating colorfully so how can I not eat a vegetable that comes in orange, yellow and green?

 

So, I've been making myself try it when we eat out and I've been cooking it more at home. At this point, zucchini has definitely passed the test. I've been sautéing it in olive oil for a while but I hadn't yet tried it raw. I saw a photo of a salad with raw zucchini and yellow squash and thought: take out the nasty yellow squash and that might be good.

 
So, here's my attempt at a raw zucchini salad. I think it turned out really well. And, as a bonus, Eliana liked it too!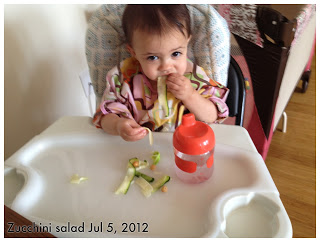 What are you looking at? How the heck am I supposed to avoid it hanging out of my mouth!
Zucchini Salad
– 1-1½ zucchini per person
– 
¼ can chick peas per person, rinsed and drained
– 
Fresh herbs, finely chopped
– Lime dressing (recipe below)
– A block of Grana Padano or other parmesan cheese
Make salad dressing and set it aside. Using a vegetable peeler, peel strips of zucchini into a bowl. Add chickpeas and stir. Using the vegetable peeler, peel strips of cheese over the top. Add herbs to the dressing and stir. Drizzle dressing over salad and toss.
Lime Dressing
– Juice of 2 limes
–
Olive oil or avocado oil
Add ingredients to a bowl and whisk. Taste and adjust levels as needed.
In my defense, when I made this salad again, I was really and truly going to add yellow squash too. I'm sure I can make myself like it. Besides, I'm convinced that something about the yellow color makes it good for me in a different way than the green zucchini. But, the grocery store I was in only had yellow squash packaged in a group of three. I just can't commit to using three of them! So, I played it safe and bought only zucchini. There's always a next time, right?
Tags: gluten free, green foods
« Previous Survey says… How will our garden grow? Next »