Print This Post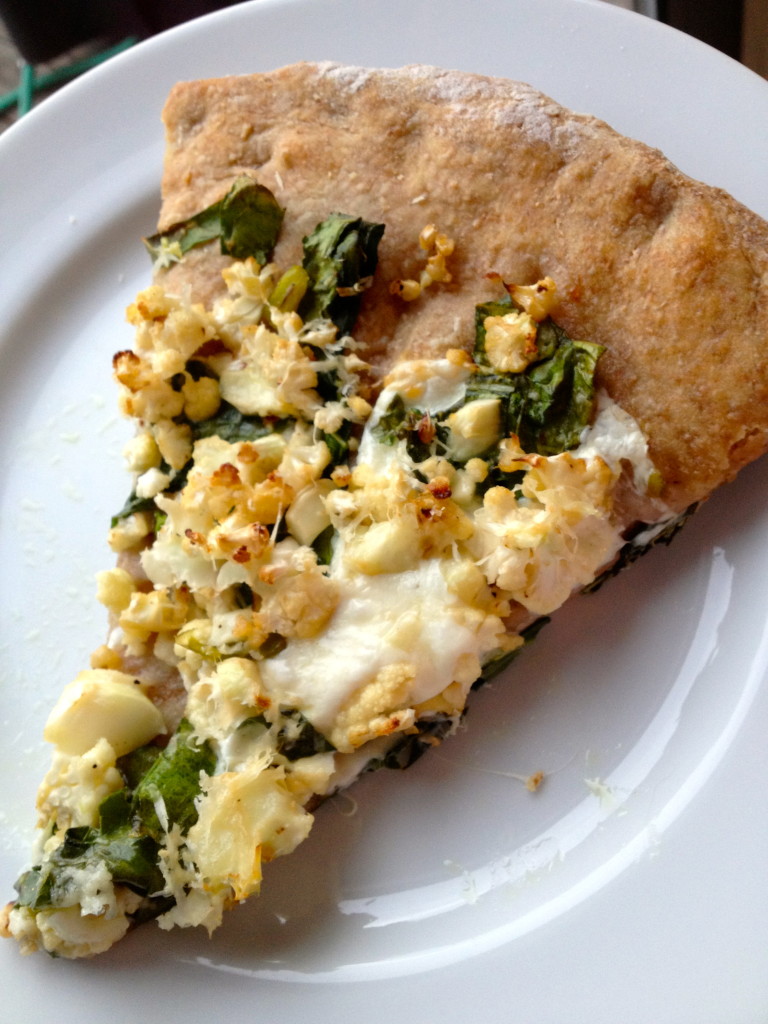 Here's another recipe for a delicious and healthy pizza. I love making pizza because I can cross off starch, protein and veggies all in one dish. New to making pizza at home using fresh dough? Click here for some tips and ideas. Enjoy!
Cauliflower and Collards Pizza
Ingredients:
-½ head cauliflower, florets and stems, chopped
-1-2 garlic cloves, smashed and peeled (or scapes which I used in place of garlic cloves for these photos)
-4 leaves collard greens, rib removed and sliced into ¼-inch strips
-4 ounces fresh mozzarella, sliced
-1 ounce locatelli romano cheese, shredded to taste
-1 whole wheat pizza dough, at room temperature (I buy mine from this local Italian restaurant)
-Olive oil, salt, red pepper flakes and pepper, to taste
Featured Tools:
Preparation:
Heat the oven to 450° (Don't want to use your oven? Click here for instructions on How-To Grill Pizza).
Cook the vegetables:
Heat olive oil and red pepper flakes in a large pan for around 15 seconds. Add the cauliflower, garlic and a couple pinches of salt. Stir and sauté for around 7-8 minutes or until the cauliflower begins to brown, stirring occasionally, then transfer to a plate. Once they've cooled enough to touch, roughly chop the mixture.
Into the same pan, add a bit more oil and sauté the collard greens with a pinch of salt for 2 minutes. Remove the greens to a different plate.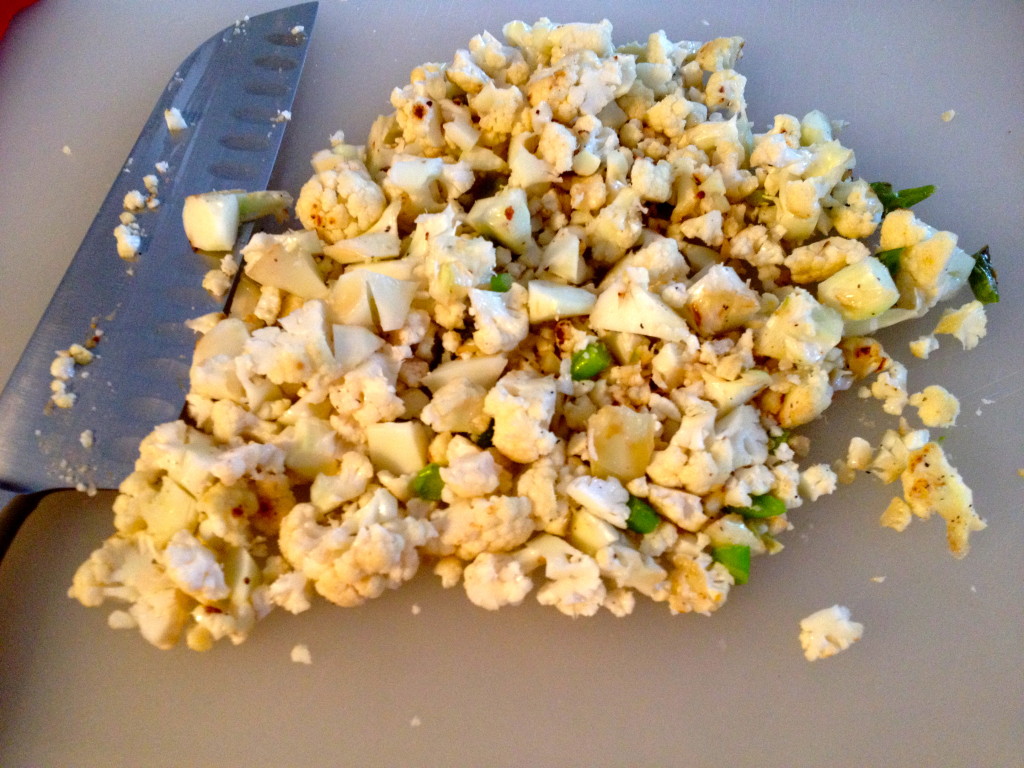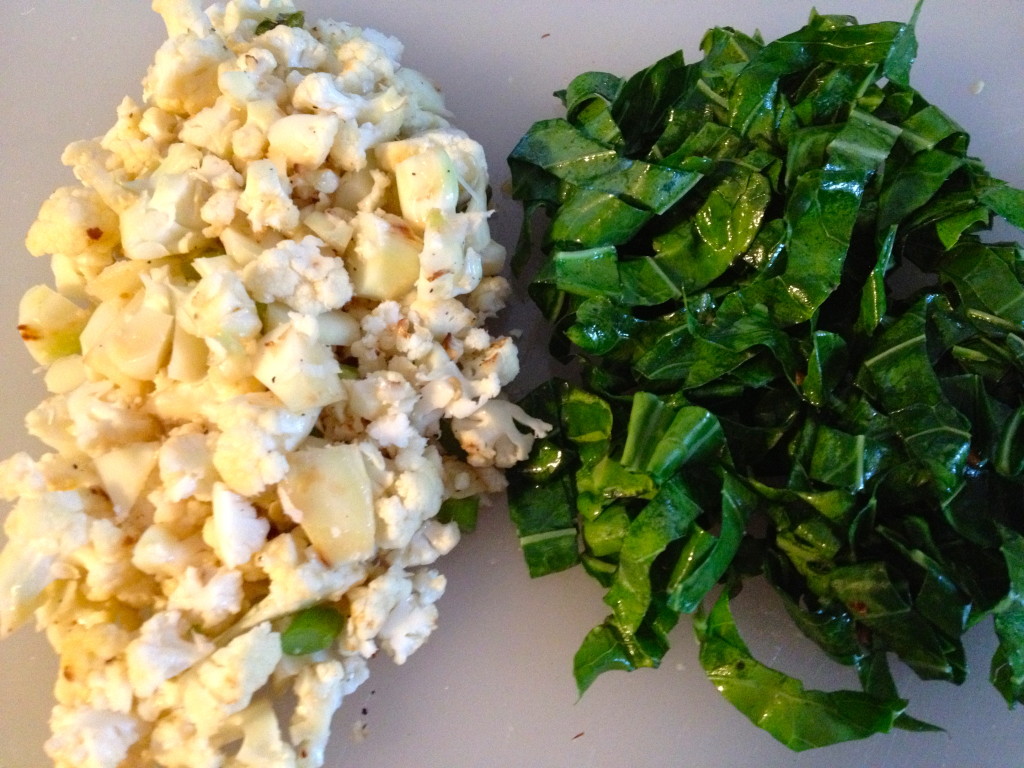 Build and bake the pizza:
On a pizza stone or large baking sheet, spread out the dough and bake it alone for 2 minutes. Remove the dough.
Drizzle dough with olive oil. Then top with the mozzarella. Spread the collard greens over the cheese and sprinkle the cauliflower and garlic mixture over top. Top with grated locatelli cheese and bake for 13 minutes.
Once the pizza comes out of the oven, let it sit for 1 minute. Then, drizzle a bit more olive oil over top and add more grated cheese as desired.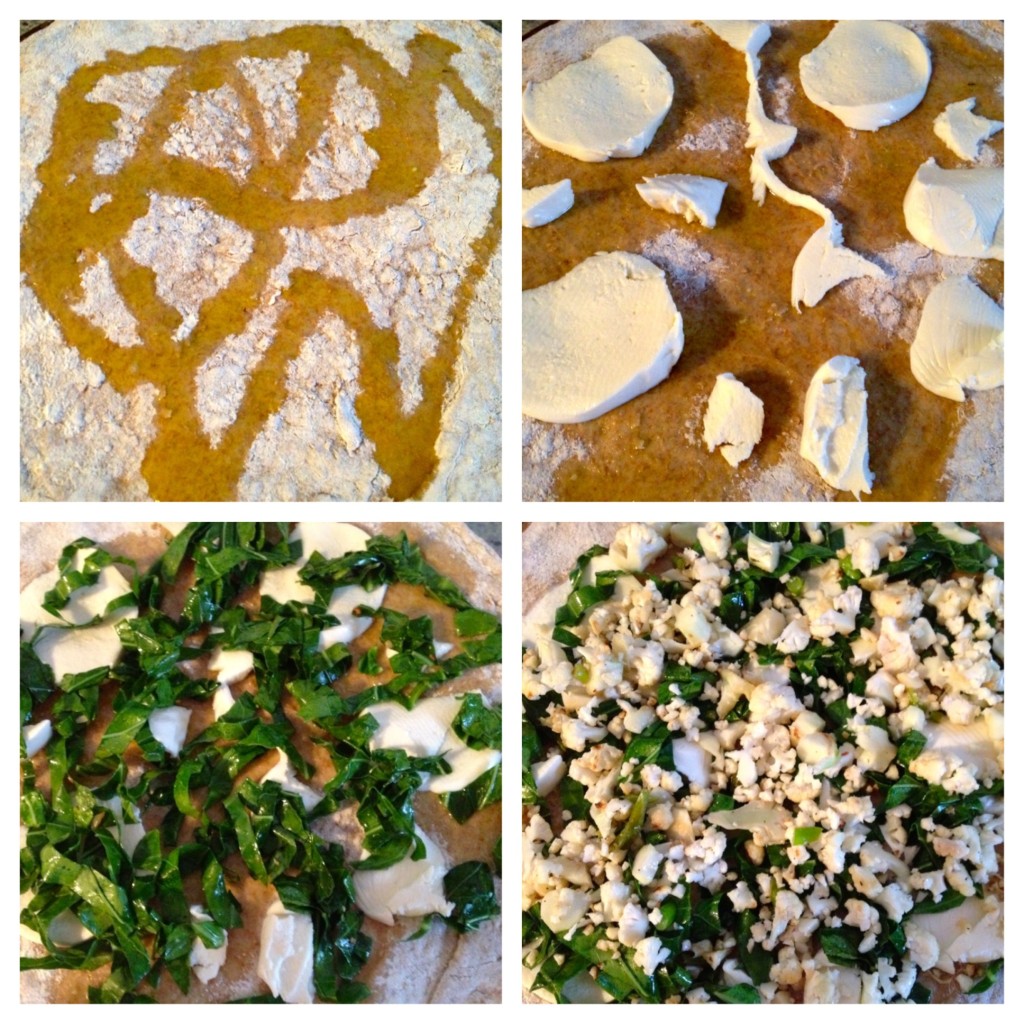 Unfortunately for Eliana, this was another pizza her selfish parents gobbled up and didn't share with her. Oops! I guess we will have to make it again soon.
Happy Cooking!
Tags: cauliflower, collard greens, Fall, garlic, leafy greens, locatelli cheese, Meatless Monday, mozzarella cheese, pizza, summer
« Previous Oh, You're Two! Proteins in Purées Next »