Print This Post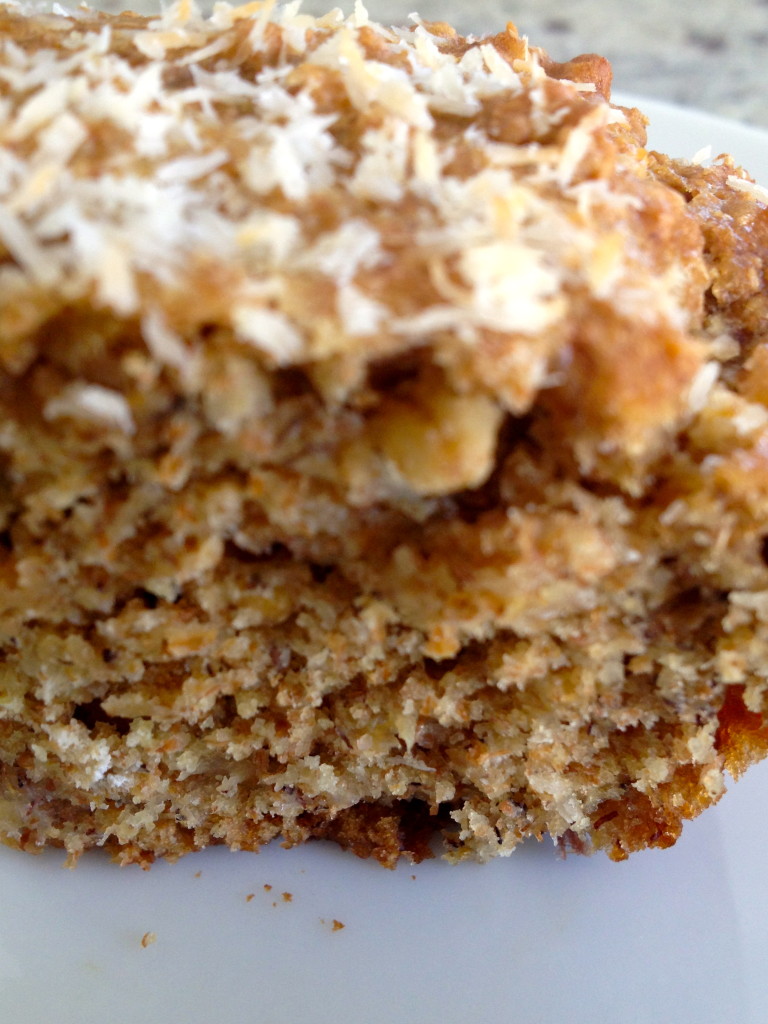 Having a few cups of shredded, unsweetened coconut in my pantry has inspired me to experiment with it and mix-up some of my recipes to include shredded coconut. Around here, we've been going cuckoo for coconut the last few weeks. And below are the results. Enjoy!
A few months ago, I shared my original recipe for whole wheat banana bread. Below is a variation on my recipe using shredded coconut and coconut oil. One bit of advice: unless you live somewhere warm, the coconut oil will likely be in solid form in the jar. You have to measure it out and then heat it up in order to add it to the recipe*. I did this by heating it in a small dish in the microwave for around 20 seconds in order to melt it into liquid form. But then I made the mistake of adding it into the cold wet ingredients of eggs and milk and it re-solidified. Duh! It seems obvious but I guess I was a bit distracted by my excitement over the revised recipe.
So here's the tip: Mix all the wet ingredients together and add the liquefied coconut oil at the end right before you mix the wet and dry ingredients together.
Whole Wheat Coconut Banana Bread
Dry ingredients:
-1½ cups whole wheat flour
-½ cup rolled oats
-2 teaspoons baking powder
-½ teaspoon baking soda
-½ teaspoon salt
-1 tablespoon wheat germ
-1 teaspoon ground ginger
-2 tablespoons dried, shredded coconut, unsweetened
Wet ingredients:
-1 teaspoon almond extract
-3 tablespoons coconut oil
-⅓ cup maple syrup
-1 egg, lightly beaten
-½ cup milk
-2 large or 3 small mushy bananas, pureed
Preheat the oven to 350°.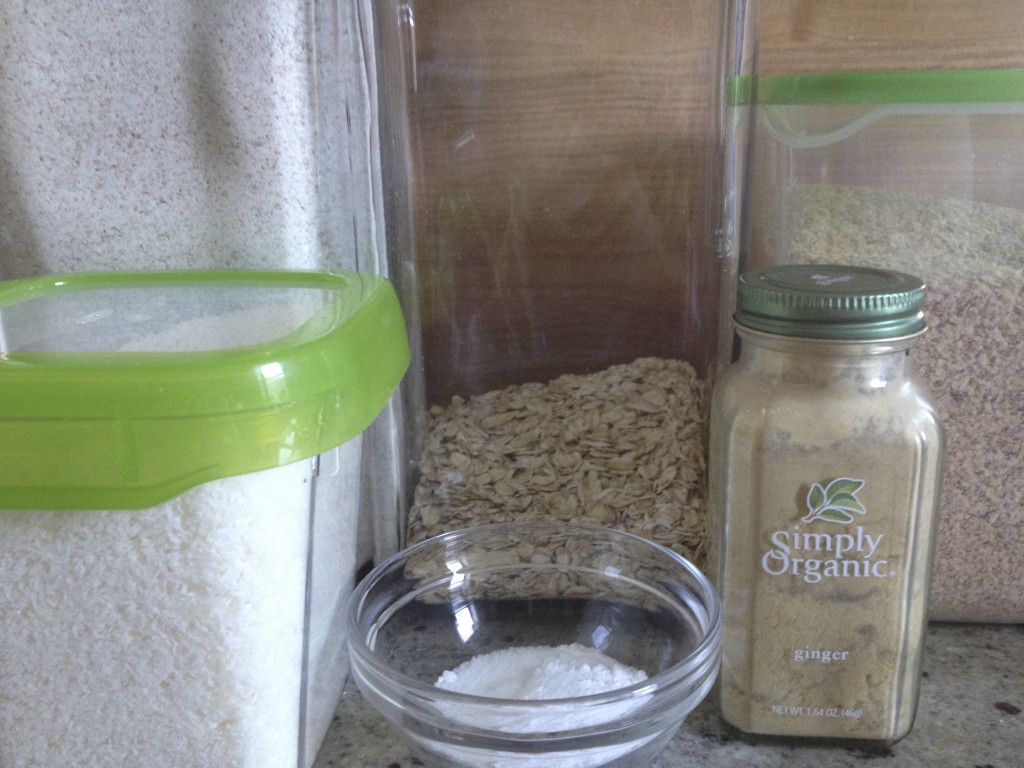 1. Combine all of the dry ingredients in a small bowl.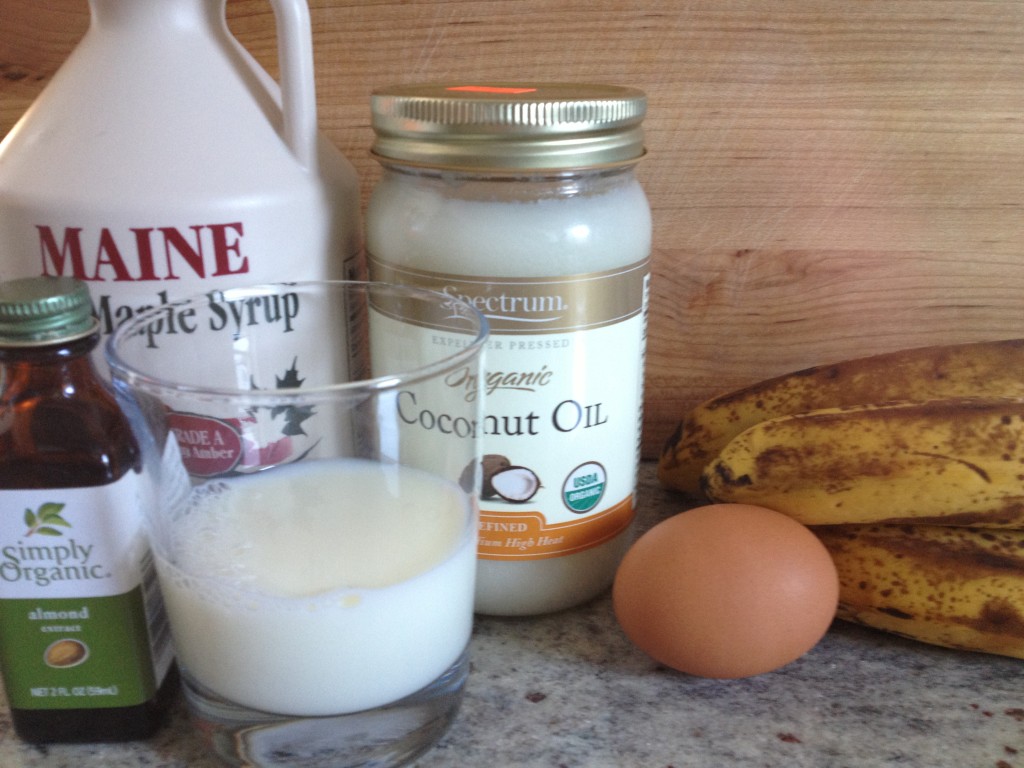 2. Whisk the wet ingredients together in a large bowl*.
3. Slowly stir the dry ingredients into the wet ingredients. Stir only until it is all combined- don't over stir.
4. Pour into a greased 8×8-inch baking dish and bake for 35 minutes or until a toothpick comes out dry.
Variations:
-Make coconut banana muffins by filling muffin tins ¾ of the way full and cooking for 30 minutes or until a toothpick comes out dry.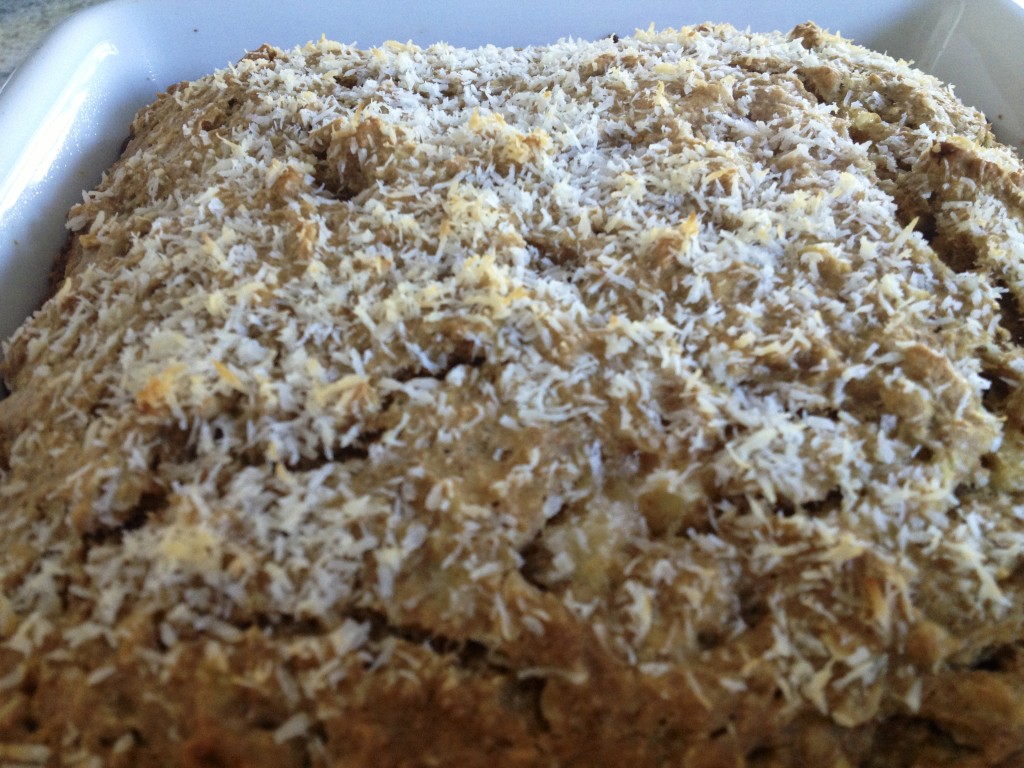 What other recipes could be revised to include shredded coconut? Granola, of course! It's a totally customizable recipe based on what you have on hand or want to eat. I came up with the tropical idea when I realized that not only did I have shredded coconut on hand but I also had some deliciously decadent macadamia nuts. All I needed was another tropical type of fruit. I chose dried mango. I also added some wheat germ for extra protein and crunch. Here's my variation on my original recipe.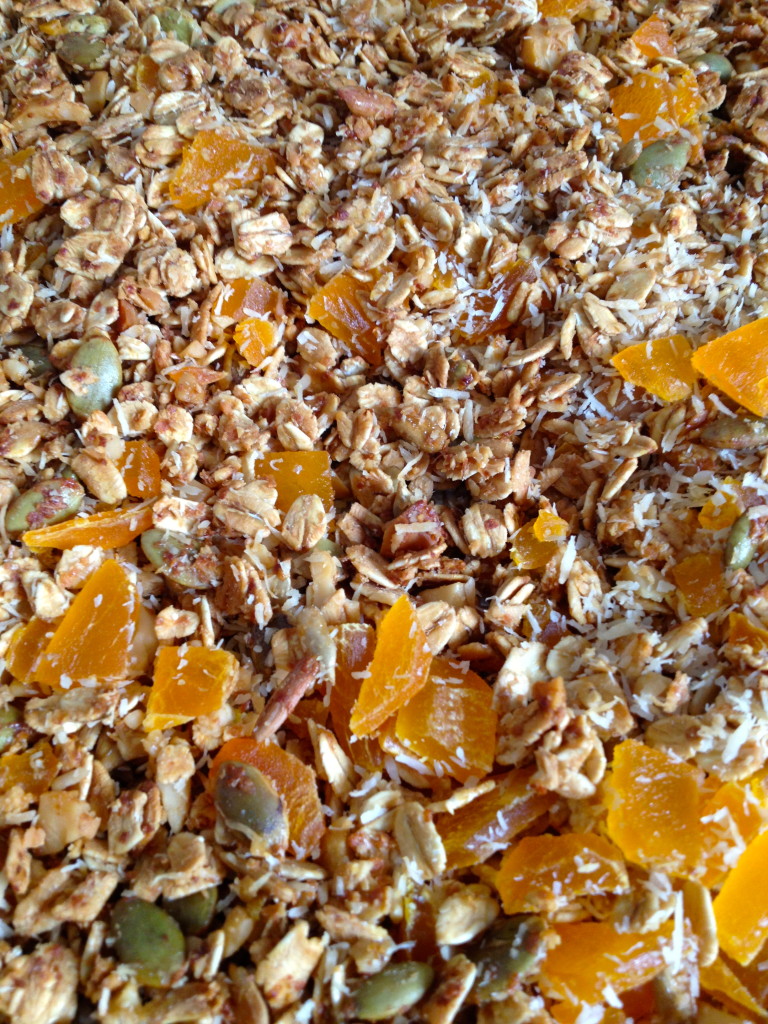 Tropical Granola
-⅓ cup raw pumpkin seeds
-¼ cup raw sunflower seeds
-2⅓ cups old fashioned rolled oats
-3 tablespoons wheat germ
-½ cup roasted, salted macadamia nuts, chopped
-⅔ cup dried mango, chopped
-1½ teaspoons ginger
-¼ teaspoon sea salt
-¾ cup pure honey
-¼ cup organic apple juice, unsweetened
Roast the seeds:
Heat the oven to 350°. On a large baking sheet lined with a Silpat or parchment paper, spread the sunflower seeds and the pumpkin seeds in an even layer. Roast them for 10 minutes then set aside to cool.
Lower the oven temperature to 325°.
Heat the liquids:
In a small saucepan, heat the honey, apple juice and ginger over medium heat. Let simmer for around 3-4 minutes, stirring occasionally with a small whisk.
Prepare the oat mixture:
Meanwhile, in a large bowl, combine the oats, sea salt, wheat germ, chopped nuts and seeds and mix through. Pour the heated liquids over the mixture and stir so it is all combined.
Cook the oat mixture:
Pour the mixture onto a baking sheet lined with a Silpat or lined with parchment paper that has been sprayed with cooking spray. Spread the mixture out into an even layer and bake for 20 minutes.
Add the fruit:
Remove the baking sheet from the oven and stir in the fruit. Bake for an additional 10-15 minutes.
Cool and enjoy.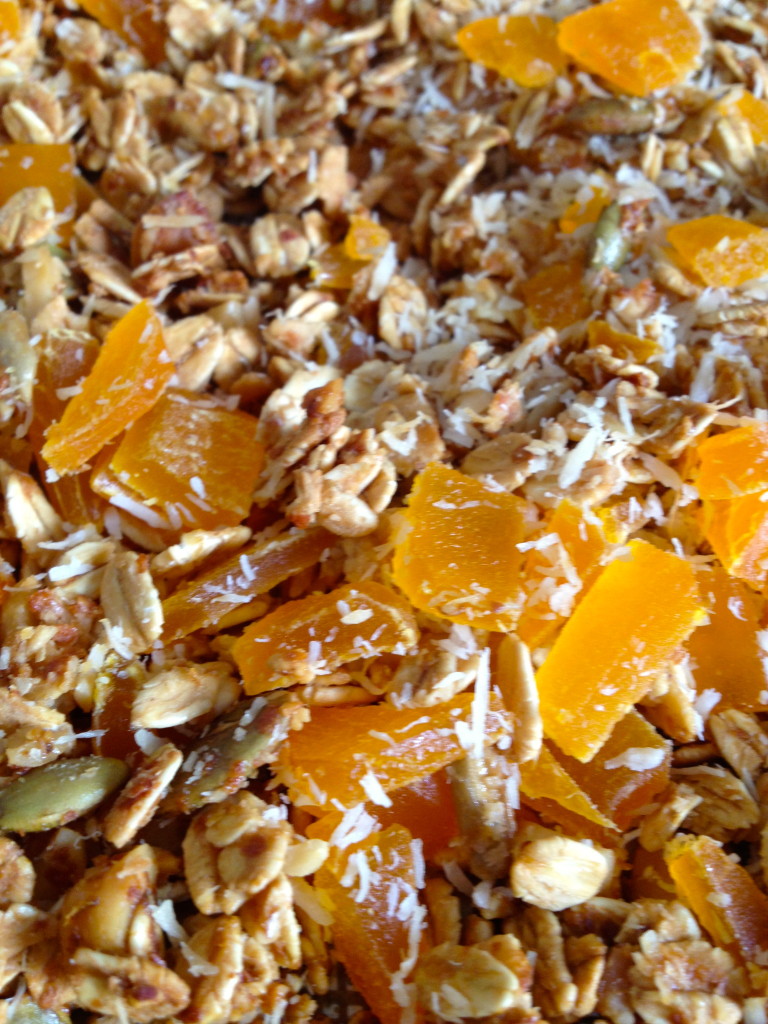 And here are a couple of other ways I've used the shredded coconut: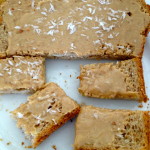 -Sprinkled onto whole wheat toast with peanut butter
-Mixed into plain Greek yogurt with a little honey and powdered ginger
-Sprinkled over oatmeal with a touch of peanut butter mixed in, too
Do you have any recipes in which you like to use unsweetened shredded coconut? Please add them to the comments section below!
Happy Cooking!
Tags: bananas, coconut, mango, muffins, nuts, seeds
« Previous Apple-Spinach Mini Muffins #eggcited Mommybites Summit Tomorrow Night! Next »