Print This Post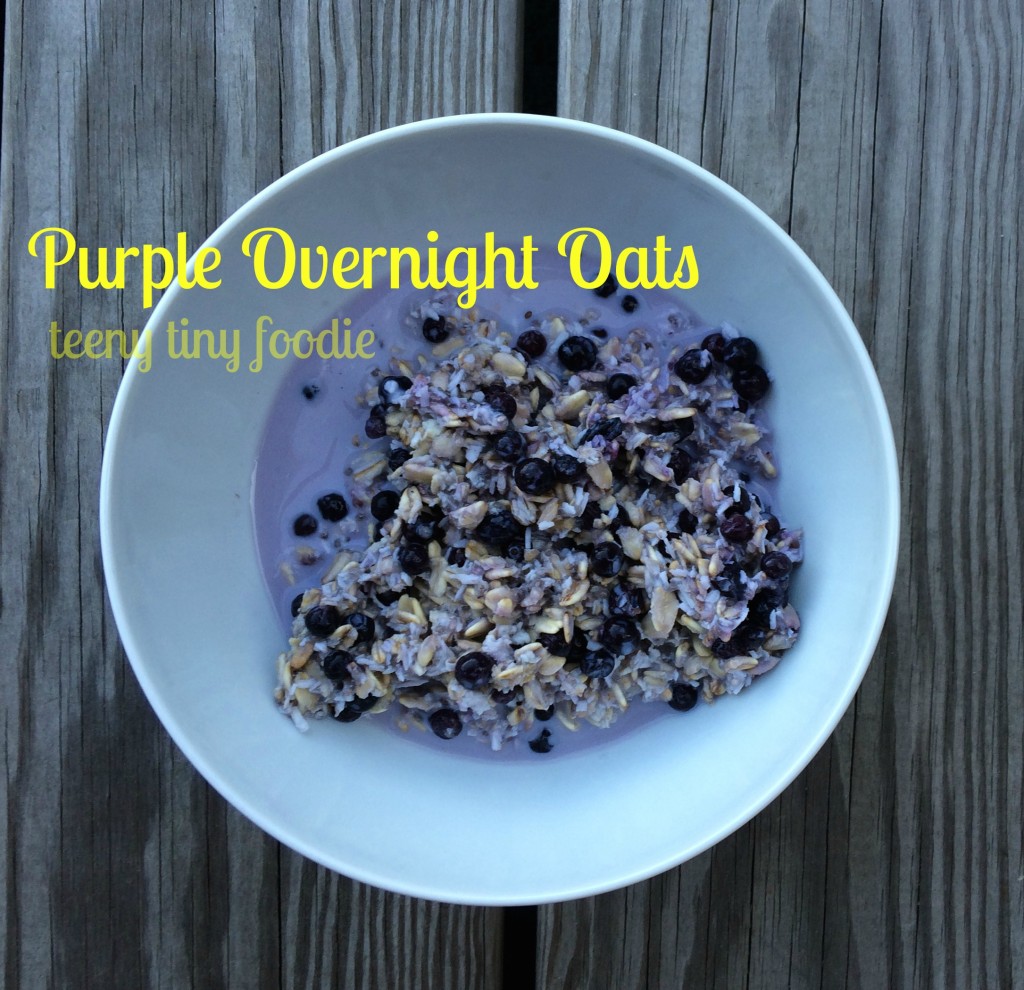 Have you heard about the breakfast phenomenon that is "Overnight Oats?" Think oatmeal without the heat and without the porridge-like texture. It is a brilliant breakfast invention that cooks itself overnight with less than 10 minutes of hands-on time! It's so freakin' easy that I'm totally embarrassed to say that it took me a few tries to work out some kinks and get it "right." But, as a result of my kitchen fails, I now have a recipe, and some tips, to share with you! And if you have a teeny tiny sous chef at home, he or she can help you make it. You'll notice that Eliana did most of the cooking for this recipe. It all comes together really fast and I couldn't totally keep up with photographing and ensuring that measurements were mostly correct. Hence, photos are somewhat fuzzy but you'll get the idea ;).
Tips and Ideas for overnight oats:
1. Keep the ratio of oats to liquid at 1:1. So, 1 cup of oats requires 1 cup of milk (any milk you like will do) or water.
2. Have your teeny tiny sous chef help you by measuring out ingredients, putting them into the container and mixing the ingredients together with a spoon or by shaking the sealed container really well to mix up the ingredients.
3. You can put whatever extra ingredients and flavors you want into the oats as long as you don't mind that it gets mushy overnight.
4. You can prepare the oats in individual containers so you can grab and go with breakfast if need be.
5. If you don't want them cold (Eliana doesn't always like hers cold) you can heat them up in the microwave for 30 seconds to a minute to remove the chill.
Purple Overnight Oats
Yields 1 adult serving. Divide recipe in half to make a toddler serving.
This will last 2-3 days in the fridge.
Ingredients:
-¾ cup old-fashioned rolled oats
-¾ cup milk (any kind of milk will work)
-½ cup blueberries (frozen or thawed)
-½ teaspoon pure maple syrup
-1 teaspoon pure vanilla extract
-2 tablespoons shredded coconut, unsweetened
-2 teaspoons chia seeds
Toppings to add right before enjoying:
-1 tablespoon nut butter (We like almond butter or peanut butter)
-Additional items you like such as sliced almonds, fresh fruit, crushed crunchy cereal
Preparation:
Add all ingredients, except toppings, to an air-tight container.
Mix well and refrigerate at least 6 hours or overnight.
Top with additional toppings and enjoy! You can heat the oats in the microwave for 30 seconds to 1 minute to remove the chill, if desired.
Happy Cooking!
Tags: blueberries, breakfast, chia seeds, coconut, Kids Cook, maple syrup, Meatless Monday, milk, oats, vanilla
« Previous Salsa Salad Dressing Zucchini Mint Purée Next »