Print This Post
Recently, I've been working on creating recipes using ingredients that can both satisfy all the Foodies in the family and make life easier for the family chef. For example, I recently posted a few recipes using mango as the base: Simple Mango Purée for the Littlest Foodies 6 months and up, Mango Basil Purée for the Foodies 9 months and up, and Mango Sauce to top a variety of proteins for the Foodies 12 months to 12 decades. But this week's Monday Meal is perfect for all the Foodies in the family. My Chilled Summer Vegetable Soup literally blends a variety of amazing vegetables in season right now with yogurt for protein and a bit of spices for extra flavor. It's delicious on a hot, summer day regardless of your age. And, there is no actual cooking involved so it takes only as long as it takes you to peel, chop and blend. No oven or stove required. 🙂
I hope all the Foodies in your family enjoy it as much as my Foodies and I do.
Chilled Summer Vegetable Soup
Inspired by Peter Berley's recipe for Chilled Cucumber Mint Soup
6 months to 12 decades
Ingredients:
-3 cups plain yogurt (I like to use Fage 0% Greek Yogurt)
-Kernels from 1 ear of corn (corn can be raw, grilled or roasted)
-1 yellow squash, roughly chopped
-1 zucchini, roughly chopped
-1 large cucumber, peeled, seeded and roughly chopped
-1 scallion
-1 handful leafy greens such as dark lettuce, spinach or kale
-2 tablespoons apple cider vinegar
-1 tablespoon olive oil
-1 handful each of parsley, mint and basil
-1¼ teaspoon salt
-½ teaspoon garlic powder
-½ teaspoon pepper
-Few shakes cayenne pepper
Preparation:
Place all ingredients in a blender or food processor and purée until smooth. Taste, adjust seasonings and enjoy.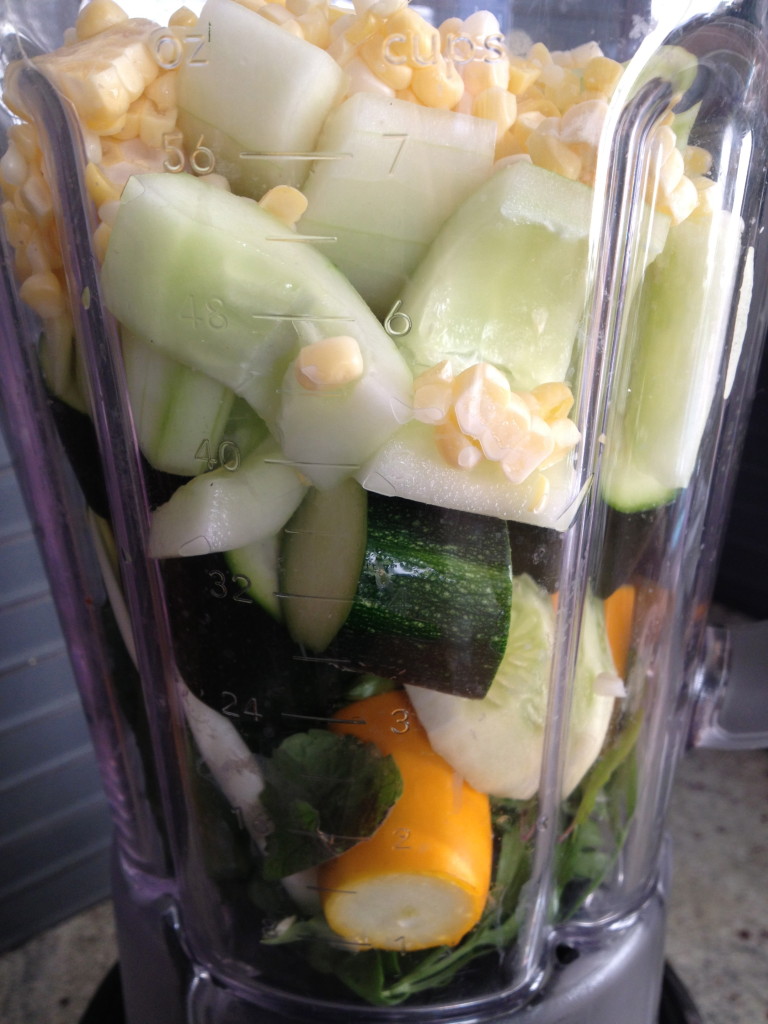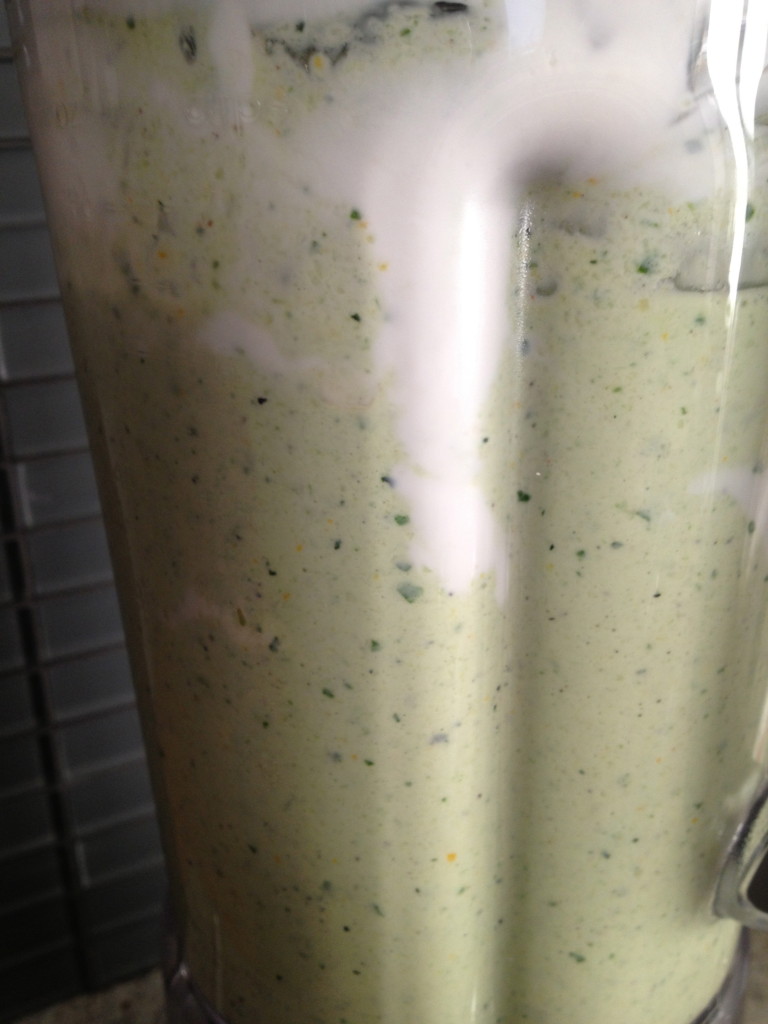 We like to enjoy it topped with chopped or slivered almonds.
Yields approximately 6 cups.
Here are a few photos of Eliana enjoying the soup, too.  I give it to her in a cup with a straw that I've cut-much the same as I serve a smoothie to her. While her skills with utensils are improving, soup with a spoon is still not something she can eat without wearing most of it.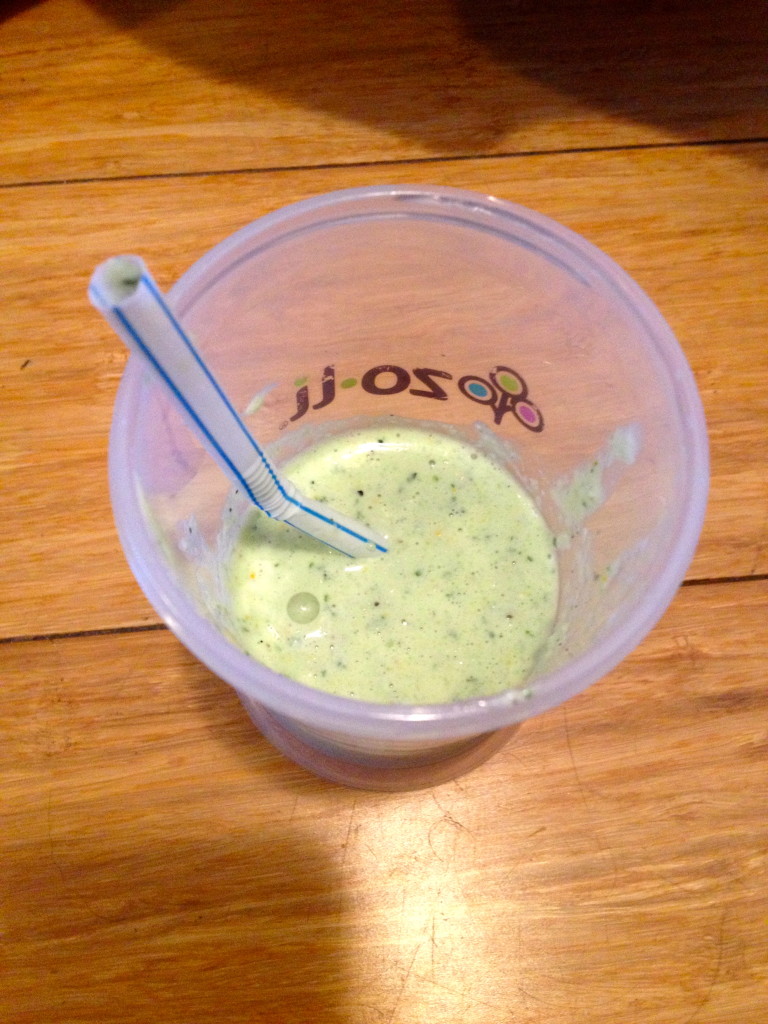 She loved the soup the first time she had it. The second time she had it, she took a few sips and gave it back to me. We'll see what the third time brings. Ah, the joys of feeding a toddler!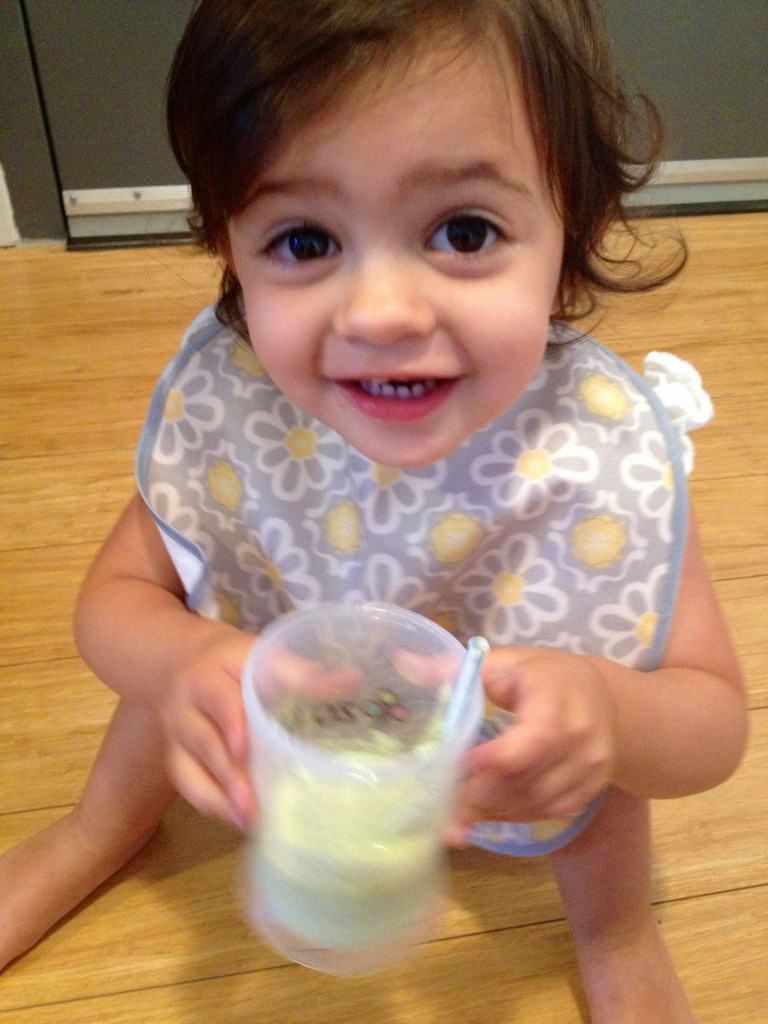 Happy Cooking!
Tags: 6-9 months, 9-12 months, baby and family, basil, chives, corn, cucumbers, gluten free, leafy greens, Meatless Monday, mint, parsley, purée, Purees For Two, scallions, summer, yellow squash, zucchini
« Previous Mini Tomato & Corn Salad Pizzas (Baked) Strawberry Kale Basil Purée Next »