Print This Post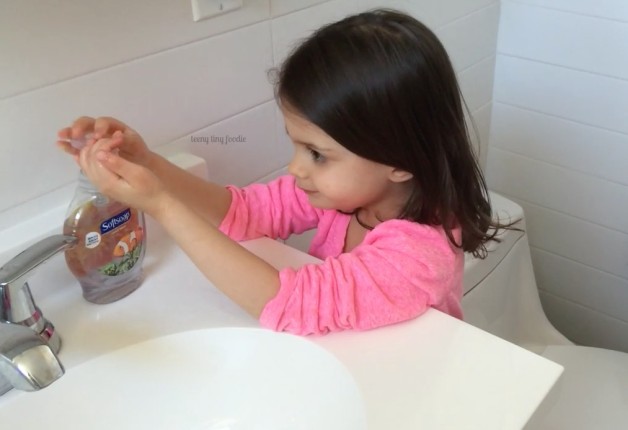 Today Eliana and I are sharing our newest 2 Minute Tip and this one is about washing your hands. Wait–we are sharing a tip about washing your hands? You might wonder why we created a short instructional video about this healthy behavior when we usually share recipes and food-related tips. Well, did you know that clean hands are a chef's most important tool? Yes they are! It's especially essential that our little kitchen helpers have extra clean hands when they assist us in the kitchen. Just think for a moment about all the things those teeny tiny hands touch in the span of a few minutes. Kind of gross, right? Yeah. Eliana and I are sharing this tip in an effort to keep your recipes, and your bodies, as healthy as possible.
Want to see more 2 Minute Tips or teeny tiny foodie videos? Just visit our YouTube channel. Also, we'd be ever so appreciative if you clicked that little button on the top right corner and subscribed to our channel. That way you'll never miss any of the videos we share.
If you have any kitchen questions or tips you want us to explain, leave them in the comments section below or email me at jory@teenytinyfoodie.com. And if you want to know more about kitchen safety, read this post.
Happy Cooking and Hand Washing!
Tags: 2 Minute Tips, cooking how-to, healthy, Kids Cook, kitchen safety, tips and ideas, video
« Previous Flashback Friday: Cookies and Confessionals Let's Make Hot Chocolate: Toddler Recipe Next »