Print This Post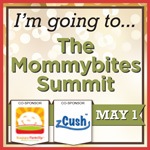 Hey Moms, Dads and Parents-to-Be in the New York Area!
Are you looking for a night out where you can meet other parents-to-be and parents of toddlers and school-aged kiddos, shop for cool baby/toddler gear and hear great ideas about how to organize your life as you prepare for parenthood or learn to balance an "organized" life with a tiny human?
Sounds pretty great, right?
Come to the Mommybites Summit on May 1st!  Andrew Mellen will be there signing books and sharing tips about getting rid of the clutter in your home. And, most importantly, I'll be there too!
Click here to register and make sure you stop by the teeny tiny foodie table for a visit!
xoxo,
Jory
PS: Curious about the awesomeness that is Mommybites? Check out their homepage by clicking here. Don't live in the NY area? They are national!
« Previous Whole Wheat Coconut Banana Bread Warm Vegetable & Quinoa Salad: Monday Meal Next »