Print This Post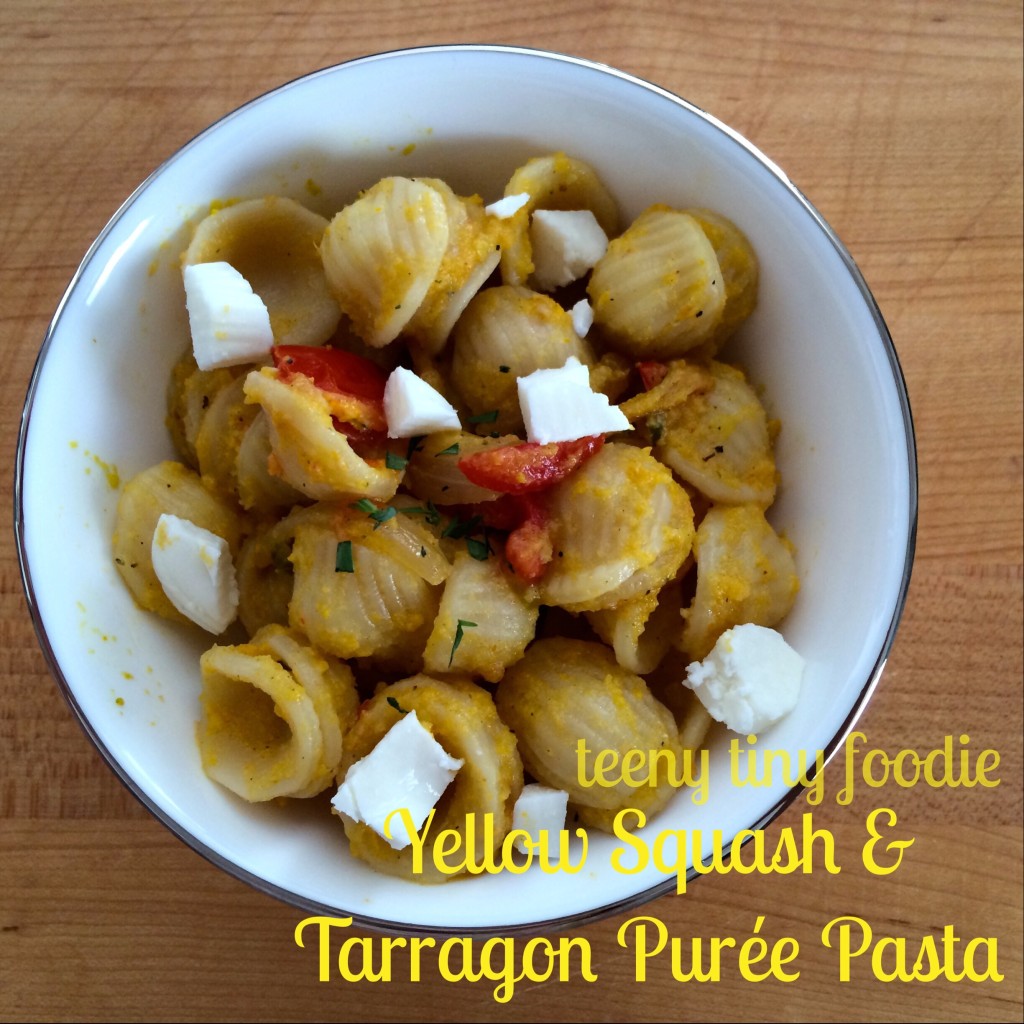 When I shared my recipe for Yellow Squash & Tarragon Purée last week, I alluded to the fact that I'd be using it for a recipe for "grown ups", too. Before I share that recipe below, I want to let you in on a little bit of my thinking behind this recipe…
When I began making homemade purées and other first foods for Eliana when she was 6-7 months old, I typically bought extra amounts of the same fruits and vegetables I wanted to cook for my husband and me to use to make purées for Eliana. For example, knowing I wanted to make a Warm Farro Salad for my husband and me, I bought extra beets so I could give Eliana either Roasted Beet Sticks or make them into a purée. I've always believed that if you are going to make something homemade, healthy and nutritious for your baby, you should nourish your own body with those healthy foods, too. After all, we grown ups need the energy to chase those little ones around, right?
Lately though, my ideas of family menu planning have been expanding a little bit and taking another spin. While it used to be "buy what I want for the grown ups and then make a purée out of it for the baby" my thinking has grown to the reverse view of "buy what you want to purée for the baby and turn that into something for the grown ups." (Please note that when I say "grown ups" in this post, I really mean anyone in the home 12 months and older who is past eating only purées, so this includes toddlers and kids, too.) Some of that shift has to do with the fact that I really love to make purées but have no purée-eating little foodies in my home to be the direct recipient of my purée preparations. And some of this expanded view has to do with friends of mine who have had babies over these last 2 years asking me what they should do with their leftover purées. So, I've been working on ways to use purées for the grown ups in the home such as Purée Pancakes, Purée Parfaits and Asparagus Chive Risotto. This week's Monday Meal of Yellow Squash & Tarragon Purée Pasta is my latest recipe using a purée in a recipe intended for grown ups.
If you have a purée-eating little foodie in your home and want some ideas on how to create meals for the rest of the family as well, I'd love to help you! You can leave a comment on this post, use the contact form on the website or email me directly at jory@teenytinyfoodie.com.
Yellow Squash & Tarragon Purée Pasta
Yields 6 servings
Ingredients:
-1 small yellow or white onion, sliced
-1-2 fresh scapes, thinly sliced or 1 small clove of garlic, diced
-½ pint cherry or grape tomatoes, halved or quartered depending on size
-Juice and zest of 1 lemon
-1 pound box of small pasta such as orecchiette, shells or penne
-1 cup of reserved pasta cooking water
-Handful of fresh tarragon
-4-6 ounces fresh mozzarella, cut into small cubes
-Shredded parmesan or locatelli cheese
-Olive oil, salt and black pepper, to taste
-Red pepper flakes, to taste (optional)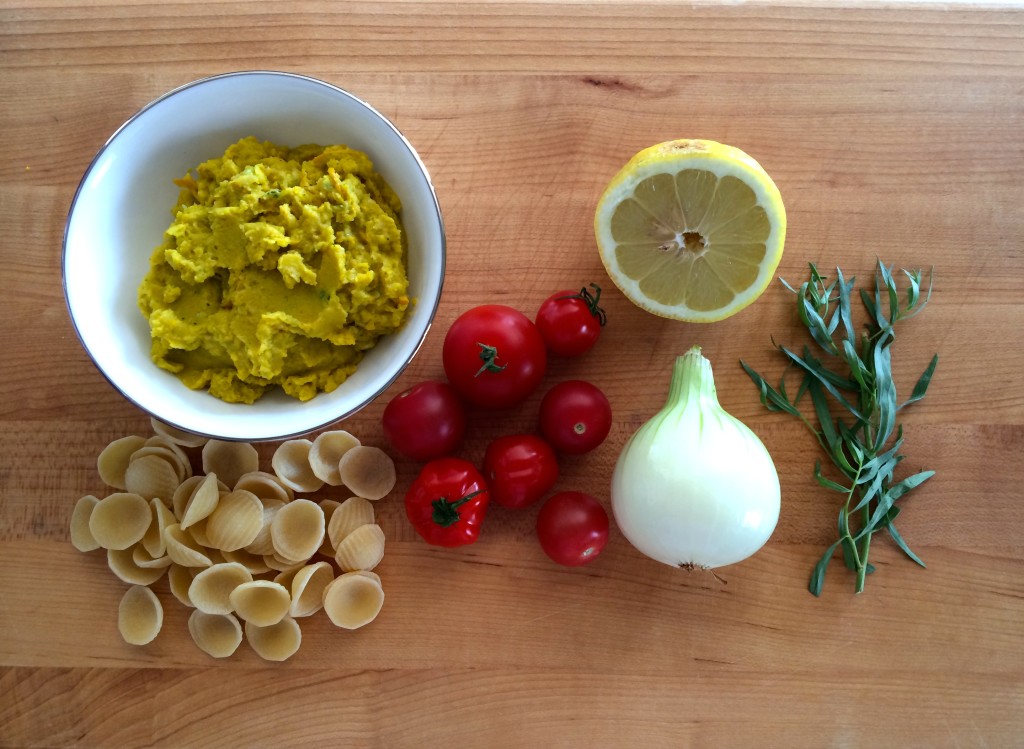 Preparation:
Prepare the pasta:
Begin to boil salted water with some olive oil for the pasta. Cook the pasta according to the directions on the package. Scoop out a mugful or two of the water (you want at least 1 cup in total) and set it aside. Drain the pasta and return it to the pot, tossed with a bit of olive oil.
Prepare the sauce:
While the pasta water boils, add around 2 teaspoons of olive oil to a large sauté pan and heat it over medium heat for 20 seconds. Add the sliced onions and a pinch of salt. Mix and sauté for 4-5 minutes until the onions begin to turn translucent. Add the scapes or garlic and stir. Cook for an additional minute.
Add the tomatoes and another pinch of salt and cook for 2 minutes, stirring occasionally. Add the purée along with some of the pasta water. Stir well so the purée thins out and becomes a sauce. Keep adding the pasta water a little bit at a time and continue to stir well until the pasta water is all gone.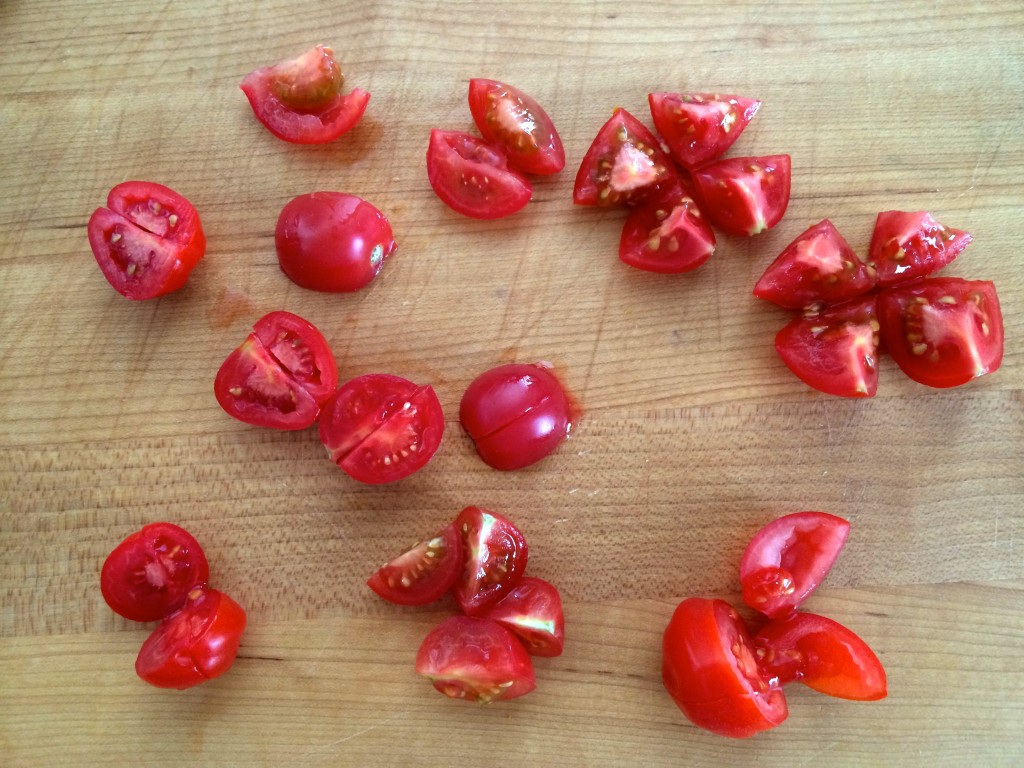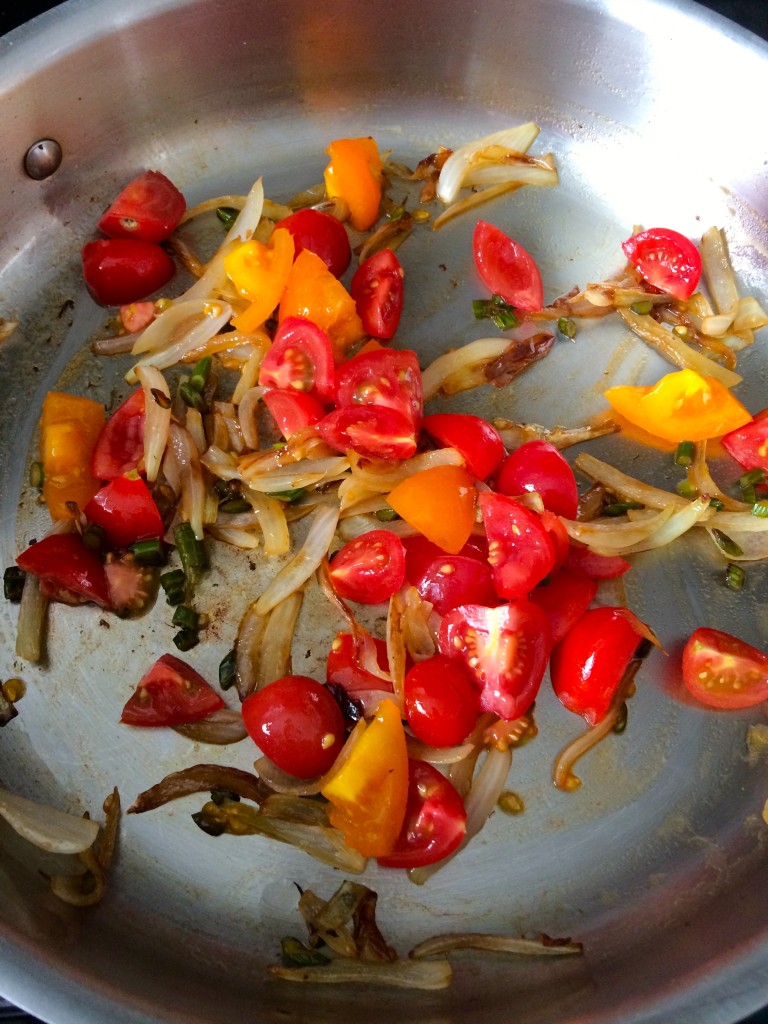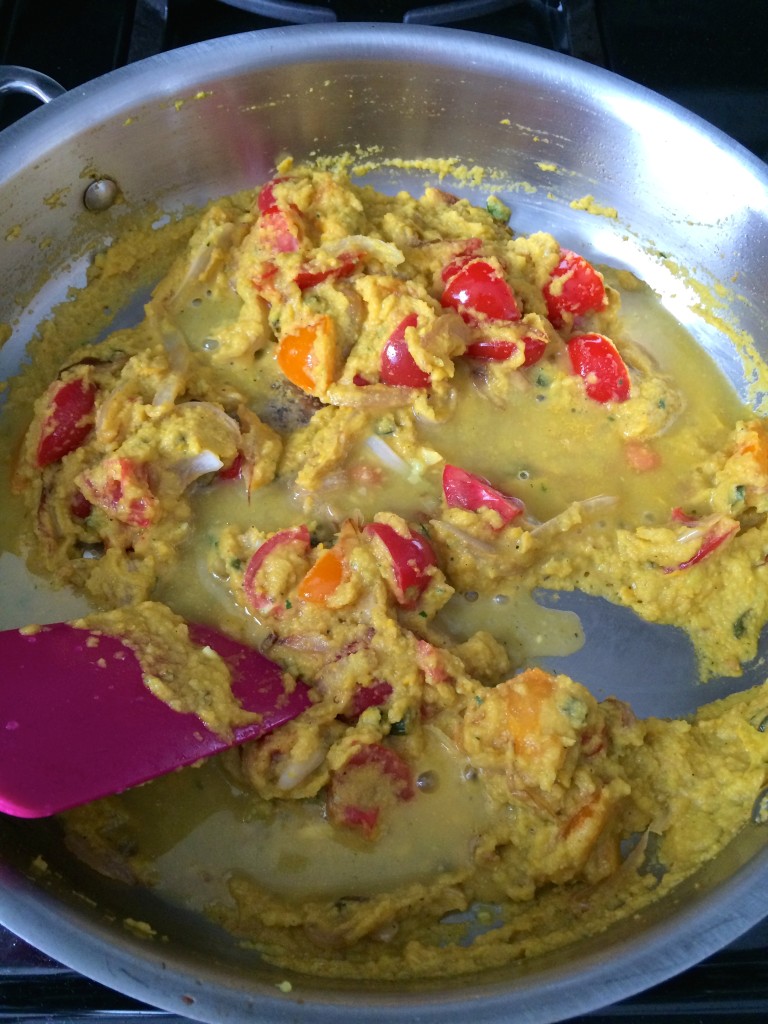 Add a couple teaspoons of olive oil, black pepper, salt and red pepper flakes if using them. Stir well and taste. Adjust the seasoning as desired.
Prepare the plates:
Pour the sauce over the cooked pasta and mix well so the sauce coats the pasta.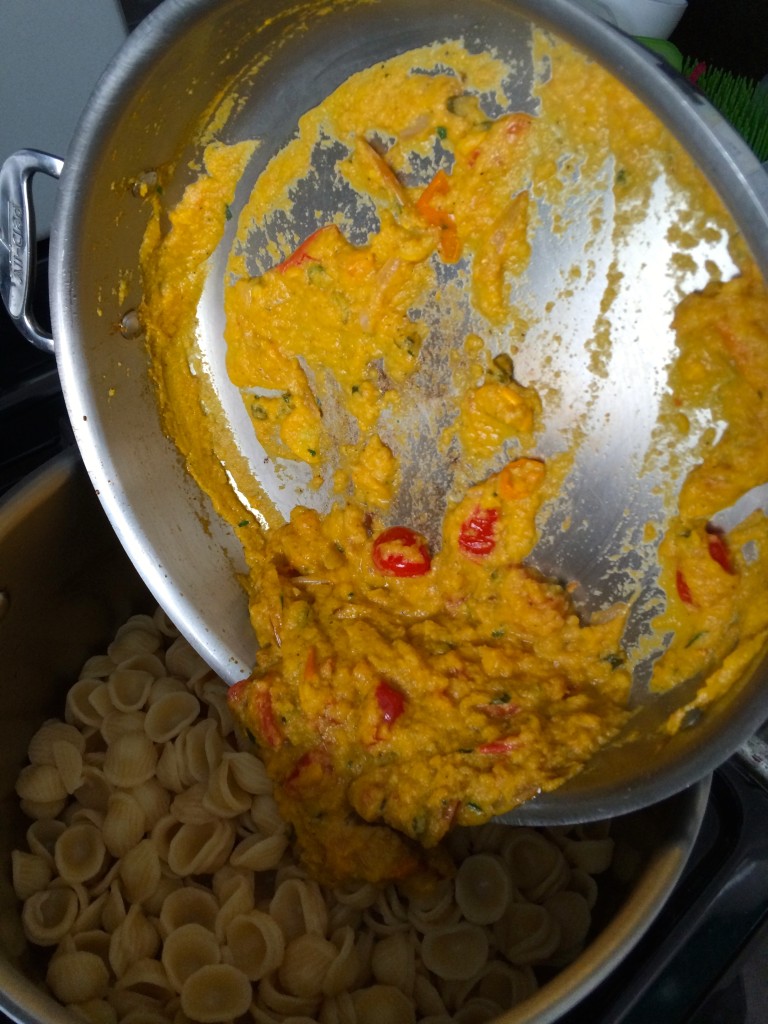 Divide onto plates and top with shredded locatelli or parmesan cheese, chunks of mozzarella cheese and additional tarragon.
Happy Cooking!
Tags: baby and family, Kids Cook, locatelli cheese, Meatless Monday, mozzarella cheese, olive oil, onions, pasta, purée, Purees For Two, scapes, tarragon, tomatoes, vegetarian, yellow squash
« Previous Yellow Squash and Tarragon Purée Peppery Peach Purée Next »