Print This Post
While Eliana napped I did some research and reminded myself how important and helpful it is for her little booty to be exposed.  
So, I tried letting her little butt air out. A few times now.
And here's how it went down:
I put down some disposable diaper pads and kept a bunch of toys on hand to give to her or make noise with in order to distract her. It probably helped that I hovered over her and let her pull and yank on my hair as much as she wanted. Anything to help the baby, huh?  Oh, yeah, and I blew air onto her exposed parts to dry them off. I wish I got a picture of the look she gave me. "Really, Mommy? You're blowing on my butt?!" 
The first time I attempted this, Eliana actually stayed on her back for about 20 minutes before getting bored and wanting to army crawl anywhere else. The second attempt only lasted about 10 minutes. It ended with me wrestling a butt-naked Eliana back onto the pads while she smacked at my hands. I was barely able to apply the multiple creams on her booty and get enough cream off my hands in order to close the diaper before she got away. She's a strong little one. She definitely cursed me out in her own little baby babble.
Thankfully, she seems to be feeling a bit better today. Yesterday she was fussy and clingier than usual.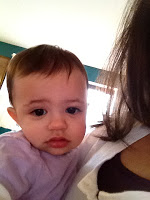 You'd be unhappy too with a fungus on your butt.
Today, her rash looks much less scary and she's up to her usual antics.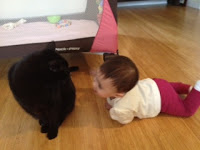 With Camille the Cat
Helping me keep the floors clean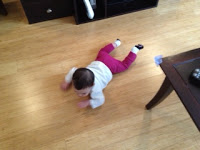 Who needs a Swiffer?
Doing some quality control checks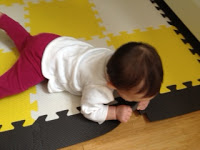 They say these don't break. Let me see if that's true.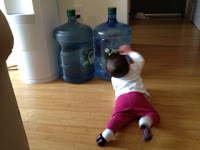 Nope. No holes in this bottle.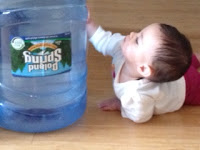 Hmm, can I get in here somehow?
Spreading some birthday cheer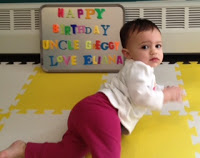 Happy Birthday, Uncle Greggy!
Making her hourly a
ttempt at indulging in her foot fetish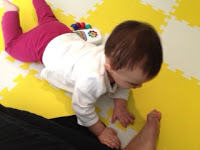 Almost got it!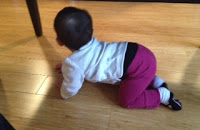 Any day now! (Yikes!!)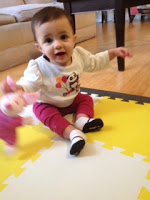 Look at me!!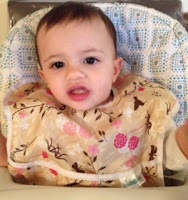 Oatmeal with bananas makes me feel better.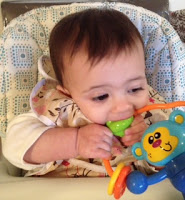 And this feels good on my two teeth.
« Previous Fungus Among Us- Part 1 Baby Food Recipes 2/20/12 Next »