Print This Post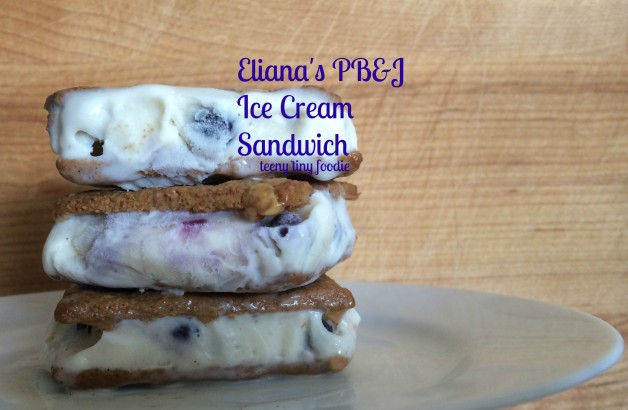 The other day as Eliana was getting ready for a nap, she looked up at me with a shy little smile and said, "I want to make a recipe." She went on to tell me that she wanted to make "Peanut Butter and Jelly Ice Cream Sandwiches." I told her to think about how we would make them and that we would talk more about it after her nap. So later that day, I asked Eliana to tell me about the recipe without adding in any of my ideas. (For example, I would probably try mixing peanut butter and berries to softened vanilla ice cream with a blender, but Eliana wanted to go about it differently. This was her recipe, so she was in charge.) So, on #WeCookWednesday we made Eliana's Peanut Butter & Jelly Ice Cream Sandwiches. Below is the recipe as Eliana created it. This Foodie Mama is totally bursting with pride over my teeny tiny foodie's first official recipe. (Unless you count the onion water she made recently on vacation. See the photo below.)
When I started #WeCookWednesday with Eliana, my intention was to let her choose what to make and honor that. I never imagined it might evolve into Eliana creating the recipes that we make together. I'm so amazed by my teeny tiny sous chef. Letting her take charge and lead this recipe was a fun role reversal for us in the kitchen. I'm excited to see what ideas she comes up with next!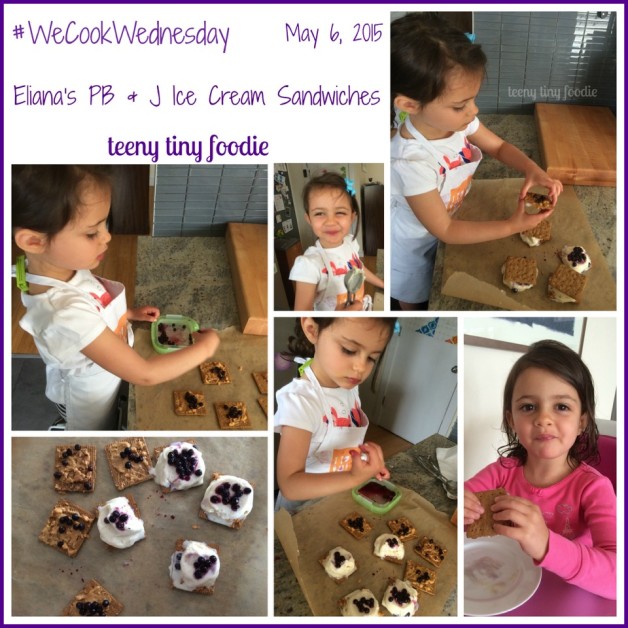 Here's Eliana's "Onion Water." Some people like to use fruit or herbs to flavor their water. Not Eliana. She grabbed raw onions off my plate at lunch and added them to her cup. Then she drank the whole thing.
Do you think "Onion Water" will become the rage at spas and resorts? Stranger things have happened!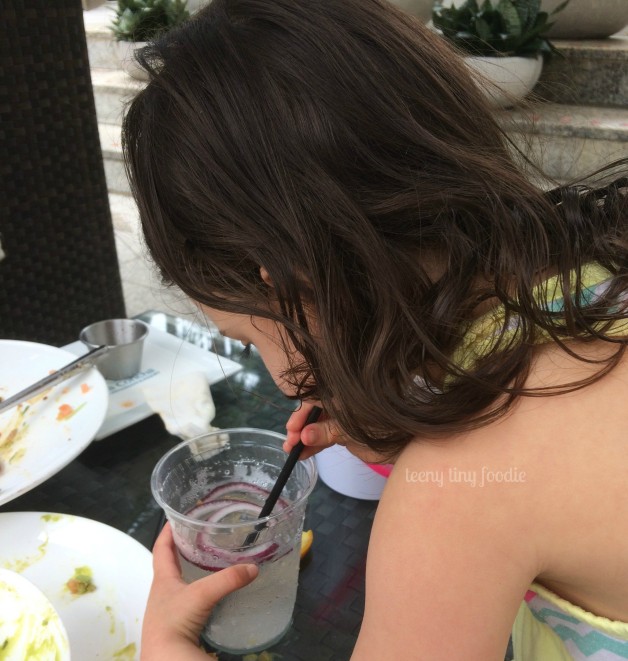 Eliana's Peanut Butter and Jelly Ice Cream Sandwiches
Yields 4 sandwiches
Ingredients:
-1 cup good quality vanilla ice cream (We used a locally made brand, Ample Hills Creamery)
-1-2 tablespoons peanut butter
-8 graham crackers
-1 tablespoon frozen blueberries, thawed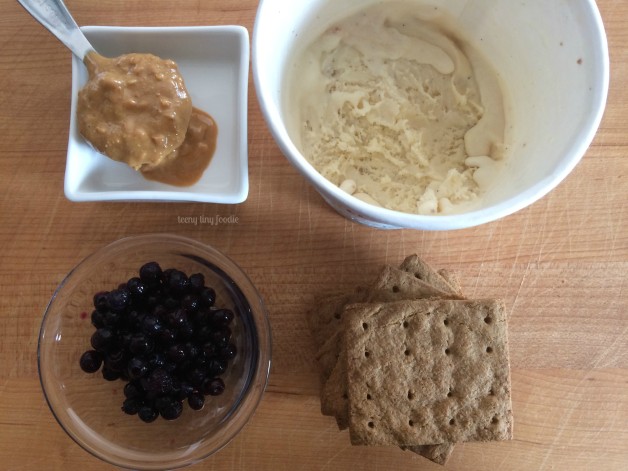 Preparation:
Take the ice cream out of the freezer and put it onto the counter while you work on the recipe.
Drop a dollop of peanut butter onto each of the graham crackers and spread it out into a thin layer.
Arrange the graham crackers so they are in two groups of 4 cookies. One group will be the "Tops" and one group will be the "Bottoms."
Cover all of the "Bottoms" graham crackers with ⅔ of the blueberries.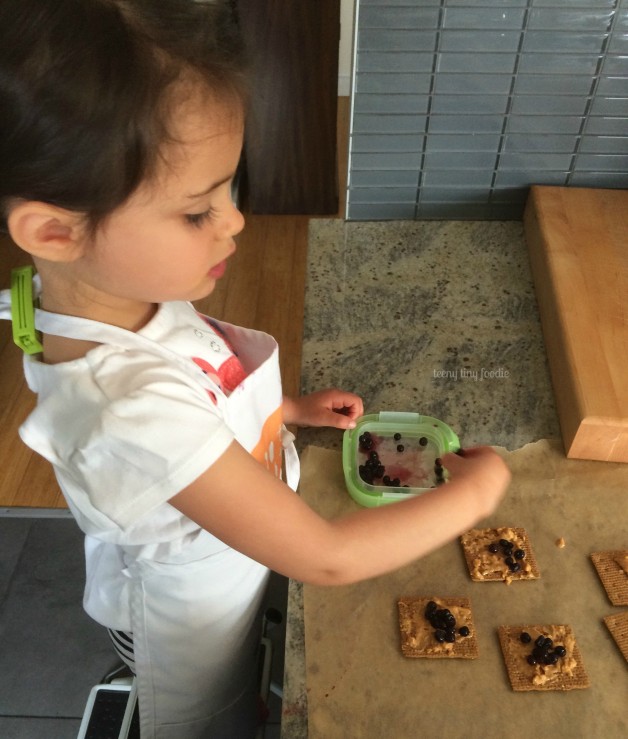 Next, add ¼ of the ice cream onto each graham cracker on the "Bottoms" side. Using the back of a spoon, gently push down on the ice cream to flatten it out. (Eliana wanted to add blueberries to the "Tops" too but many of them rolled off when she put the sandwich together.)
Top ice cream with remaining blueberries and cover with the peanut butter side of the "Tops."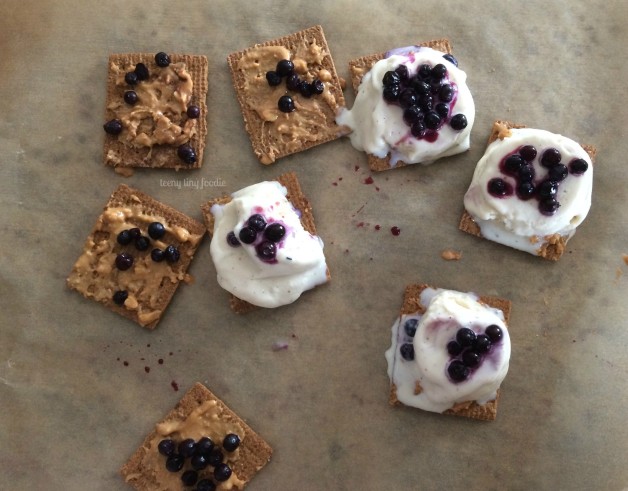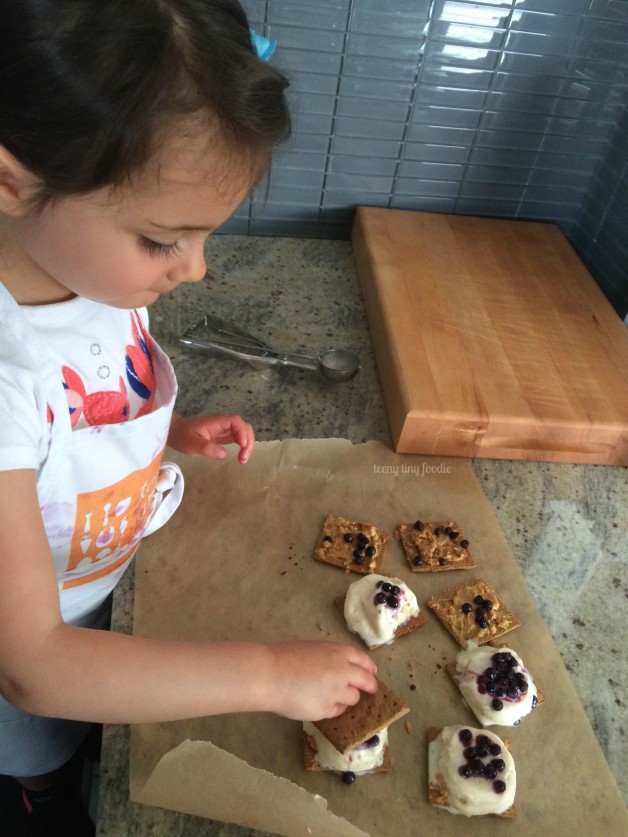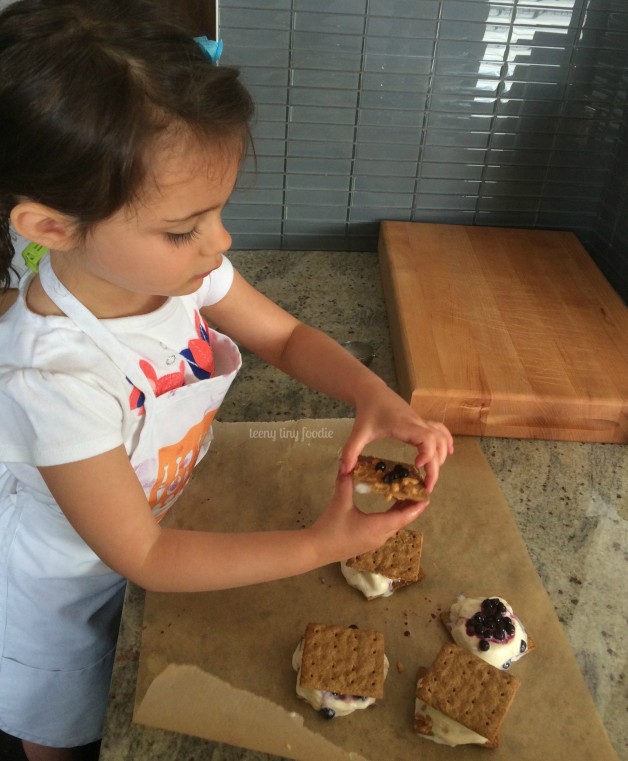 Gently press down onto the sandwich so the ice cream spreads out across the graham crackers. Be gentle so the ice cream doesn't leak out the sides of the sandwich.
Wrap each sandwich individually in plastic wrap and store inside an airtight container for 1 hour before enjoying or up to 3 months.
She was so proud of herself that she took a moment to just look at her creation before we wrapped them up to freeze for an hour.
"Now they're ready, Mommy."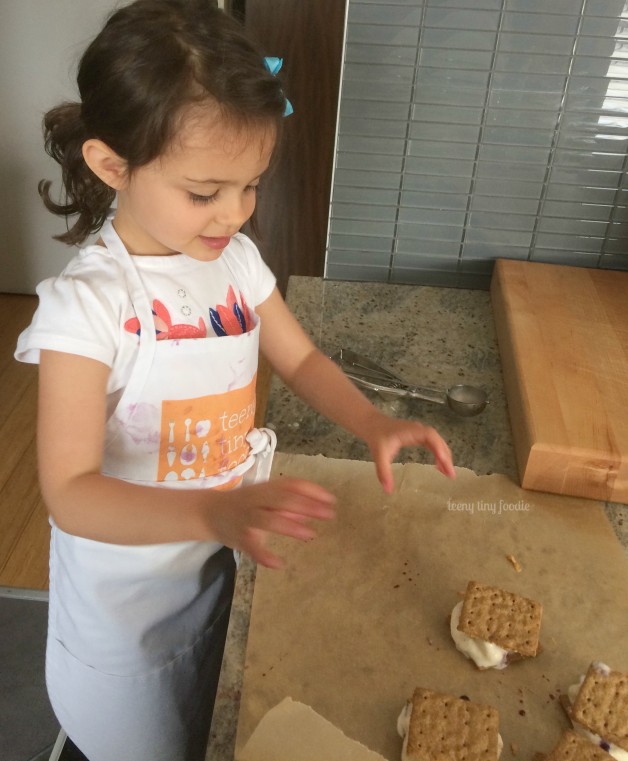 I love the look on her face when she tried them here. It's like, "Yeah! I made this deliciousness!"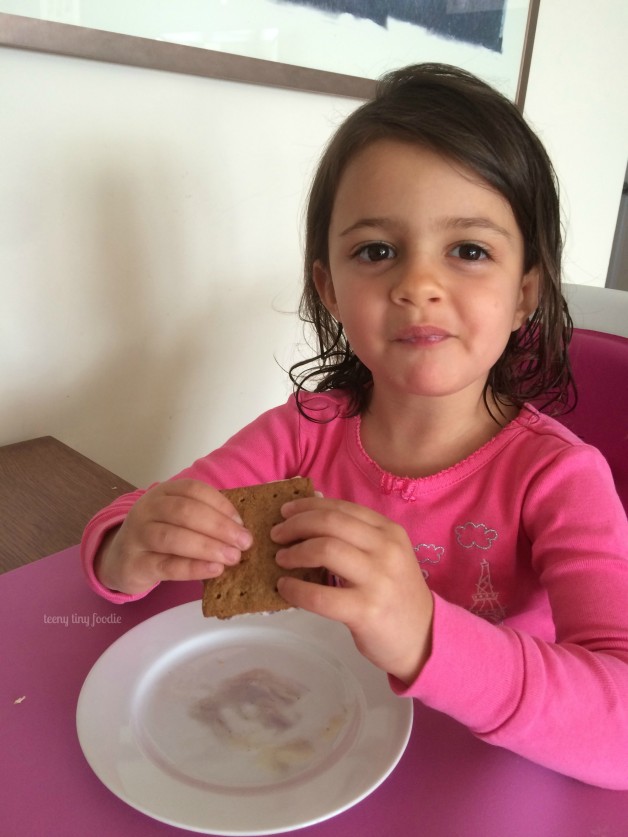 "Want a bite, Mommy?"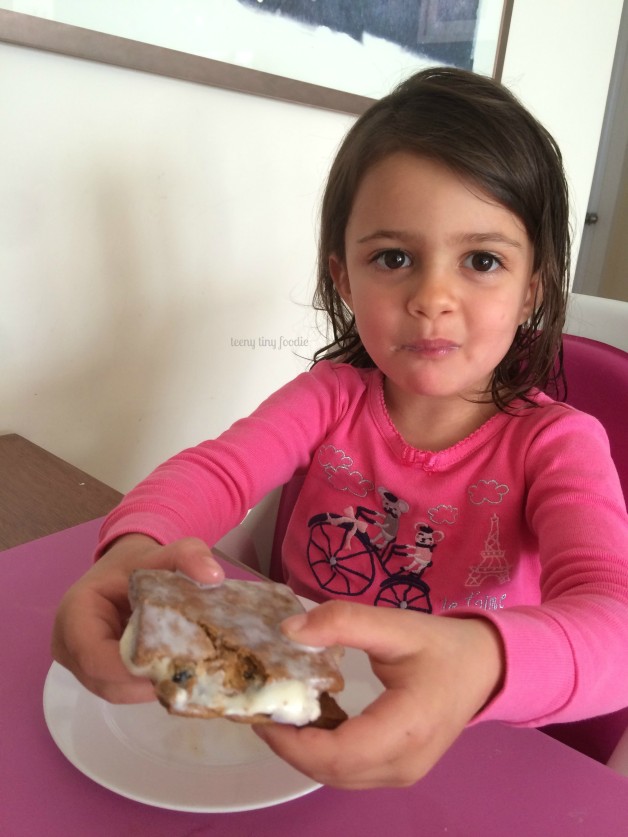 Happy Cooking!
Tags: blueberries, dessert, Eliana's Recipe, graham crackers, ice cream, Kids Cook, Meatless Monday, peanut butter, summer
« Previous Let's Make Salsa: Toddler Recipe Let's Make a Green Smoothie: Toddler Recipe Next »